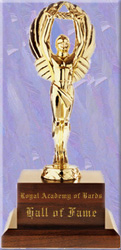 Academy Author Index
Last Updated: 7/2/2012

2011 Author Hall of Fame
Stories - Dust, Jericho &amp I Saw Xena Kissing Senticles





---
Bottle Rocket [Incomplete]
First chapeters of a new novella in "Sidecar" available at booksellers.
When it comes to finding dirt, Evan Reed is the best in the business. She's a "dust-buster"-a paid operative hired by political campaigns to vet candidates for national office. She's also a foul-mouthed and cranky ex-Catholic-attempting to raise a 14-year-old daughter on her own. When she is hired to investigate the background of a squeaky-clean and charismatic junior senator who might just be the next president-the last thing she expects to uncover is a murder. Evan's life is further complicated when she meets the senator's reclusive wife-who seems to be hiding a few secrets of her own.
Part 1 Part 2 Part 3 Part 4 Part 5 Part 6 Part 7 Part 8 Part 9 Part 10 Epillogue
I Saw Xena Kissing Senticles [Academy Bard Challenge 24]
Librarian Syd Murphy flees the carnage of a failed marriage by accepting an 18-month position in Jericho - a small town located in the Appalachian Mountains of Virginia. Intending to hide out and heal her wounds, she soon becomes drawn into the daily lives of a quirky cast of local characters - and she becomes fast friends with Maddie Stevenson, the enigmatic local physician who has returned to the backcountry community to take over her late father's medical practice.
Part 1 Part 2 Part 3 Part 4 Part 5 Part 6 Part 7 Part 8 Part 9 Part 10
Aftermath [Incomplete]
Sneak peak -- sequel to Jericho
Nevermore! [Academy Bard Solstice Challenge 26] WINNER
A Valentine's Day Odyssey [Academy Valentines 2011]