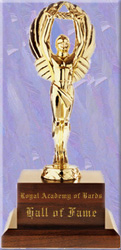 Academy Author Index
Last Updated: 12/20/2013

2011 Author Hall of Fame
Stories - Dust, Jericho &amp I Saw Xena Kissing Senticles





---
Bottle Rocket [Incomplete]
First chapeters of a new novella in "Sidecar" available at booksellers.
When it comes to finding dirt, Evan Reed is the best in the business. She's a "dust-buster"-a paid operative hired by political campaigns to vet candidates for national office. She's also a foul-mouthed and cranky ex-Catholic-attempting to raise a 14-year-old daughter on her own. When she is hired to investigate the background of a squeaky-clean and charismatic junior senator who might just be the next president-the last thing she expects to uncover is a murder. Evan's life is further complicated when she meets the senator's reclusive wife-who seems to be hiding a few secrets of her own.
Part 1 Part 2 Part 3 Part 4 Part 5 Part 6 Part 7 Part 8 Part 9 Part 10 Epillogue
I Saw Xena Kissing Senticles [Academy Bard Challenge 24]
Librarian Syd Murphy flees the carnage of a failed marriage by accepting an 18-month position in Jericho - a small town located in the Appalachian Mountains of Virginia. Intending to hide out and heal her wounds, she soon becomes drawn into the daily lives of a quirky cast of local characters - and she becomes fast friends with Maddie Stevenson, the enigmatic local physician who has returned to the backcountry community to take over her late father's medical practice.
Part 1 Part 2 Part 3 Part 4 Part 5 Part 6 Part 7 Part 8 Part 9 Part 10
Aftermath [Incomplete]
Sneak peak -- sequel to Jericho
Hoosier Dady - with Salem West
Jill Fryman (her friends call her Friday) is a Line Supervisor at a truck manufacturing plant in a small southern Indiana town. Life on the assembly line is almost as predictable as her love life. When it comes to matters of the heart, Friday always seems to be making the wrong choices. Things go from bad to worse when a sultry labor organizer from the U.A.W. sweeps into town to try and unionize the plant, right after it's been bought out by a Japanese firm. Sparks fly on and off the line as the two women fight their growing attraction for each other against a backdrop of monster trucks, pork chop suppers, and a bar called "Hoosier Daddy."
Part 1 Part 2 Part 3 Part 4 Part 5 Part 6 Part 7 Part 8 Part 9 Part 10 Part 11 Part 12 Part 13
Nevermore! [Academy Bard Solstice Challenge 26] WINNER
A Valentine's Day Odyssey [Academy Valentines 2011]