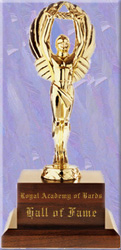 Academy Author Index
Last Updated: 8/14/2009

2009 Hall of Fame
Story - Fetchin' Cousin Minnie





---
When Kendal, a NW police detective, has an unusual meeting at a convention with Savannah, a DA from the South, the question becomes, "Is Kendal 'The One' for Savannah?"
Third Time's The Charm [Incomplete]
Sequel to The One. Sometimes finding The One is only the beginning of a dangerous journey. Especially when the Fates take two intangible superstitions and weave them into their garment, leaving Time and Death to toy with the strings.
Fetchin' Cousin Minnie

On her way to retrieve her saucy Cousin Minnie in Sacramento and bring her back to her ranch, Gaine Sargos, Sheriff of Barden's Corner, meets a green-eyed stranger on the stagecoach who completely changes her life.
Part 1 Part 2 Part 3 Part 4 Part 5 Part 6 Part 7 Part 8 Part 9 Part 10 Part 11
Peril From the Past [Academy Personals 2008]
Sometimes when a day starts out poorly, the results can be surprising.
Part 1 Part 2 Part 3 Part 4 Part 5 Part 6 Part 7 Part 8 Part 9 Part 10 Part 11 Part 12 Part 13 Part 14 Part 15 Part 16
Evin And Elizabeth Series

A fiercely competive attorney, Evin seeks revenge on her partners for hiring petite Elizabeth Montagieu, her rival. The two men have fled town for the Christmas holiday, whisking away their families in the hope of avoiding Evin's wrath. But can they avoid detection? And what about this new hire with the soft Southern drawl and iron will who now has set her sites on the tall beauty? This is a sequel to A Million Dollar Lady.
Little EM [Academy Valentines 2004]
Lady Litigators [Incomplete]
Life evolves as two competing female litigators at the same law firm test both the depth and character of their personal and professional rivalry. This is a sequel to Evin's Revenge and follows Little EM.