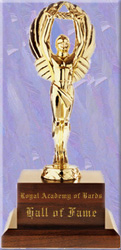 Academy Author Index
Last Updated: 11/30/2015
2009 Hall of Fame
Author






---
Another Day In The Life (How Gabrielle Got Her Pink Nighty)
In which Xena and Gabrielle face yet another giant...and Gabrielle acquires a new nighty.
Bard In A Cage

Gabrielle discovers that fame as a bard brings its own problems - an obsessive fan.
Beneath The Surface

'A life on the ocean wave, tra la!' When Piper Redmond joins Capt. Cordie Bellamy aboard her swordfishing boat, what should be a routine fishing trip soon becomes anything but...
A librarian fleeing for her life from a vengeful businessman. An immortal Fae exiled forever from Faerie. What could the two possibly have in common?
Break Out '99

Three go mad in Wales. What are Jen, Charlie, and Darren doing stranded in the middle of a rainy Snowdonia, dressed as characters from the Wizard of Oz? They only wish they knew!
A Date To Remember

Two women decide to picnic in a WWII coastal watch tower and uninvited guests join in...
England in the 1860s. A young woman confined to a lunatic asylum and a gypsy banished from her clan ... what will happen when their paths cross? Only the cards can predict.
Set in 1815, this Uber was inspired by the works of Jane Austen and Georgette Heyer. When Napoleon's army forces Joanna, Viscountess Norland, to flee Paris, she returns reluctantly to England. While staying with her brother in Kent, Joanna encounters the charming Miss Frederica Bertram...
An Arcadian pilot brings her country's new allies a gift that could change the course of the War against the Vieden Empire.
1664. After the long, grey years of Cromwell's Protectorate, Charles II's restoration has brought back colour and flamboyance. Treading the boards of London's playhouses are the first professional English actresses, among them Nan Shelton. When she encounters apothecary's daughter Phebe Bonnick outside the King's Playhouse, it's the start of a new Act. But Fate hasn't finished with England, and the appearance of a comet in London's skies heralds calamitous times.
When a mob boss targets businesswoman Heather Myles, in Nice for a technical symposium, it's fortunate former peacekeeper Alex Rogers is her driver for the duration.
In the Caribbean of the 1670s, notorious pirate Captain Meg Etherege sets out to plunder a brigantine bound for England.
Like Pegasus

Argo to the rescue (in spite of Gabrielle's whistled commands)!
The first story in the two-story sequence: 'Rebeccah and the Highwayman'. London, 1708. Mistress Rebeccah Dutton and her family are returning home from Chatham when notorious highwayman 'Blue-Eyed Nick' decides to hold up their carriage.
Pendragon Cove

April in Cornwall. Violin maestro Claudia Holbrook is teaching her first master class at the Pendragon Cove Musicians' Seminar, and it isn't going well. Can Bethany Tredinnick turn discord into harmony and in the process bowl over the prickly woman she calls 'Miss Snooty'?
Sister Act

Lila joins Xena and Gabrielle on the road. At least it *looks* like Lila! Needless to say, the gods are involved.
Summer's Circus

When Summer Walsh's struggling circus comes to Cheltenham, novice reporter Alison Carmichael is willing to jump through hoops to get to know its enigmatic ringmaster/owner better!
Xena: Warrior Princess Interview On Late Night With Gelasius
A chat show host interviews The Warrior Princess in her pre-Gauntlet days.
Ashley And Jemma Series
Hellcat Western Series

[published by Bedazzled]