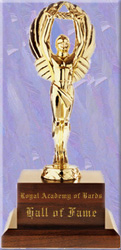 Academy Author Index
Last Updated: 4/21/2017
2008 Hall of Fame
Author
Story - Amazon Queens Don't Fall In Love
Through the Eyes Series
Walking Around in Warrior's Underwear
2009 Hall of Fame
Stories: Romancing the Bard, An Amazon, a Warrior and a Bard Walk into a Bar,
I Saw Gabby Kissing Senticles &amp My Xena, What Big Teeth You Have
2010 Hall of Fame
Story - If a Tree Falls... & Are we There Yet?
2011 Hall of Fame
Story - I Hear the Secrets That You Keep
2012 Hall of Fame
Story - Please Don't Tip the Centaurs

---
All She Wants for Solstice [Academy Bard Challenge 24]
All the Ghouls I've Loved [Academy Halloween 2015]
An Amazon, A Warrior and a Bard Walk Into a Bar [Academy Peronals 2008]
Amazon Queens Don't Fall in Love [Academy Valentine 2008]
Any Witch Way [Academy Halloween 2012]
Are We There Yet [Academy Summer Challenge 2009] Winner
Claus And Effect [Academy Solstice 2009]
Great Ceasar's Ghost [Academy Halloween 2011]
Hestians We Have Heard On High [Academy Bard Solstice Challenge 26] Honorable Mention
Honor Among Thieves [Powers that Be Challenge 25] Honorable Mention
If a Tree Falls in the Amazon Forest [Summer 2010 Challenge 1000 Words] Winner
I'll Have a Blue Solstice Without You [Academy Xmas Challenge 2008
I Saw Gabby Kissing Senticles [Academy Xmas Challenge 2008]
If You've Seen One Amazon... [Academy Valentines 2012]
Meanwhile Back at Abby's Lab [Summer 2010 Challenge 500 Words]
My Xena, What Big Teeth You Have [Academy Halloween 2008]
Please Don't Tip the Centaurs [Academy Summer Challenge 2012] ** WINNER **
Romancing the Bard [Academy Valentine 2009]
Walking Around in Warrior's Underwear [Academy Solstice 2007]
Warrior's Need Love Too [Academy Valentines 2011]
Whose Child be This? [Academy Xmas Challenge 2008]
You Give Love A Bad Name [April Fools Whatever 2017]
Through the Eyes Series
A feast honoring the return of the Amazon Queen as seen through Gabrielle's, Xena's, Ephiny's and Eponin's eyes. This is intended as part of a series entitled "Through The Eyes" as the same event is recounted through four different pov's. It should make no difference as to which order the four pieces are read in. Spoilers for Hooves and Harlots, The Quest and Blind Faith.
Through the Eyes of the Warrior
Through the Weapons Master's Eyes
That's the Yin and Yang of It [Summer 2010 Challenge 300 Words]
Charlie's Angels Stories
The Angels go undercover at a flower shop to investigate a rash of murders.
Don't Go Staking My Heart [Academy Halloween 2009]
With an old year drawing to a close and a new one just beginning, Kelly is searching for meaning in her life.