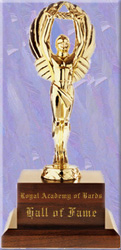 Academy Author Index
Last Updated: 6/11/2023




2010 Hall of Fame
Author



---
Meg recounts the highlights of her checkered journey from lowlife to midlife.
Based on her near-fatal experiences in the third episode DREAMWORKER, Gabrielle questions which has more value ? her "blood innocence" or the weapons Xena warned her against wielding..
In the Season 3 Solstice story "Raindrops On Roses," Gabrielle and Xena try to make the best of their near-death experiences in THE BITTER SUITE and ONE AGAINST AN ARMY. This continuation explores different ways others take the heroic partners' presumed demise as a gift.
Classified [Academy Personals 2008]
Xena and Gabrielle work through some post-obsession issues following Aphrodite's mischief in the third season episode FINS, FEMMES AND GEMS.
Shortly after they begin traveling together, Gabrielle's innocent questions force Xena to reexamine her nightmares as the dark side of her dreams.
Xena faces hurdles from the past and present as she tries to adjust to the life Gabrielle created before the warrior's resurrection in Japa.
Gabrielle and Xena aren't the only ones dealing with the aftermath of the fourth season's A FAMILY AFFAIR.
A middle-aged Xena and Gabrielle find themselves reprising roles from their past, after receiving a mysterious invitation from Cleades, the baby-to-man monarch of season four's KEY TO THE KINGDOM.
First Solstice, Second Thoughts
Their experiences early on in DREAMWORKER and CRADLE OF HOPE inspire Xena and Gabrielle to appreciate what they might miss without the other's eye for a good bargain.
Long after Xena's first steps on her path towards atonement, she and Gabrielle discover the dust has settled on someone who reminds them "old history" can feel like yesterday.
In the aftermath of LOCKED UP, TIED DOWN, Xena and Gabrielle sail away from Shark Island Prison on troubled waters the two must navigate as an inescapable element of their journey together.
The first of a three-story arc that refers to and builds on A FRIEND IN NEED and explores Gabrielle's coming to terms with Xena's promise never to leave her soulmate.
Horace gives his canine perspective on the 6th season's OLD ARES HAD A FARM, in which the former God of War must adjust to the mortal state he chose to save Xena in MOTHERHOOD.
Argo recalls her first experiences with the intriguing warrior she carries into SINS
Greener Pastures - A Horse Tail
Argo recalls her first experiences with the intriguing warrior she carries into SINS OF THE PAST and her efforts to understand the smaller human who begins traveling with them.
A moment of faith before she perishes ironically lets Xena's most notorious victim exact posthumous revenge.
A couple months or so into her new life of adventure, Gabrielle chafes at sitting on the sidelines and determines to keep her "help" from rubbing Xena the wrong way.
Set between and after the second season's first two episodes ORPHAN OF WAR and REMEMBER NOTHING, this story was inspired by Lucy Lawless during her participation in Celebrity Duets.
Xena and Gabrielle weather a few ripples in their new friendship immediately following their experiences in the second episode, CHARIOTS OF WAR.
This story fills the gap between Xena's emergence from the dungeon in the Sixth Season's WHO'S GURKHAN? and her agreement at the palace pool that Gabrielle can have her vengeance, concluding with Xena's, "Don't thank me, just be ready."
When Gabrielle accepts a mission Xena hates, they learn how quickly a middle-aged hero can slide to the level of a 10 year old.
Minya reflects on the lessons she received about the benefits and perils of hero worship during the episode A DAY IN THE LIFE.
Xena's return to life "pure" at the end of the Season Five opener FALLEN ANGEL forces her and others to grapple with personal issues beyond their mission to prevent the war gods Ares and Kal from getting their hands on the "light" chakram in the follow-up episode. This story also makes reference to the later SEEDS OF FAITH
Reflections based on a pivotal scene from the sixth season's HEART OF DARKNES, with reference to events throughout the series.
Solan reflects on his lineage, beginning with ORPHAN OF WAR, through MATERNAL INSTINCTS and at the end of THE BITTER SUITE.
Senticles recounts his reluctant transformation from harbinger of bad news into herald of cheer and generosity during the second season's A SOLSTICE CAROL.
Our heroines process an unsettling new trend in their journeys, after Xena survives a poison dart in Season One's THE GREATER GOOD, just before discovering the possible source at the beginning of CALLISTO.
Xena's disappearance between Season Three's ending episode SACRIFICE 2 and the early Season Four A FAMILY AFFAIR inspires new heroes to carry on in her image
In her eagerness to tackle the trouble Xena hinted at a few days earlier, when they began traveling together at the end of SINS OF THE PAST, Gabrielle reminds them why they needn't look far beyond each other to find it.
This vignette delves into the minds of a warrior and peasant girl who change the course of each other's lives during the "teaser" for SINS OF THE PAST..
Early in their journeys, Gabrielle bumps into reminders of the life she left behind, as had Xena during the second episode CHARIOTS OF WAR.
WA few months after Season 2's THE QUEST, an injured Gabrielle brings out a surprisingly different Warrior Princess.
A master at merchandising frauds, Salmoneus discovers benefits of the real thing from his encounters with a warlord who isn't quite the 'knock-off' she seems.
In this third season Solstice story set immediately after ONE AGAINST AN ARMY, Xena and Gabrielle seek to reclaim some of the joy and innocence lost since their encounter with Senticles a year earlier.
Our girls explore a more traditional version of 'normal' after helping Xena's childhood friend Flora defeat a tyrant in the Season One episode THE BLACK WOLF.
Three companion pieces that imagine 'in the moment' responses of Xena and Gabrielle to strains on their relationship as depicted in MATERNAL INSTINCTS, CRUSADER and IDES OF MARCH
On a leisurely trip home, a middle-aged Xena and Gabrielle confront reminders of their distant past, in the process acknowledging questions that might always intrigue them. This story refers to episodes from Season Six, as well as some events introduced in my post-finale stories A Fly in The Ointment and Suns of The Passed.
Early in the fourth season, Gabrielle and Xena encounter a market that leads each to wonder if the other has taken browsing a little too far.
Imagines Xena and Gabrielle in their "golden years," wondering what might be missing or worth preserving in their lives.
Shortly after Season One's THE PATH NOT TAKEN, Xena becomes the topic of conversation in a tavern where she's waiting for Gabrielle.
M'Lila bears witness to events that turn Xena toward becoming the Destroyer of Nations, as revealed in the episode DESTINY.
Early in their relationship, concerned about how life at her side may change Gabrielle, Xena suggests a getaway that isn't quite as relaxing as she'd hoped.
The spirit Tataka gets more than she bargained for when she takes possession of Gabrielle in the fourth season episode DEVI.
Prior to the episode that introduces her, Callisto puzzles over what to do about the warlord who "made" her and has suddenly switched to performing good deeds. The story also makes particular reference to THE RECKONING, TIES THAT BIND and THE GREATER GOOD.
Still: My Will, My Way, My Warrior
Lao Ma reminisces about experiences that led her to rescue and seek partnership with the physically and emotionally crippled young female warlord portrayed in the episodes DEBT I and II, whom Caesar helped create in DESTINY..
In this first-season story, which takes place shortly after the episode HOOVES AND HARLOTS, Xena and Gabrielle meet two girls who help the companions deal with the recently crowned Amazon Princess new fighting skills.
Shortly after the Season One episode A FISTFUL OF DINARS, Gabrielle meets a man from Xena's past who teaches the companions a lesson about keeping secrets from each other.
In the alternate life the Fates rewarded Xena during the early second season episode REMEMBER NOTHING, Gabrielle also gets the chance to experience life without a Warrior Princess and to change her destiny.
This story imagines what Xena and Gabrielle each might have been doing immediately after Xena's beating in THE GAUNTLET, before they meet in SINS OF THE PAST. 
At the conclusion of Season One's TIES THAT BIND, Xena and Gabrielle ponder personal questions left over from their previous encounter with Ares in THE RECKONING.
Xena and Gabrielle deal with 'growing pains' that surface in their relationship after THE PRICE and will later develop into the full-blown "rift" of season three.
Initially trying to relax and solve a mystery, Xena and Gabrielle end up discovering more than they wanted to know about the meaning of justice, sacrifice and friendship in this pre-Season Three adventure.
A brief encounter between two young people possibly influences the destinies of a warrior and bard whose partnership changed the world.
Ares and Aphrodite debate the meaning of Xena's actions in A FRIEND IN NEED.
Emotions provoked at the end of the Season One episode DEATH IN CHAINS lead Xena to reflect on what she?s lost, discovered and gained.
After almost winning her back near the end of Season One in TIES THAT BIND, Ares ponders why Xena continues to resist him, confident she'll eventually accept the ridiculousness of her budding partnership with Gabrielle.
Gabrielle reminisces about key scenes we didn't see in A FRIEND IN NEED. This is a companion piece to Xena's thoughts in "What Stories Are For Too."
When the Warrior Princess remains trapped in the body of her worst nemesis, Gabrielle must prove to herself, angry villagers and Xena that the killer on trial is actually a different person. This story offers an alternate version of what happened between the end of INTIMATE STRANGER and the beginning of TEN LITTLE WARLORDS.
When Xena Was More Than Herself
Gabrielle's wry "inside view" of what it was really like traveling with a pregnant Warrior Princess during the first half of season five.
When Xena Was Not Quite Herself
In this Season Four story, Gabrielle finds mixed results and an old enemy when she seeks help from the Amazons in dealing with a Warrior Princess who seems to be living her past and future in unexpected way.
Xena experiences life without Gabrielle, who freezes during a melee and decides to return to her home village in the first season episode THE PRODIGAL
Will You Still Love Me Yesterday
The following vignette puts a different spin on the opening scene of DEBT 1 and the ending to the Sixth Season's WHEN FATES COLLIDE.
As Solstice approaches in Season Four, Xena considers unsettling parallels between the fairy tale she contributed to in IF THE SHOE FITS and Alti's vision of Gabrielle's death, which continues to haunt them in the subsequent PARADISE FOUND and India arc, culminating in IDES OF MARCH.
Xena's obsession with Alti's fourth-season vision of Gabrielle's death severely tests the soulmates' bond during CRUSADER, PAST IMPERFECT and PARADISE FOUND.
Early in their friendship, before HOOVES AND HARLOTS, Gabrielle worries her time with Xena might be running out.
55 Word Stories