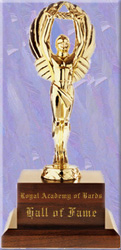 Academy Author Index
Last Updated: 3/1/2010

2005 Hall of Fame
Author
Story - Shaken Series
2008 Hall of Fame
Story - Malicious Pursuit

---
Community Service [Academy Valentine 2007]
Crush [Academy Valentines 2004]

A valentine story about a graduate student who finds the statistics of her research manager very interesting.
Decline to Continue [Academy Valentine 2009]
Expectations [Academy Valentine 2005]
In the 2005 Valentine's Day story, Leo Simms overcame her Expectations to fall in love with Claudia Galloway. Though circumstances force them apart, their love refuses to die. But will either dare to reveal her heart?
Getting It Right

Wynne Connelly is a marketing manager from Baltimore, traveling regularly to her company's headquarters in Orlando. Paula McKenzie is the night manager at the Weller Regent, the downtown business hotel where Wynne stays. They belong together - you know it, I know it, they know it - but secrets, obligations, and ambition make it nearly impossible to get it right.
Part 1 Part 2 Part 3 Part 4 Part 5 Part 6
The House On Sandstone

Twenty-five years ago, Carly Griffin left Leland, Kentucky, sure that it held nothing for her future. Now weary of living overseas on one consulting project after another, she's glad to have two months back in Leland to relax with her aging parents. What she didn't count on was running into Justine Hall again, an old friend of hers, who was now divorced and walking a fine line between sanity and hell. But Carly's biggest surprise was Leland itself.
Part 1 Part 2 Part 3 Part 4 Part 5 Part 6 Part 7
I Never Knew

Mel and Janice iron out the terms of their new partnership and return to New York to show off their find: the Xena Scrolls. Now with their wings clipped by the war in Europe, they find adventure on a different front.
A Little Something [Academy Valentine 2008]
Luck of the Irish [Academy Valentine 2010]
Malicious Pursuit

Ruth Ferguson wants a chance at a new life for her daughter and herself, and she's willing to risk everything to get it. Spencer Rollins wants to stay alive long enough to bring her friend's murderers to justice. When their desperate lives collide on a rainy night, each one's fate is delivered to the other's hands. This is a tale of action and intrigue; trust and sacrifice; and above all, friendship and love.
Part 1 Part 2 Part 3 Part 4 Part 5
New Lover Lust

After six relationships in twelve years, Shelley expects nothing of her lovers beyond the New Lover Lust. "Arrested development," she explains. She had one chance to learn about love and it walked out the door with Frances.
Accountant Jayne Crowder is risk-averse. But she can't say no when partner Alice Yeung, an adventure tour planner, coaxes her along for a 30th birthday exploit she'll never forget.
The Road From Kilimanjaro

For six months, Mary Kate Sasser trained for the ultimate quest of Uhuru Peak, the top of Mt. Kilimanjaro's glacial crater. The small-town Southerner was ready for everything - except perhaps for fellow climber Kristin Addison, who had another summit in mind.
The Sister [Academy 101 Story Premise]

Haley a detective novelist is asked to keep an eye on a friend's sister who just happens to be the latest up-and-coming bubblegum pop singer. Only she has to sneak past security and its head, Rachel, is less than pleased to learn that the mystery writer is supposed to find the stalker wrecking havoc on the singer's life.
Vonne Maglio signs on for a two-week vacation at a working ranch in the Colorado canyons. Nothing at Sky Ranch is as it seems–but then, neither is Vonne.
Surreal [Academy Valentine 2006]
The Tonight Show - Starring Xena Of Amphipolis [Academy Must-Xe TV Challenge 2003] ** winner **
Mulligan Series

Mulligan [Academy Valentine 2003]
The days are long and lonely for retired schoolteacher Louise Stevens; that is, until she encounters a certain green-eyed golf pro. Too bad they didn't hit it off...
It's a sequel! Mulligan II follows Marty & Lou to the North Carolina mountains, where their romantic adventure continues.
In this third story in the Mulligan series, Louise confronts her regrets about hiding her true self from those around her for virtually her entire life. While she vows not to make that same mistake with Marty, a former student inspires her to undo the secrecy of her 31 years with Rhonda Markosky.
Mulligan IV: The Cart Path Not Taken
Marty and Louise enjoy a trip to Palm Springs for The Dinah. Watching history unfold on the LPGA tour, Marty can't help but envy a young golfer with a bright future, and an old friend with a ringside seat.
T he fifth installment in the adventures of Marty and Lou, two women in their sixties celebrating their newfound love.
Anna And Lily Series
Shaken

Luxury car dealer Anna Kaklis and family attorney Lily Stuart meet by fate and work together to overcome an extraordinary challenge. Can their courage also help them conquer their fears of love?
Part 1 Part 2 Part 3 Part 4 Part 5 Part 6 Part 7 Part 8 Part 9 Part 10
Part 11 Part 12 Part 13 Part 14
Stirred

In the sequel to Shaken, Anna Kaklis and Lily Stuart find their new love tested by dramatic changes in their lives.
Part 1 Part 2 Part 3 Part 4 Part 5
In Shaken, they fell in love. In Stirred, that love was tested and reaffirmed. Now in Strained, LA car dealer Anna Kaklis and family attorney Lily Stuart face new questions about family and future. Very low on the angst-meter.
Part 1 Part 2 Part 3 Part 4 Part 5 Part 6
Anna's Christmas

In this very short holiday vignette, we revisit the characters of the Shaken series. Anna Kaklis has a whole new perspective on Christmas this year, as she takes stock of the impact five-year-old Andy has had on her life with Lily.
Here's a chance to look in on Anna & Lily from the Shaken series. Their son Andy is a first grader now, and bursting with excitement at the chance to play Mighty Mite football. Anna thinks it's a great idea, but Lily's worried that the undersized boy will get hurt.
In another vignette for the Kaklis family, Anna tackles Andy's doubts about what it means to be a family..