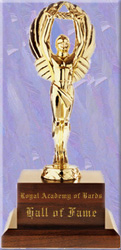 Academy Author Index
Last Updated: 9/29/2005
2005 Hall of Fame
Author
Story - Honor Series
---
The Golden Tiger

Drew Clark - martial arts master, army combat instructor, tormented warrior. Can her hidden wounds be healed by a student's love?
Love's Melody Lost

When the music deserted her, she lost her passion, her heart, and ultimately her soul. In a gothic setting of silence and secrets, a woman came to awaken her desire.
Safe Harbor

Provincetown has a new Deputy Sheriff -- and when the newly sworn peace officer meets the town's doctor, she discovers what she never realized she was missing.
Beyond The Breakwater removed at author's request - Published
In the sequel to 'Safe Harbor,' Sheriff Reese Conlon and Doctor Tory King face the challenges of personal change as they define their lives and future together. Twenty year-old Brianna Parker makes a sacrifice for love that threatens not just her happiness, but her life, when she returns home as the newest member of the sheriff's department. One summer in Provincetown, each woman learns the true meaning of love and friendship.
Justice Series

While a serial rapist terrorizes the city, Rebecca Frye, the detective sworn to stop him, must learn to trust a woman who awakens her long buried needs. Dr. Catherine Rawlings becomes her reluctant aide, and together they find themselves caught between loyalty and love.
Detective Sergeant Rebecca Frye and Doctor Catherine Rawlings return in the sequel to Shield of Justice. Rebecca's obsession with finding her partner's killer and her involvement in a multi-jurisdictional investigation of an international child pornography ring threaten both her life, her career, and her new relationship.
Honor Series

Assigned to guard the President's daughter, a secret service agent finds duty warring with desire.
Secret Service Agent Cameron Roberts and Blair Powell, the President's daughter, return in the sequel to Above All, Honor. Against Blair's wishes, Cameron accepts reassignment as the chief of the security detail assigned to guard her. Amidst political intrigue and a menacing threat to Blair's safety, these two unusual women struggle to find their way back to one another. Can love survive when fate seems destined to stand between them?
In this third book of the "Honor" series, Blair Powell, the President's daughter, and Cameron Roberts, the commander of her Secret Service detail, return amidst a climate of international turmoil and political unrest. The two women find their love and Cam's career on the line as they become the center of intense media scrutiny and a clandestine plot to destroy the President.
A Matter of Trust

An enigmatic internet security consultant and a sophisticated, high-powered business woman join forces to battle corporate espionage. Their professional relationship soon threatens to create even greater personal challenges as their association awakens unexpected needs and desires.
Tomorrow's Promise

One timeless summer on a small private island, two women discover the power of passion to heal, and the promise of hope only love can bestow.
Passion's Bright Fury

Saxon Sinclair, the broodingly secretive Chief of Trauma at a busy Manhattan hospital is less than pleased to learn that her new resident is going to be the subject of a documentary film. The arrival of Jude Castle, a fiery independent filmmaker, soon sets sparks flying as the two driven women clash both personally and professionally. On the battleground between life and death, passion strikes without warning.
Innocent Hearts

In 1860's Montana Territory, Kate Beecher, a young woman from Boston, faces the hardships and hard choices of life on the frontier. Jessie Forbes, a fiercely independent rancher, finds in Kate a passion she never dared dream. This is the story of their struggle to love in a land, and time, as cruel as it was beautiful.
Shadowland

Set in the leather world of the City, the story of two women drawn together by the power and pleasure of S/M - and nearly destroyed by their own dark secrets.