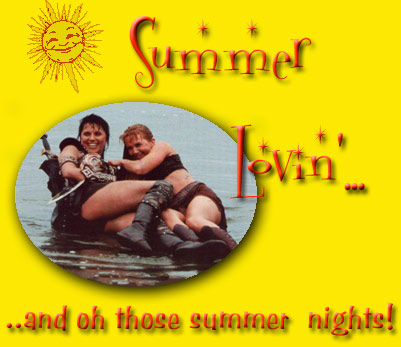 Submission Deadline has been extended to
May 15th, 2002 at midnight.
Send your submissions to academy_contest@yahoogroups.com
---
Summer lovin' had me a blast
Summer lovin' happened so fast
I met a warrior/doctor/cop/CEO/
FBI Agent/lawyer/chef...
crazy for me.
Met a bard/nurse/reporter/assistant/
spy/paralegal/waitress...
cute as can be.
Summer days drifting away...
to oh oh the summer nights.



Tell me more, tell me more...



Welcome to the Bard Challenge #5


Summer Lovin'

Tell me more, tell me more...

This Bard Challenge has three categories:




1) HOW I SPENT MY SUMMER VACATION...
be it romantic, be it funny, be it serious, be it the perfect vacation or be it the vacation from hell. You may use XWP-Verse characters or ubers or originals...the choice is yours. You may not use uber or original characters you are currently writing or have written in the past which can be identified to you.

2) THE PERFECT DATE...
Someone a few weeks ago (thanks J-BNC for the idea) asked people for their choice as to the most romantic piece of fanfic they have ever read...there were a lot of different opinions. Now's your chance to write the perfect date. This category is strictly XWP-Verse characters...why?...because I said so <.bg.>.
And since I am the Great And Wondrous OZ ™...
if you use any two amazons (no X&G do not qualify as amazons here) as your main date characters...I'll spot you 5 points.
And if you dare send the warrior or bard on a date with someone else...I'll sic Lunacy on ya !

3) POSTCARDS...
a category for our artists...design a picture postcard for any characters in the Xenaverse (XWP) or any well- known uber characters (see ROOOL #3D). Consider it a snapshot of them on vacation...anywhere...and write the sentiment the characters would have included on the back of the postcard. Please keep the files under 125K and only one entry per artist.

The ROOOLS....
okay, every time I list these someone comes up with a loophole...the first one that finds one this time and sends me an e-mail at (WarriorNutcase@aol.com) gets a surprise goodie too.
I DARE YA! <.eg.>
**Deadline is May 15th at midnight....we decide which time zone <g>**
ROOOL #1A: A participant may enter as many of the 3 categories as they wish...but no more than one entry per category. The writing categories will be posted anonymously, as in the past challenges.
ROOOL #1B: Please do not reveal your participation to anyone who has the potential for being a voter.
ROOOL #1C: Please do not post any of your entries on any other sites or lists (private or public) until the end of the contest.
ROOOL #2: Please do not stuff the ballot box...we at the Academy have gotten very good at identifying this behavior. We won't publicly embarrass you but we will quietly eliminate you from the contest.
ROOOL #3A: If you are entering the graphics category, please sign your work. These will not be posted anonymously. Many artists have a particular style, which will be quite evident...<.shrug.> so we won't bother with anonymous posting.
ROOOL #3B: Voting rules will still be the same, even though the graphics category is not anonymous, so please do not lobby for votes on any other lists (private or public).
ROOOL #3C: Please do not post your entry on any other site until after the contest is over.
ROOOL #3D: In the graphics category you may use Uber Characters but with these limits:
(a)they must be "popular" fan fiction uber characters...well known and easily recognizable by many or at least by...
The "Roools Committee"
Steph, Ms Mighty Munchkin
Cadryn, the expert techno elf
Ruth, the voice of reason
and
I, the great OZ™
(b)they cannot be original fiction characters
(for example, Missy's Dar & Kerry are a "yes" but Mary D's Eva & Zoe are a "no")
(c)The "Roools Committee" reserves the final say on anything being included which is outside the standard XWP-Xenaverse realm. So, tell us which particular Uber characters you would like to use and we can give you the specific "yay" or "nay". Okay? <.bg.>


Prizes will be awarded for the top vote getter in each of the three categories.




---
Return to Main Page