The Royal Academy of Bards
in association with
Orlando BardCon
is proud to present
Bard Challenge #8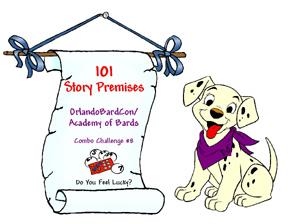 101 Story Premises or Premise, Premise Everywhere And Not A One Complete or Whole Lotto Stories Going On
The Challenge is to take one of our short paragraph premise/ideas and write it into submission…ummmm…write a submission. <.g.>
The catch, of course you knew there would be one, is you don't get to see all the premises…we ask that all participants pick a number between 1 and 101 and we will email you the premise which coincides with your pick.
Do you feel lucky? >;o)
ROOOL #1: A participant may enter as many times as they wish…
and we hope you do too…
however, a completed story must be turned in before another
premise can be picked/assigned.
ROOOL #2: The entries will be posted anonymously.
ROOOL #3: A participant must use any characters named in the premise and may add other original characters of their own.
But please do not include any previously established characters
that can be readily identified as yours. (See ROOOL #2)
If you want to use someone else's previously established characters…
Please, get their permission first.
ROOOL #4a: The story entry must be a minimum of 10 pages and
a maximum of 25 pages.
ROOOL #4b: Please tell us which category you are competing in.
There are two categories of competition...
bards who will be attending BardCon in Orlando
bards wishing to participate who will not be attending BardCon in Orlando
ROOOL #5a: Please do not reveal your participation to anyone who has the potential for being a voter…the only exception being…
ROOOL #5b: You may use a beta reader, but please keep the number of beta readers to a reasonable limit…anything more than three will be considered a violation of…
ROOOL #5c: Posting any of your entries on any other sites or lists (private or public) before the end of the contest is a BIG NO NO.
ROOOL #6: All stories must have a happy ending…
or you face the possibility of a SMACK to the back of your head.
This ROOOL was added at the request of a certain member of the BardCon Team
Don't say you were never warned.
ROOOL #7: Please do not stuff the ballot box...we at the Academy have gotten very good at identifying this behavior. We won't publicly embarrass you but we will quietly eliminate the entry from the contest.
The Academy folks are everywhere and know everything…we will find out.
ROOOL #8:
The "Roools Committee":
Steph (Ms Mighty Munchkin),
Cadryn, Ruth, and I, the great OZ™
reserve the final say on everything and anything concerning this challenge.
It's our sandbox <.Nyah.>
~~~*~~*~~*~~*~~*~~*~~*~~~
The top two vote-getters in each category will receive a prize package.
Categories 1 winners will receive a special BardCon/Disney Goodie Basket containing, among a few other really nifty surprises…
a Disney Park Hopper Day Ticket, a set of 4 Disney Park Lithos
and a Disney Plush Toy.
Winners will be announced at BardCon in Orlando on May 24, 2003
and the prize baskets will be presented at that time.
These 2 winners must be present in Orlando to receive their prizes.
The Category 2 winners will receive a RAOB Surprise Package
(containing some really cool goodies).
These prize packages will be mailed to the winners.
~~~*~~*~~*~~*~~*~~*~~*~~~
To receive your premise, pick a number
between 1 and 101 and send it in an email to PHIL728@aol.com.
Your story premise details will be sent to you via return
email within 24 hours.
You have until March 8th to pick your first premise number. If you wish to participate and write a second (or third entry)…just send in your next number when you send in your entry and we'll send you the next premise.
Entries go to: academy_contest@yahoogroups.com
We will begin accepting completed entries starting on
March 16, 2003.
Final deadline for submissions is midnight April 12, 2003.
Voting period will begin as soon as the stories are posted online and will run until May 9, 2003.
Voters may vote for one entry in each
of the two categories.
Winners will be announced at BardCon on May 24, 2003
and then will be posted online.
~~~*~~*~~*~~*~~*~~*~~*~~~