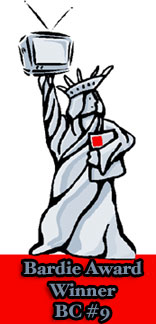 2003 Bardie Winner!
Best Appearance by Amazons
---
Auto's Angels
Episode #315
"Amazons Among Us"
by
OPENING SEQUENCE
Queue cheesy 70's theme music.
A few shots flash past, each one depicting a beautiful Amazon (Do they make them ugly?) There are three of them and we watch as they begin their rites of passage.
V.O. AUTOLYCUS
Once upon a time, there were three little girls who
wanted to become Amazons.
CUT TO:
BRIANA. Tall, dark eyes, short brown hair. She is carefully drawing her bow, aiming her arrow at a straw target. She releases and the arrow lands in the center.
CUT TO:
JILLIANA, a voluptuous blonde, is jumping across the limbs of rather tall trees in typical Amazon style.
CUT TO:
KELLARA, her long brunette hair hanging loose around her shoulders, squares off with an Amazon that looks a lot like Eponin. Using some fancy judo type moves, Kellara flips Eponin onto her back.
V.O. AUTOLYCUS
And they were each assigned very, hazardous, duties.
CUT TO:
Shot of Briana mucking out the horse stalls. More of the "muck" covers her than what she is getting rid of.
CUT TO:
Shot of Jilliana at the edge of a stream, working hard at scrubbing a shirt against a rock. She holds up her work, chagrinned to find several large holes in the garment.
CUT TO:
Shot of Kellara carrying a large bucket and heading toward the pig's pen. She pauses long enough to flip her long tresses over her shoulder….slow motion shot as the hair floats through the air, settling nicely against her bare back. She lifts the bucket and dumps the slop into the pen. She turns around to leave, getting her feet tangled and going down…face first…in the slop.
V.O. AUTOLYCUS
But I took them away from all of that.
And now they work for me. My name is Autolycus.
More cheesy music mixed in with several shots of Jilliana, Briana, and Kellara fighting baddies, riding horses, running through the woods, playing in a field, swimming naked, kissing…. um, well, you get the idea.
CUT TO:
One very brief shot of a goofy looking man wearing armor that resembles a pasta strainer.
CUT TO:
Jilliana, Briana and Kellara leaving the Amazon Village, walking side by side down the road.
FREEZE FRAME
FADE OUT.
ACT ONE
EXT CAMP EARLY MORNING
The campfire burned out hours ago. A pair of dark leather boots stick out from under a thick, but short, blanket. Following the outline of the legs attached to that boot, we see XENA. She appears to be asleep, her right arm covering her eyes. Just above her head we can see her chakram and sword leaning against ARGO'S saddle.
O.S. are the sounds of leaves rustling. Xena's hand twitches a second before the chakram is flying through the air, accompanied by a very familiar sound. O.S. are now the sounds of the chakram bouncing off various things before a metallic "clink" is heard, followed by a rather loud "thump". The weapon returns to its owner, who simply holds up her hand to catch it, never once opening her eyes.
The blanket that is covering Xena stirs slightly before a clump of blonde hair is revealed. GABRIELLE is looking up from where she has been curled against Xena.
GABRIELLE
What was that?
XENA
Nothing. Go back to sleep.
GABRIELLE
(A beat as she tries to open her eyes)
No sun yet.
XENA
Nope.
GABRIELLE
(Snuggling against Xena)
Will you wake me when it's noon?
XENA
(Smiling fondly)
Sure.
GABRIELLE
(Big yawn)
Okay.
Gabrielle is asleep in seconds. Xena pops one eye open and looks down at her friend. She waits a beat before disentangling herself from the bard. Standing in just her leathers and her boots, Xena stretches her tall frame, working on her sore muscles.
XENA
Gods, I think I'm getting too old for this.
Xena gathers her armor and weapons and heads toward a stream, conveniently located near their camp. She pets Argo, who is happily munching on grass nearby.
Xena pauses on her way to the stream, slowly turning her head back toward camp. Her expression makes it clear that she hears trouble. She grips the chakram tightly, locating the source of the trouble with her sensitive hearing. With a feral grin, she releases the chakram.
We follow the chakram as it bounces off four trees, two rocks and finally smacks into the helmet of a THUG. The thug goes down like a sack of grain. The chakram rebounds and returns to Xena's hand.
She pauses for a moment, making sure there are no other thugs near, then makes her way to the stream.
EXT THUG CAMP MORNING
A dozen thugs mill around the camp with nothing to do but wait. A few are engaged in games of chance; at least one is passed out cold, his mug still in his hand. Two are sword fighting, while the remaining two are on guard duty.
V.O. WOMAN
This isn't going to work.
V.O. MAN
Trust me. It'll work.
V.O. WOMAN
As if! Last time I trusted you I ended up in
Egypt with the sphinx…
V.O. MAN
Yeah, yeah, yeah. Am I never going to live that down?
(He continues without waiting for an answer)
I'm telling you, this will work. Xena will do exactly
what we want her to do.
V.O. WOMAN
When has she ever done what you wanted?
V.O. MAN
Funny.
V.O. WOMAN
So, what's the plan?
V.O. MAN
I didn't tell you the plan?
V.O. WOMAN
Uh, noooo, you didn't!
V.O. MAN
Oh.
EXT CAMP MORNING
The sun is now fully out, though not quite noon. Xena, hair still wet from her bath, comes back to the camp, whistling a very familiar tune. Uh-huh. Same one she always whistles. She reaches the camp and stops when she sees the bedrolls are askew.
XENA
Gabrielle!
There is no answer, since obviously Gabrielle is missing. Xena does her bit to look around the camp, as if the bard is hiding from her under Argo's saddle. But, alas, Gabrielle is long gone. So are her staff and scrolls.
XENA
Gabrielle!
CUT TO:
EXT AMAZON VILLAGE
There is a large hut situated just outside the main part of the village. It's a lot bigger than the other huts and, for Amazons, it could be considered lavish. Inside the hut, three beautiful Amazons are sitting in chairs that circle a nice desk.
BRIANA
Hey Kel, did you finish that staff yet?
KELLARA
Almost, Bri. I'm having trouble finding pink feathers.
JILLIANA
Oh, that's easy! All you have to do is find a pink bird!
Brina and Kellara throw small pillows at their friend. When Jilliana ducks, the pillows fly toward the door, smacking JOXER in the head as he walks in.
JOXER
Funny. Real funny.
BRIANA
Hey there Jox!
KELLARA
(giggling)
Um, hi Joxer.
Jilliana is laughing too hard to speak to him, but does get up from her chair to retrieve the pillows. Joxer straightens his pasta strainer and helmet before taking his place at the desk. He arranges a few scrolls, then turns to the wall behind him. He opens a small square door about 6 inches wide and 4 inches tall. Wire mesh covers the opening, obscuring the face behind it.
AUTO
Good morning Angels!
ALL THREE GIRLS
Good morning Auto!
BRIANA
What do you have for us today, Auto?
AUTO
I've got a big one for ya, babe. Joxer, give 'em the scrolls.
Joxer hands each one of the girls a scroll. They carefully look them over, each reacting to what they are reading.
KELLARA
The Queen?
JILLIANA
Who would kidnap the Queen?
Brina, Kellara and Joxer all look to Jilliana as if to say "Duh".
JILLIANA
Okay, do we have any leads?
BRIANA
Where's Xena? Why isn't she looking for the Queen?
AUTO
She can't.
JOXER
Xena was sent to Thessaly to retrieve the Golden Fleece in
exchange for Gabrielle.
BRIANA
The Golden Fleece? As in the one
that Jason of Lolkos has?
JOXER
You know of another one?
BRIANA
I know he'll kill anyone who tries to take it.
AUTO
Anyway, while Xena is gone, it's our job to find the little bard.
Briana, I want you to go to Corinth. There are a couple of con men there
that are headed for Thebes. Go with them. It'll be a good cover
for you.
BRIANA
Con men. Hmm, are they as good as you?
AUTO
(Laughs softly)
No one is as good as the King of Thieves baby. Now, Kellara,
I want you to go to Xena and Gabrielle's camp, just to the south
of Corinth. See what you can find there.
KELLARA
You got it.
AUTO
And Jilliana, I want you and Joxer to head for Thebes. There's a slave auction there
at the end of the week.
JILLIANA
You think the Queen will be taken there?
AUTO
I'm not sure, but I want you there just in case.
END OF ACT ONE
Commercial break
ACT TWO
INT TAVERN
Only two patrons in this particular establishment. Two men sit in the far corner. Each one has a mug of ale in front of him. One man is clean cut, very handsome. The other looks a bit scruffy, with long curly hair. Both are very familiar. Their voices are familiar the moment they speak.
ELDON
I still think you're crazy.
RAFE
That's what makes this partnership work so well, doncha think?
ELDON
(Drinking his ale)
Uh huh. So, what makes you so damn sure that Xena is…
Rafe holds out his hand to silence his partner. He then points to the door just as a tall, brown haired woman steps through the doorway. She is dressed like a commoner, but something about her catches Rafe's eye. Maybe because she's gorgeous?
RAFE
How much?
ELDON
(Confused—since he missed the change in subject)
How much for what?
RAFE
How many dinars will you bet me that I get her to kiss me.
Eldon looks over his shoulder to the woman, who has taken a seat at the bar. She is delicately drinking a glass of goat's milk.
ELDON
25 dinars says you won't get a kiss from her at all.
RAFE
Make it 50 and I'll get that kiss before sunset tomorrow.
ELDON
(Looking rather pleased)
You're on.
Rafe puts on his most rakish grin and saunters over to the bar. He takes a seat next to the beautiful woman and motions for the bartender.
RAFE
I'll have another ale and give the lady another (a beat as
he looks at her glass of goat's milk) one of those and put them
on my tab.
BARTENDER
No tab. You never paid last month. Pay up now. 2 dinars.
RAFE
(Digs in his pocket for the money)
I paid you for last month!
BARTENDER
Pay now.
RAFE
Fine.
Rafe hands over the 2 dinars, sliding them across the bar. The Bartender puts them into his pocket and walks away. Rafe is grinning when he turns back to Briana, but his grin fades at the look on her face.
RAFE
What?
BRIANA
That wasn't very nice.
RAFE
(Feigns innocence)
What?
BRIANA
You slid him two wooden dinars.
RAFE
No way. They were real.
BRIANA
Really? How about if I call him over here and explain to
him what you did?
RAFE
Now, is that really necessary?
BRIANA
You tell me.
Rafe considers this for a moment. But only a moment. His gaze catches Eldon's and he knows that time is running out. He places 2 real dinars on the bar.
RAFE
So, what's a wonderful girl like you…
BRIANA
That's the best you can do?
RAFE
Well, I…
BRIANA
I need to be going now. Maybe I'll see you around.
Briana gets up from the bar and leaves. Rafe watches her go, ignoring Eldon as he joins him at the bar.
ELDON
Hmm, wonder what I'm going to buy with all those
dinars that you're going to owe me.
RAFE
I'm not going to owe you anything.
ELDON
Really?
RAFE
Really. She likes me.
Rafe walks out of the bar with a very satisfied look on his face.
EXT DAY XENA AND GABRIELLE'S CAMP
Kellara is searching through the remains of the camp, examining trees where the chakram has obviously left its mark.
Kellara finds a trail and follows it through the woods, noting that the chakram marks go pretty deep into the woods. She eventually comes upon a small clearing. This is the former location of the THUG CAMP.
Kellara goes through the remains of this camp, wrinkling her nose at a particularly foul odor.
KELLARA
I hope that's not what I think it is.
She continues her inspection of the camp, not at all surprised to find more chakram marks.
KELLARA
Looks like Xena did some serious butt-kicking here.
Kellara steps into the only tent still standing, careful not to touch too much. There is a cot that has been overturned and an open chest lying near it. Several items from the chest are scattered around the tent. Among those items are some scrolls. Kellara looks through them before picking one up, unrolling it to read it.
O.S. we hear the sound of a sword being drawn. The blade rests on Kellara's shoulder, very close to her neck.
CUT TO:
EXT ROAD
Joxer and Jilliana are on horseback. Jilliana's blonde locks are blowing in the breeze behind her. She turns in the saddle to look back at Joxer, flashing him a very sexy grin. Joxer nearly falls off his horse.
JILLIANA
Wanna make camp soon? We've still got a day's ride to Thebes.
JOXER
(Clears his throat)
Uh, sure. Anywhere you say is good with me.
JILLIANA
Great!
They ride just a bit further, before Jilliana slides off her horse, dropping the reigns to the ground. She quickly unpacks her things and begins setting up camp. Joxer spies a stream located very conveniently close to their camp.
Jilliana sees the same stream and her face lights up with excitement.
JILLIANA
Oh! I'm going to take a bath. Will you get the fire
going, Joxer?
JOXER
Uh, yeah, sure. I'll start a fire.
JILLIANA
Cool!
Jilliana runs toward the stream, stripping her clothes off as she goes. Joxer is transfixed and unable to move, much less start a fire.
Joxer's doesn't hear the footsteps behind him and jumps when his helmet is knocked askew.
JOXER
Hey!
XENA
You never learn, do ya?
JOXER
Xena! What are you doing here? You're supposed
to be on your way to Thessaly.
XENA
Huh? Why would I be going to Thessaly?
JOXER
Because…but I thought…
XENA
(Giving Joxer "the look")
Joxer, what are you talking about?
JOXER
You getting the Golden Fleece so you can save Gabby.
XENA
What do you know about Gabrielle, Joxer? Have you
seen her?
JOXER
(Looking more confused than normal)
Xena, Autolycus told us that you were on your
way to Thessaly to get the Golden Fleece, because that's
what Gabby's kidnappers told you to do.
XENA
Autolycus told you this?
JOXER
Yeah.
XENA
(Obviously catching on to something)
Uh huh. So, where's Autolycus now?
JOXER
Not sure. But we're headed to Thebes for a slave
auction.
XENA
Thanks Joxer.
Xena takes off at a run, leaving a very confused Joxer behind. He turns away from the road to find Jilliana has finished her bath and is getting dressed. He sighs deeply at having missed the show.
JILLIANA
Joxer! You didn't start the fire.
JOXER
Sorry, Jilliana. My fire is all burned out.
JILLIANA
(Flips her hair)
Huh?
JOXER
Never mind.
FADE OUT
END OF ACT TWO
Commercial Break
ACT THREE
INT THUG TENT
Kellara is seated on the now upright cot. An ugly THUG (is there another kind?) is standing guard over her. It's obvious she has allowed him to think he has the upper hand. Of course, she's ready to snap him in half with her Amazon skills.
THUG
What are you doing here?
KELLARA
Scavenging.
THUG
Huh?
KELLARA
Looking for useful stuff.
THUG
What's so useful about a scroll?
The thug is holding up said scroll.
KELLARA
(Rolls her eyes)
Well, you write on it. Read it.
THUG
Use it to wipe your…
KELLARA
Hey! (She grabs the scroll from him) You don't
use a scroll for that! What are you, a blind Cyclops?
THUG
What'd you call me?
KELLARA
I don't have time to explain.
Kellara gets up and starts to leave. The Thug stands in her way, the tip of his sword coming to rest between Kellara's breasts. Kellara looks at the sword and rolls her eyes again.
KELLARA
You men are all alike.
THUG
What?
KELLARA
It really isn't the length of the sword that matters. It's how you use it.
Before the thug can process this…and that could take days…Kellara knocks the sword from his hands with a roundhouse kick. He stumbles back, shocked that the small woman could disarm him. She delivers a one-handed Karate chop to his neck and the big man falls to the ground, unconscious. Kellara holds the scroll up triumphantly as she steps over the thug and leaves the tent.
EXT CORINTH TOWN CENTER
Briana is seated on the back of a wagon, watching Eldon and Rafe packing their horses to leave. Rafe glances at her, whispers something to Eldon, then makes his way to her.
RAFE
Hi there.
BRIANA
Hello. Leaving town?
RAFE
For a while.
BRIANA
Heading off to con someone else?
RAFE
(A beat)
Well, something like that. Why? You want to come?
BRIANA
I was afraid you'd never ask.
Briana jumps off the wagon.
BRIANA
I'm ready.
RAFE
You have a horse?
BRIANA
You mean I can't ride with you?
RAFE
(Smiling at the thought)
Of course you can.
Rafe leads Briana by the hand to Eldon and the horses. He helps her up, getting a look from his partner.
RAFE
So, ever been to Thebes?
EXT. JOXER AND JILLIANA'S CAMP—MORNING
Jilliana is gathering their stuff. Joxer still has a confused look on his face. Just like always.
JILLIANA
Why didn't you tell me this last night?
JOXER
How was I supposed to know it's so important?
JILLIANA
Joxer, the fact that Xena had no idea what you were talking
about didn't ring any bells with you?
JOXER
No. I try to stay away from bells. They give me a headache.
JILLIANA
(A beat before tossing Joxer's bedroll at him)
If Xena wasn't told by the kidnappers to go to Thessaly
to retrieve the Golden Fleece, then who was? And what
if that person never gets it? What will happen to the Queen?
And where did Xena run off to? Where…
JOXER
Stop! You're making my head spin!
JILLIANA
I should do more than make it spin!
Jilliana mounts her horse and speeds of in the general direction that Xena left in.
EXT THEBES
There is a large gathering of slave traders near the marketplace. From the way they are dressed, most of them are from the desert regions. At least thirty girls are gathered next to a crude stage, all of them wearing white robes. One particular blonde girls stands out amongst the taller brunettes.
V.O. WOMAN
The warrior babe better get here soon. Looks like
the bard is going to get sold.
V.O. MAN
You worry too much, Sis. I told her to be here with
the Golden Fleece before sunset.
V.O. WOMAN
And that's about a half a candlemark from now.
V.O. MAN
Why are you so worried about the bard getting sold
anyway? Xena won't know until it's too late.
V.O. WOMAN
(A beat)
Because I kinda like the bard.
V.O. MAN
We are talking about the same annoying blonde? Right?
V.O. WOMAN
Yes! She's not so annoying ya know. Once you
get to know her.
V.O. MAN
Oh please! She's a mortal!
V.O. WOMAN
Yeah. And so's Xena. What's your point?
The man doesn't reply as the slavers start gathering the girls up to begin the auction.
CUT TO:
Joxer riding into Thebes. He is no longer wearing his pasta strainer and helmet, looking very much like a "normal" man. Beside his horse walks Jilliana, who is dressed in a white slave robe. Joxer dismounts and leads Jilliana up to the stage, pushing her forward.
JOXER
How much?
The SLAVER, a large, ugly, brute, gives Jilliana the once over.
SLAVER
She's kinda scrawny.
JILLIANA
Hey!
SLAVER
And mouthy, too.
JOXER
Uh, well, she's not very well trained. But I'm sure that
can be fixed.
SLAVER
(Standing in front of Jilliana)
Oh, I'm sure it can be.
The Slaver pulls Jilliana onto the stage, placing her beside Gabrielle. The Slaver moves to talk to Joxer.
Gabrielle is so intent on watching Joxer that she almost doesn't notice Jilliana is talking to her.
GABRIELLE
What did you say?
JILLIANA
I said I'm Jill and I'm here to rescue you.
GABRIELLE
Little short for an Amazon, aren't you?
JILLIANA
(Raising an eyebrow)
I'm taller than you.
GABRIELLE
But I'm the Queen.
JILLIANA
Good point.
GABRIELLE
I also don't need saving. But thanks all the same.
JILLIANA
You don't?
Gabrielle hushes Jilliana as the auction begins.
CUT TO:
THE ROAD JUST OUTSIDE OF THEBES
Rafe, Briana and Eldon are slowly making their way into town. Briana is seated in front of Rafe, who has his arm wrapped loosely around her.
Eldon stops long enough to dismount.
ELDON
You two go on ahead. My horse has a stone in her shoe. I'm
going to walk her into town.
RAFE
Okay.
Briana glances back as Rafe nudges his horse into a trot. Eldon winks at her and she has to hold back a smile. She knows the two con men are up to something.
BRIANA
So, what are we doing here in Thebes?
RAFE
Oh, not much. Just going to a slave auction.
BRIANA
(Feigning surprise)
A slave auction? What for?
RAFE
I figured I'd see how much I can get for you.
BRIANA
(Turning in the saddle so she can face Rafe)
What!
RAFE
(Laughing)
Just kidding. Actually, I'm looking for some friends
of mine.
BRIANA
Who?
RAFE
Ah, here we are.
Rafe stops outside the city gates, dismounting and then helping Briana down. As they stand together, Rafe's hands on Briana's hips, it looks like they are about to kiss. Rafe leans forward slightly, his lips parted…then Briana ducks away. He smiles at her evasion.
RAFE
After you.
He makes a sweeping gesture with his arm as the city gates are opened, then follows Briana inside.
END OF ACT THREE
Commercial Break
ACT FOUR
EXT THEBES SLAVE AUCTION
Gabrielle is standing in line on the stage, her gaze fixed on a tall brunette woman who is weaving in and out of the crowd. The woman is wearing a black cloak, but her movements are very familiar.
GABRIELLE
I knew it!
JILLIANA
What?
GABRIELLE
I knew she'd be here.
JILLIANA
Who are you talking about?
GABRIELLE
Never mind. Look, you said you came to help me, right?
JILLIANA
Rescue you.
GABRIELLE
Right. Look, I want you to create a distraction. I need
to get to that woman in the crowd.
JILLIANA
Well, like you said, you're the Queen.
Gabrielle smiles, never taking her eyes off the woman in the cloak.
Jilliana takes a deep breath and screams.
CUT TO:
EXT THEBES CITY GATES
Briana and Rafe are just walking away from the gates when Eldon comes through them. It's clear he is watching the two carefully, waiting for the kiss.
RAFE
So, Briana, you never told me where you're from.
BRIANA
You never asked.
RAFE
Good answer. (a beat) So, where you from?
BRIANA
(Laughs)
A village to the south of Corinth. I'm sure you've never
heard of it.
RAFE
I bet I have. I've traveled a lot.
BRIANA
How much?
RAFE
What?
BRIANA
How much will you bet?
RAFE
(Grinning)
A kiss.
BRIANA
A kiss? You'll give me a kiss for telling you where I'm
from?
RAFE
No. You'll give me a kiss for guessing where
you're from.
Briana laughs, considering Rafe's offer. She's about to answer him when they hear a scream. Both react immediately, running toward the slave auction.
CUT TO:
Jilliana continues screaming and running around the stage as if she's gone mad. The slavers rush to control her while Gabrielle sneaks off the stage. The woman in the black cloak runs toward the marketplace, Gabrielle on her heels.
Joxer rushes forward, shoving his way to Jilliana. He moves the slavers out of the way, grabs Jilliana by the arms and shakes her until she stops screaming.
JOXER
What's wrong with you?
JILLIANA
Nothing.
JOXER
What? Then why are you screaming?
JILLIANA
Because the Queen told me to.
JOXER
(Looking around, but not seeing Gabrielle)
Queen? Where is she?
JILLIANA
(Whispering to Joxer)
She ran off into the marketplace.
The Slaver parts the crowd, grabbing hold of Jilliana's arm.
SLAVER
Get this crazy woman out of here!
JOXER
No problem.
Joxer leads Jilliana through the crowd, heading in the same direction as Gabrielle.
Jilliana is ahead of Joxer and nearly runs into Briana.
BRIANA
What's going on?
JILLIANA
The Queen was being sold as a slave, but she escaped.
BRIANA
If she escaped, why are you running?
JOXER
(Already out of breath)
Because she ran into the crowd and disappeared.
Rafe and Eldon join them. Joxer recognizes the con men immediately.
JOXER
Great. If you're here to con me…
RAFE
No Joxer. I swear that's not why we're here.
(To Briana)
What's going on?
BRIANA
Queen Gabrielle is missing.
RAFE
Gabrielle?
At Joxer's nod, Rafe starts looking around the crowd, knowing that I Gabrielle was around, Xena is certain to be close by.
Along the far edge of the marketplace, tucked into a doorway, stands the woman with the black cloak. Rafe recognizes her and quickly makes his way to the woman.
RAFE
Hello Xena.
The woman looks up at him and by her expression it's clear she does not know who Rafe is. Though her eyes are very familiar…
RAFE
You're not Xena, are you?
WOMAN
Sure I am! See!
(She removes the cloak to reveal her armor)
Joxer moves to Rafe's side, his hands on is hips.
JOXER
Meg! What are you doing here?
MEG
(A very big silly grin on her face)
Heya Joxer!
JOXER
Meg…
MEG
I came to give the hunk in black the Gold Fleas.
Briana, Jilliana and Eldon are now gathered around the doorway. Briana shakes her head as if she is certain she heard Meg wrong.
BRIANA
The what?
MEG
Gold Fleas. He said that if I didn't get them to him by
sundown the bard would get sold as a slave. I didn't figure
Xena would like that very much, so here I am!
JOXER
What hunk in black?
MEG
I don't know his name, but he's around here
somewhere.
BRIANA
Did you tell anyone you were coming here?
MEG
No way. He told me to get Gold Fleas and bring them, but
not to tell anybody. Ya know, this being good stuff is hard!
(Whispering to Joxer) Have you ever tried to pour gold
on fleas before? Sheesh!
BRIANA
(Shaking her head)
We need to find the queen. Let's split up. Joxer, you stay with
Meg and see if you can find out who the hunk in black is.
Jilliana, you and Eldon search the west side of the marketplace.
Rafe and I will search the east and meet back here in one candlemark.
EXT THEBES MARKETPLACE
Gabrielle is sneaking around the various stalls, looking under tables and behind curtains, trying to find Meg. The moment she steps around a corner Gabrielle is grabbed from behind. A hand covers her mouth as she is dragged into an alley.
Her attacker leans close and a very familiar voice rumbles low in her ear.
XENA
Calm down, it's me.
GABRIELLE
(Pulling away to glare at her friend)
Xena! What's going on?
XENA
I'll explain later. Is she here?
GABRIELLE
(Nods)
I saw her right before I got away from the slavers. Joxer is
here, too. And he brought Autolycus' girls with him.
XENA
Yeah, I know. I ran into Joxer and Jilliana outside
Corinth.
GABRIELLE
So now what?
XENA
We wait.
CUT TO:
SLAVE MARKET
Everyone is now gone as night begins to settle over the city. Briana is checking around the stage, ostensibly looking for clues. There is a noise O.S. and Briana draws her dagger, crouches and prepares to fight.
There is a little light coming in from the marketplace. It is enough to show Kellara as she moves toward the slave stage. Briana sighs and moves toward her friend.
BRIANA
Hey Kel, what did you find?
KELLARA
I searched the only tent left in the camp near where the Queen was last seen.
The scroll I found says she's to be sold as a slave at
the auction here.
BRIANA
You're a bit late on that one.
KELLARA
She's been sold?
BRIANA
No, but the auction's over. The Queen was able to escape
but no one knows where she is.
KELLARA
(Unrolling the scroll)
Maybe this will help.
BRIANA
What is it?
KELLARA
A map of Thebes.
BRIANA
Kel, I grew up here, I don't need a map.
KELLARA
Bri, it's not just any map. Look at this.
Kellara holds up the map. There is a mark where the slave auction will be held, a mark near the main gates, and a third mark on an alley in the center of the city.
KELLARA
(Pointing to the third mark)
How much you wanna bet the Queen ends
up here?
BRIANA
(Groans)
Please, no more betting.
KELLARA
Huh?
BRIANA
Never mind. C'mon. Let's go.
Briana and Kellara head for the alley. Rafe reveals himself from his hiding place and follows them.
EXT ALLEY
Xena and Gabrielle are hidden behind a stack of crates, waiting. A figure appears beside Xena, casting a shadow over both of them. Gabrielle stands behind Xena, who is more annoyed than anything else.
XENA
Ares.
ARES
Hey Xena. I see you found your little girlfriend.
GABRIELLE
Hey!
XENA
(Holds up a hand to quiet Gabrielle)
What do you want, Ares?
ARES
You know what I want.
XENA
(Rolling her eyes)
How many times do we have to go through this?
ARES
(Shrugs)
As many as it takes. So, where is it?
XENA
Where's what?
There is a pink flash and Aphrodite materializes next to Ares.
APRHODITE
The Golden Fleece. You were supposed to bring it
here.
XENA
What are you talking about?
APHRODITE
(Big sigh)
Golden Fleece—Jason—Argonauts. Get it?
GABRIELLE
That wasn't Xena that you told, Aphrodite.
APHRODITE
Look blondie, I know tall dark and deadly when I see her.
XENA
Really?
Xena waves her arm, motioning Meg and Joxer out of their hiding place.
Aphrodite looks from Xena to Meg, her expression clearly one of confusion.
APHRODITE
Twins? When did this happen?
GABRIELLE
Well, if you really want a lesson…
APHRODITE
Can it blondie.
ARES
(Checking out Meg)
I like. Not as good as the real one, but nice.
MEG
Back off, bub!
Meg shoves Ares away, then reaches into her pouch and pulls out a small back, throwing it at Ares.
MEG
There, I got what ya asked for.
ARES
What?
MEG
(Meg rolls her eyes)
The Gold Fleas! Sheesh! Good looking, but not so smart.
ARES
(Carefully opens the bag and nearly drops it)
Fleas?
APHRODITE
(Grabs the bag to see for herself)
Fleas! I said Golden Fleece you half-witted back
end of a Centaur!
ARES
Fleece, fleas, what's the difference?
APHRODITE
What's the difference? I can't put fleas in my temple!!
MEG
Well, they're gold aren't they?
Aphrodite throws up her hands and makes a "grrr" noise. Ares throws his head back in laughter, puts his arm around Aphrodite and they "pop" out.
FADE OUT
INT HUT ON THE OUTSKIRTS OF THE AMAZON VILLAGE
It's a few days later. The girls are seated in front of Joxer's desk and are joined by Xena and Gabrielle. Autolycus is behind his little hole in the wall.
AUTOLYCUS
Well, another job well done, Angels.
BRIANA
Thanks, Auto, but we really didn't do anything.
JILLIANA
Yeah. The Queen and Xena had it figured out before we did.
GABRIELLE
Not true. Besides, I wouldn't have been able to get away
from the slavers without your help, Jilliana.
JILLIANA
My pleasure Queen Gabrielle.
KELLARA
So, Aphrodite wanted the Golden Fleece, but knew she
couldn't get it on her own.
BRIANA
Right. So she figured that the only way to get it
would be to have someone get it for her.
JILLIANA
But why Xena? Why not just find a thief—like
the King of Thieves maybe.
AUTOLYCUS
(Clearing his throat)
Well, um, let's just say that she tried to hire
me. But I said no.
ALL THREE GIRLS
No?
BRIANA
Auto, since when do you say no to a challenge
like stealing the Golden Fleece?
XENA
Since he promised someone a long time ago
that he would never steal it.
KELLARA
Who? Who'd you promise?
AUTOLYCUS
(Obviously embarrassed)
Hercules. I tried to steal it once and he caught me.
I had to promise him I'd never try again to avoid
going to jail.
GABRIELLE
(Smiling)
So that's why Aphrodite went to Xena. She
figured with Ares help, she could pressure
Xena into stealing it for her.
XENA
I figured Ares has something to do with it,
so I arranged for him to meet with Meg instead.
JOXER
(Holding back laughter)
She spent a lot of time dipping those fleas in gold.
They all enjoy a moment of laughter.
JILLIANA
Hey Bri, what ever happened to Rafe?
BRIANA
Good Question, Jill.
CUT TO:
EXT AMAZON VILLAGE
It is night now and Briana is standing near the stables. She doesn't flinch when someone sneaks up behind her.
BRIANA
If you were any other man, I'd have killed
you by now.
RAFE
If I were any other man, I'd have kissed
you by now.
BRIANA
(Turning to face Rafe)
What's stopping you?
Rafe is grinning as he leans forward, gently pressing his lips to Briana's.
Briana pulls a small bag from his shirt pocket as the kiss ends and the part.
RAFE
Hey!
BRIANA
Just taking my part.
RAFE
You're part?
BRIANA
Of the bet.
RAFE
(Feigning innocence)
Bet?
BRIANA
Yeah. Bet.
RAFE
(Laughing)
I like your style. Can I kiss you again?
BRIANA
How many dinars you got?
Rafe grins and takes a small bag from his pocket and looks inside.
RAFE
Very funny.
Rafe opens the bag up to reveal a handful of golden fleas.
FADE OUT
THE END