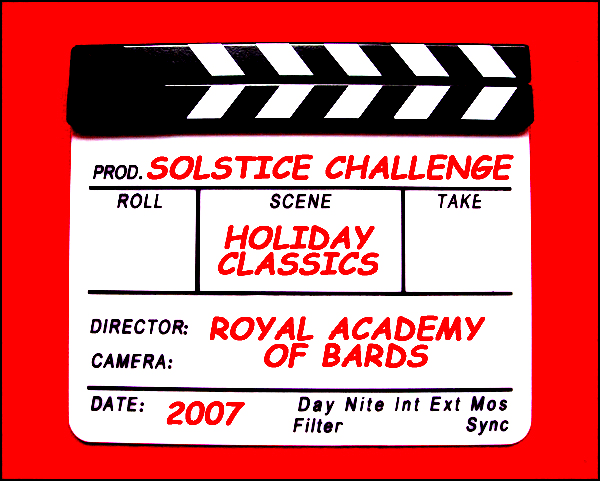 The Royal Academy of Bards
is proud to present
and
The Annual Solstice Bard's Challenge
which is BC #18 if you are counting
Your Contestants Are:

#1 - Christmas Miracle - Akiela Xal akielaxal@yahoo.com

#2 - 'It came upon a midnight clear.' - Ladyhawke ladyhawke124@hotmail.com Honorable Mention!

#3 - How the Grouch Stole Christmas - Meretseger meretseger.105.40@earthlink.net

#4 - How the Witch Stole Solstice - Aurelia aurelia_fan@yahoo.com.au

#5 - Walking Around in Warrior's Underwear - Del Robertson deldammit@yahoo.com WINNER!
The Challenge is to take any of the 25 holiday classic television shows or motion pictures listed below and make it your own. You can uber-ize it, Xena-tize it, Amazon-ize it or original-ize it; It's up to you.
The catch?
You still must maintain the overall theme of the original.
Oh and notice that "A Christmas Carol" is not on the list. We weren't going to make this that easy on you. <.g.>
Also be aware of these possible bonus opportunities:
Including "known" XWP 'verse Amazons will get you a point (up to five max) for each Amazon in your story.
Including the title of any well-known Christmas carol in the story in any context other than as a song will get you a point each (up to ten max)
Using "A Wish for Wings That Work" as your story base will get you undying gratitude from OZ (and an extra little prize too)…it's my favorite.
There is only one category of competition this time: Best story (voted upon by the public)
The Christmas/Holiday Classics
:
Babes in Toyland
Christmas in Connecticut
Going My Way
Holiday Inn
Home Alone
It Happened One Christmas
It's a Wonderful Life
Meet Me in St. Louis
Miracle on 34th Street
National Lampoon's Christmas Vacation
Prancer
The Bells of St. Mary's
The Bishop's Wife

The Nutcracker
The Santa Clause
White Christmas
A Charlie Brown Christmas
A Wish for Wings That Work
A Year Without a Santa Claus
Frosty the Snowman
How the Grinch Stole Christmas
Nestor the Long-eared Christmas Donkey
Rudolf the Red-nosed Reindeer
Santa Claus is Coming to Town
The Little Drummer Boy