Oz & Evil J
®
are proud to unfold
The 2009 Summer Punzle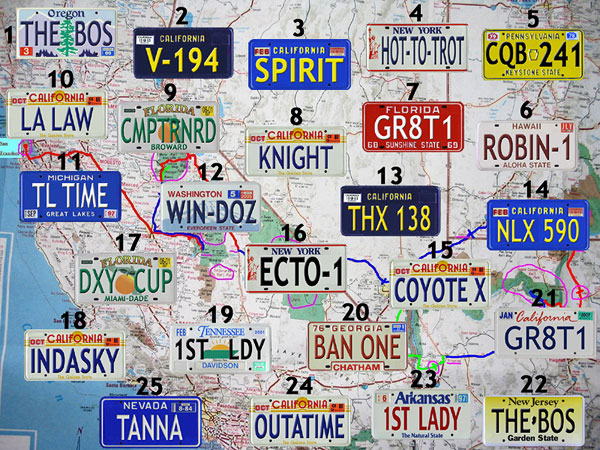 click for a full-sized picture
Vroom Vroom...it's time for a road trip. EVIL J and I came up with this little picture puzzle challenge to tie into the Vacation Bard Challenge.
All you need to do is:
Tell me who (real person or character) those license plates belong to.
Nah, wait...that's too easy. Evil J and I have a reputation to uphold.

I know!
Tell me who those plates belong to AND the makes and models of as many of the vehicles as you can.

But you don't have to tell us the model year. Even we aren't that evil. Okay, we are but not this time. <.g.>

You have until July 30th to turn in your best guesses to
academy_contest@yahoogroups.com Please put PUNZLE 09 in the subject line.

The winner will be the entry with the most correct guesses.
If there is a tie, the winner will be chosen at random from the tied entries.
Good Luck and happy driving.
Below are the answers to the Plate PunZle…
BIG KUDOS to the winners: Team FlyBigD (April/Chris/Lynn/Dawn)
1-Steph Solomon-Lopez
Dodge Grand Caravan (car real/unknown year/plate made up)
2-The Green Hornet
Chrysler Imperial (1966)
3-Anthony Blake/The Magician
Chevy Corvette (1980)
4-Dan Fielding/Night Court
Mercedes (unknown year)
5-Arnie Cunningham/Christine
Plymouth Fury (1958)
6-Robin Masters/Magnum PI
Ferrari 308-GTS (unknown year)
7-Jackie Gleason
(unknown make, model & year/plate made up)
8-Michael Knight/KnightRider
Pontiac Trans Am (unknown year)
9-Missy Good
Pontiac Aztek (car real/unknown year/plate made up)
10-Arnie Becker/La Law
Mercedes/Bentley (unknown model/year)
11-Tim Taylor/Home Improvement
Ford Roadster Hot Rod (1933)
12-Bill Gates
Porsche 911 (car real/unknown year/plate made up)
13-John Milner/American Graffiti
Ford Deuce Couple (1932)
14-Shirley Partridge/The Partridge Family
Chevy School Bus (1957)
15-Mark McCormick
Coyote Kit Car
16-Ghostbusters
Cadillac Ambulance (1959)
17-Dar Roberts/Tropical Storm
Lexus LX470 (car real…sorta/unknown year/ plate made up)
18-Lucy Diamond/D.E.B.S.
Cadillac (unknown model/year)
19-Lauren Strayer/Madame President & First Lady
(unknown make, model & year/plate made up)
20- Bo 'Bandit' Darville/Smokey and the Bandit
PontiacTrans Am (1977)
21-Wayne Gretzky
(unknown make, model & year/plate made up)
22-Bruce Springsteen
(unknown make, model & year/plate made up)
23-Hillary Rodham Clinton
(unknown make, model & year/plate made up)
24-Dr. Emmitt Brown/Back to the Future
DeLorean DMC-12 (1977)
25-Dan Tanna (Vegas)
Ford T/Bird (1957)