And She Sang
By Tragedy88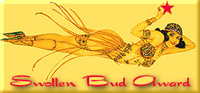 ---
Disclaimers: This is the conclusion of the series 'Our Souls'' Thanks for the ride. Hope you enjoyed it.
Email Tragedy at keket1976@yahoo.com
---
"And I... knew you.... before the fall of Rome"
Destiny is a cruel thing. I never should have let her leave. I'll hold that pain in my heart forever. The ones who follow will too.
I look for her now, even years later. I'll never find her. My heart aches for what I once had and then lost. It hurts.
The others sing to me, of lost love and lost lives... of a destiny waiting. How can the Fates be so cruel?
I loved her! It's not fair.
The cliffs here have changed little. The gulls still screech and cry, and where am I? On a beach that's ever changing, in a cove on the cape, where my ancestors cry with me.
Sometimes I hear her here. Her strong, alluring voice, calling to me, saying 'sorry.' Sometimes I smile and understand. Sometimes I scream at her.
Why can't she be here?
Why was she taken from me before our time?
I will always remember how our souls were one and our hearts journeyed together.
I have to remember... how her soul sang to me.
The End
© Tragedy88 2000
---