Sing to Me
By Tragedy88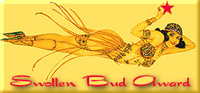 ---
Disclaimer: This is a prequel to Destiny Waiting. First in a small series of shorts, called "Our Souls"
Email at keket1976@yahoo.com
---
"If you like makin' love at midnight... in the dunes on the cape I'm the love that you've looked for... write to me and escape"
She's hard, and soft, like the raging ocean at my side. She glows in the moonlight and blends with the shadows. She's everything and nothing.
I haven't found her.
Yet.
But I will.
I walk the jetty by the breaking waves in the hopes that I will. I won't find her here, I know that. But I have to look.
Gulls fly overheard, crying and screaming.
I can feel the raw, raging emotions of my ancestors, pacing these shores·waiting. But, just because the past blends with the present in these whitewashed, salted cliffs didn't mean I thought I'd see her.
I hoped to. Prayed to, sometimes.
Some say that I look like her, my ancestor from long ago. I don't think so. But I want to meet her. The one she spent her life with.
Her soul sings to me...of lost love, lost lives... a destiny waiting.
---