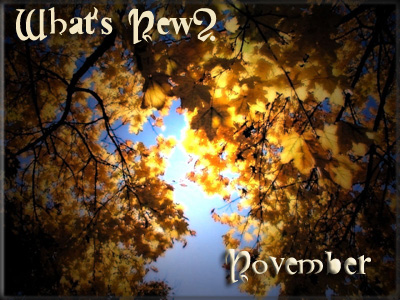 Go to the Halloween Extravaganza 2002
---
November 30th, 2002
I Never Knew by KG MacGregor
Mel and Janice iron out the terms of their new partnership and return to New York to show off their find: the Xena Scrolls. Now with their wings clipped by the war in Europe, they find adventure on a different front.
A Queen's Sacrifice by BL Miller
This story was the first alt story on the web to deal with rape and the character of Gabrielle. Please be certain to read the disclaimers carefully before choosing to read this story. From BL: When I wrote this story, the goal was to take the characters past the trauma to the healing then to the living and learning to love again. I never expected the reactions I've received about this story, an in truth had been reluctant to post it. Now I'm glad I did. It truly is a wonderful feeling to know that a story that I've written has touched so many women in the past two years. This story earned an Eddie award on Tom's Xena Fan Fiction page and has been recommended reading by a women's sexual abuse survivor's mailing list.
Guilt, Love and Forgiveness by BL Miller
Set after the events in the episode BITTER SUITE, this tale makes Xena deal with the consequences of her actions when an injury failed to be healed by the waters of Illusia threatens to leave Gabrielle permanently blinded.
Ulysses Revisited by BL Miller
My answer to that annoying episode. Gabrielle, unable to handle denying her feelings any longer, decides that leaving is the answer after seeing Xena's actions with Ulysses.
Added part 6 of Murder Has Two Faces by Tonya S. Coley
Added part 6 of L.M. Townsend's The Daughters of Artemis series, The Sword Comes Home
New eBooks
The Golden Tiger - Radclyffe
Shadowland - Radclyffe
Tomorrow's Promise - Radclyffe
Love's Melody Lost - Radclyffe
Innocent Hearts - Radclyffe
Tomorrow's Promise - Radclyffe
A Matter of Trust - Radclyffe
Above All Honor - Radclyffe
Love and Honor - Radclyffe
November 29th, 2002
Welcome some new bards to the Academy, Koda Graystone, Asgard and Little Mac!
Blue Mountain Smokies by Koda Graystone
Rayven a wildlife photographer and journalist returns to claim her ranch, while Jaxon Segreto, Chief of the elite firefighter team Blue Mountain Smokies does some soul searching.
Just One Perfect Weekend by Asgard
Hayden has been secretly attracted to her beautiful, straight friend Kelly since they first met. She is heading over to watch movies with Kelly while Kelly's kids are away for the weekend. For Hayden it may turn into one perfect weekend. Well, a girl can dream can't she?
The Nearest Distant Shore by Little Mac
Summary Pending
Swimming for Shore by Little Mac
Sequel to The Nearest Distant Shore
I just wanted to say what a treat it is to post all these BL stories! It's taken me back to the beginning of fanfic. For any new people not familiar with BL Miller, we have quite a selection for you to choose from today. And take the 'do not read at work' disclaimers seriously!
The Treaty by BL Miller
It's a change of roles as Gabrielle is forced to rescue the Warrior Princess after Xena is drugged and kidnapped by renegade Amazons in their bid to keep the young queen from signing a controversial treaty. Argo lovers will enjoy some of the humor in this one.
The Show by BL Miller
Not too much to say about this story except that Gabrielle certainly got to see a Tartarus of a floor show. This story earned Lunacy's famed "Do not read at work" warning.
The Cloak by BL Miller
A short little story (I'm sure it'll remind you of Cards Anyone? and The Show) that pays tribute to that old saying "Some women look great in anything". A cool evening finds Gabrielle in her cloak and Xena discovering why sometimes less is more.
The Silent Bard by BL Miller
Written at the same time as The Cabin and The Show. When Ares tricks the great Muse Calliope into agreeing to a bet, it is Gabrielle and Xena who suffer as the bard is thrown into a world of silence. While she struggles the great depression that threatens to engulf her, Gabrielle is also forced to deal with the feelings that are awakening within her. Only Xena's love can save both of them from being losers in Ares' little game.
The Cabin by BL Miller
Xena and Gabrielle are kidnapped and tortured by an old enemy of the Warrior Princess. After being rescued by Hercules and Iolaus, the pair are left alone in a private mountain cabin to recover. Their time alone is the catalyst to the opening of their hearts and feelings, but just when they think that happiness is theirs, Gabrielle's duties as Amazon Queen threaten to separate them forever.
Cards Anyone by BL Miller
One of BL's 'naughty little romps' (see also The Show and The Cloak) about Gabrielle and Xena admitting their feelings. A cave, a rainstorm, a deck of cards, and nothing to bet with except their clothes. This story earned Lunacy's famed "Do not read at work" warning.
Added part 5 of Dimensia by Fier
New eBooks
The Amulet - DJ Belt
November 28th, 2002
Welcome to a new...and first time bard, Sunflower!
A New Year, a New Life by Sunflower
An unexpected guest may change Alison's life forever. The complications of an ex-lover, a new one and adopting a child prove to be thrilling but not too much. Tag along on the story of two almost strangers who are put together, by the power of fate, in hot Rio de Janeiro, Brasil, around New Year's Eve. After all, the hope of a New Year and a New Life is always fueled by true love.
Tomorrow's Promise by Radclyffe
One timeless summer on a small private island, two women discover the power of passion to heal, and the promise of hope only love can bestow.
A Matter of Trust by Radclyffe
An enigmatic internet security consultant and a sophisticated, high-powered business woman join forces to battle corporate espionage. Their professional relationship soon threatens to create even greater personal challenges as their association awakens unexpected needs and desires.
Passion's Bright Fury by Radclyffe
Saxon Sinclair, the broodingly secretive Chief of Trauma at a busy Manhattan hospital is less than pleased to learn that her new resident is going to be the subject of a documentary film. The arrival of Jude Castle, a fiery independent filmmaker, soon sets sparks flying as the two driven women clash both personally and professionally. On the battleground between life and death, passion strikes without warning.
Above All Honor by Radclyffe
Assigned to guard the President's daughter, a secret service agent finds duty warring with desire.
Honor Bound by Radclyffe
Secret Service Agent Cameron Roberts and Blair Powell, the President's daughter, return in the sequel to Above All, Honor. Against Blair's wishes, Cameron accepts reassignment as the chief of the security detail assigned to guard her. Amidst political intrigue and a menacing threat to Blair's safety, these two unusual women struggle to find their way back to one another. Can love survive when fate seems destined to stand between them?
Love and Honor by Radclyffe
In this third book of the "Honor" series, Blair Powell, the President's daughter, and Cameron Roberts, the commander of her Secret Service detail, return amidst a climate of international turmoil and political unrest. The two women find their love and Cam's career on the line as they become the center of intense media scrutiny and a clandestine plot to destroy the President.
Welcome Smenzer to the Academy! All the below are finished, Gabrielle/Ares fic -
When Death Rears Its Ugly Head by Smenzer
After a bloody war between the Romans and Amazons, an evil supernatural tree sprouts. Although weakened because the tree is sapping his powers, Ares helps Xena and Gabrielle fight it. The battle becomes a race against time when Gabrielle becomes infected. Rated PG-13 for violence.
Cabin Fever by Smenzer
Xena, Gabrielle and Ares are stuck on the farm during a winter blizzard. To avoid cabin fever, Gabrielle comes up with a unique solution. A Christmas story based on "Old Ares Had a Farm". Rated PG
Ares a La Mode by Smenzer
Ares tries to rescue Gabrielle from the cannibals' cooking pot, only to get caught himself. Can Xena rescue them in time? Ares/Gabrielle story. Rated PG
War of the Frying Pan by Smenzer
Xena and Gabrielle hold an auction. Hercules and Ares have a bidding war over the item. Although it's set in the year 2001, it reads more like a general Xena story than an uber. Short and funny!
Writer's Block by Smenzer
Gabrielle is cursed while attending a bard's convention thanks to Discord. And until she kisses War in Love's temple and walks War's dog, she won't be able to write a single word. Ares/Gabrielle Rated PG.
Added part 4 of Pathfinder by Windstar and at3sparky
Added part 14 of The Last Conqueror by Lariel and Kamouraskan
November 27th, 2002
Dark by Carola Eriksson [XWP fic, alt]
A short and somewhat dark fic. Someone is imprisoned in the dark, with only her thoughts for company. But is she really alone?
Gone Fishin' by Rab Donald
Instead of a synopsis, we have reviews of the story--
"A poignant tale of love" - The Amphipolis Gazette.
"Based on actual parchments...this early love story of Xena and Gabrielle is a real page-turner." - The Pyros Times.
"An OK story but not nearly enough fish" - Angling Weekly
Shadowland by Radclyffe
Set in the leather world of the City, the story of two women drawn together by the power and pleasure of S/M - and nearly destroyed by their own dark secrets.

Love's Melody Lost by Radclyffe
When the music deserted her, she lost her passion, her heart, and ultimately her soul. In a gothic setting of silence and secrets, a woman came to awaken her desire.

The Golden Tiger by Radclyffe
Drew Clark -- martial arts master, army combat instructor, tormented warrior. Can her hidden wounds be healed by a student's love?

Safe Harbor by Radclyffe
Provincetown has a new Deputy Sheriff -- and when the newly sworn peace officer meets the town's doctor, she discovers what she never realized she was missing.

Innocent Hearts by Radclyffe
In 1860's Montana Territory, Kate Beecher, a young woman from Boston, faces the hardships and hard choices of life on the frontier. Jessie Forbes, a fiercely independent rancher, finds in Kate a passion she never dared dream. This is the story of their struggle to love in a land, and time, as cruel as it was beautiful.

Added part 4 of Conquering Liaisons by Carola Eriksson

Added part 8 of Culture Clash by Nyrdgyrl

Added Installments 11, 12, and 13 of Impulse: Book IV-MOVING ON by Mezzo

Added part 13 Time's Fell Hand by LJ Maas

Added Chapter 12 of Modern Crusaders: Adeptus Major by PsiDraconis

eBooks

Good Things Come To Those Who Wait - Mavis Applewater
Reaching a Verdict - Mavis Applewater
Starting Over - Mavis Applewater
Trading Rooms - Mavis Applewater
Invading My Dreams - Ri
Terreis' Lover - Paranoia
Truly, Madly, Gabby - Midgit
Alone - frotu
Fan (The) - Midgit

November 26th, 2002

Announcement

On the twelfth day of <Entries go to: academy_contest@yahoogroups.com>BC7 my Bardie gave to me...
12 Kids trick or treating
11 ghosts in a graveyard meeting
10 skeletons scaring
9 adults, costume wearing
8 orange pumpkins for carving
7 vampire bats starving
6 Piñatas for the party, so nice
5 blocks of foggy dry ice
4 Haunted house shutters, banging
3 cobweb covered broomsticks, hanging
2 chocolate dipped apples
and a story entry that has all 20 required list words.
Bard Challenge #7 HOLIDAY HAVOC...
is in progress...
"HOLIDAY" as in...
We supply a few lists of holiday goodies and you creatively incorporate them into a holiday based story or graphic illustration. Not too difficult, right?
HEH.
"HAVOC" as in:
We swapped the holiday lists around a bit. The Halloween items must be used in a Christmas story, the Thanksgiving list must be used in a Valentine story, the Christmas list must be used in an Easter story, the Valentine list must be used in a Halloween story and the Easter list must be used in a Thanksgiving story.
go to
HOLIDAY HAVOC
to find the lists and roools information. There are also several opportunities to pick up bonus points. Some cool prizes are available to the top vote-getters.
ENTRIES GO TO: academy_contest@yahoogroups.com
Must be received by December 14th

Stories

Shield of Justice by Radclyffe
While a serial rapist terrorizes the city, Rebecca Frye, the detective sworn to stop him, must learn to trust a woman who awakens her long buried needs. Dr. Catherine Rawlings becomes her reluctant aide, and together they find themselves caught between loyalty and love.

The Day The Earth Went Mad by Katia N. Ruiz [unfinished]
The Explosion rocked the world, and no one knew where it came from. Then the Cloud covered all of earth, and nothing could come in, or get out... Follow the adventures of Julia and her friends as they fight to survive in a world gone mad

Added part 5 of L.M. Townsend's The Daughters of Artemis series, Visions of the Sword

November 25th, 2002

Invading My Dreams by Ri [Über, alt, finished]
For Kate the force was her life till she answered a domestic dispute case. She went to a neighbor to interview them and was greeted by a woman who had haunted her dreams. How will she be able to balance this new discovery with the life she had created?

Added Part 6 of A Thousand Kisses by Girlbard

New eBooks
Omega's Folly Alexiares (fixed)
Caution - Under Construction Vertigo
Retirement Fantasy
Hard to Say Goodbye Heartstarter
That Scroll Heartstarter
The Fallout Heartstarter
Wasted Moments Heartstarter
The Weekend Visitor Heartstarter
In Pursuit of Justice Radclyffe
Home DS Bauden
Dead Right Anne Azel
Day of the Warrior Rab Donald
The Reef Lois Kay


November 24th, 2002

Welcome to the Academy, Radclyffe!

In Pursuit of Justice [Über, alt, finished]
Detective Sergeant Rebecca Frye and Doctor Catherine Rawlings return in the sequel to Shield of Justice. Rebecca's obsession with finding her partner's killer and her involvement in a multi-jurisdictional investigation of an international child pornography ring threaten both her life, her career, and her new relationship.
A revised, expanded version of this draft will be published by Renaissance Alliance Publishing May 2003

Queen of My Country, Queen of My Heart by Alex Tryst
With her father ailing, Princess Alexa is on a mission to find a bride to sit beside her on the throne. Her parents demand she marry the woman they have chosen for her, but an unexpected entrance of a charming lady changes everything as Alexa falls in love for the first time. Will she follow her heart or her designed destiny? Does she have what it takes to be the great leader to her nation in its time of need? And will she win the affections of the woman she loves? WARNING: Angst Alert. You need a full box of tissues for this story.

Added part 7 of The Curse of Higuchi by Crystal Michallet

November 23rd, 2002

An Announcement - Pups on TV!!!!

It's always cool to see Xenites in the news. Here is two rodeo riding Xenites - Noe and Erin. The Advocate Magazine had an article called Ropin', Ridin', Redecoratin' in their November 26, 2002 issue. Well, the article mentioned that Erin had put in a request to be on the "While You Were Out" TV show for The Learning Channel cable station. I found out that the episode that was filmed will be aired in the US on THE LEARNING CHANNEL on November 23, 2002 (check the local listings for times and channels). The web site that explains what that episode is about is: http://tlc.discovery.com/fansites/wywo/episode/episode23/episode23.html

Welcome to the Academy for another new author, Lady J!

Spring Break [Über, alt, unfinished]
Jessie and three close college friends prepare for a trip they will take over the spring break holiday from grad school. All looking forward to this trip, all with different expectations, but none could have predicted what would happen.

The Conqueror by Mavis Applewater
The Conqueror, from Mavis Applewater's Wednesday Afternoon Series is a little different instead of an Uber this one is a good old fashioned X&G Conqueror story.

Whispering Pines by Mavis Applewater
Whispering Pines, by Mavis Applewater is the recent winner of the Bards Village Halloween Challenge. Shawn is stuck in a haunted mansion on Halloween night for a television special. Her only companion should be the attractive allbeit annoying Faith Charles. But everything is not as it seems.

Added part 2 of Mavis Applewater's My Sister's Keeper

Added part 15 of Lois Kay and Cbar's Ripples in Time

November 22nd, 2002

Welcome to the Academy, Prince Bryazon and Mindwalker78!

One Tin Solider by Prince Bryazon
This is a Xena fanfic story based upon the old camp song "One Tin Soldier". In this tale, Xena, Gabrielle, and Joxer stumble upon a small mountain village about to be attacked by the people of the valley below.

School's Out by Mindwalker 78
Andy Parker didn't know why she'd never had contact with Chris Chambers before. Maybe it was because Andy came from the other side of the tracks.
But, one day, an after school incident brings their lives together, and they discover a friendship that neither had ever believed possible. They feel as though each can fill the aching emptiness in the other's heart. But, just as they begin to listen to their hearts, something devastating happens to Chris. Will Andy ever be able to convince her that she had nothing to do with it? Can Chris ever feel the same about Andy again?

The Angry Man by Rab Donald
Xena and Gabrielle have to deal with an angry Spartan soldier.
Rab Donald (Welcome back to writing fanfic, Rab! - steph)

Added part7of Nyrdgyrl's Culture Clash

November 21st, 2002

Reaching A Verdict, (Jury Duty Part Two) by Mavis Applewater
Now that they have reached a verdict Walker and Celine are free to explore their feelings for one another.


Trading Rooms by Mavis Applewater
In this take off on Trading Spaces & Chaning Rooms, Ellie's sister convinces her that going on the popular television show and allowing their neighbors to redesign a room in their home is a good idea. She doesn't agree until she meets the designer.


Good Things Come To Those Who Wait (Part Two of Good Things Come In Small Packages) by Mavis Applewater
Teagan and Gayle are back and things heat up between them.


Starting Over by Mavis Applewater
Randy has just been dumped and is looking for something or someone to take her mind off of her troubles.

Added part 22 of Bonnie's Tie Break

Added part 7 of The Curse of Higuchi by Crystal Michallet

November 20th, 2002

Here's a very familiar name we are happy to have on the Academy! Welcome to BL Miller!!

The Hostage
Thanks to the petty games of the gods, Xena loses all memory of her time with Gabrielle and believes herself to still be the ruthless "Destroyer of Nations" that once terrorized Greece. Now she has the Queen of the Amazons as a hostage in her bid to rebuild her army. Only Gabrielle's love and bardic tongue can keep Xena alive after the Amazons demand justice. Side note: The fanfic indexes consider it a novella. Don't try to read it all in one sitting.

The Amulet by D. J. Belt
Xena and Gabrielle are enlisted by the goddess Artemis to join an old acquaintance of Xena's on a mission to unravel a dark mystery involving the missing remnants of the Amazon nation. Along the way, Xena is assailed by deep remorse and self-doubt, Gabrielle suddenly vanishes, and her old friend may offer the key to the puzzles which plague her.

Added part 6 of Julie Baker's Negative Reaction

Added part 2 of Need for Speed by K

Added part 45 (the conclusion) of Vertigo's Caution: Under Construction

November 19th, 2002

Welcome Firefly to the Academy!

Ashes [short story]
Cyane's story

After Midnight [Mel/Janice-alt]
Janice is in a romantic mood.

Added part 16 of SB Zarben's Amicus Humani Generis

Added part 8 of Katia N. Ruiz' A Sibling's Rivalry

Added part 4 of A Sweet Surrender by Katia N. Ruiz

November 18th, 2002

The following is from CN about the Carole Giorgio Auction:
Due to heavy traffic we've changed the address of the Carole Giorgio Auction. Thanks to MaryD our temporary home is http://ausxip.com/~carolegiorgio If you experience any problems please contact CN Winters at cnwinters@hotmail.com. Happy bidding!!

Stories

Here Comes My Woman by GS Binkley
Continues on with the lives of Lacy and Gage a few years later as the writer reveals more about her dark past. The dynamic duo work together on a movie while raising their family and someone from Gage's past makes an unexpected appearance. This is the third story in the WOMAN I LOVE series. The second story is entitled A WOMAN LIKE YOU.

Added part 6 of Desolation by Maderlin Bidmead

Added part 44 of Vertigo's Caution: Under Construction

Added part 4 of By the Manor Owned by Phair

Added Installment 8, Installment 9 and Installment 10 of Mezzo's Impulse: Book IV-MOVING ON.

November 17th, 2002

Two announcements:

We received sad news that Jane Fletcher's partner of 20 years died suddenly Saturday night. Our thoughts are with Jane and their families as they get through this trying time.

From "Xena & Gabrielle Virtual Season"
Danger! Action! Death! Don't miss the exciting Xena and Gabrielle virtual season at www.xgvs.com. All episodes premiere on Saturdays at 7p.m. Eastern

Added part 4 and part 5 of Desolation by Maderlin Bidmead

Added Part 11 of Psi Draconis' Modern Crusaders: Adeptus Major

November 16th, 2002

Added part 5 of Murder Has Two Faces by Tonya S. Coley

Added part 13 of Lariel and Kamouraskan's The Last Conqueror

Added parts 6-10 of Balances by Shadowriter

November 15th, 2002

Welcome to the Academy first time bard, Stacey X!

When!?!
This story is based on the premise that Xena and Gabrielle are lovers and partners for life. And that sometimes...friends can kinda get in the way.

Added part 6 of Crystal Michallet's The Curse of Higuchi

November 14th, 2002

We're close to our 3 millionth visitor to the What's New page. If you are number 3, 000, 000 take a screen shot and send it to academyofbards@yahoogroups.com and we'll get a little treat out to ya. And we'd like this to be fair and square, don't keep clicking and reloading <g>.

Stories

Welcome to the Academy, frotu!

Alone by frotu [original/alt]
Kate is a little shy. Too shy to talk to that cute woman she sees in the bar every now and again. Will she find the courage to talk to this woman or any other woman for that matter? Or is she destined to be alone?

Love Has No Pride by S. Lee
The sequel to Three Days and the second in the Kat and Beth trilogy. The story picks up thirteen years later and Kat has become a mega-superstar. She and Beth have two daughters. Kat succumbs to the temptations of extreme success. Can the couple's marriage survive as Kat deals with her demons?

Added part 5 of Negative Reaction by Julie Baker

Added part 12 of Time's Fell Hand by LJ Maas

Updated Eileen Marks' Ultimate Über List

November 13th, 2002

After our announcement yesterday asking for help for Redhawk, several people asked for a PayPal account to send money to her directly. She has one set up now, just use the email address of djredhawk@earthlink.net. Thanks, we should have the auction set up soon. We appreciate the thoughts. We can still use donations so if you are considering it, let us know!

Stories

Added part 43 of Vertigo's Caution: Under Construction

Added part 2 (conclusion) of J. Brownell's Obsessions

Added part 6 of Nyrdgyrl's Culture Clash

November 12th, 2002

Announcement

There are time when someone you know needs a helping hand. Heck, we've all been there, whether it's for emotional or financial support. In this case it is probably both but one is needed more than the other. One of our own bards has taken a family member into their home who has a few medical bills...and that's downplaying it quite a bit and came to them with nothing. She and her partner are having to adjust working to care for the family member and when they aren't there, they have to pay for a caregiver out of their own pocket for the next several months until the disability payments kick in.

Now, I'll probably get kicked in the butt for this but trust me, it's so very worth it. The writer of whom I'm speaking is D. Jordan Redhawk. One of the best damn writers in the business. I would say that most of us have read her stuff, let's give a little back...what do you say? Raven at ravnhawke7@aol.com is going to put an on-line auction together. Do you have something you wish to donate? Let her (or me at rocky@teleport.com) know. Wanna just send cash? We can do that too. Just drop it to D. Jordan Redhawk,PO Box 9001, Portland OR 97207.

We are in the process of getting a webpage set up to have a place to show off the donated items once we've gotten everything together. Let us know and please send your emotional support in this trying time.

Please feel free to cross-post this anywhere!

Thanks. steph

Stories

Ares' Plan By Cris and Amy
Ares thought he had a brilliant plan to get Xena back but that plan backfires with some humorous results.

Added Part 10 of PsiDraconis' Modern Crusaders: Adeptus Major

November 11th, 2002

Added part 12, part 13 and part 14 (Conclusion) of Lois Kay's The Reef

Added part 15 of SB Zarben's Amicus Humani Generis

November 10th, 2002

Dead Right by Anne Azel
The next story in the 'Murder' series...

Dark Heritage by M.E. Greska [alt/Über/unfinished]
The nightmares have begun and strange things are happening. Casey Meford is a strong, self sufficient woman whose life has just spun completely out of control. Will the love of a new friend be enough to reawaken Casey's trust in herself and others as she wages a battle for her very soul? Time will tell.

Added part 6 of Carole Giorgio's California Gold

New eBooks
Make a Wish – AH-Ladis
Love in Photographs – Alex Tryst
Boy – AC
Ligara – Midgit
Past Tense – Carrie Carr
Present Tense – Carrie Carr & AJ
FutureTense – Carrie Carr & AJ
Up to the Old Inn Door – Beowulf
Take One Head and Call Me in the Morning – Lariel


November 9th, 2002

An announcement:

We are searching for webmasters


Season 8 of Xena the Warrior princess is in need of several webmasters for this season. Volunteers would help with coding and website updates. To participate in the all new adventures this season, feel free to contact us @ xwpvs_team-owner@yahoogroups.com

Searching by JenX [alt/Über/unfinished]
When June stumbles in to Adrienne's camp, they become tentative friends. But is Adrienne who June think's she is?

Touching Steele by JenX [alt/Über/unfinished]
Sarah is exhausted and ill after escaping the murderous Center. She ends up on Steele's plantation, but Steele is convinced that the young blonde is a spy. (Please read disclaimer carefully)

Just Like Xena and Making New Memories by LJ Maas
Our Little World New series of short stories chronicling the lives of Katie & Charlie, from the time they are children into adulthood.
Pilot Webisode, Just Like Xena. Webisode 1: Making New Memories

Added part 42 of Vertigo's Caution: Under Construction

November 8th, 2002

Thank you guys for stepping up on the feedback. While it's still not where I'd like to see it, some of the bards who had no feedback have now gotten a couple of emails. Thanks, and remember don't assume others are writing so you don't need to!

Stories

Balances by Shadowriter [original/alt/unfinished]
With Jesse in a meltdown, Trey brings Nix back from Toronto to fix the situation. Their efforts are foiled, though, by fake vamps and a night stalker with very sharp teeth. Walking the icy streets of New York City is hard enough, they find, but impossible if you've lost your balance. To survive, they'll need to find it again -- fast.

Added part 4 of Reunion by JenX

November 7th, 2002

Announcement

We've heard from several of the Halloween authors that they have not received one email of feedback...not ONE! If you guys want them to continue participating in things such as this, they need to hear from you TODAY! With close to 100,000 hits just on those stories, I know you guys are reading....now go write to the bards!

Announcement II

Kiera Dellacroix has started an announcement list for those who wish to keep up with her antics, you can join up at http://groups.yahoo.com/group/kdellacroix/

Updated

Judith's Just Like Buttah Reviews
Added reviews for -
It's All in the Telling by Eileen Marks
If You're Gone by xenickz.
Nothing Special by Zuke
delirium tremens by Vivian Darkbloom
Guilt by Ali Vali

Updated review for Infinite Possibilities by Cate Swannell

Stories

Mavis Applewater's new series My Sisters Keeper [über/unfinished]
The past and present collide for Jenny Jacobs when she is reunited with her first love and the only woman she can never be with again.

Retirement by Fantasy
A spin-off of the"Lost and Found" series. The new one is "Lost and Found: Generation Next". Some new twists in Becca and Stace's lives. Stace is going through a mid-life crisis. In short, she thinks she's getting old. The body is starting to "go south", she's not sure she wants to continue at the trauma center, etc. The fact that there has been an "addition" to the family doesn't help her outlook on life. And of course her "little voice" isn't helping her frame of mind.


Added part 4 of Julie Baker's Negative Reaction

Added part 12 of Lariel and Kamouraskan's The Last Conqueror

Added part 4 of Tonya S. Coley's Murder Has Two Faces

Added part 5 of Nyrdgyrl's Culture Clash

Added part 7 of Katia N. Ruiz' A Sibling's Rivalry

Added part 3 of A Sweet Surrender by Katia N. Ruiz

November 6th, 2002

Congratulations to Kiera Dellacroix and her wonderful novel, Engravings of Wraith for being the top seller at The Open Book Ltd. We are honored she chose us to first host the story.

For this, and more best sellers from several writers who are on this site such as Lori Lake, Melissa Good, Katlyn, Carrie Carr, J.M. Dragon, and Archangel go to http://www.openbookltd.com/topsellers.shtml and support the writers who provide us with the opportunity to share in their talent! BUY BUY BUY!!

Added part 14 of Lois Kay and Cbar's Ripples in Time

Added a revised part 6 (conclusion) of KG MacGregor's Strained.

November 5th, 2002

Announcements

--From Jane Fletcher

If there is anyone who has had trouble getting a copy of my novel, 'The World Celaeno Chose', and would like a signed copy, these can be ordered from the Libertas bookshop (http://www.libertas.co.uk/) by Friday (8th Nov.). This coming weekend I will be at the Libertas lesbian book festival. During the festival, the organisers will get authors present to sign books. I believe there are comment boxes on the website order form where you can say what you want written (if this doesn't work, you can e-mail the bookshop with the info at the same time as making the order). Libertas will post books worldwide. The main word of warning concerns the appalling standard of my handwriting. But, if anyone would like a copy defaced by my barely legible scrawl, I will be more than happy to oblige.

Stories

Strained by KG MacGregor
In Shaken, they fell in love. In Stirred, that love was tested and reaffirmed. Now in Strained, LA car dealer Anna Kaklis and family attorney Lily Stuart face new questions about family and future. Very low on the angst-meter. ;-)

Added part 6 and part 7 of DJ Woods' Scars

Added part 10 and part 11 of Lois Kay's The Reef

Added part 7 of Midgit's Handful of Heaven

November 4th, 2002

Love in Photographs by Alex Tryst
Two lives collide with a chance meeting at a photo shoot. When the photographer falls in love with her model, will she dare try to make her move, or will she adore her from afar? Find out in this romantic drama about finding your soul mate and realizing your destiny.

Added Installment 6 and Installment 7 of Mezzo's Impulse: Book IV-MOVING ON.

Added part 14 of Harley's Poetry in Motion

Added part 11 of Lariel's and Kamouraskan's The Last Conqueror

November 3rd, 2002

Infinite Possibilities by Cate Swannell


Boy by AC
I have this friend who has this problem. Everyone thinks she is straight. Not a person in the world looks at her and thinks "lesbian." She is just another girl in the world. In a man's world. Sometimes I wish that I had that problem. Well, in a way I do...

Time: Clock of the Heart by Alex Tryst
This is the sequel to Persistence. Just when Drew and Lola are supposed to live happily ever after, their relationship is put to the ultimate test. Will they survive it, or will Lola lose her hero?

The Dyke and the Debutante by Alex Tryst
Two different worlds come together in this story about the senior year of college. Old friends reunite, but will there be more? Will the Homecoming queen fall for the charming all-star softball catcher? And will they even survive to make it to graduation?

Added part 14 of SB Zarben's Amicus Humani Generis

Added Part 4 and Part 5 of A Thousand Kisses by Girlbard

Added Part 9 of PsiDraconis' Modern Crusaders: Adeptus Major

November 2nd, 2002

Announcements

-- L. Crystal Michallet-Romero

Celebrations of Diversity
Within the
Xena: Warrior Princess
Fan Fiction World
(Alt or Uber)

This endeavor to create a list of Xena Fan Fiction incorporating diversity of ethnicity and/or religion began from a simple question I had asked a few group boards. Like many of you, having been a Xena fan since the first episode, I turned my attention to reading more fan fiction once the show was over. After a few years I began to notice a trend where many of the characters and plots did not focus, or even hint at diversity and I wondered why? For most people, this might not even be an issue, but as a Native American (Lakota) and Chicana, this was an obvious omission.

We all know that the original Xena: Warrior, Princess, television series not only had plots, which dealt with various ethnic groups and religions, but the show made a point to include people of color. Regardless of what everyone may think of the producer/creator, Rob Tapert, one of the main achievements I give him kudos for was his incorporation of diversity. He could have been like the typical producer, requiring a certain body type and standard of "Hollywood" beauty and he could have made those very same requirements of the cast surrounding the main stars, however he did not and for this, I tip my hat to him. In the Xena episodes we saw a rainbow of colors from the cast and, granted, although the historical accuracy of this campy show leaves much to be desired, the plots took us into areas of religious differences and beliefs that many might not have considered before seeing the show.

After contemplating this fact and realizing that the show not only embraced diversity, but also made an active point of incorporating it within the story lines and plots, I wondered why fan fiction was not doing the same? I began to see the lack of ethnic representation and I wondered if this meant that the Xena Fan Fic world had no place for people who looked like me. With this thought in mind, I asked a few groups if they knew of any fan fiction material, which had either ethnic or religious diversity. Some of the responses I received only proved that this topic needed to be aired, if for no other reason than to let those few individuals know that yes, we people of color are fans and we do exist in the Xena world. Thankfully, these few negative responses were outnumbered by the positive feedback and support I received from many of the Fan Fiction readers.

This list is a compilation of all the names of titles forwarded to me by fans who supported my attempt to find Xena Fan Fiction embracing diversity within the story plots.
For this list, or more information on how the list was complied, go to: http://www.charani.org/XenaDiversityFanFic.html

Charani Award
After reading all of the e-mails from people who echoed my concerns, I felt strongly that I needed to find a way to try to encourage writers to consider this topic and hopefully strive to make their work more inclusive to those of us who stand outside of the dominating cultures. Therefore, I've designed an award, which has the logo of my main website, Charani. Because she is my hardest critic when it comes to my own writing, my beloved, Jessica, will be helping me in deciding which Fan Fiction story is deserving of the Charani Award for excellence in the incorporation of Ethnic or Religious Diversity.
On November 1, 2003, the first recipient of Charani's Award of Excellence in Fiction for Ethnic or Religious Diversity goes to Anne Azel for Turkish Encounter.
Not only does Ms. Azel weave an intriguing tale of love between two women, but she incorporates the Turkish culture in such a way as to make the entire story believable. The combination of the plot, and her painstaking attempt at details makes Turkish Encounter not only a good read, but an example of writing that is inclusive and respectful of another culture.
Please join me in congratulating Ms. Azel as the first recipient of Charani's Award of Excellence.
To read Turkish Encounter, go to: fanfic/a/anneazel_turkishencounter1.html
Thank you all for helping me gather the list together and for encouraging me with the idea of the Charani award!
- L. Crystal Michallet-Romero -
Stories
Confession by Sais2Cool
Gabrielle charts her passionate relationship with Xena, which leads her to reveal a secret that has tortured her conscience for years. ***Warning: This story contains a non-graphic sex scene which can be interpreted as non-consensual.***
Gabrielle's First Love by Xenalynn
It is a first time story between the two.
Added part 4 (Conclusion) of DS Bauden's Home
November 1st, 2002
Announcements
-- From the Academy of Bards
Congratulations, the Award of Excellence from The Next Chapter has been awarded to Goesome for Dress Blues. The story is fantastic and we are proud to have it on the Academy.
-- From BardKC and CN Winters
We're organizing an auction for Carol Georgio's daughter who's going through expensive medical treatments for her battle with cancer. It's taking a toll on this Xena bard both emotionally and financially. Myself and another Xenite are trying to get items to auction off that will go to Carol to help pay these hospital bills. She's not a non- profit organization so you can't 'write off' your contributions but it would be wonderful if people would look past that and donate to this cause. Things are still in the planning stage. At this time we are looking for fellow bards who will donate books, tapes, autographed story covers, you name it. Also if there are any fans out there that would like to donate any personal items to the cause that would also be appreciated. Please let me know if you can lend a hand - either with helping me get the word out about the auction or donation of an item.
Thanks for your time
CN Winters and BardKC
cnwinters@hotmail.com kmcmage@aol.com
Here is a link to her story www.dfw.com/mld/dfw/4175761.htm
-- From Advocate
In the spirit of my absolute favorite holiday, and in celebration and promotion of the release of Echoes from the Mist in paperback, I've devised a small, and probably hopelessly lame, contest. But who can complain about free stuff? There will be two winners, each receiving a copy of Echoes from the Mist as a prize (free domestic shipping is included). Rules and other things you'll be tempted to email and ask about that will be conveniently be found here instead<G>.
- Answer the questions below. Some answers may come from new scenes added to the paperback versions of stories posted online.
- Put answers on the form at the bottom of the page.
- Answers must be received by me no later than 6pm Central Time, November 3rd, 2002.
- Winners will be chosen randomly from among the persons with the most correct answers and their names will be posted on my story page.
- Check back here on November 4th for a link to the winners and the correct answers.
http://midgit.co.uk/echoescomp.htm
-- From Frankie
The MAMMOTH Index of Xena Fan Sites http://xenawp.org The new site to bookmark as your guide to the creative work of Xena fans everywhere. Art, music videos, fan fiction, original music, games, poetry - we've indexed tons of websites to put together a resource for fans like us. Alt, slash, shippers and everyone in between are included. In addition, we have also made an effort to list the multi-fandom sites that are often missed in the world of Xenite web links.
Take a look around. Find a new sketch of Gab, a fun Xena crossword puzzle, or search for your favorite bard. Sign up for our newsletter, which will highlight a different site each month and update you on what's new in the index. We start with DocCovington.net, home of Doc's original Xena songs like the moving "Ides of March" and sultry "Doc's Boogie." One lucky subscriber to the newsletter will win a free cd of her Xena music! http://xenawp.org - Bookmark it now :-)
Stories
Exodus by Mikael Helbo Kjær - The 3rd Part of the Darkness and The Light Post-FIN series.
The 3rd story sees Xena beginning to follow the over two years old trail of her beloved Gabrielle and discovers the true reason the amazons disappeared from Greece. Her travels allows her to discover, what brought Gabrielle back to the once again beleaguered amazon nation, a nation suffering from both threats from the outside world and stagnation inside.
Here is another one from Mavis Applewater's Wednesday Afternoon Series, Fielders Choice. This one is A League Of Their Own done up Mavis style.
Added part 28 of Minerva's White Nights
Added part 9 of Lois Kay's The Reef
Added part 3 of Julie Baker's Negative Reaction
New eBooks
One Foggy Night – Colleen
The Back-Up Plan – Beowolf
As The Camera Turns – Claire Withercross
As The Stomach Turns – Claire Withercross
Aurora, the Midnight Star – Phantom Bard
Bonding – Rab Donald
As If – Wakar
Confessions – Kim Pritekel
Christmas Solstice – Lena
Another Beautiful Day in the Neighborhood – Littlespit
At the Crossroads – Medora MacD
Burning Candle – AH-Ladis
Wednesday Afternoon Series
Rule 47 – Mavis Applewater
The Long Weekend – Mavis Applewater
Here Comes the Bride – Mavis Applewater
---
---
Visit our Halloween Special 2001!