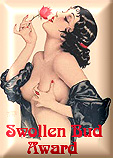 Initially, I wrote a tale of an Immortal Xena in current day Portland, Oregon. There was a surprising lack of fanfiction of a Highlander crossover bend. It was received quite well and I eventually wrote a sequel. Along the way, I've picked up other authors who were interested in writing in this world and the Infinity Series was born.
I've listed the tales in chronological order. The first to be written, however, was Only One. The tales listed prior to this have taken Only One as canon and might not be as clear in their explanation of where this Immortal Xena has come from. Please keep that in mind as you peruse the contents of this page. I've also put up a timeline of Xena's history over the years.
If there are any authors out there who wish to pick up the Infinity torch, please feel free. I only ask that the stories follow the timeline and are posted at Katrina's site as well as my own. Not to mention the author's own site.
Enjoy your walk with the Immortals....