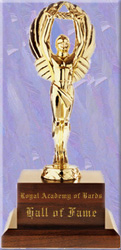 Academy Author Index
Last Updated: 2/21/2016

2009 Hall of Fame
Author
Priory & Jacey/Ghost Series
2010 Hall of Fame
Story - Miss Match & Reflected Passion



---
Against Time [Summer 2010 Challenge 500 Words]
Amazons, Speed and Weed [Academy Solstice 2006] Best Story

What had started out as a casual trip to visit her father in Japan, turns into a deadly escapade for Clarissa Hughes. Kidnapped and fearing for her life, her luck changes with the appearance of a mysterious stranger, a samurai, who rescues her from her capture. Could this lone avenger turn out to be more of a danger to her than those men intent on killing her?
Bless Them All [Summer 2010 Challenge 500 Words]

Candy is Dandy... [Academy Solstice 2005]
A Case of Mistaken Identity [Academy Xmas Challenge 2008]
The Chronicles of Ratha: Book 1 Revenge is Twelve Hundred Credits
Crossroads [Academy Halloween 2008]
Dangerous Liasion [Academy Valentine 2008]
Death's Eternal Dominion [Academy Halloween 2012]
Diamond in the Rough [Academy Valentine 2009]
A Dire Dilemna [Academy Halloween 2015]
A Distant Memory [Academy Valetine 2016]
Donut Heaven
[Academy Valentine 2015]
Double is Trouble But Triple Will Cripple
Imagine. Three identical sets of couples come together in the one place, confusing not only strangers but themselves as well.
Endless Love [Academy Valentines 2011]
Everything You Wanted to Know [Academy Valentines 2007]
An alternate timeline Xena, which changes direction from "Destiny". Caesar has sent Xena to Rome for punishment instead of crucifying her.
Hallowed Ground [Academy Halloween 2013]
How the Witch Stole Christmas [Academy Solstice 2008]
A Howling Success [Summer 2010 Challenge 200 Words] ** WINNER **
Isolation [Summer 2010 Challenge 1000 Words]
The Legacy of Mephistopheles [Academy Halloween 2009]
Miss-Match [removed by request of author]
Clancy Fitzgerald's life was a mess. Thirty was approaching at light speed and she was still a virgin. Not even the experienced matchmaker, Minerva Goldberg, could ease her distress… least not until Minerva organized an extraordinary blind date. Carmen Pratka had approached the date with no expectations but soon found herself challenged to not only convince the woman she was gay but that she was the right woman for the job.
A Matter of the Heart [Academy Valentines 2013]
The Most Dangerous Game of All
Leading an army through Greece had earned Xena many enemies. She was being watched. She felt it. But little did Xena know that this one observer was more dangerous to her than all the legions of armies awaiting the arrival of the conqueror of Greece.
The Pickup Line [Academy Valentines 2012]
Possessing Morgan: A Matter of Conviction [removed by request of author]
Morgan O'Callaghan thought she knew what she wanted in life. Being a New York City detective had been a family tradition that she had willingly supported and, as 'Mickey's Girl', she had been exceedingly good at. Andrea Worthington had moved from her native Charleston to New York City to take up the position of Assistant District Attorney, much to the derision of her family. Their first meeting was like two freight trains crashing head on. Now a high profile murder case has thrown them together and they must find common ground if they are to work together.
The Rating Game [Academy Valentine 2010]
The She-Woman Men Hater's Club [Academy Personals 2008]
Star Light, Star Bright, Is There a Chakram in the Sky Tonight? [Criss-Crossover Challenge 2007] Honorable Mention
Temptation [Summer 2010 Challenge 1000 Words]
Xena Ain't No Dolly, She's an Action Figure [Academy Reali-Xe TV]
Priory/Dany Ghost Series
The Do It Yourself Guide to Bathroom Fixtures, Non-Corporeal Manifestations & You [Academy Halloween 2006]