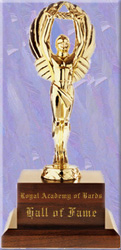 Academy Author Index
Last Updated: 2/15/2014

2006 Hall of Fame
Author
2012 Hall of Fame
Lifetime Achievement



---
And Vinegar And Bitterness To It [Academy Halloween 2011]
Field of Mars, Field of Venus [Academy Valentine 2008]
A story commissioned by Cecily Hawkins Somewhere beneath the surface of New York City lies a hidden treasure, and two very different women are in search of it. But danger and romance lurk in unexpected places
The GabVengers [Academy Must-Xe TV Challenge 2003] ** winner **
Heaven In Her Face [Academy Valentine 2003]

In this Regency romance set in 1816, highly impressionable Emma is awash with romantic feelings for the divine Marianne Pye. Her brother wagers that Emma can't remain true for a full month as she is notoriously in and out of adulation. When Marianne must accompany her mother to the aid of an ailing relative, Emma comes into contact with Marianne's more staid sister, Penelope. Reluctantly, Emma finds herself slowly drawn to Penelope and learns that she has many strengths worth admiring.
Lily White [Academy Halloween 2003]
Everyone is entranced by Lily whose cold exterior seems mysterious, but one person hates who she really is.
Living Doll [Academy Halloween 2002]
In her quest to reunite with the woman she loves, Felicity will go to any lengths, including necromancy. Is the price too high to pay? A foul curse spells murder for the Living Doll.
Nukekubi - Floating Head A Kwaidan Story [Academy Halloween 2004]
Operation: Annihilate! [Academy April Fools]

(Or, A Faithful and True Account of the Thrilling Adventures of the Galactic Super Squad, With Extra Helpings of Big Scary Aliens and Some Gratuitous Sex, Hold the Anchovies)
Remembrance Never Dies [Academy Halloween 2007]
Shades of Twilight [Academy Valentine 2010]
Rule of Thumb [Academy Valentine 2010]
Sinister [Academy Halloween 2005]
Splendor of the Dead [Academy Halloween 2006]
She Wakes the Waters [Academy Valentine 2014]
Thirteen [Academy Halloween 2001]

A halloween suspense story revolving around the tragic fire at a sanatorium and the nurse who wouldn't leave the ghost of her patient
Three Minutes [Academy Valentine 2010]
Truth In Love [Academy Christmas Challenge]
An entry in the Christmas challenge set in 1898 London where a librarian laments being alone and meets an imposing man at their employer's christmas party who has a secret.
Well Met By Moonlight [Academy Halloween 2003]
A young homeless woman is saved by a dark-spirited woman who only asks for her smile.
Hell For Pastime series
---
At Nene's Library
A series of spine-tingling tales of Gothic terror guaranteed to leave you breathless! Both Classic X&G and Uber offerings for you to enjoy... if you dare!
13 Tales of Southern Terror that will haunt your imagination for many long and sleepless nights to come. You'll laugh out loud and scream yourself hoarse as this series of stories buries you deep in the mythical American South. They're to die for, and not for the faint of heart!
Kwaidan: Supernatural Tales Of The Floating World
Enter a fantasy world of intrigue, love and death; monsters, myths and miracles! Will a splendid samurai and her lady survive as they battle against mortal and immortal forces trying to tear them apart?
The Myth-Adventures Of Dream Rabbit And Bardie-Poo
Enjoy low comedy, hijinks and more jokes than you can shake a chakram at? This series stars Xena, Gabrielle and a host of hilarious co-stars as they take on multiple myth-understandings in search of ...the perfect bush! :-)
Join Xena, Gabrielle and others as they team up with the Brothers Grimm in a series of fun fairy tales with a tingling twist!
Gaslight series
Set during the Victorian era, Lady Evangeline St. Claire strives to be an equal to Sherlock Holmes in his deductive abilities. Accompanying her is Rhiannon Moore, daughter of tutor, who has fallen on hard times. Together they match wits with criminals and even the redoubtable Holmes. Eventually the become partners, not only in adventure, but in love.
Historical Romance
The Phoenix Saga
Historical Romance and adventure in medieval Ireland centers on Lady Cathelin O'Cameron - known as the awesome knight Blacksunne and returned home from the Crusades to reclaim her family's estate. In so doing she encounters a Muslim slave, Madrigal, who bedevils the knight more than anything else.