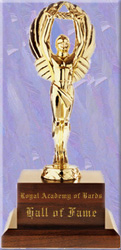 Academy Author Index
Last Updated: 11/12/2008

2008 Hall of Fame
Author




---
Dungsmoke [Academy Must-Xe TV Challenge 2003]

Fear Masters [Academy 101 Story Premise]
Rebecca is an oceanographer and contestant on a new show, Fear Masters where she meets her uncommunicative Production Assistant, Sloane. Soon they're flying to New Zealand for the stunts and Rebecca is trying to unthaw Sloane.

In The Eyes Of A Child [Academy Christmas 2003]
New neighbors with twins provide amusement and a reminder of the joy of Christmas when a young woman helps them "believe".
Queen of The Night [Academy Halloween 2008]
Dean And Katie Series
Forces Of Evil

Forces of Evil takes place in New York state in a small Catskills resort town. As the story unfolds, two female undercover agents from separate agencies meet, and join forces to try to decipher and stop a diabolical plot of world domination from reaching its climax. As they find themselves falling helplessly in love, adding a new dimension to their jobs, and another set of priorities, the team races to a cliffhanger conclusion.
Blue Holes To Terror

Following in the wake of Forces Of Evil, 'Blue Holes To Terror' brings the readers another story involving Lieutenant Colonel Deanna Peterson and Special Agent Katherine O'Malley. After witnessing a near tragic "accident" on I-35, in which a retired British MI-6 agent was targeted for elimination, the pair is asked to unofficially investigate, and runs headlong into a terrorist/mercenary initiative designed to sabotage a multi-national military exercise. The action begins in Washington, DC and culminates on Grand Bahama Island in the Caribbean. Our heroines have to rely on their ingenuity, physical skills, and a little help from their growing circle of friends to succeed in stopping the terrorists from achieving their goals.
Deadly Challenge

In the sequel to Blue Holes To Terror, Dean and Katie return to Virginia after their week of rest and relaxation in the Bahamas. Katie is starting a new job with the DEA as an instructor at the training center in Quantico, while Dean returns to the Pentagon and her Intelligence work. Trying to organize things in their new routine, their lives are soon turned upside down, when vicious acts of violence target their close friends and attempt to tear apart their personal relationship. As the women try to decipher all of the pieces of the puzzle, their search is complicated by the demands of their careers and an unexpected request from Dean's estranged father. Dean is forced to accept a deadly challenge and race against time to find her lover, as the action escalates to a thundering climax at Niagara Falls.
The Visitors

The sequel to Deadly Challenge.