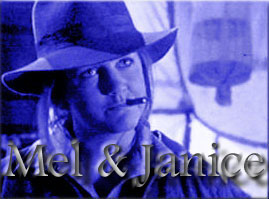 Alternative Stories
---
last updated: August 16, 2015
A Scroll In Time - IseQween
As Season Two's THE XENA SCROLLS concludes, Janice Covington and Melinda Pappas find themselves continuing a different saga, begun in the stories Two Thousand Winters Ahead and Done There, Been That.
A Sentimental Journey - LjR
Janice comes home from her last day of the semester. Mel is in the kitchen, making dinner. A lot of happy loving ensues, and very little else.
After Midnight - Firefly


Janice is in a romantic mood.
All Our Flowers - Phantom Bard [mostly classic with Mel/Janice]
This is a series of five vignettes inspired by the lyrics of the Pete Seeger song, "Where Have All The Flowers Gone", as recorded by The Kingston Trio. I was going through my old 45s after watching a tape of "A Good Day".
Blue Scrolls (The) - Bacchae2


Jan & Mel/Xena & Gab walk through each other's dreams across the ages in order to perpetuate the "ineffable mystery" of a love so great it transcends time itself.
Christmas Eve - Wakar


Janice and Mel happily celebrate the holiday even though their plans go slightly awry.
Christmas To Remember - J. Gardner


Mel and Janice have their first Christmas
Covington's Kid - Simahoyo


A look at the early experiences which molded Janice Covington.
The Further Adventures of Janice and Mel - ArdentTly
Resistance and Resurrection
Resistance and Resurrection is the second in the Jan/Mel series which has Janice being shipped off to Holland after being drafted. After a short stint in Special Ops, it's decided that a woman of her intelligence and skills can best be utilized working with a small cadre in the Dutch Resistance. Things begin to go wrong for Mel as the thefts continue and she finds herself fending off the advances of the museums new curator, Hudson Callisto. A past enemy escapes from prison and sets her sights on both women. Jan limps home from the war, a little worse for wear and finds death and destruction in her very own home.

The Grecian Affair
The Grecian Affair takes the reader out of the established cannon and has the two women meet on the island of Cyprus. Miss Pappas has come down to meet the daughter of the infamous Harry Covington. It seems both men had been working on the Xena Scrolls but had been murdered mysteriously. Taking the bit between her teeth, Janice Covington decides to do a bit of sleuthing herself. The more time she spends in the company of a certain tall, dark linguist, the more entranced she becomes. Things come to a boil as both women are kidnapped and find their lives in peril. Just who is stealing Greek antiquities at the museum where Janice works? Who is this mysterious Hudson Callisto and what part does she play in having Janice black balled?
Going Home - LZClotho


Rating:R. post, -"Xena Scrolls" story. Janice Covington and Melinda Pappas brave deceit, duplicity, and love, on their journey to the States from Macedonia.
Part 1 Part 2 Part 3 Part 4 Part 5 Part 6
The Gods of War: A Janice and Mel Adventure Part 1 - And So It Begins - Capt'n Cat
Picking up where "The Xena Scrolls" left off, Doctor Janice Covington is faced with a tough decision - should she accept Melinda Pappas' offer of partnership? Maybe Gabrielle can help her decide...
Happiness Is A Warm Gun - Cap'n Cat [Academy Summer Challenge]
summary pending
Herstory - Kris [unfinished]
summary pending
Her Story - Xena's Girl [unfinished]
summary pending
Part 1 Part 2 Part 3 Part 4 Part 5 Part 6
Home Fires - Christine "Roo" Toups


This story takes place six months after the episode Xena Scrolls. Mel has left Janice with a terse "Dear John" letter and the good Dr. Covington has gone in search of a damned good explanation.
Home Front - LZClotho


Rating: R. Home isn't easy as Janice tries to land a job and Melinda finds she's not fitting in perfectly anymore as a danger from Europe follows them to Raleigh. Sequel to Going Home
I Never Knew - KG MacGregor
Mel and Janice iron out the terms of their new partnership and return to New York to show off their find: the Xena Scrolls. Now with their wings clipped by the war in Europe, they find adventure on a different front.
Images - Wakar


Janice remembers the first time she saw Mel.
In the Good Old Summer Times - Akiela Xal [Academy Summer Challenge]

Kiss Me Deadly - angharad governal [removed by request of author]
Mel hires Janice to recover the stolen Xena scrolls and attempting to right the wrong that was done to their relationship.
Janice's Solstice Carol by Cap'n Cat
Mel has been busy with holiday preparations, but Janice's Solstice spirit seems to be swimming in the camp latrine. Perhaps an ancient friend can knock some sense into her fedora-ed head...
Keep Calm and Battle On Quill Bard
After returning from Macedonia, Mel and Janice are recruited by British Intelligence for a mission in wartime England
Legend of Ambrosia (The) - D.J. Belt


In this seventh in a series, Mel and Jan reunite with their old friend Alais, go after the legend of ambrosia, and find themselves tangled in a web of ancient dangers as Jan discovers the final answer to a heartbreaking question that's plagued her for years.
Mel and Janice Meet an Amazon Princess - Crow


Mel makes arrangements for Janice's funeral and pays a visit to her lodgings. A follow-on story from And A Nightingale... and Who Was Going To Miss An Angel Or Two, Anyway?
Mirror of Urartu (The) - Kay Bowring [XWP/Mel and Janice]
Passion Tense - ArdentTly


Summary Pending
Reflections - Wakar


Takes place after the episode "The Xena Scrolls". Janice reflects on her relationship with Mel.
Southwestern Scrolls (The) - The Bard of New Mexico
Mel and Janice make an extraordinary find in the desert of New Mexico. Real places and NM legends create the backbone of the plot.
Stranger in a Strange Time - Red Hope [unfinished]
Janice Covington is kidnapped and awakens in the Amazon Nation to discover it isn't 1940 anymore nor is history as correct as she thought it. She is in disbelief to find out that Xena is the tyrannical Conqueror and Gabrielle, the rebel leader, has been crucified. Now her only way home is to face the ruthless ruler with no help and simply faith behind her.
Tomb Series - DJ Belt
1.
Tomb (The)
Mel and Janice (with a bit of help from their friends) discover and open the tomb of Xena and Gabrielle, but with a twist: unanswered questions are popping up all over, robbers attempt desecration of the tomb, a ghost (?) appears, and the God of War (who is really ticked off) is trying to wreak his vengance on them as they attempt to spirit the remains to Athens. After all, who better to figure out what finally happened to X and G than their twentieth-century alter egos, Mel and Jan?
2.
Tears of a Goddess
In this sequel to The Tomb, Melinda Pappas and Janice Covington are invited to France by their old friends Mack and Sallie, who have discovered a cache of priceless ancient documents, Gabrielle's previously unknown writings among them. Jan is confounded by the shocking content of the writings, and the mysterious specter which haunts her as she ponders their puzzle. The papers disappear and Jan is arrested for their theft. As she languishes in a jail cell, Mel summons help from the shadowy depths of the postwar "intelligence" community. A motley collection of characters emerge to attempt Jan's rescue as Jan unravels the mystery of Gabrielle's latter days and the identity of the odd specter which visits her.
3.
Legacy of Britannia (The)
In this third of a series of Mel/Jan stories (after The Tomb and The Tears of a Goddess), Mel and Jan travel to England, where they join their old friend Mack in a frantic search for Sallie, who has disappeared while excavating the subterranean chambers of an ancient castle. They soon find themselves embroiled in a titanic struggle between good and evil as they strive to solve the mystery of Sallie's disappearance and lay bare the hidden secrets of the ancient fortress---secrets which are astounding even to Janice and Mel, and which further confirm the truth of the Xena Legends to a skeptical world.
4.
A Bad Day in Algiers
In this fourth in a series of Mel and Jan stories (after The Tomb, The Tears of a Goddess, and The Legacy of Britannia), Jan Covington and Mel Pappas chase a stolen artifact to Algiers and find themselves pitted against none other than Ares, god of war, in a fight which threatens Jan's life, her reputation, and her love with Mel.
5.
The Riddle of Sappho's End
In this fifth in a series (after The Tomb, The Tears of a Goddess, The Legacy of Britannia, and A Bad Day in Algiers), Jan Covington and Mel Pappas seek out and excavate the legacy of the great poet Sappho, dealing with a jealous bureaucrat, tomb-robbers, a "curse", and one of the toughest riddles of their careers: just what caused Sappho's tragic end, and how were Xena and Gabrielle involved?
6.
A Valentine's Day Story

[Academy Valentines 2004]

7.
The Legend of Ambrosia
In this seventh in a series, Mel and Jan reunite with their old friend Alais, go after the legend of ambrosia, and find themselves tangled in a web of ancient dangers as Jan discovers the final answer to a heartbreaking question that's plagued her for years.
8.
A Mel And Janice Haloween Story
This was a quickie, just in time for Halloween. I wondered what our two intrepid gals might go to a costume party dressed as, so I considered various scenes and their hopefully comic possibilities. Here's the result...
9.
Curse of the Rhinegold
In this ninth installment of the Mel and Jan series, our two favorite girls travel to Europe to receive their Nobel Prize and search for the cursed Rhinegold, with unforseen and potentially tragic results.
10.
The Aegean Mystery
While on an idyllic sailing vacation among the Greek islands, Mel and Jan (accompanied by their old friends Mack and Sallie) become involved in a search for stolen artifacts and find their lives in danger as they strive to unravel The Aegean Mystery.
11.
The Treasure of the Amazons
An astounding discovery in an English archaeological dig propels Mel and Jan into danger and adventure as Jan teams with her ancestor, Gabrielle, in a frantic search for The Treasure of the Amazons and Mel's rescue from a grim fate
12.
Anastasia's Destiny
A desperate secret from Mel's past thrusts her and Jan into a swirl of intrigue where present and past are blurred, dispossessed Greek gods thrive, and sinister intent abounds.
13.
The Slow Dance of Love
This thirteenth story of the series chronicles Mel and Jan's very eventful first year together, in 1940-41 Greece. No angry gods, no creepy tombs, no irritating salesmen from New Jersey; just a story about two gals falling deeply in love amidst exciting archaeology and the chaos of war.
What Dreams May Come - Paranoia
Janice gets the treasure, defeats the villain and saves the girl. Now how is she going to explain that to Mel? Very Short.
What Dreams May Come II: The Wrath of The Khan - Paranoia
Melinda Pappas wakes up in a strange place, with no idea how she got there. This light-hearted romp through Melinda's subconscious combines obscure literature and gratuitous nudity.
What Dreams May Come III: Return of the Red-Eye - Paranoia
Well, let's see... there's a trap, and a craving ... some gratuitous pop culture references, a torch song, and LOTS of whiskey. Mel/Janice Alt, and the last of the What Dreams series.
What We Did in the Big War by Hypatia Bard
Buried deep in the Xena Scrolls, Mel & Jan discover a secret that can help defeat the Nazis, taking Jan to Xena's birthplace and Mel to a frightening other world.
---
Questions, Comments or Broken Links can be be directed to The Academy