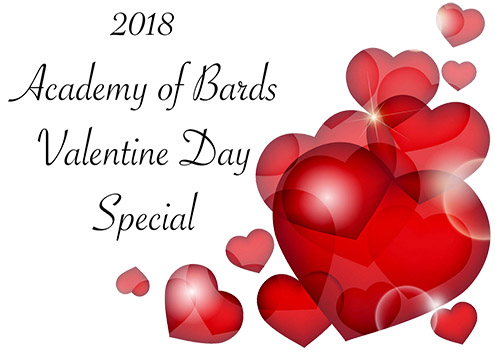 Welcome to the Academy of Bards Valentine Day Special edition! Since 2000, our page has supported writers and wannabe writers by allowing them to post their stories. I feel proud at how long our site has survived and of the careers that were in their infancy and have grown.
This year I wanted to do something different with our special. I've engaged with the munchkins - the hard working helpers who do the day to day work for no pay and little recognition - to come up with the best of our 15 prior years of Valentine stories. Originally, I asked for 14 but I couldn't choose so it's a few more. I hope you all enjoy revisiting the following stories. I hope you let the authors know how much we appreciate them. If you have any ideas of authors you'd like to see more of drop me a note at stephanie.solomon@me.com.
Enjoy!
~ Steph

Boss's Choice
2016 – Red Vines – Susan X. Meagher
2006 – Team Work – K Darblyne
2004 – Slow Valentine – D. Jordan Redhawk
~~~
Staff Picks
2003 – Mulligan K.G. McGregor
2004 – Rock for Remembrance ... and A Canopy for Happy Endings – Ali Vali This is listed as 2 stories, but they really are just 1 big story!
2005 – The Crimson Cage – Nene Adams
2006 – The Colours of 46 – Kamoraskan
2007 – Country Mouse Lois Cloarec Hart
2008 – Leica – Vivian Darkbloom
2009 – Into Your Hands – Shadowriter
2010 – The Anti-Love Club – Artemis Callaghan
2011 – Warriors Need Love, Too – Del Robertson
2012 – Messy Life with Grace – silverwriter01
2013 – Stolen Heart – Kim Pritekel
2015 – Werewolves of Dreamland, TX – Geonn Cannon
2016 – A Distant Memory – Aurelia
2017 – The Incorrigible Janice Covington - Norsebard