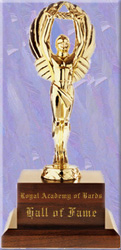 Academy Author Index
Last Updated: 4/7/2012

2005 Hall of Fame
Author
2006 Hall of Fame
Story - Amazonia series
2007 Hall of Fame
Story - Harry & Desi series
2008 Hall of Fame
Story - Ramses/Sarah series

---
Amazonia

"The acts of the one for the good of the many." This is the motto first adopted by the Amazons centuries ago and still upheld by the warriors of current day Amazonia. In "Amazonia - Book One," we meet Princess Bebo of Leon as she sets off on her first diplomatic mission on behalf of her mother, Queen Audrey. On a cold day in Washington D.C. the tall warrior finds her path in the soft eyes of Annie Paddio. The only problem is, Annie is already committed to someone else.
"Amazonia - Book One" brings to life a modern day warrior and the quest for her destiny. Join in the adventure as the ancient world of the Amazons is brought to life in the 21st century.
Part 1 Part 2 Part 3 Part 4 Part 5 Part 6
Game, Set And Match [Removed - by Author Request]
Parker King is riding high after winning the prestigious Wimbeldon Tournament only to be shot down by a feisty airline pilot named Emily Parish. King Kong as she's known on the courts falls hard, but will it be because of the person that wants to kill her or for love?
Guilt [Academy Halloween 2002]
Mordecai Sydney O'Shea, a young aggressive prosecutor in New Orleans, deals with evil on a daily basis. Sydney plays it by the rules - always, it's what's put her at the top of the prosecutorial heap in sin city. But what happens to that strict moral code when evil comes to visit the people she loves? Can she turn her back on the law that she lives her life by? Only the women in Sydney's life have the answer to that question of Guilt in the Twilight Zone.
Memories of the Heart [Academy Halloween 2005]
A Million Reasons [Academy Valentine 2005]

Over Easy [Academy Valentine 2007]
A Place To Dance

How do you build dreams? For Jolly Andolini it was easy. They started on her drafting table and came alive under her talented hammer. Jolly is an architect who finds her true love at an art exhibit opening, or does she? 'A Place To Dance,' is the story of Jolly and the women who make her life both interesting and complete.
Part 1 Part 2 Part 3 Part 4 Part 5 Part 6
After all the spoilers I've been reading all week, I thought everyone would enjoy a sappy love story.
A Rock For Remembrance [Academy Valentine 2004]

A Valentine story about an executive of a shipping empire who comes to realize that she needs more in her life than work responsibilities. Into Julian's life comes a small surprise named Summer and with it the chance to find romance.
...And A Canopy For Happy Endings

Skipping Stones [Academy Valentine 2006]
Tree Huggers, Children & Broken Decoys...

What happens when a star gazing, workaholic, gourmet coffee drinker comes into an inheritance she wasn't expecting? Add to that an annoying inspector that wants nothing to do with her at first and you get the title to this story.
Vampires, Mummies And The Holy Ghost [Removed - Published] [Academy Halloween 2003]
Kendal is a business genius who is drawn back to New Orleans where she must deal not only with a young woman determined to undermine her deal, but also a black-hearted sibling.
Things That Terrify Me The Most [Removed - Published] [Academy Halloween 2004]
Sequel to Vampires, Mummies and the Holy Ghost.
Waiting In The Wings [Academy Valentine 2003]

G.W. Steinblack is in Paris trying to lure the elusive Gwendolyn Flora to sign with the family's publishing house. While in a cafe for breakfast a young American, Piper catches her eye. A chance meeting allows the pair to talk and G.W. begins to fall for the woman. Unfortunately Piper is on a holiday prior to getting married and reluctantly returns to America. A despondent G.W. finally lands Ms. Flora and returns to New Orleans where she finds out that Piper is her brother's fiancee... or is she?
Ramses and Sarah Series

A story set in Egypt about Ramses IV a female pharaoh. She falls in love with a Hebrew slave named Sarah and her son Samuel. It is the beginning of a new era in ancient Egypt and the first story about the love shared by these two women.
This is the sequel to "To Capture a Heart." The story starts four months after Sarah and her son Samuel have come to live at the palace with Ramses. They are getting ready to move to the summer palace to prepare for the birth of their second child when tragedy strikes. It is the second story of the woman pharaoh and her Hebrew slave queen.
Sex, Wives And Misunderstandings
A few months after the birth of their second son, Ram, Sarah and Ramses are having trouble finding time to be alone. The more they try to build on the bond they have the more misunderstandings there is between them. This is the third chapter in the Nile series, and in the end, well I'm not going to tell you the end.
Harry and Desi Series
How Do You Mend A Broken Heart [Removed - Published]
Do you remember your first love? Harry Basantes did. She remembered with vivid clarity the way young love could break your heart leaving you empty inside. Would seeing the object of her pain and desire sixteen years later drive Harry to forgiveness, or would it be her turn to walk away without explanations? Only one way to find out.
All It Took Was You [Removed - Published]
You knew there had to be a sequel to 'How Do You Mend A Broken Heart', and here it is. Harry and Desi are busy building a life together after Byron and his family have been shipped off to the Angola State Penitentiary. The happy couple are expecting a baby and happy ever after, only in 'All It Took Was You' they get so much more.
Belle Of The Mist [Academy Halloween 2001]

Harry and Desi attend a Halloween party dressed as a notorious land pirate and the plantation wife who captures her.