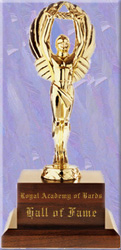 Academy Author Index
Last Updated: 1/25/2017

2005 Hall of Fame
Story - Seasons Series
2007 Hall of Fame
Author

---
The Battle of the Silver Shield
If you like horror, monsters, undeads, immortals, epic battles and a love story this is the read for you. Joan finds herself caught in an epic battle between good and evil that has raged for thousands of years.
Gail Kent was the new RCMP officer in the small northern town of Beyond. Arriving with high hopes she soon discovered that Beyond was going to be a learning curve. Fortunately, Kate, the nurse practitioner in town, was there to kiss everything better.
Black Shuck and the Betrayal [Academy Halloween 2016]
Come Here My Lover [Academy Valentine 2008]
Dark Matter Corps
This is something rather different for the Academy. J.R.R. Tolkien supposedly lamented that although Britain had an amazingly rich literary tradition, it lacked any root mythology. That thought helped inspired the Lord of the Rings Trilogy. It occurred to me that the lesbian community needed an origin mythology too. So here is a possible one. Please feel free to modify it to your own national background and/or add to it.
Iron Rose Bleeding

A spunky archivist is drawn into the activities of a mysterious organization that records and sells knowledge. Courtney is drawn into a web of deception by her attraction to the beautiful and powerful Tyler Alexander Punga -Tap- she soon finds herself caught up in exploding events that will change her life and that of the world forever. Partly futuristic, partly mystery, and all romance, this story takes you on an exciting and thought provoking ride.
Part 1 Part 2 Part 3 Part 4 Part 5 Part 6 Part 7 Part 8 Part 9 Part 10 Part 11 Part 12 Part 13
Part 14 Part 15 Part 16 Part 17 Part 18 Part 19 Part 20 Part 21 Part 22
Dr. Bentley Miller was a conservative, reserved professor of art history until she chanced to met Rachel de Beers on a nude beach in France. In a series of letters to her father, she tries to explain how her life had been turned upside down and why the Tabloids were photographing her nude and how she'd accidentally got engaged.
The Perfect Moment [Academy Valentine 2003]
Alexandria has gone all out in preparing the perfect setting and dinner for her girlfriend Emily on Valentine's Day. Fate seems to have other ideas and plenty of frustration for Alexandria.
A hot Texas summer and the lust for more than gold bring two unlikely women together in a search for lost treasure. Could the peaceful rice farm of Mary-Lou Marenette actually be the burying place of the famous pirate Jean Lafitte's lost treasure? Jay Regaud means to find out and no one is going to stand in her way.
Erin knew the largest tsunami in recorded history was going to happen any day. How could she make people understand that danger? Disasters change everyone's lives. Some pick themselves up and make the most of the opportunity. Some give up. And others use the chaos to live out the evil within the belly of the beast. For Erin it was simple. Find the woman she loved before it was too late. Before everything was Swept Away.
"I'm a degenerate, sneaky, old coot and proud of it," Jackie Cunningham proudly proclaims. With outrageous honesty and an unorthodox approach to life, Jackie embarks on a last important assignment--giving her favorite niece the opportunity to engage in her own oceanographic research. While preparing for her niece's future, Jackie takes a final journey through her own memories as a child in WWII England, growing up in post-war Canada, as a journalist covering the most monumental events of the twentieth century and most of all as a lover. "Like everyone, I have endured my storms and shipwrecks yet over all life has been one wonderful adventure."
Valentine Promise [Academy Valentine 2014]
Valentine Sliders [Academy Valentines 2012]
Encounter Series

Journey Series

Murder Mystery Series

Seasons Series

Short Story Series