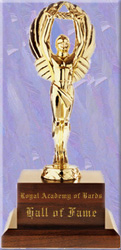 Academy Author Index
Last Updated: 2/21/2015

2008 Hall of Fame
Story - Birdie Series





---
The Big Ol' Word
[Academy Valentine 2015]
Birdie Series
If the Warrior and Bard had a twelve year old trying to be just like them. A little muse who visited and who will stay with me I hope.
A history and continuation of the warrior and bard's twelve year old offspring.
Part 1 Part 2 Part 3 Part 4 Part 5
Continuation of Birdie's Song
Birdie is the young adolescent daughter of our favorite warrior and bard. She has many of the talents and the flaws of her parents and a few interesting characteristics of her own. Thanks for keeping her aflight.
A little lighter faire for our Birdie after the heavy drama of Dahak and Hope of "Nightmare". Just a day in the life, but never dull.
Birdie's story continues...
The adolescent daughter of Xena and Gabrielle is growing up and it's no easier for her than it was for any of the rest of us. On this plate of adventure there is conflict with the Romans on the horizon, every day skirmishes with her parents, and a new love becoming more and more important to her.
Part 1 Part 2 Part 3 Part 4 Part 5 Part 6 Part 7 Part 8 Part 9 Part 10 Part 11
Six Moons [Incomplete]
Birdie's back and this time her challenge is to live through six months (six moons) apart from Rachelle. She has also been "grounded for life" after her adventures in the story "Gone", but Birdie's boundaries are never too harsh; her famous parents make certain she is kept very busy. Meanwhile, Zephyr's son, Rain, is learning to communicate with Rach in similar fashion to how Zephyr works with Birdie. Both are gifts of Artemis. Singer, another miraculous gift from Artemis grows within Gabrielle, and she can already understand and speak a great deal with a chosen few members of her family.
Beware the Battling Bard [Academy Halloween 2013]
Blessed

After the events of 'Friend in Need II' Gabrielle sacrifices herself to regain Xena's life, leaving Xena to do some soul and soul mate searching. A happier ending.