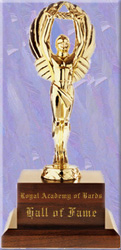 Academy Author Index
Last Updated: 4/19/2017

2011 Author Hall of Fame
Story - The Extraordinary Adventures of Brice Johnson





---
An Anniversary for Murder [Academy Halloween 2016]
In a world where mice don't get cookies, and slaves wear tight leather pants, two young women journey through friendship, betrayal, rage, and passion, across a backdrop of primitive woodland villages and huge desert palaces.
The Duchess and the Blacksmith
On the run from her responsibilities, all Lou wants is a bath and maybe a warm body to help with the scrubbing. She doesn't know that her wants will lead her on a mission that will take her back to what she has been running away from. She also doesn't know she'll have company along the way.
The Enemy Next Door [Academy Bard Solstice Challenge 26] Honorable Mention
The Extraordinary Adventures of Brice Johnson
These are the extraordinary adventures of an ordinary lesbian who lives alone with her pets and just happens to drive a bus for a superhero high school.
Brice is busy with Thanksgiving Day preparations. She also has a new pet, a new best friend, and a new girlfriend. One of whom with betray her.
Brice must survive the most dangerous adventure ever: Christmas.
As graduation for the International High seniors nears, Brice is faced with betrayal and a supervillain.
When Brice wakes up in the hospital, something isn't quite right. Matter of fact, nothing is quite right. Everything and everyone are different and she seems to be the only thing that hasn't changed.
A year has passed since Brice was dropped into a vat of toxic waste and life has gotten harder for our favorite bus driver. She has shown no sign of mutation, which was her only hope of gaining a superpower, supervillains are chasing her constantly, and Judy Watson wants her children to move out of Brice's home.
No longer Brice Johnson, she has to learn to be someone else. However, changing her identity doesn't mean she will stay safe.
The Mildly Exciting Adventures of Greer Watson
With Brice gone, the others have to go on without her. Greer is especially determined to show she doesn't care about Brice leaving. Parallel to Brice's 7th adventure.
Brice has been home only a week before she finds herself in Virus's company. Will she join him after he tells her everything she wanted to know? Will she get to keep her promise to Greer?
The Foolish Valentine's Adventures of Brice Johnson [April Fools Whatever 2017]
A small town in the Old West is taken by surprise when outlaws come in and shake things up. However, nothing could prepare the town or the outlaws for what was heading towards them.
Into the Heart [Academy Halloween 2014]
Into the Water [Academy Halloween 2012]
June 26th [Academy Summer Challenge 2012]
The Matchmaker
[Academy Valentine 2015]
Messy Life with Grace [Academy Valentines 2012]
Murders of the One Hundred [Academy Halloween 2015]
North South Holiday [Academy Xmas Challenge 2008]
One slushie changed Rachel's entire life plan. One slushie caused her to get revenge on all those who tormented her and her fellow Glee members. She never planned for that event to entangle her and Quinns lives.
Santa Claus' Daughter [Academy Xmas Challenge 2008]