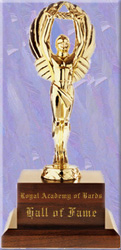 Academy Author Index
Last Updated: 4/21/2017


2005 Hall of Fame
Author
Story - The Bluest Eyes In Texas
2006 Hall of Fame
Story - Galveston 1900
2009 Lifetime Achievement Award
Story - Borderline

---
After All My Goodness [Academy Valentine 2008]
Babylon 5 story
Amazon Slide [Academy Halloween 2008]
Conquest Of The Heart [Academy Halloween 2002]
Xena wakes up on a nice spring morning, only to discover things aren't quite as they were when she went to sleep. Has she gone mad, or is it all just a nightmare?
Crossing The Fire ** Xippy and Bard's Challenge winner **
To quote MaryD, "Gabrielle ponders what went wrong in her relationship with Xena as she watches her warrior play with the baby Eve. Xena also wonders what happened and with a little help from the Goddess of Love, a mystery is solved. Xena and Gabrielle finally have that talk about what went wrong in their relationship."
Destiny Conquered

** Bard's Challenge winner **
A conqueror story. Xena has conquered Greece and has her sight set on Rome. She meets a slave, Gabrielle, and her world is turned upside down. Please read the disclaimers. It is violent and graphic.
First Solstice

Xena and Gabrielle share their first Solstice together.
Galveston 1900: Swept Away

On September 7-8, 1900, the island of Galveston, Texas, was destroyed by a hurricane, or "tropical cyclone," as it was called in those days. This story is a fictional account of two women who lived there, and their lives during the time of the "great storm."
Part 1 Part 2 Part 3 Part 4 Part 5 Part 6 Part 7 Part 8 Part 9 Part 10 Part 11
Part 12 Part 13 Part 14 Part 15 Part 16
Hoo Do You Voodoo [Academy Halloween 2006]
It's Complicated [Academy Halloween 2012]
Gabrielle's thoughts after the events of "Path of Vengeance."
On a snowy solstice eve, Xena sets out to save the Amazons, while back home in the village, Gabrielle and their daughters anxiously await her return.
Make a Wish, Baby [April Fools Whatever 2017]
A Not So Scary Night [Academy Halloween 2014]
Right of Cast [Academy Valentine 2010]
Shattered

This story deals with the subject of rape and the aftermath. I have no idea what possessed me to write it. I do urge folks to read the disclaimers. It's not for everyone and it's very graphic.
Suicide Blonde [Academy Valentine 2007]
Tricks [Academy Halloween 2015]
A Very Different Dusk
[Academy Valentine 2015]
When the Lights Go Down [Academy Valentine 2006]
When Worlds Collide [Academy Halloween 2013]
Wise Hearts [Academy Valetine 2016]
Kennedy And Carson Stories
Between The Line Series
These vignettes focus on Xena and Gabrielle, their thoughts and interaction between the TV episodes.
The Xena/ Gabrielle Series
begins after "The Ides of March" 4th season cliffhanger and is their ongoing adventures from that point. My Xena/Gabrielle series parts ways with the show after the 4th season. What that means is no pregnant warrior, no Eve, no 25-year ice cave time warp, no twilight of the gods, no new chakram, no angel Callisto, no Japan, no Akehmi, no battlin' bard (although Gab does fight in this series both with staff and with sais, she just isn't the killing machine she became in the 5th season). Cyrene, Toris, Amarice, Eponin, Gab's family, Eli, Hercules, Iolaus, and all the Greek gods are alive. Octavian is still a very young Roman leader. Joxer is dead because he died in my first story. Callisto is in Hell for breaking her deal with the devil to not physically harm Xena during "The Ides of March." I have made Xena's history in the Norse lands a part of her history in the series, but only up to the part where she locked up Grindle, so in this Xenaverse, Grindle is still locked up with the ring.