October 31st, 2012
Announcement from The Academy of Bards
Ladies, Gentlemen, Ghosts and Ghoulies the time is upon us for the annual Halloween Invitational posting. All treats and no tricks. And the treats are all guilt free...no cavities, no calories. Go read, then feed the writers like they are a pack of starving wolves or zombies. Maybe they are...ya never know...until it's too late. Muwahahahahahaha
http://www.academyofbards.org/halloween/2012/index.html
Announcement from Jae
'm happy to announce that my new book, Something in the Wine, has just been released.

It's a traditional romance and the first novel-length book I'm publishing with Ylva Publishing, a publisher of women's fiction who specializes in German and English lesbian fiction.

It's available as a DRM-free e-book from Amazon and Smashwords and will be released as a paperback in December.

Here's the backcover description:
All her life, Annie Prideaux has suffered through her brother's constant practical jokes only he thinks are funny. But Jake's last joke is one too many, she decides when he sets her up on a blind date with his friend Drew Corbin—neglecting to tell his straight sister one tiny detail: her date is not a man, but a lesbian.

Annie and Drew decide it's time to turn the tables on Jake by pretending to fall in love with each other.

At first glance, they have nothing in common. Disillusioned with love, Annie focuses on books, her cat, and her work as an
accountant while Drew, more confident and outgoing, owns a dog and spends most of her time working in her beloved vineyard.

Only their common goal to take revenge on Jake unites them. But what starts as a table-turning game soon turns Annie's and Drew's lives upside down as the lines between pretending and reality begin to blur.

Something in the Wine is a story about love, friendship, and coming to terms with what it means to be yourself.

Jae

Book of Chills Volume III by Norsebard [Uber/Alt/Complete]
A female firefighter needing all her skills to stay alive in an inhospitable inferno... A serial killer with an insatiable lust for smooth skin... A mother and a daughter finding out that not all abandoned buildings should be explored... A blackmailer getting more than he bargained for... A woman crossing ethereal paths with her dead self... Grand Underworldly adventures, touches of black magic and time-bending reincarnations - these are some of the elements you'll find in this anthology, the Book Of Chills, Volume III.
Added Chapter 21of To Tame a Wild Heart by Mikaeli Hooper [Classic/Alt/Incomplete]
Gray Line Part 3 - Redemption by Zee & Windstar [Original/Alt/Incomplete]

October 28th, 2012
Added Chapter 20 of To Tame a Wild Heart by Mikaeli Hooper [Classic/Alt/Incomplete]
Added Part 6 of Cold Stone by Kennedy Northcutt [Original/Alt/Incomplete]
October 26th, 2012
Birdie's Song 11 - Six Moons by Onesockbard [Classic/Alt/Incomplete]
(Part 11 of The Birdie Series) Birdie's back and this time her challenge is to live through six months (six moons) apart from Rachelle. She has also been "grounded for life" after her adventures in the story "Gone", but Birdie's boundaries are never too harsh; her famous parents make certain she is kept very busy. Meanwhile, Zephyr's son, Rain, is learning to communicate with Rach in similar fashion to how Zephyr works with Birdie. Both are gifts of Artemis. Singer, another miraculous gift from Artemis grows within Gabrielle, and she can already understand and speak a great deal with a chosen few members of her family.
Added Part 8 of The Way Back by Samantha Paedae [PostFIN/Alt/Incomplete]
Upon her return from Japan, Gabrielle receives a message from an unlikely carrier, and the two embark on an epic quest to revive Xena. Quickly, they become embroiled in a massive conflict that threatens not only the fate of Greece, but that of their souls.
Added Part 8 of Hollywood Dreams by Fiur & Vlamme [Original/Alt/Incomplete]
Added Chapter 19 of To Tame a Wild Heart by Mikaeli Hooper [Classic/Alt/Incomplete]
October 24th, 2012
Added Part 2 of Parcel of Trust by Kerry McNair [Original/Alt/Incomplete]
The book centres around two characters called Casey Alder and Jodie Flynn. Casey is a mid-twenties cycle courier in London and lives in the area of Finsbury Park which is in the North end of London. She rents a first floor flat from an older lady, who lives in the ground floor of the house. The lady insists that Casey calls her Aunt Essie and she treats her like another grand-daughter. Casey is known as a player though out the gay scene, and is happy with that. That way it is easier to be safe. A childhood in care can make you uneasy of relationships.
Aunt Essie, though feels that Casey could do with being in a relationship, and would love for her to meet her grand-daughter Jodie. This proves harder than she thought and the two girls keep missing each other. Then Casey is shot and sees another person killed as she does a late night pick up for her job.
Added Chapter 16, Chapter 17 and Chapter 18 of To Tame a Wild Heart by Mikaeli Hooper [Classic/Alt/Incomplete]
The Dalton Family Saga: Book Two: The Lady of Dencotte House by Jenny Frame [Uber/Alt/Complete]
Life has been a whirlwind of activity for Alex, Beth and their good friends the Woodward's . A wedding to plan, a honeymoon, and along the way some new friends to meet. Will everything go off without a hitch? Or will influences from the couples past throw a spanner in the works? Find out in The Dalton Family Saga - Book Two.
Added Part 19 of Queen of the Realm by Warrior Judge [Conqueror/Alt/Incomplete]
October 22nd, 2012
Announcement from Jae
I'm happy to announce that my new novella, Manhattan Moon, has been released. It's a paranormal romance of around 30,000 words, published with Ylva Publishing, a publisher of women's fiction who specializes in German and English lesbian fiction.
It's available as an e-book via Amazon and Smashwords.
You can read an excerpt at: http://www.ylva-publishing.com/ylva-verlag-e.kfr.--manhattan-moon.html
Here's the backcover description:

Nothing in Shelby Carson's life is
ordinary. Not only is she an attending psychiatrist in a hectic ER, but she's also a Wrasa, a shape-shifter who leads a secret existence.

To make things even more complicated, she has feelings for Nyla Rozakis, a human nurse.

Even though the Wrasa forbid relationships with humans, Shelby is determined to pursue Nyla. Things seem pretty hopeless for them, but on Halloween, during a full moon, anything can happen...

Jae
Announcement from Kim Pritekel
I have officially signed with Sapphire Books for two titles currently: 'Shadow Box' and with Alexa Hofffman, 'Wild'. Yup, 'Wild' will FINALLY be available in book form! Stay tuned.
Also, brand new story on m ebooks site ( www.kimpritekel.com/ebooks ) called 'Dying For You'. See synopsis below: Randi is co-founder of a paranormal investigation group, and has always felt like she was searching for something in her life that, perhaps, she might find on a good ghost hunt. Truer words were never spoken.
Rory is the daughter of an old, English family, and is literally sick and tired of the odd happenings while she tries to renovate a family estate in the US into a B & B.

Can they both find a bit of R&R? Kim
Added Part 8 of Flight of the Falcon by MBInc [Original/Alt/Incomplete]
During a time of worldly turmoil a young Canadian woman sets off to find out where she belongs. Wanting to leave her birthplace Charleswood, Manitoba, Alexandra Savage decides to join the Royal Canadian Air Force and fight across the Atlantic, joining the Allied Forces in their fight against the Nazis.
Added Chapter 8 of It Should be Me by Mikaeli Hooper [Classic/Alt/Incomplete]
Added Chapter 15 of To Tame a Wild Heart by Mikaeli Hooper [Classic/Alt/Incomplete]
October 19th, 2012
The Academy would like to welcome a new bard today. Hello to K.W. Bradford.
Conquered Hearts by K.W. Bradford [Conqueror/Alt/Complete]
Explores the internal struggle of The Conqueror and her new slave Gabrielle as they both deal with their feelings for each other. Mainly a romance. No abuse here.
Added Part 18 of Queen of the Realm by Warrior Judge [Conqueror/Alt/Incomplete]
From the Files of the Harrison-Starr Detective Agency - Part 1 and Part 2 by Norsebard [Uber/Alt/Complete]
Stella Starr and Regina Harrison are back once again with their unique brand of zaniness, over-the-top chases and rapid-fire banter. This time, they match wits with, among others, a recipe thief and a gang of counterfeiters - however, their relationship is evolving and they have an itsy-bitsy problem keeping their hands off each other for long enough to actually do the jobs they've been hired to do. In other words, it's Situation Normal for the unpredictable and unstoppable investigators from the Harrison-Starr Detective Agency...
Added Part 7 of Hollywood Dreams by Fiur & Vlamme [Original/Alt/Incomplete]
Added Chapter 10, Chapter 11, Chapter 12, Chapter 13 and Chapter 14 of To Tame a Wild Heart by Mikaeli Hooper [Classic/Alt/Incomplete]
October 16th, 2012
Announcement from the Academy of Bards
Friends,
We are aware that some of you are getting notices that the Academy of Bards has malware and some visitors are being warned against using the site. Most of the notices that we've seen have been on the What's New page. We have run many scans of our pages and have gotten no indication of a Trojan, though a company called Sophos has blocked us.

Meanwhile, we recommend that readers NOT use Internet Explorer. One of the notes we got was specifically targeting Internet Explorer. To the best of our knowledge, Firefox and Google Chrome have not encountered any errors. Apples seem to be immune.

If you have gotten a warning message, it would help us if you could forward the wording to us - particularly the name of the malware/trojan/virus/exploit and the name of the browser you are using.

Is there anyone who has knowledge in internet security? We could use some help in tracking down the problem. If so, please contact us at academy_contact@yahoogroups.com

Thank you and we hope to have this cleared up soon.

Academy of Bards Munchkins
Added Part 8 of Beyond Always by Carrie Carr [Original/Alt/Incomplete]
October 14th, 2012
Added Part 6 of Hollywood Dreams by Fiur & Vlamme [Original/Alt/Incomplete]
This extraordinary story about love and schemes is set in present Los Angeles, in the glamorous world of movie making, among the society of the "rich and the beautiful".
Added Chapter 7 of It Should be Me by Mikaeli Hooper [Classic/Alt/Incomplete]
Added Part 5 of Cold Stone by Kennedy Northcutt [Original/Alt/Incomplete]
October 12th, 2012
Announcement from Blue Feather Books:
Get ready, because we have two new releases this month!
Renee MacKenzie's second novel, Flight is a touching story about the intersecting lives of two sisters:
It's 1983 and Kate Hunter is a student at a small, private college in Virginia. When Lana coaxes her onto the back of her beat-up scooter one night, Kate's education starts to encompass more than just her pre-vet studies. Kate has always done as expected of her, so when she starts staying away from home on weekends to spend time with her new lover it is way out of character for her. Lana is secretive, but Kate accepts things as they are and gives Lana her space. When she feels the sting of betrayal, will she be able to continue giving Lana her privacy?

Kate's sister April is a high school student playing with fire as she parties with her older boyfriend, Boyd. After finding someone overdosed the morning after a big party, April grows weary of all the drugs and alcohol. Will she be able to convince Boyd that they should slow down? Will she be able to pull it together before it's too late?

Kate and April are forced to face up to events from their younger years, their mother's desertion, and their long-deteriorating relationship with one another. Some lives will be lost and others changed forever when the sisters' lives intersect. Will they be consumed by the wreckage, or will they be able to pick themselves up and take flight?

And if you're craving action, make sure to check out Jennifer McCormick's debut novel, The Midas Conspiracy .
In the distant future, humans have succeeded in colonizing worlds far beyond the Milky Way. But, after being driven nearly to extinction in a galactic war, humanity is unsure which among the alien races can be trusted.
Leara Sorani is a Valori, a race of humanoid aliens charged with keeping the peace in the universe. Her suspicions of the human corporation, Midas Pharmaceuticals, have driven her to infiltrate the corporation's headquarters, where she obtains proof of a sinister plot aimed at aliens: Midas Pharmaceuticals is planning to release a deadly plague that will target all aliens.
Space mercenary Cybil Reynard is hired to track down Leara and retrieve the sensitive information she stole, by any means necessary. Cybil tracks her target to a remote outpost facility in the harsh and unforgiving wastelands of a frozen planet, where hunter and prey meet face-to-face. Leara shares her information with Cybil, embroiling Cybil in the conspiracy.
Cybil and Leara are forced into an uneasy alliance in order to halt the obliteration of intelligent life. But can Cybil overcome her tragic past and her own reservations toward aliens? The fate of the universe, as well as that of the beautiful and mysterious Leara Sorani, are in her hands.
Don't miss these excellent books, available now at www.bluefeatherbooks.com in print, and soon, in print and e-book, from Bella Distribution.
October 9th, 2012
Announcement from Jenny Frame:
I would like to announce that the ebook version of, The Dalton Family saga - The Road to Dencotte house is now available , at the Academy and at my website. http://www.jennys-storybook.com/
The Road to Dencontte as PDF
The Road to Dencontte as epub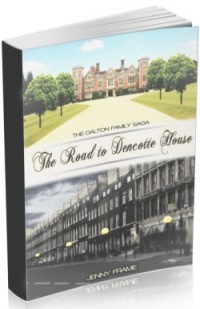 A big thank you goes to the cover designer, Lilien Hoffman, for a fantastic job. Lilien is offering a new service to authors, designing covers for ebook versions of their stories. Please check out her website at - http://lilienhoffman.wix.com/graphicdesign#!home/mainPage
Announcement from Bedazzled Ink:
Bedazzled Ink is happy to announce that Iz's Journey, the sequel to Clara's Story by Doreen Perrine, is hot off the presses . . .

Claudia

After Claire buys a Brooklyn brownstone, she is forced to take a deadly dull job in her father's bank, instead of in the art world she loves. Her nutty family is as fractured as ever, and she can't forget her whirlwind romance in Italy with the charming, but quirky artist, Isabelle.

Out of the blue, Isabelle arrives in New York, turning Claire's world—and heart—upside down. Topsy-turvy life with Isabelle is filled with enticing glimpses of a happy future and with jumbled questions. Will Isabelle stay or be swallowed up in her world across the pond—again? And can Claire summon the sheer guts she needs to face the demons of her past, embrace the present, and reach for the sky?

For more information, an excerpt, and some quick ebook links visit:

http://nuancebooks.bedazzledink.com/nuance-izsjourney.html

Doreen will be signing copies of Clara's Story and Iz's Journey during Women's Week in Provincetown. She'll be signing at Womenscraft on Thursday October 11 from 11:30 am to 12:30 pm. She'll also be signing at the Sage Inn with the Golden Crown Literary Society on October 12th.
Added Part 6 of Troubles Times Ten by JLNicky [Original/Alt/Incomplete]
Becky Anne Barton, computer whiz and recently very bored with early retirement finds herself trespassing for a thrill. Discovering an apartment full of foster kids and one very determined young woman trying to raise them. Becky confronts Charlie and convinces her to let others help.

With her resources, patience, and infinite time Becky finds herself helping to erase the haunted looks these kids have built in their young lives. Charlies distrust is another matter. Can Becky ever prove to Charlie that a promise can be kept? Can Charlie ever learn how to show her love to the one person she is falling head over heels with. Trouble takes on a whole new meaning as kids and guardians fight to grow into the kind of family each of them need.
Added Part 17 of Queen of the Realm by Warrior Judge [Conqueror/Alt/Incomplete]
October 7th, 2012
Added Chapter 9 of To Tame a Wild Heart by Mikaeli Hooper [Classic/Alt/Incomplete]
October 6th, 2012
Announcement from SX Meagher:
Almost Heaven
$16.00
334 pages

Cody Keaton truly believes that money doesn't buy happiness. She believes this so strongly that when she hits it big in the lottery she considers throwing the ticket away. Once she talks herself off that ledge she vows to use the money only for security, a decision that she honestly believes she can follow. She's not going to be one of those people who blows it on houses and cars and loses it all.
Her aunts, uncles, cousins and extended family don't share her view—but most of them itch to share her money.
The local bank manager, Maddie Osborne, quickly sees that Cody's going to be in a world of trouble if she doesn't make some tough financial decisions. Given that Cody's never been inside a bank, her learning curve is steep. Maddie finds herself drawn to protecting the unsophisticated woman from the people who are trying to separate Cody from her fortune—even her nearest and dearest.
Read the review at Rainbow Reader
Monogamy: Book 13 of the I Found My Heart in San Francisco series
$14.00
374 pages
Things are looking up.
Ryan's back in the saddle—the effects of her trauma slowly fading. Jamie's thoroughly relieved to have her back. She's not as happy that her hyperactive lover has to jump into another sport. Ryan's sure softball will help end her collegiate career on an up note. Will the third time be the charm?
Jordan's working harder than she thought possible. But it's not having Mia by her side that wears on her. Mia feels the same, and Jordan soon learns that Mia's not able to delay gratification—no matter the consequences.
Wrapping up their last semester at Cal involves a tremendous amount of work for the high-achieving women. The question is how to accomplish all they're called to do while having time for each other.
Love is the key, and expressing that love in words, actions and deeds is what will keep them together.
Both are available at www.briskpress.com
Announcement from Henriette:
Hi, if you are German speaking, join us at the newly founded German virtual living room (das lesbische Wohnzimmer):
http://de.groups.yahoo.com/group/das-lesbische-Wohnzimmer/?yguid=414842457
The internet and ebook-readers are very present now in Germany so I thought it would be great to found a yahoo-group to connect German lesfic readers and authors.
Cheers,
Henriette
October 5th , 2012
Added Part 5 of Hollywood Dreams by Fiur & Vlamme [Original/Alt/Incomplete]
This extraordinary story about love and schemes is set in present Los Angeles, in the glamorous world of movie making, among the society of the "rich and the beautiful".
In the middle of it all are the Parkers and the Stuarts, two rival families. Torn between heart-wrenching romances and deadly hate, their feelings are whirling in a never-ending chaos of misunderstandings and coincidences. Mistakes and confusion add more trouble and problems to their daily lives until eventually they all might experience a happy ending... or won't they? Read and find out... :-)
(All three stories take place post-novel, so readers beware!)
Underdog Story 1: Tamer Animals by Geonn Cannon [Original/Alt/Complete]
The wolf takes over Ari for a night, which leads to an awkward morning between her and Dale. (caution! Has scenes of rough sex with slightly dubious consent)
Underdog Story 2: Outfoxed by Geonn Cannon [Original/Alt/Complete]
Ari is assaulted by the husband of a former client. Days later, she awakens after a blackout to find her hands and chest bloody and discovers her attacker was killed by a wild animal. With the police searching for her, Ari goes into hiding and discovers that an enemy from her past has returned to seek revenge. (includes scenes of violence)
Underdog Story 3: Dog Years by Geonn Cannon [Original/Alt/Complete]
Ari reunites with someone from her past while looking for a long-lost treasure. (contains scenes of consensual sex between two 17-year-olds)
Added Chapter 6 of It Should be Me by Mikaeli Hooper [Classic/Alt/Incomplete]
Added Part 7 of Beyond Always by Carrie Carr [Original/Alt/Incomplete]
Set a year after the events of Trust our Tomorrows, everything is going well for the Walters family. The ranch is prospering, the kids are growing - and Lex & Amanda have never been happier. But when tragedy strikes the family, will it bring them closer together or tear them apart?
October 1st , 2012
A new bard joins us today at the Academy. Please welcome Blythe Rippon!
Stowe Away by Bythe Rippon [Original/Alt/Complete]
Samantha Latham has a brilliant mind, a ton of ambition, and a bit of an ego. After graduating from Yale, she enrolls in the M.D./Ph.D. program at Stanford, eager to embark on a bright future researching the differentiation potential of adult stem sells. When she receives a phone call about her mother from the Fletcher Allen Hospital in Burlington, VT, her life turns upside down, and everything she thought she wanted suddenly seems so far away. Still, life in small town Vermont might just have its charms.
Added Chapter 7 and Chapter 8 by Mikaeli Hooper [Classic/Alt/Incomplete]
The Conqueror leaves Greece to visit Cleopatra and meets a slave/gladiator named Gabrielle but all is not what it seems.
Added Part 16 of Queen of the Realm by Warrior Judge [Conqueror/Alt/Incomplete]
This story is a sequel to the story "Lord Conqueror of the Realm". The Conqueror, Queen Gabrielle and their daughter Princess Athena travel together to Amazon lands in order to catch the one responsible for a series of mysterious attacks committed against the Amazons, threatening to disturb the peace in the region. While there a major event occurs that drives a wedge between the Conqueror and Queen Gabrielle, which forces them to examine their complex relationship.