March 30th, 2014
Added Part 34 of Slam Dunk by Mickey Minner [Original/Alt/Incomplete]
March 26th, 2014
Added Part 33 of Slam Dunk by Mickey Minner [Original/Alt/Incomplete]
As Pat and Sherry look forward to a second season of basketball with the Missoula Cougars, they face new responsibilities and increasing pressure to bring home a repeat championship. Can their relationship survive?
Announcement from Blue Feather Books
All right! Make room on your bookshelves (or your Kindle)! We're very pleased to announce that Laurie Salzler's new book, Positive Lightning, is here for your reading pleasure!

Kate Winter teaches dog owners how to train their canine companions. During her spare time, accompanied by her Lab, Dakota, she explores the woods and beaches on foot or horseback. She's worried that something's happening in her relationship, but she can't get her girlfriend to talk to her about it.
Faith Hutchins recently lost her sight after a terrible outdoor accident. She's dealt with anger, depression, and her blindness primarily on her own. A seeing-eye dog would help alleviate her reliance on anyone else, but the guide dog school has been unsuccessful in providing her with one. On a mission to find someone who will train a dog specifically for her, she ultimately zeroes in on Kate.
They say lightning never strikes the same place twice. But positive lightning is notoriously unpredictable and can ignite a fire when and where least expected… no matter who's in its path.

Don't miss this amazing story! Available now in print and e-book, at www.bluefeatherbooks.com and at Bella Books .
March 25th, 2014
Added Part 17 of A Chance Encounter by Bobbie Halchishak [ Uber/Alt/Incomplete]
Things are going great for our lovely duo when Luce's troubles at work rears its ugly head. And both women come to a rather startling realization that terrifies both of them.
March 15th, 2014
The Pier 7 Incident by Phineas Redux [Original/Alt/Complete]
This is the third in the ' Drever & Cartwright ' series. Fiona 'Fay' Cartwright & Alice 'Al' Drever are private detectives in an East Coast American city. A large luxury liner docks in the harbour, with a mystery on board which they are tasked with solving.
Announcement from Lois Cloarec Hart
I'm pleased to announce that the e-version of Coming Home (third edition, revised) is now available on Amazon http://www.amazon.com/Coming-Home-Lois-Cloarec-Hart-ebook/dp/B00IYFC3B2/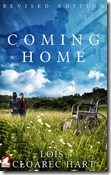 Coming Home was my first book and remains dear to my heart. It's been heavily revised with some new stuff added. It will be available on Bella, Smashwords and ARe Books shortly, and in print in a few weeks. A triangle with a twist, Coming Home is the story of three good people caught up in an impossible situation.

Rob, a charismatic ex-fighter pilot severely disabled with MS, has been steadfastly cared for by his wife, Jan, for many years. Quite by accident one day, Terry, a young writer/postal carrier, enters their lives and turns it upside down.

Injecting joy and turbulence into their quiet existence, Terry draws Rob and Jan into her lively circle of family and friends until the growing attachment between the two women begins to strain the bonds of love and loyalty, to Rob and each other.
Lois Cloarec Hart
Award winning author of Coming Home , Broken Faith ,
Kickers Journey , Walking the Labyrinth , and Yak
all published in e-format and print by Ylva Publishing.
https://www.amazon.com/author/loiscloarechart
Announcement from Q. Kelly
I'm happy to announce the release of my new book TIME AND TIME AGAIN.

Retailer information: Kindle: http://www.amazon.com/dp/B00IZLK42A
Nook: http://www.barnesandnoble.com/w/time-and-time-again-q-kelly/1118890812?ean=2940149391707&itm=1&usri=2940149391707
Kobo: http://store.kobobooks.com/en-US/ebook/time-and-time-again-10
Smashwords: https://www.smashwords.com/books/view/418438
Print: https://www.createspace.com/4710327
Blurb:
Bestselling author Linn Laurent has been grappling with writer's block to the extent she imagines it as a distinct entity that crawls into bed after her some nights—with its sour, rotting breath. She's tried remedy after remedy to get rid of the dratted thing, and her latest attempt is a retreat to Green Cabin in the mountains of West Virginia. Maybe there she can finally make progress on her latest novel. Then she starts seeing and hearing a boy and girl. They claim they're ghosts. Linn claims nonsense. She thinks a tumor or something like that is messing with her brain, but the evidence for ghosts turns out too strong to ignore. The children, Corrine and Christian, beg Linn to make contact with their parents and even bring them to the cabin if possible.
Joely Estes is sixty years old and has managed to move on the best she could since the deaths of her children twenty-three years ago. When her ex-husband, Orson, and author Linn Laurent show up at Joely's office, they spin a tale that is too ridiculous to be true. Or is it? Joely reluctantly goes to Green Cabin with Linn and Orson. The two women develop a bond that may go beyond friendship, but just when they think their world is back to normal, everything changes.
This short novel is about 42,000 words.
In other news: - I have a 9,000ish-word short story coming out in the next week or so. If you enjoy TIME AND TIME AGAIN, you'll like this one too. It's titled THE PSYCHIC AND THE DAMSEL IN DISTRESS.
- WOMAN UNLEASHED is in print. Buy it on Amazon (may take a few days to show up in the system) or through CreateSpace at https://www.createspace.com/4661591 .

- Q. Kelly

qkellybooks.com

March 12th, 2014
Added Parts 38a to 40 - The Conclusion of Beyond the Farthest Planet by Psyche_B [Andromeda/Alt/Complete]
Year two of the continuing voyage of the Star Traveler Andromeda. A mix of Voyager meets Xena. The relationships of the crew as they visit distant planets, meet new civilizations on their journey.
Announcement from Geonn Canon
This is what happens when you release a book while sick... you forget to post everywhere. Doh! So, um. Anyway... I have a new novel! It's called "Girls Don't Hit," and it features one of my least sympathetic characters ever, but people still love her. Not without reservations, and they all want to keep a wide berth, but there's something about her that they're still drawn to. She's tough, unapologetic, and she loves what she does. Unfortunately what she does is pretty evil...
Available in ebook wherever you ebook-it-up. Smashwords is always available for a variety of formats, or if you buy from Amazon, I'd appreciate if you bought it through my store ( http://astore.amazon.com/squsisl-20/detail/B00IPSMBVU )
GIRLS DON'T HIT "Joss Kurtis kills people for a living, and she is very dedicated to her work. She has structured her entire life around her job, marrying a man and having his children to establish a stable, Midwestern family facade to hide behind. When she isn't working she's Jocelyn Webb, a dedicated if detached mother whose job often takes her out of town. She works for an anonymous company, contacted only by a handler who provides the names and locations of her latest target. Old or young, male or female, she doesn't discriminate. Her methods vary, but there is one constant: never get emotionally involved.
After her ninety-second kill, Joss is assigned an apprentice, a young woman who has been also been recruited as an assassin. She names the girl Echo rather than bothering to learn her true name and sets out to teach her the ropes of their chosen profession. Over the next few weeks Echo accompanies Joss on her jobs to get a first-hand look at the murder business.
To her surprise, Echo proves to be a natural at the job and Joss soon begins to develop feelings for her unwanted tagalong. As Echo's tutelage nears its completion, Joss is forced to decide between the life she's built and throwing everything away for something entirely alien to her: love."
Also in VERY SUPER EXCITING NEWS... I have been contracted to write an official Stargate SG-1 tie-in novel. This is a huge deal for me, since Stargate was there at the very nascent point of my career. It's daunting and amazing and I hope I do the characters justice. ::fingers crossed::
Want to know where to find me? Just in case I brainfart again and you want to find out news straight from the source? TWITTER: GeonnCannon TUMBLR: PossibleStalker FACEBOOK: Neil Miser
Announcement from Desert Palm Press
We are pleased to announce the release of
Anything Your Heart Desires by AJ Adaire
Friends Series - Book 3
e-book: $5.99
Available at:
Whoa—lesbians! That was Stacy Alexander's first thought as she observes the group of women in the new shop across the street kiss each other in greeting. Stacy had been staring out her apartment window trying to think of a motive for the death of the character she'd killed off in her mystery novel. Ah ha—extortion! What could be a better reason for the murder of my heroine than being blackmailed because she's a lesbian? Now all I need is a lesbian to teach me about the 'lesbian lifestyle.'
That's where policewoman Jo Martin enters the picture. Jo has two rules by which she religiously lives her life: never get involved with someone already in a relationship and never, ever date a straight woman.
As Jo and Stacy collaborate on the novel, will Stacy want to gain a more intimate knowledge of the topic, and will Jo hold steadfastly to her rules?
Catch up with old friends Amanda, Mallory, Nic and Dana and meet some interesting new characters in this sequel to Awaiting My Assignment and Sunset Island. Each book is a stand alone novel, but best read in order of publication (Sunset Island, Awaiting My Assignment and Anything Your Heart Desires.)
March 10th, 2014
Chronicles of the Empress Book 1: A Tale of Two Castles by Norsebard [Uber/Alt/Complete]
Part 1 of the Chronicles Of The Empress. On the heels of a personal tragedy, Lady Bronwyn of Ashburne Castle, daughter of Emperor Jin-Sarnos XII, is forced to go on a diplomatic mission to a neighboring empire to settle a border dispute. With her, she has the best Ranger of her father's armed forces, 'the Huntress' Caid Barlin. The two women and a small band of colorful traveling companions must navigate safely through a world of sweeping landscapes and narrow-minded emperors, mystical Seers and hideous creatures until they reach Lord Lasar-Ihtreg's realm in the Shadowlands...
Announcement from Ann McMan
Salem and I just wanted to share the news that Hoosier Daddy has been shortlisted for a Lambda Literary Award in the lesbian romance category. Thanks, as always, for all your wonderful support.
Ann McMan and Salem West
March 7th, 2014
Added Part 3 of At Her Majesty's Service by Han Dj [Conqueror/Alt/Incomplete]
Announcement from Desert Palm Press
We are pleased to announce the release of
Dark Horizons
by Rae D. Magon & Michelle Magly
e-book: $5.99
Available at:
Lieutenant Taylor Morgan has never met an ikthian that wasn't trying to kill her, but when she accidentally takes one of the aliens hostage, she finds herself with an entirely new set of responsibilities. Her captive, Maia Kalanis, is no normal ikthian, and the encroaching Dominion is willing to do just about anything to get her back. Her superiors want to use Maia as a bargaining chip, but the more time Taylor spends alone with her, the more conflicted she becomes. Torn between Maia and her duty to her home-world, Taylor must decide where her loyalties lie.
Published by Desert Palm Entertainment (CC/2007/2385) trading as Desert Palm Press
Swakopmund, Namibia
March 4th, 2014
We would like to welcome Han Dj to the Academy!
At Her Majesty's Service (Part 1 and 2) by Han Dj [Conqueror/Alt/Incomplete]
Xena was tired of her Seneschals who were all trying to kill her, Elusia the last one is dead and Palimon, the captain of her Imperial guard and her right hand man was tired of hiring Seneschals after seneschals. He was allowed to hire one, but with a strict order... MALE Seneschal or none at all.
The Promise by Stein Willard [Original/Alt/Complete]
A Front Page Splash by Phineas Redux [Original/Alt/Complete]
This is an Uberfic set in Great Britain in 1943. Zena Mathews and Gabrielle Parker, both pilots and members of SOE—Special Operations Executive—are stationed at Scapa Flow. They become unwilling participants in a media publicity campaign for the Air Transport Auxiliary, and are reluctantly interviewed by a reporter and photographer.
Added Parts 36a to 37c of Beyond the Farthest Planet by Psyche_B [Andromeda/Alt/Incomplete]
Year two of the continuing voyage of the Star Traveler Andromeda. A mix of Voyager meets Xena. The relationships of the crew as they visit distant planets, meet new civilizations on their journey.
I have borrowed certain similarities from the characters of those two series and will and will return them safely to their realms when I have finished with them. The story started in Among The Stars continues in Beyond The Farthest Planet.
Announcement from Desert Palm Press
We are pleased to announce the release of the debut novel by AJ Adaire
Sunset Island
e-book: $5.99
Available at:
Ren Madison is certain her life couldn't be more perfect. She owns a private island with an Inn off the coast of Maine. She treasures her loving relationship with her older brother Jack, his wife, Marie, and dotes on her niece Laura. She has a passionate and supportive relationship with her partner, Brooke, and a successful business that doesn't require her undivided attention allowing her ample time to pursue her true passion, painting.
Ren's idyllic world crumbles when Brooke dies. Friends and family worry that Ren may never fully recover from her loss.
Dr. Lindy Caprini, a multi-lingual professor, is looking for an artist to illustrate the book she is writing comparing fairy tales from around the world. To make working together on on the book easier, Lindy takes a year sabbatical and leaves friends, home, and boyfriend in Pennsylvania and moves to Ren's island. Ren soon discovers that the beautiful and mischievous Lindy is a talented author and a witty conversationalist. Their collaboration on the book leads to a close, light hearted, and flirtatious friendship. Will their collaboration end there?
Published by Desert Palm Entertainment (CC/2007/2385) trading as Desert Palm Press
Swakopmund, Namibia