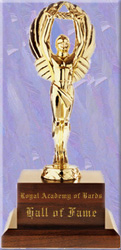 Academy Author Index
Last Updated: 8/31/2014


2010 Hall of Fame
Author
Story - Blood and Honor
2014 Hall of Fame
Story - The Dead Can Dance


---
Airwaves

What happens when you use to be a big fish in a big pond and now your a little fish in a little pond but still have the big fish attitude? Jessica is going to find out. Coming from a cushy news anchor job at a large market TV station and sinking to the small time news host position at the local NPR affiliate might just drive Jessica insane, but to top it off the only one who will work with her is Sean Wildeman. Sean has the ability to grate on anybody's nerves.
Chance - with Windstar [Academy Halloween 2007]
Part 1 Part 2 Part 3 Part 4 Part 5 Part 6 Part 7

Cheeseburger In Paradise [Academy 101 Story Premise]
Shaye, a resort restaurant's general manager and all around beach bum finds her world shaken when a young blonde vacationer walks into the restaurant's bar. Sutton rocks her world and then leaves ... why?
Emily is feeling down, she's beginning to hate her friends and herself. Then her roommate gives her something to make her loosen up and have a good time at the bar. Chemical X makes Emily realize some inner truths about herself.
Comic Book Life

Remy probably holds the record for the worlds longest crush. When she was 6 she fell in love, now as an adult her life through comics may just give her a shot at the object of her crush. That's if she can survive television production, midgets, and wondertits... um, just read the story.
D'Artagnan [Incomplete]
Welcome to Carmen's world. Carmen's been hanging out with the same friends since she was knee high to a grasshopper; Olivia, Ashley, and Jen. However, despite the fact that they are friends she always feels on the outside trying to prove herself to them; playing D'Artagnan to their three musketeers. Enter change in the form of a woman who turns their world upside down.
The Dead Can Dance - with Windstar
This is a story of a morgue attendant, her friends, a librarian, and just to keep things from being dull we invited the zombies.
End of Times - with Windstar
It is the end of days, magic is failing across the kingdom and all that stands in the way of total chaos is an apprentice mage, a nameless convict, a former guard and a wild woman of the dark forest.
Evil Love [Academy Valentine 2007]
Gray Line - with Windstar [Academy Halloween 2010] [Incomplete]
Part 1 Part 2 Part 3 Part 4 Part 5 Part 6 Part 7 Part 8 Part 9
The Journey To Harvest Moon [Holiday Havoc Challenge]
Liz is trying to visit her sister who is having a commitment ceremony. She and her best friend take a road trip that brings their friendship into focus.
King and Country - with Windstar
Monsters In Love [Academy Valentines 2004]

Danny and Tori are in love but unable to spend Valentine's together which causes an argument.
A bodice ripper or sweeping epic, either way its a ripping good tale. A time of college students and strippers. Two women with a past history struggle to find love together in the present, despite baggage and a psycho ex. While their friends sit on the sidelines making snide comments.
Possesion [Academy Halloween 2005]
The Secret History of Vampires - with Windstar &nbsop;[Academy Halloween 2008]
Part 1 Part 2 Part 3 Part 4 Part 5 Part 6 Part 7 Part 8 Part 9
Selene And Nix - with Windstar

This story contains; mayhem, magic, love, jealousy, and some great fight scenes. Plus as an added bonus if you read this you'll understand Blood and Honor a lot better when we start posting it. So come join Nix and Selene as they struggle to build and keep a society together.
Zoya - with Windstar [Academy Halloween 2009]