December 17, 2019
Driving Snow For Christmas by Norsebard [Uber/Original/Alt/Complete]
It's Christmas Eve! Unfortunately for Bettina Hostrup, that's no joyous occasion as she gets caught up in the worst blizzard to hit in a decade. Originally driving north to spend the Holiday at her sister's, the awful conditions on the roads force her to stop at a cozy-looking roadside inn located in a village somewhere in the middle of a very white nowhere. Once there, it doesn't take her long to get acquainted with the charming innkeeper Annika Neergaard and the other people waiting impatiently for the weather to improve…
Announcements:
New Releases from Desert Palm Press
Debut novel:
The Life in Death
by
Ann & Michele Modtland
Looking down at your dying body is indescribable, yet terrifying and unnatural. I saw my body shaking as my brain delivered its final electrical impulses, my back arching as it desperately sought life-giving air. As I reached down in a frantic attempt to put myself back together, the seizure suddenly stopped. Blood pooled from the hole in my head—a much larger amount than I had expected. Anxious to save myself, I instinctively tried to push the blood back through the hole, but I couldn't grasp anything. I was intangible. There was a gurgling, moaning sound as my breath left my body. Then everything went still. I panicked and repeatedly tried to get back into my body, but it was useless. My life was finished and my soul—me—had been freed from the confines of the physical world. It was done. There was no going back. I was dead.
Combining strong elements of romance, mystery, and spiritualism, The Life in Death follows the life, death, and life-after-life of Tallon Monroe, a woman grieving over her murdered wife and unborn child. The Life in Death is a story of profound love that transcends the boundary between life and death.
The Life in Death includes violence, abuse, and suicide and is recommended for mature readers.
Available at:
Desert Palm Press, Smashwords, Amazon, and soon at Bella Books
New Releases from Desert Palm Press
Forever Chance
(Five Points Series – Book 2)
by
CJ Murphy
Balancing a professional life and a personal life is always difficult. When you're the Sheriff of a county that brings in a million tourists like Chance Fitzsimmons is, you stand as the thin blue line between order and anarchy twenty-four hours a day, three hundred sixty-five days a year. Trying to plan a Christmas wedding to begin a decade's long-delayed life with her fiancée, Jax St. Claire, can throw things out of balance.
If that's not enough, an influx of opioids causing multiple overdoses at a county festival followed by a mass casualty incident at a popular ski resort threaten to push the county emergency service resources to their breaking point. Chance's dedication stresses her conviction to the five principles she lives by like a rescue rope loaded to its safety limit.
Jax's life isn't exactly calm either at the Three River's Animal Clinic, where a sinister visitor introduces unwelcomed sexual advances that cause waves of intimidation and harassment to her and her staff. The resolution that comes crashing down will close a critical link in the chain of a high-profile investigation, putting lives and a vow yet to be made, at risk.
Both women are dedicated to finding that balance, and their "Forever Chance" is but a promise away if only they can survive to trudge the snow to say 'I do.'
Available at:
Desert Palm Press, Smashwords, Amazon, and soon at Bella Books
December 5, 2019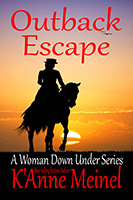 Outback Escape
Abigail is hiding from her father and her late husband's solicitors. She takes her young daughter and escapes to the London property belonging to the late earl. After learning a few things about her past and the parts certain people played in them, she begins to grow up. She becomes more confident in her role as the Countess of Worthington, something she hadn't been able to do during her marriage.
Will her father ever cease his efforts to get his hands on her inheritance? If not, she is prepared to leave England and flee to the last place on Earth he would expect to find her!
Amazon E-Book: https://www.amazon.com/Outback-Escape-Woman-Down-Under-ebook/dp/B081VF6VMY
Apple: https://books.apple.com/us/book/id1488927585
Kobo: https://www.kobo.com/us/en/ebook/outback-escape
Barnes & Noble: https://www.barnesandnoble.com/w/outback-escape-kanne-meinel/1135055859
Thank you, sincerely!
Ms. K'Anne Meinel
To see my books and biography: Website or follow me on my blog!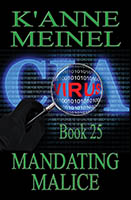 Mandating Malice (Book 25)
Who is Alice Weaver? The CIA believes they are about to find out…but are they? Do they really want to meet the real Alice Weaver? Perhaps, some things are better left hidden. Some agents think they already know who Alice is. After all, they have a file on her and so does the FBI. But what they know is only what Alice wants them to know. When Alice Weaver shares information with those in authority, they will be left scrambling for cover!
Amazon E-Book: https://www.amazon.com/dp/B0826MSK6K
Thank you, sincerely!
Ms. K'Anne Meinel
To see my books and biography: Website or follow me on my blog!
December 3, 2019
I Came to Kill You by Johnette Loefgren [Classic/General/Complete]
Conqueror and Companion by Johnette Loefgren [Conqueror/General/Complete]
I'm sending this one in hopes that some may want to read a rather tame Conqueror tale.
Announcement - Given the changes to Yahoo policies, the Academy Submissions group has moved to Groups.io.
You will not need to subscribe to the list - just send an email with your announcement or your attached story to
We will then receive and process your work. Easy!
The Academy 411 Yahoo group has moved to Groups.io! If you want to meet up with other folks looking for stories, subscribe. If you are on the Academy 411 Yahoo Groups list, please sub in as soon as possible if you want to stay on the 411 list. If you snooze, you lose! Publishers and authors..this list is perfect for hyping your new stories/books.
To subscribe, email to: Academy411+subscribe@groups.io