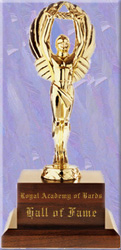 Academy Author Index
Last Updated: 10/31/2016

2008 Hall of Fame
Story - The Island of Belleza


---
Having fled Britannia, a small group of women seeking a peaceful life away from strict rules, violent men and mercenaries set up home on a hidden island they call Belleza. The beautiful island becomes home to lost women and families. Generations later finds Queen Athena in charge. Her daughter, Arcadia is approaching courting age, and must soon start her search for her mate. But does she already know who that is? Has she already met her?
Part 1 Part 2 Part 3 Part 4 Part 5 Part 6 Part 7 Part 8
When their peaceful existence is disrupted by an attack, Dionis and her wife Queen Athena decide to retaliate and send their warriors of to war. The Queen's daughter Arcadia is left behind as her true love is sent off to fight, left wondering if they'll ever see each other again and if she'll get the wedding she has wished for. As the war rages in a distant land, the Princess has to cope with problems of her own while trying not to worry too much about her departed love. Will they be reunited and live happily ever after?
Part 1 Part 2 Part 3 Part 4 Part 5 Part 6 Part 7 Part 8 Part 9 Part 10 Part 11 Part 12 Part 13 Part 14
Island of Belliza: For Better or Worse
No longer a teenager, Rayna is now faced with adulthood. Married and having children of her own, she has to face grown-up problems while faced with a new threat to the women of Belleza. It's not only Rayna with issues, Keera is unhappy and Bedilia and Gayle are having problems of their own. Does life ever run smoothly?
Prologue Part 1 Part 2 Part 3 Part 4 Part 5 Part 6 Part 7 Part 8 Part 9 Part 10 Part 11 Part 12 Part 13
Told from a first person point of view, a woman reflects back on her life with her soul mate.
Told from one person's point of view
At a bad place in her life, Jane meets Eve, a mysterious businesswoman, who shows her nothing but kindness. Believing she doesn't deserve to be loved, can Eve convince Jane otherwise?
Secrets, lies, & deceptions [removed by request of author]
There's Something Strange... [Academy Halloween 2016]
Kennedy Threadgoode doesn't usually do Valentine's Day. In fact, she likes to be single at this time of year, so she doesn't have to make an effort. But this year, she's dating a high-maintenance woman, who expects something. Can Kennedy get it right when she doesn't really have a clue?
Branigan Series