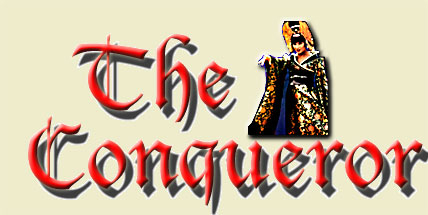 ---
Alternative Stories
---
last updated: October 31, 2015
1001 Armageddon Nights - Dreamweaver [unfinished]
Whatever happened to the alternate universe Gabrielle from the Hercules episode Armageddon Now part 2? Did she die on the cross or was she thrown into the Empress Xena's royal harem?
Part 1 Part 2 Part 3 Part 4 Part 5 Part 6 Part 7
All but the Heart, A Conqueror Tale - Apollo


A restless Conqueror on a quest to regain the spark that drove her for so many years finds more than she ever dared to dream of in a simple farm boy and an Amazon Queen.
Ancient Amazon Secret - Dreamweaver


A short Star Wars/XWP CROSSOVER PWP story.
Arena - Sammet
As Empress of Greece, Xena has a lot on her hands – two wars to fight at the same time, peasants on the verge of revolting and impertinent noblemen constantly trying to outsmart her. Fearing a slave revolt on top of everything else, Xena finds the solution to at least one of her problems in a blonde slave with angry green eyes.
Armageddon Series - Schawnyboi

(01)
(02)
Vengeance of the Destroyer
Xena has her hands full attempting to conquer Greece while dealing with treachery and deceit from within the ranks of her army. Haunted nightly by visions of a young village girl she met long ago, Xena struggles to discover the meaning of her dreams, and to find the girl named Gabrielle.
Timeline of this story is after the events of "Armageddon's Arrival", the first in the trilogy of stories. Part one of this story is the second installment of the series.
Arena - Sammet [Incomplete]
As Empress of Greece, Xena has a lot on her hands – two wars to fight at the same time, peasants on the verge of revolting and impertinent noblemen constantly trying to outsmart her. Fearing a slave revolt on top of everything else, Xena finds the solution to at least one of her problems in a blonde slave with angry green eyes.
Boar Hunt - Xenafyre


Bored with life at her castle, Xena the Conqueror embarks on a boar hunt while Darphus, her second-in-command plots his takeover of the throne. Injured during the hunt, Xena meets one of her subjects who ends up having a profound effect on her life.
Champion - Kamouraskan


Gabrielle and Xena meet in a different way, and Gabrielle is already an Amazon
Champions - Kamouraskan


A sequel to Champion. In an alternate reality, Gabrielle faces Velasca in a fight to the death to become Queen of the Amazons, and is forced to use a certain ex-warlord to gain an advantage.
Coming Home - WhoMumbles
Sequel to The Mask of Courage. Summary Pending
Conquered - Leslie Ann Miller


Xena the Conqueror is defeated in a rebellion and imprisoned on Shark Island. Gabrielle, historian, poet, and active participant in the uprising, goes to get information from Xena in order to finish her histories.
Part 1 Part 2 Part 3 Part 4 Part 5 Part 6 Part 7 Part 8 Part 9 Part 10
Conquering Heroine - CN Winters & Amy
This is unlike any other Conqueror out there and took two years to make. A wide cast of characters in this unique piece with so many twists and turns it'll make your head spin
Conquering Liaisons - Carola Eriksson [unfinished]
This series has a rather expressive Conqueror Xena, a very lovable young Gabrielle, humor and above all things; love.
Part 1 Part 2 Part 3 Part 4 Part 5
Conquering the Conqueror - Seana James. [unfinished]
Xena the Conqueror encounters Gabrielle of Poteidaea, the leader of the Corinthian Resistance, in Xena's judgment agora. From the first moment, the Conqueror feels there is something different about this rebel, but soon the difference begin to manifest itself in the Conqueror as well.
Conqueror (The) - Mavis Applewater
The Conqueror, from Mavis Applewater's Wednesday Afternoon Series is a little different instead of an Uber this one is a good old fashioned X&G Conqueror story.
Conqueror: Sceptre of Fate - Harpy & HkdonXetG
Part I
When Destiny Meets Fate
A young farm girl named Gabrielle leaves her village and enlists in the Army of Xena the Conqueror. Xena finds herself captivated by this rather bold and idealistic young woman and offers her a job as her personal assistant. Xena soon realises that Gabrielle possesses an unconventional wisdom and comes to rely upon Gabrielle for advice and friendship as she leads her army in a campaign of conquest. After conquering Athens, Xena becomes Empress of Greece and all of the Greek territories, previously controlled by ruthless warlords and petty kings, are united under her rule. Her ambitions do not stop there. It is Xena's self-proclaimed destiny to rule over a vast empire, and so she looks toward Rome as her next conquest. In the service of the Conqueror, Gabrielle goes from being a naÔve village girl to the Empress' most trusted advisor and friend, much to the annoyance of Xena's second-in-command. Through Gabrielle's friendship Xena realises that her quest for personal glory does not have to come at the expense of her personal happiness. Along the way, they realise they were fated to be together.

Part 1 Part 2 Part 3 Part 4 Part 5 Part 6 Part 7 Part 8 Part 9 Part 10

Part II
Harbinger of Fate
A different timeline, a different Xena and Gabrielle - or are they? Gabrielle is no longer a naďve village girl: she is senior advisor to the Empress of Greece with more power and influence to do good than she had ever dreamed possible. Xena is Empress of Greece with ambitions to rule an empire that eclipses even Alexander the Great. Together their mutual attraction has grown into love, but they soon find that being in love is easy compared to building a relationship – especially when Xena insists it must be kept secret.

"I am a target for my enemies; I can live with that. But if they know about you, about us, then you will become a target as well, and that I could never live with."

Will Gabrielle be able to bring about social reforms and secure a treaty with the Amazons, or will political rivals thwart her efforts? Will Xena be able to stay focused on her plans for conquering Asia Minor, or will her relationship with Gabrielle prove to be too much of a distraction? Will their love be strong enough to navigate the treacherous waters of political intrigue, personal relationships, and potential enemies?

Read Sceptre of Fate, Part II and find out in this original and refreshing take on Xena and Gabrielle in the alternate timeline of the Conqueror.

Part 1 Part 2 Part 3 Part 4 Part 5 Part 6 Part 7 Part 8 Part 9 Part 10

Part III
In the Hands of Fate
Xena's worse fears have come true and knowledge of her relationship with Gabrielle has made Gabrielle a target for those who oppose the Empress. Intrigue, betrayal, and conspiracy imperil alliances, friendships, and lives. Xena soon discovers that no one is above suspicion as she exposes a plot that threatens to thwart her plans of conquest.

Will Xena rescue Gabrielle or will Xena be too late to save her? Will the Treaty with the Amazons be ratified or will the Amazon Queen be collateral damage in the growing conspiracy? Will Xena and Gabrielle be reunited or will unforeseen forces jeopardise their happiness and risk the fate of all whom they love?
Conqueror and Amazon: Towards a New Life Part 1 - romansilence [unfinished]
A summary unfortunately would reveal too much but I'm giving you some of the ingredients:
1. Xena, the Conqueror of all Greece and Rome, vary of ruling, bored out of her mind, and guilt-ridden about her past
2. Gabrielle, bard, scribe, and slave - well you know what Xena will have to do - but that's only the beginning
3. trouble with the Amazons, ruled by Queen Melosa
4. Cyrene, trying to hate her strongminded daughter
5. Toris, father of a fair haired son, named Lyceus
6. some violence (well, two battles and other stuff)
7. sex, oh yeah!, couldn't do without it.

The Conqueror Series - LJ Maas
Tale 1

Journey's End
For those not familiar with this continuing story that started on the Ex-Guards Mail List, this Xena is not the dark ruler from many Conqueror stories, so some will not care for it. It is more the story of that same dark Warrior after she has ruled for twenty years or so. She has come to the point in her life where she is trying to change, for many reasons...enter slave, Gabrielle.

Part 1 Part 2 Part 3 Part 4 Part 5 Part 6 Part 7 Part 8 Part 9 Part 10 Part 11 Part 12 Part 13 Part 14 Part 15 Part 16 Part 17 Part 18

Tale 2

Petal of the Rose (The)
This Xena is not the dark ruler from many Conqueror stories. It is rather the story of that same dark Warrior after she has ruled Greece and the surrounding lands for twenty years or so. She has come to the point in her life where she is trying to change, for many reasons...enter slave, Gabrielle. The Lord Conqueror's new slave, a submissive and frightened young woman, holds the power to change Xena, if only she can muster the spirit.

Part 1 Part 2 Part 3 Part 4 Part 5 Part 6 Part 7 Part 8 Part 9 Part 10 Part 11 Part 12 Part 13 Part 14 Part 15 Part 16 Part 17 Part 18 Part 19 Part 20

Tale 3

Time's Fell Hand - L. J. Maas
As always, the Conqueror is rather like having a Bengal tiger for a pet. She has come a long way since meeting Gabrielle, but Xena will never be considered tame, by any means. She has her ferocious moments just as she has the domesticated ones. Lying just beneath the surface of this complicated woman lies the Beast, Ares' curse upon the one-time Warrior Princess.

Part 1 Part 2 Part 3 Part 4 Part 5 Part 6 Part 7 Part 8 Part 9 Part 10 Part 11 Part 12 Part 13 Part 14 Part 15 Part 16 Part 17 Part 18 Part 19 Part 20 Part 21 Part 22 Part 23 Part 24 Part 25 Part 26 Part 27 Part 28 Part 29 Part 30 Part 31 Part 32 Part 33 Part 34 Part 35 Part 36 Part 37 Part 38 Part 39 Part 40 Part 41 Part 42 Part 43 Part 44 Part 45 Part 46 (conclusion)

Tale 4
Conqueror's Harvest - ArdentTly


Dark in both deed and desire, Lord Xena held her empire in a painful grip, determined to have her reign go down in the annals of history as not only the most powerful, but the most fearsome as well. Into her stronghold was brought a young woman naive in the ways of the world but learned in the ways of the heart. Her fierce determination to change the cold and heartless Conqueror would have both women in a battle of wills, pitting both against each other, the truth, and life as they both knew it.
Conqueror's Touch (The) - Xena's Little Bitch


A work of erotica concerning the Conqueror and her new body slave.
Conqueror's Winter (A) - cornwel [unfinished]
In this version of the conqueror plot, Gabrielle is an Amazon Princess daughter of Melosa, a traveling bard and a muckraker. Xena is Lord Conqueror she's is a little bit quirky and a lot evil and is enraged - scrolls that rouse the people to rebellion. A light conqueror story.
Destiny Conquered- Texbard


(Bard's Challenge winner) - a conqueror story. Xena has conquered Greece and has her sight set on Rome. She meets a slave, Gabrielle, and her world is turned upside down. Please read the disclaimers. It is violent and graphic.
Edge of Nowhere (The) - Annemaart


A Conqueror story with a twist. Three years after the events of Armageddon, Xena has settled down in her role as ruler of the world. The Empire is peaceful and prospering, crime is at an all time low... In other words, the Conqueror is bored out of her mind. Which is why she quickly agrees to personally solve a "minor" problem reported to her by the regent of Macedonia. The minor problem turns out to be a handful however, and the face off sets in motion a cascade reaction of changes.
Fever (The) - Xesbard


Racked with fever, Gabrielle experiences a different side of Xena's character.... a side known as the Conqueror.
Fragments Series - Carola "Ryűchan" Eriksson
1.
Fragments 1: The Gift - Carola "Ryűchan" Eriksson
A Conqueror story with Gabrielle as Conqueror. On the occassion of the Amazon Queen's birthday, a strange and complicated gift arrives from the East.
2.
Fragments 2: Offering - Carola "Ryűchan" Eriksson
A Conqueror story with Gabrielle as Conqueror, sequel of sorts to Fragments 1: The Gift. A small moment in the lives of a Conqueror and her slave, and how moving forward sometimes requires waiting for the right time.
Gladiator - Carola Eriksson


It's about two different people, a meeting and fate. If you loved WFC, then this is definitely a good read. Dark, but with light at the end of the tunnel.
Last Conqueror (The) - Lariel & Kamouraskan


The Empire is crumbling and a struggle for power is about to begin. Dark forces are converging, and crucial choices have to be made. But which choice is the right one? And what difference can a streetsmart kid from Corinth and an insane prisoner make anyway, against forces which draw their power from the evil of the earth? Added the first two sections.
Part 1 Part 2 Part 3 Part 4 Part 5 Part 6 Part 7 Part 8 Part 9 Part 10 Part 11 Part 12 Part 13 Part 14 Part 15 Part 16 (conclusion)
Leader (The) - Storm


Xena, the Conqueror, rules in a very harsh way. A resistance movement tries to oppose her power, but one of the members is captured. Xena dares the leader of the resistance to surrender, to save the captive's life. And a blonde woman arrives at Xena's palace...
Love In a Strange World - Carola Eriksson


Timeline Stranger In a Strange World revisited...and altered a bit.
Loving the Conqueror - Mythe


The Conqueror is advised by her Oracle (Gab) to ally with the Queen of the Amazons in order to change her destiny. .
Part 1 Part 2 Part 3 Part 4 Part 5 Part 6 Part 7 Part 8 Part 9
Mask of Courage - Who Mumbles


Summary pending.
My Lord Conqueror - Kennedy Northcutt
My Lord Conqueror: Changes
Xena has been Conqueror of the Known World, ruler of Greece and the most feared warrior in all the land, for a number of years. Bored with her duties at the keep at Surra, she takes a side trip to the small village of Potidea, where her entire world changes forever. She meets a feisty young village girl -an orphan storyteller with a heart of gold and the courage to stand up to her. The one person in all of Greece who will surely steal the Conqueror's heart and turn her world upside down is the one who will change her utterly and completely. Gabrielle's life has never been easy. She watched helplessly as her family's livelihood was stolen by raiders and her father disappeared without a trace. After narrowly escaping slavers who took her friends, she and her sister then watched their mother slowly waste away and die. But little did they know the worst was yet to come. One day, their village was visited by the dreaded Conqueror and nothing could prepare them for the changes to come.
Taking Chances
Xena is no longer Conqueror of the Known World, ruler of Greece or the most feared warrior in the land. After a sound defeat at the hands of Romans and a former ally, as well as a heart-wrenching betrayal by her own brother, Xena is regrouping and preparing to retake Greece and restore her reputation. With the help of a certain green-eyed Amazon queen and her retinue, Xena embarks on a journey to once again conquer the Known World.
My Lord Series - Mayt
My Lord - Mayt
Mayt's Conqueror is a woman who rules with a sharp mind and a sharp sword. Her justice is not "easy to watch" neither is it "grievous." A young slave enters her household and slowly earns her regard. A relationship develops between the two women as the Conqueror's realm is challenged by internal and foreign forces. Their, at times, unexpected terms of engagement, both spoken and unspoken, mark what becomes a fragile and enigmatic bond.
My Lord: Solstice
Following the events of My Lord, as winter Solstice approaches, the Conqueror is summoned from a hunting trip to care for Gabrielle who has fallen seriously ill. In the course of caring for Gabrielle, Xena revisits recent events that have enlightened their ever-evolving relationship.
My Lord: By The Fates
Mayt continues her saga of the Conqueror of Greece, Xena of Amphipolis, and her young Queen, former slave, gifted storyteller, and compassionate healer, Gabrielle of Poteidaia. In this third installment of the My Lord series, Gabrielle must come to terms with her past in order to realize her destiny as Queen of Greece. In turn, Xena finds herself entangled in a wager between the God of War and the Goddess of Love. Though the gods' actions challenge the lives of both Conqueror and Queen, it is the revelation of a past fateful decision that has devastating consequences upon their union. This is a story that explores the nature of love, truth and loyalty extending beyond Gabrielle and Xena to include their closest confidants.
My Lord: Megara
Megara has become more than a place for the Conqueror and her Queen, it has become a symbol of the unique bond they share. Mayt continues the story of the Royals as Xena returns to Corinth to once again rule Greece with Gabrielle. Though there is peace and prosperity in the realm, regions of discontent remain. The actions of an enemy of the state, as well as unrelated events, alters the relationships between the women, and a number of their closest confidants. By story's end, both the creative and the marring forces of the Fates will be felt by all.
My Lord: The Chosen's Promise
As a God's Chosen, Gabrielle and Xena feel the burden of being within the attentive sight of Aphrodite and Ares, respectively. A promise redeemed causes each woman to revisit promises made to one another and to abide by their consequences, no matter how difficult. Also, during this time Xena is presented with an opportunity to revisit her greatest sacrifice.
My Lord: The Medaillon
Is it possible for a relationship to become too intimate, for the sharing of ones inner life to threaten an individual's sense of worthiness? Mayt explores these questions in this continuation of her Conqueror MY LORD seres. Following the events of THE CHOSEN'S PROMISE, Xena and Gabrielle travel to the small village of Civello in the north Grecian mountains. Alone, with their identities know only to a few, they enjoy an idyllic retreat. Their deepening bond results in unexpected and troubling consequences that they must face honestly if they are not to forfeit the most profound facet of their relationship.


Of Captains and Conquerors - Patsbard


A cross-over story (Voyager/Conqueror Xena). Something to make these cold days *much* warmer!
Pardoner's Path Series - Enoon Erehwon
This is a twist on Conqueror fanfic. In this series, Gabrielle is the Conqueror.
Relationships and the Conqueror - Carola Eriksson
The sequel to Shopping with the Conqueror. We're introduced to Xena's friend Calli, the shamaness Alti and get an explanation as to why relationships is not one of Xena's many skills.
Riding Out the Storm by Kim Pritekel [unfinished]
Summary pending...
Seven Wonders Series - XWPFanatic
Shadows of the Soul - Melissa Good
For years now, Lunacy has been after me to write a Conqueror story. I never was that fond of Armegeddon Now, but Lunacy lives in Miami, and knows where my house is. So - as a compromise, I decided to write a sorta kinda conqueror type story and here it is.
Part 1| Part 2 | Part 3| Part 4| Part 5 | Part 6 | Part 7 | Part 8 | Part 9 | Part 10 | Part 11 | Part 12 | Part 13 | Part 14 | Part 15 | Part 16| Part 17 | Part 18 | Part 19 | Part 20 | Part 21 (END)
Shattered - Lariel


A Conqueror story: How can one woman make a difference, in the face of oppression, cruelty and fear? How can another woman risk her life to save the ruined remains of an idealistic rebel? And how can hope survive when it grows on the barren soil of the Conqueror's Corinth?
Shopping with the Conqueror - Carola Eriksson


Alt Xena the Conqueror is a mean, evil...well! -We get the idea. What does the Conqueror do when she needs a scribe? Well, she goes to the local slave market, of course! And meets a small, irritating blonde.
Slave Conqueror - Yorksbard
The Conqueror acquires a new slave but amidst tragedy, friendships and surprises, Xena gets more than she bargained for.
Something More Than This - Ariel [unfinished]
Xena is just another ambitious warlord when she meets a child who will eventually change her life. This story begins before the Warrior Princess was beholden to the God Of War. The story has both sub and shipper text. Please read the disclaimers.
Soul Searching - Advocate and TNovan


Realizing yet again that running a country is nowhere as thrilling as over-running one, Xena the Conqueror slips away from her castle to travel unfettered through the empire she rules with an iron fist. Her spur-of-the-moment decision turns out to be a date with destiny -- in the form of a gritty inn worker determined to do whatever it takes to support her child.
Winner of a Xippy Award!
Stranger in My Family (A) - Red Hope [Conqueror/alt/unfinished]
The sequel to Stranger in a Strange Time. The Conqueror and Queen Gabrielle take their trip to Egypt to meet the powerful Queen Cleopatra. Along the trip across the Mediterranean, Gabrielle learns from the Conqueror that her long lost sister, Lila, is still alive and well but a slave. Quickly Gabrielle becomes less concerned about her vacation in Egypt and more about rescuing her sister from Gurkhan. And the Conqueror for the fist time realizes she cannot simply take what she wants because so much is at stake. Can the Conqueror and Gabrielle safely rescue Lila, who may not even want to be freed?
Undaunted Heart (The) by Aurelia [X:WP Pre-Conqueror]
A sequel to "The Most Dangerous Game of All", the story picks up a couple of months later as Xena's march across Greece is halted when she has the urge to visit Amphipolis. She expects a frosty reception from her mother but to her surprise Gabrielle is there also. That could mean only one thing… trouble.
Victor, Invictus - Imagine


A short story about passion and will, fortune and fate, a Roman Conqueror called Caesar, and a young pirate captain named Xena.
Waiting To Happen - Claire Withercross


Waiting in the rain seems just like a normal, boring day on border patrol for Ephiny. Only the thought of Queen Gabrielle waiting for her when she gets back is keeping her going. But her life is turned upside down when Xena, The Conqueror, and her army arrive. For Gabrielle has a difficult choice to make when she begins negotiations with Xena. Can she solve the problem without anyone getting hurt?
Waking Up With the Conqueror - Candid Eyes


After 2500 years searching for the last piece of the Chronos stone Aphrodite finds it in a pawn in Las Vegas, NV. She enlists the help of a lonely lesbian XWP fan Desire' Love to help her go back and correct the terrible mistake in Jappa. Desire goes to bed one night and wakes up on judgment day in front of the Conqueror wearing only her Xena T-shirt and a smile. Desire' becomes the Conqueror's body slave and must find the stone, open up the heart of the Conqueror and reunite her with her soulmate Gabrielle all without getting herself killed by the temperamental ruler or without getting her heartbroken over a love that can never be hers forever.
There is a bit of erotica in it, both lesbian and straight and a lot of comedy if you can picture the Conqueror doing the Tush Push or learning baseball and football etc. The hero of this story is an XWP fan who eventually gets it right and finds out that she has an ancient soul that is forever connected to Xena and Gabrielle.
Warm Wet Circles - Claire Withercross


Gabrielle takes an injured Conqueror to the Amazons for treatment. The reception they receive is far from warm, but that's only to be expected. While wounds, both physical and emotional, are healed death stalks in the shape of a woman bent on vengeance. (The sequel to Waiting To Happen )
---
Questions, Comments or Broken Links can be be directed to The Academy