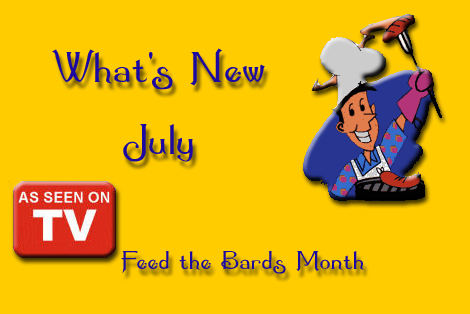 ---
With lots of people noticing and talking about how feedback to the writers is down, we here at the Academy decided to do something about it! We are declaring July as "Feed the Bards" month. What we would like for you, the readers, to do is every time you send a note to a bard, cc or bcc us at feedthebards@yahoogroups.com. On July 31st, send us a tally of how many bards you took a minute to thank and whoever has the highest number will get a token of our appreciation from the Academy.


graphic courtesy of Ashera
---
July 31st, 2002
Announcements
Hi!
I would like to let you know I updated my website.You can see a brand new INTERVIEW. Jules Matthews is the BARD OF THE MONTH September 2002 http://home.arcor.de/mi/mindwalker78/interview2.htm If the sites don't show up, make sure you hit "Reload"!
Mindwalker78
http://surf.to/Mindwalker78
Stories
Here are five more stories from Mavis Applewater's The Wednesday Afternoon Series-
A Call To Service
Part two of A Woman In Uniform. Mauve finally gets her rematch.
Welcome To The Neighborhood
Glenna's new neighbor turns her life upside down in some very interesting ways.
By Dawns Early Light
Part Seven of Home For The Holidays. Tressa and Lindsey are back to celebrate Independence Day.
Rain's Journey
A western about a drifter and an attractive widow.
The Promise
Set in Amsterdam in 1939. Glenna makes a promise that leads her life in a new direction.
Return of the Warrior by Archangel [unfinished]
Dylan Hawk has returned from the desert to a hero's welcome. Lura Grant has returned with her warrior. All seems right with their world, but new dangers await. The dreams have returned with visions of death.
Will the warrior succeed or succumb, how much can her shoulders bear? New threats have risen that guns can't fight. Lura is faced with her own challenges, her entire world has changed. Her warrior can't help her here. When Dylan disappears she finds herself alone.
Can two soul find each other and draw on thier love to survive or is love alone not enough.
July 30th, 2002
Changed the status of Amicus Humani Generis by S.B. Zarben to unfinished
Between A Memory and A Dream by L. A. Tucker [unfinished]
Some people have been alone so long; they've forgotten that there is any other way to be.
Added part 3 of Lessons by Kim Pritekel with Alexa Hoffman
Updated Eileen Marks' wonderful Ultimate Über List
We are adding quite a few older stories to the Academy. Welcome Beowolf to the Academy! I have unabashedly stolen the synopses straight from Lunacy's Lunacyreviews site (with her permission of course).
**ANOTHER TIME, ANOTHER SOLSTICE EVE by Beowolf -- [Alt]
Already responsible for two of my favorite Solstice stories ever, SOLSTICE EVE and SOLSTICE MORNING, Beowolf brings us an absolutely BEAUTIFUL new offering set exactly one year after those two earlier stories. This time Solstice finds the warrior and bard in a very different place under very different circumstances with Xena feeling horribly guilty at the life she is giving Gabrielle. The little bard, however, has different thoughts on the matter, knowing full well from where her happiness truly comes. This story is very much based on the sense of love and family and hope the Solstice season celebrates. It is reaffirming and deeply poignant. VERY HIGHLY RECOMMENDED!! [PLEASE make SURE to read afterwards Beowolf's story CROSSINGS] 12/25/97

**BACK-UP PLAN (THE) by Beowolf -- [Alt]
Your face may permanently freeze into a grin after experiencing this marvelously delightful little tale. Fed-up with Joxer dotting on her like a love-sick puppy, a VERY frustrated bard comes up with the perfect solution to discourage him - one destined to prove PURE torture for a certain Warrior Princess >:) This is well-written, a ton of fun and just BEYOND cute! VERY HIGHLY RECOMMENDED! 12/29/97
AWARDS: "Fooling Around" Swollen Bud Award (May 1, 2000)

**CROSSINGS by Beowolf -- [Alt]
This was posted long ago in the NetForum as a separate story but in fact it is part of the series Beowolf began with SOLSTICE EVE and later continued with SOLSTICE MORNING. CROSSINGS is one of my favorite vignettes ever - a simple yet incredibly powerful little tale that with only a few lines will make you feel more than novels hundreds of pages long. It is plainly put - a story about a love that cannot die and will endure forever. VERY HIGHLY RECOMMENDED! This story contains no explicit scenes. 7/11/97

DECISIONS by Beowolf -- [Alt]
Xena and Gabrielle help a village fight raiders even as they are struggling against misunderstandings concerning their feelings for one another. 4/23/97

INTERLUDE by Beowolf -- [Alt]
In parts this story is physically PAINFUL to read BUT...it is also very well written - offering a different perspective on the events which took place during and immediately after the episode RETURN OF CALLISTO. Beginning just after Gabrielle's marriage to Perdicus, it is based on the premise that Callisto did not succeed in killing the man on the day after his marriage. In this story Xena saves the one-time farmer and soon finds herself in a living Tartarus - traveling with BOTH Gabrielle and the bard's husband - desperately trying to keep her feelings for the young woman hidden while searching for a way to separate their lives forever. Gabrielle soon recognizes in her own heart the feelings reflected back at her from pale blue eyes only now vows to another stand in the way, vows which may keep her from grasping the happiness that has been within her reach all along. Emotionally gripping, this story is going to make you thank the gods for Callisto >:) 10/22/97

**SOLSTICE EVE by Beowolf -- [Alt]
I had the pleasure of getting a sneak peek of this story a while back and it's been a personal favorite ever since. Set in the time of the Winter Solstice, it has the warrior and her bard enjoying this magical time of the year while they stay at a village where the annual festival is in full swing. Delighting in all the activities, Gabrielle can't quite believe her stoic warrior seems to be enjoying herself too. What the storyteller does not know is that Xena has made careful plans to make sure everything is perfect for Gabrielle because for once she wants to show the bard just what she means to her. Beautiful. DO NOT MISS!. VERY HIGHLY RECOMMENDED! [See also the sequel SOLSTICE MORNING] 7/6/97

**SOLSTICE MORNING by Beowolf -- [Alt]
This story is part of a "loose" series which began with SOLSTICE EVE. Like the first installment, this second tale is a gift for the heart - beautiful and very touching. Still set amidst the Winter Solstice, the story takes place the morning after the events in SOLSTICE EVE and has Gabrielle reminiscing about her time with Xena and then unveiling a little surprise for her warrior. Short and VERY much worth the read. [See also the sequel ANOTHER TIME, ANOTHER SOLSTICE EVE] HIGHLY RECOMMENDED! 7/11/97

UP TO THE OLD INN DOOR by Beowolf -- [Alt]
Poignantly haunting alt. tale that has Xena and Gabrielle trying to discover what happened to a pair of lovers on a fateful night long ago. - 4/13/97

REDEMPTION by Darkone -- [Alt]
Xena's love for Gabrielle becomes a shield for the warrior when a deadly avenger catches up with her. A nice reaffirmation of the power of love and redemption. - 4/97
July 29th, 2002
Amicus Humani Generis by S.B. Zarben [alt/über/finished]
A routine vacation tour on the USC Avenger leads to the detection of an unidentifiable ship floating in space. Contact is made and the Avenger crew decides to attempt a rescue, despite being warned off countless times. For these unknown people have been attacked by a savage race of beings. And now the Avenger will find itself a victim as well. Will they too meet a fate worse than death, or will the mysterious crew members they saved be able to work miracles and change the fate of the Avenger?
Added Part 2 of Primal Touch by Amber [unfinished]
Added Part 8 of The Dragon Chain by charmdfate [unfinished]
July 28th, 2002
Deadly Challenge by Trish Kocialski [alt/über/finished]
Dean and Katie return to Virginia after their week of rest and relaxation in the Bahamas. Katie is starting a new job with the DEA as an instructor at the training center in Quantico, while Dean returns to the Pentagon and her Intelligence work. Trying to organize things in their new routine, their lives are soon turned upside down, when vicious acts of violence target their close friends and attempt to tear apart their personal relationship. As the women try to decipher all of the pieces of the puzzle, their search is complicated by the demands of their careers and an unexpected request from Dean's estranged father. Dean is forced to accept a deadly challenge and race against time to find her lover, as the action escalates to a thundering climax at Niagara Falls.
Added Part 9 of We Do What We Can by Girlbard [unfinished]
Added part 3 of Ripples in Time by Lois Kay & cbar
July 27th, 2002
"Lettre à Chaînes" Series by V. Anderson:
Letter of Marque [alt/über/finished]
Set in the Carribean in 1703. Female pirate captain becomes a privateer and works against slavery.
Letter of the Law - Part II [alt/über/finished]
The continuing saga of Erin and Cecile
Blue Holes to Terror by Trish Kocialski [alt/über/finished]
Following in the wake of Forces of Evil, Blue Holes to Terror brings the readers another story involving Lieutenant Colonel Deanna Peterson and Special Agent Katherine O'Malley. After witnessing a near tragic "accident" on I-35, in which a retired British MI-6 agent was targeted for elimination, the pair is asked to unofficially investigate, and runs headlong into a terrorist/mercenary initiative designed to sabotage a multi-national military exercise. The action begins in Washington, DC and culminates on Grand Bahama Island in the Caribbean. Our heroines have to rely on their ingenuity, physical skills, and a little help from their growing circle of friends to succeed in stopping the terrorists from achieving their goals.
Added part 3 of Noemí by Katia N. Ruiz
Added part 35 of Vertigo's Caution: Under Construction
July 26th, 2002
Forces of Evil by Trish Kocialski [alt/über/finished]
Forces of Evil takes place in New York state in a small Catskills resort town. As the story unfolds, two female undercover agents from separate agencies meet, and join forces to try to decipher and stop a diabolical plot of world domination from reaching its climax. As they find themselves falling helplessly in love, adding a new dimension to their jobs, and another set of priorities, the team races to a cliffhanger conclusion.
Added Remember, Never to Forget Parts 3 & 4 (Conclusion) by Cindy Hart aka Sinful [alt]
July 25th, 2002
Remember, Never to Forget Parts 1 & 2 by Cindy Hart aka Sinful [alt]
Remember, Never to Forget - takes place in the earlier days of X & G relationship, back when their emotions and loves were still new and uncharted. While on their way to the Amazons ( Ephiny, Eponin and company) to try to explain the whole, Gabrielle didn't die she just fell in a nitch thing, (Don't get me started on this faux pas - but for my own personal explanation, look to my story Reunion which takes place immediately following Adventure in the Sin Trade.) Well on their way to the Amazons, one thing leads to another and that leads to .... well you know. Anyways,our two heroes separate and are to meet up at the Amazons, but Xena doesn't show up. Matter of fact, she down right disappears and no one not even the Gods can find her. Leaving a distraught Gabrielle to wonder, "where can you go, that even the Gods can't find you?" The answer is an emotional tale of torment and regret, as the young bard from Poteidaia tries to deal with reliving her past once more with a stranger.
Lessons Part 2 by Kim Pritekel [uber/alt/unfinished]
Added part 26 of Mavis Applewater's series The Brass Ring.
Added part 8 (Conclusion) of Murder by Association by Tonya S. Coley
July 24th, 2002
Lessons by Kim Pritekel [uber/alt/unfinished]
Chase Marin is a girl with a mind all her own starting herfirst year of college at the University of Arizona. Fighting the pressures of her family her entire life, it's her time to shine and be what and who she wants to be. Dagny Robertson is a grad student teaching an undergrad Psychology course where she sees a young woman who had meant so much to her when she had been younger. Chase had been her charge during Dagny's fourteenth year, and she had never forgotten the young girl who's spirit and enthusiasm for life had touched her so deeply. Now that young girl is her charge yet again as a Freshman in her Psych 101 class.
Paying My Penance by FC Barnes is posted in a "mild" and a "graphic" version. [uber/alt/finished]
A farm girl home from college and a Minister. Neither Heaven nor Hell could keep them apart.
Added part 4 and part 5 of Djwood's Scars
Added part 6 and part 7 of Come, Sisters, Come by FC Barnes
Added part 16 of Bonnie's Tie Break
eBooks:
Inside Out (The) - LA Tucker
Fixed eBook links:
Family Connections
Connecting Hearts
The Great Voice
July 23rd, 2002
Primal Touch by Amber [alt/über/unfinished]
Deep in the wilds of the Indian jungle, SOMETHING is stalking the men who come to hunt the endangered tigers. Silent, mysterious, and utterly lethal, it leaves no trace except the mauled bodies of the slain. Ashley Richards is a young wildlife photographer, drawn to the jungle by rumours of a rare white tiger. What she finds instead is something far more unique and unexpected...something that will change her life forever.
Added part 4 and part 5 of Time's Fell Hand by LJ Maas
July 22nd, 2002
AnnouncementIntroducing Limitless,a company for women, by women, about women.
At this time, Dare 2 Dream (D 2 D), a Limitless Company, would like to send out an invitation to all bards and artists. If you are interested in having your work considered for publication, please drop us a line. We welcome your submissions and promise to reply promptly.
D 2 D is proud to announce the upcoming publication of Paradise Found by Cruise and Stoley, Defined Destiny by J M Dragon, Amazon Queenby Queen Laese, Golden Gate by Erin Jennifer Mar, Guardian of My Heart by Charlsie Todd, Desert Hawk by Diana C. Evans and a volume of Poetry by Trish Shields. Audio books will soon be available. In addition, the CDs and cassettes will feature the musical talents of Bindi. Up The River by Sam Ruskin is currently in stock and ready for immediate shipping. All of the above titles can be pre-ordered at this time.
D 2 D also hosts a wonderful collection of Photo Cards including the Gallery de Souza, The New Zealand Collection, Around the World, I Wish I'd Said That, and others.
Our new workshop, Writer 2 Writer, will soon offer a completely one-on-one Writer's Workshop. If you've ever wanted to write poetry, a short story, an article for a magazine, or simply write a better resume this is the place for you.
We encourage you to submit articles, photos, ideas, comments, poetry and short stories for our new magazine, Woman 2 Woman. The premiere issue of the bi-monthly magazine will be October 2002. Subscriber copies will be sent in late September. This magazine will cover topics of interest to women. If it matters to you, it's important to us.
As we all know, the Xenaverse has inspired a lot of wonderful work. We at Limitless want to showcase as much of it as possible. Just remember: The only thing that stands between your dream and reality is you.
Contact Sam or Anne at LimitlessD2D@aol.com . The new website should be fully operational soon and we will certainly send the link at that time. Meanwhile, we look forward to hearing from you.
Stories
Added Part 8 of We Do What We Can by Girlbard [unfinished]
New eBooks
Desert Hawk - Archangel
Crossroads - Mavis Applewater
The Beachs - Mavis Applewater
Cora's Gift - Mavis Applewater
The Postwoman Always Rings Twice - Mavis Applewater
Bracelet - Brandie
July 21st, 2002
Announcement
I would like to let you know that I have a new project on my website called "Bard of the Month". I want to ask my favorite authors for short interviews. The first bard who agreed to write something for me is C Paradee and I posted the interview yesterday :) the link to my site is http://surf.to/Mindwalker78
thanks,
Mindwalker78
Stories
The War of the Vampires by Katia N. Ruiz
War is brewing in Salum Town, NY. There is a new vampire, ambitious, sexy, and ready to rumble. She wants to be the queen of all the vampires, and it is up to a group of vampire friends to stop her.
Added part 2 of Noemí by Katia N. Ruiz
Added part 23 of Snap's Tempting Trouble
eBooks
Letter to America - Emily Duncan
To Rest - Brigit M. Morgan
July 20th, 2002
I forgot to welcome Archangel to the Academy yesterday. Please accept my deepest apologies. Also today, welcome Brandie to the site!
Bracelet by Brandie [XWP fic/ alt]
This short story is about what happens when Callisto makes a threat Xena can't refuse. Gabrielle is made to bear the consequences! Please see intro before reading :)
Added part 2 of Ripples in Time by Lois Kay & cbar
New eBooks
Time & Time Again - Dimples
A Beautiful Day in the Neighborhood - Little Spit
Lost Heart - Patsbard
Family Connections - MJ & Cephalgia
Reconciliation - Phalkon
Wishing for a Warrior - Ri
Okaaaay - Ri
Journey (The) - Janet Lynne
July 19th, 2002
California Gold - third in the series of books beginning with Laguna Nights by Carole Giorgio [unfinished]
Alexis Dorian and Samantha Riley are getting ready for many firsts in their relationship. They will soon celebrate their first Halloween, Thanksgiving, Christmas, and New Year's Eve together. Alex's 31st birthday is now an event she is looking forward to and as she comes into her special inheritance she finally has someone with whom to share her love, happiness, and prosperity. A professional regression proves to be more mind opening than either of the women could have ever imagined, and a trip to Alex's inherited property further expands the history of the Dorian fortune. While Alex and Samantha are exploring the pristine land, they find themselves reliving memories of a life lived long ago, as pioneers, during the California gold rush era.
Added the first five parts.
Desert Hawk by Archangel [über/alt]
Dylan Hawke is a young Military Police Officer with deadly fighting skills. But nothing could have prepared her for the mission she was about to face. Death is all around her, will her training be enough?
Lura Grant was young writer, trying to prove herself. Brought up a gentile Southern Belle with a backbone of pure steel, she was out of her element.
When these two women meet in the midst of desert turmoil will they be strong enough to survive? Will the love they discovered survive as well?
Added part 22 and part 23(conclusion) of L. A. Tucker's The Inside Out
Added part 7 of Murder by Association by Tonya S. Coley
Added part 30 of Beneath the Brambles by Savay
Added part 4 of Metamorphosis by angharad governal
55 word stories
Retirement Ain't All It's Cracked Up To Be by Taleweaver
eBooks
A Hero Within - MyOsage
Another Amazon Princess - MyOsage
That One Afternoon - MyOsage
Surprise - MyOsage
Beyond Melosa's Shadow - MyOsage
July 18th, 2002
A Beautiful Day in the Neighborhood by Little Spit
Darlene and Teri have been neighbors for months. Both Teri and her infant daughter LucyÝadore their attractive neighbor. This is the story of how two neighbors become bosom buddys and much much more.
At long last - here is part five to Lifetime Employment by crow">
The setting is a small town outside of Los Angeles. A"first time" uber/original (except that characters physically resemble a certain warrior and bard - physically - that's where the resemblance ends, I think) tale. Megan is a mechanic who comes across a stranded woman (Jodie). Megan helps her out but ends up getting more than she bargained for.
Added part 14 of Mezzo's It's Just the Beginning
Added part 34 of Vertigo's Caution: Under Construction
Added part 15, part 16, part 17, and part 18 of Malaurie Barber's Original Sin
Sedona Rain by Carole Giorgio has undergone a change. Part 11, part 12, part 13, part 14, part 15, and part 16 have been edited and re-uploaded. The story now ends with part 16.
July 17th, 2002
Announcement from D. S. Bauden
Hello bardly friends! Since July has been named Bard Appreciation month, it got me thinking. There are so many of us that post our stories to the wonderful people called Webhosts/Webmasters. People like UFFD, Beyond Uber, Academy of Bards, Mary D's, ForevaXena, Lynka, Athenaeum, etc... You get the idea. All of these hosts do so much to get our work out there for our readers. I think we need to declare August Webhost/Webmaster Appreciation Month. I don't know what we can do, but I wanted to at least get as many of us to pass on the word to as many readers and writers we know just to pass an email or two or fifty to these fantastic people to let them know how much WE appreciate them.
I have no idea if we can actually "give" them anything since there are so many, but I have a call into Linda (Calli) to make a nice banner that we can pass along to all the websites that hosts stories. Just a little thank you. If anyone can think of anything else, please feel free to make suggestions. :) So if you can pass this along to as many people as you can think of, I'd appreciate it greatly. I only have a few of you in my address book, so please pass the word along.
Thanks so much everyone and I hope you guys are having a fantastic summer!!! or winter for those of you on the downunda side of the earth ;)
Take care! Di
Stories
Wishing for a Warrior by Ri
Tabitha is feeling neglected so she makes a wish that we all would like to make... but hers comes true.
Added part 15 of Bonnie's Tie Break
Added part 5 of BF4EVR by Miri
Added part 6 of So Close, So Far by Dimples
July 16th, 2002
Letter to America by Emily Duncan [original]
A rather dark piece that focuses on the feelings of a woman imprisoned in a refugee camp at a time of war. Warning - the imagery and language used, and the emotions expressed, are not pretty.
Reconciliation by Phalkon
Xena has trouble dealing with Solon's death causing a rift between her and Gabrielle. It is up to the bard to force Xena to face her pain so they can rebuild their damaged relationship.
Added part 13 of Mezzo's It's Just the Beginning
Here is part 25 of Mavis Applewater's series The Brass Ring.
July 15th, 2002
People have been asking what happened to their spot on the new guest map. Originally it was set at only 100 visitors at a time able to have their spot on the map. That has now been raised to 500 so if you had a disappearing dot, you can re-set it if you want. The map link is on the front of the Academy of Bards main page.
Added Part 10 (Conclusion) of The Eyes of Eire by Linda Crist
Added Part 7 of We Do What We Can by Girlbard [unfinished]
July 14th, 2002
By the Manor Owned Part 1 by Phair
The sequel of To The Manor Sold finds Tess and Jordan continuing their pursuit of freedom and each other.
Ripples in Time Part 1 by Lois Kay & cbar
Limburg, The Netherlands, 100 AD. The Roman conqueror occupies a large part of the Lowlands. Even though times are peaceful, underneath the surface opposition brews and occasionally the Romans have to fight a rebel army. In this setting, Mor and Isa meet, when Isa is running for her life. The dark, seclusive Mor saves Isa's life, not anticipating the impact that will have on her life. She had a mission. Will she be able to carry it out?
Added part 21 of L. A. Tucker's The Inside Out
July 13th, 2002
Tired of Hiding by XFILER17
Xena is captured and Gabrielle and the Amazons come to her rescue. Once the warrior has been returned to her bard they both realize that too much time has been wasted without revealing how they truely feel. What results is a nice, mushy, story that places the warrior and bard where they truly want to be. With each other.
Added Family Connections part 5 (Conclusion) by MJ and Cephalgia
July 12th, 2002
We added a map to the front page of the Academy so people can pin point where they are. It was a cool little thing I ran across today and I thought that maybe other people might find it interesting how big of a community we really are.
Announcement
Midgit has a domain of her own. Midgit's Small Corner of the Xenaverse is now at http://midgit.co.uk
Stories
Okaaaay by Ri [über]
Muriel is swept by the most beautiful unnerving tidal wave she'd ever seen. Will she survive?
Blurring the Lines by Rhiannon Silverflame [unfinished/original]
What happens when two people from drastically different worlds, who possess rigidly defined ideas about themselves and their society, are suddenly thrown together? Dr. Leigh Lukas, a research scientist, and Kendrick Ashwright, a failed actor-turned-drug addict, are both struggling to find answers to the painful questions in their lives. Whether or not they can find those answers -- or help each other find them -- depends entirely on whether they can get past the boundaries they've each drawn in their minds.
Added part 29 of Savay's Beneath the Brambles
Added part 12 of Mezzo's It's Just the Beginning
July 11th, 2002
Here are four more from Mavis Applewater's Wednesday Afternoon Series--
The Postwoman Always Rings Twice
Tess and Regina are back in the sequel to the very first Wednesday Afternoon Story.
The Beach
A woman finds herself caught in memories from the past while helping her brother repair an old beach house.
Cora's Gift
Part two of Home Improvement.
Crossroads
Part two of Test Drive.
Added Part 6 of Murder by Association by Tonya S. Coley
Added part 33 of Vertigo's Caution: Under Construction


July 10th, 2002
Summer Heat 2 by MJ
Sequel to the PWP Summer Heat (another PWP+ <g>)
July 9th, 2002
Uber Gals and the Mystery of the Hen's Bane by Emily Mills
This short story is a sequel of sorts to the stories "Rising Into Consciousness" and "Duality". It is advisable to read them first. Auset and Reese are faced with a rather perplexing mystery, as dead chickens begin to appear on Auset's front door step. As the usual suspects are all locked up, the question remains, who's doing it and why? Follow our gals on a silly little romp to unravel the mystery all while struggling to spend some quality time with one another.
The latest story in the Dubois Chronicles--The Harrowing Road Unwillingly Traveled by David J. Duncan.
In the third strike against Tucson's mortal and vampire communities, Lousain and his trolls assault the city and prepare to attack the fortress of Nurrengaard within the Inner Realms. How will Nick, LaCroix, Xena, Gabrielle, Dave, and Eve react? How will their roles change them? One thing is for sure, everything changes after this....
Added Family Connections part 4 by MJ and Cephalgia
Added part 24 of The Brass Ring by Mavis Applewater
Added summary for Lady Savay's Sins Of Omission
Sometimes it's easier to deal with things left unsaid, but the truth does come out when you least expect it. Snowed in together leaves the warrior and the bard with no where to run from it, or themselves.
July 8th, 2002
Another Amazon Princess by MyOsage
Let's step back again to a time where Gabrielle is a content, competent Amazon Princess and Xena is every amazon's fantasy. Can they can ignore their instant mutual attraction? I think not…..
Beyond Melosa's Shadow by MyOsage
Melosa is gone, leaving a beautiful, grieving lover behind. When the amazon turns to Xena for solace, and possibly more, Gabrielle realizes she doesn't want Xena to find another lover. And Ephiny hopes for Xena and Gabrielle's happiness. But what about her own unfulfilled desires?
Surprise by MyOsage
Gabrielle's temper gets the best of her when Xena's flirtations with a local barmaid cause a chain reaction that have both women finding out more about themselves than they could've imagined.
The Hero Within by MyOsage
Together for ten years, Xena and Gabrielle enjoy a rich, fulfilling life. Can an evil rogue amazon seeking revenge shatter their utopia?
That One Afternoon by MyOsage
Here's your answer to what really happened between Xena and Ephiny during the episode "Hooves and Harlots ".
Welcome to two new bards!
To Rest by Brigit M. Morgan
"To Rest" takes place about a year after FIN and follows the aftermath of a decision that Gabrielle and Xena have made regarding the Warrior Princess' remains. A decision that while putting one soul to rest, threatens to destroy the other.
Come, Sisters, Come, Parts 1-5 by scouterpup
Shadow and Scooter, two staff at a youth summer camp meet, and find themselves facing an unusual attraction. But will they be able to get past their private demons to come together?
Added part 11 of Mezzo's Impulse:Book II It's Just the Beginning
Added part 7 of Phair's Countertransference
eBooks
This Time - Midgit
Love Therapy - Amy VanDyke
Shaken - K.C. MacGregor
Hunt Safely - Jules Kurre
Fighting the Good Fight - Temora
Wall of Silence - Gabgold
Iron Rose Bleeding - Anne Azel
Talking Her Down - Angelrad
Added a new review in Judith's Just Like Buttah section--http://www.academyofbards.org/judith
Shaken By KG MacGregorhttp://www.academyofbards.org//fanfic/k/kgmacgregor_shaken1.html
Shaken by KG MacGregor is a 7.9 on the Richter scale of excellent first time, or anytime, writing efforts. KG grabs you in the first moments with a clear, concise writing style. Characters drawn crisply and with verve and a sense of humor that is wonderfully refreshing. I don't know how many times I laughed aloud at these two wonderful characters and their repartee. Or clenched my teeth at the angst, or found myself with real tears in my eyes at a beautifully written tender scene. You will be shaken by the exciting parts. And you will wait anxiously for the aftershocks, each and every one, as the story unfolds. Anna and Lily meet under dramatic circumstances. These circumstances lend themselves to a singular bond between the two women. Can it survive Anna and Lily coming from different social circles, and family backgrounds? That I cannot tell you. But KG MacGregor can, and in wonderful storytelling style, KG does just that. thanks very much to MK, my pal for pointing me in Shaken's direction. Remember please to feed the bard that Feeds you:}
July 7th, 2002
Added Part 6 of We Do What We Can by Girlbard [unfinished]
Added Part 5 of Murder by Association by Tonya S. Coley [Original Fiction/unfinished]
Eileen Marks' Ultimate Über/Original Fiction Pages have been updated!
July 6th, 2002
Ready For Take Off by DS Bauden
Terri is a young woman nervously waiting to board her flight to Houston. She is seated at the gate, but she feels as though she is being watched. Her mind is racing from confusion and perhaps, arousal. A mysterious woman guarantees that this would be a flight Terri would always remember.
Sins of Omission by Lady Savay
WARNING: Please read the disclaimers for this story!!!
Added Part 3 of Cephalgia's & MJ's Family Connections
Added Part 9 and Part 10 (Conclusion) of A Time to Love, A Time to Hate by Sue Hickerson
July 5th, 2002
Welcome Amy van Dyke, Vickypi2001 and GraceH to the Academy. Amy joins us with two stories-
Love Therapy
The story of Chris and Terry and their search for stability in a world of jealousies and insecurities.
Simpler Days [unfinished]
Meg and Brandy figure out how to be themselves and be happy in the New World.
and GraceH joins us with one-
Watching Gabrielle
Set around seasons 1 and 2. Xena reflects on her feelings for Gabrielle and the impact the young bard has had on her life.
as does Vickypi2001-
Safety [unfinished]
A tragic event in Gabrielle's young life occurs and she learns how to cope with it after she begins her travels with Xena. The story takes place after the "Sins of the Past" episode.
Gabrielle's Fables 10: Life is a Prairie by Cassandra & Bik
The next thrilling installment in the warrior chicken chronicles. The journey to rejoin Ergo takes a treacherous turn when Billie and Aquila are stalked by a snow leopard. They join forces with the snow leopard to help a moose who thinks heís a reindeer, in a fight for their lives. And Billie discovers a secret weapon and makes a fashion statement.
Added part 10 of Mezzo's Impulse:Book II It's Just the Beginning
July 4th, 2002
Welcome K. G. MacGregor to the Academy!
Shaken by K.G.MacGregor
Luxury car dealer Anna Kaklis and family attorney Lily Stuart meet by fate and work together to overcome an extraordinary challenge. Can their courage also help them conquer their fears of love?
Added part 7 of S. Lee's Ms. O'Connor Goes to Washington
Added Part 8 of A Time to Love, A Time to Hate by Sue Hickerson


July 3rd, 2002
Announcement
The newest Swollen Bud Awards are out! Congratulations to Ana Ortiz, Temora, Cephalgia, Queenfor4, Gabgold, Vivian Darkbloom, and Ogami. To read the reviews (and links to the stories...many on the Academy <g>) go to http://www.beyonduber.com/swollenbuds/ and look for the Freshest Buds!
This from the Swollen Bud Committee
It took a little longer than we planned (we're going to call them the Buds of July 1 despite the fact that we didn't get them posted until a day later), but you'll find another terrific set of Swollen Buds on display at <http://beyonduber.com/swollenbuds/default.htm>, complete with a list of the winners in each category, a synopsis of each story and links to the award-winning tale.
Included among the bards this time are "FIRST TIMER" / Fiction by Ana Ortiz; "FOOLING AROUND" / Fighting the Good Fight by Temora and Sin City Confidential by Cephalgia; "GETTING SERIOUS" / Snowbound by Queenfor4 and Wall of Silence by Gabgold; and "THE QUICKIE" / Venezia by Vivian Darkbloom and Verse and Vignette by Ogami.
An additional note of congratulations goes to the folks at The Royal Academy of Bards, which hosts nearly all of the prize-winners!
Thank you for your interest in well-crafted fanfiction and in the Swollen Buds. We hope you'll come visit us often.
And please, don't forget to ... FEED THE BARDS!
Sincerely,
The Swollen Bud Committee
swollen_bud@yahoo.com
http://beyonduber.com/swollenbuds
Stories
The first new update in-- as a bard feeder was so kind as to point out to the author-- 25 1/2 months! Added part 11 of Seana James' Conquering the Conqueror
Added part 14 of Bonnie's Tie Break
July 2nd, 2002
Welcome Angelrad to the Academy!
Talking Her Down by Angelrad
This is a... PWP with a twist, shall we say. What's the twist? Well, this PWP actually has a plot. Go figure.
Feed the Bards by Ah-ladis [Song/Parody]
Oh I just couldn't resist spoofing the song "Feed the Birds" from the musical "Mary Poppins". Totally inspired by this month's (July) 'Feed the Bards' theme.
Added part 10 of Conquering theConqueror by Seana James.
Added Part 7 of A Time to Love, A Time to Hate by Sue Hickerson
Added part 32 of Vertigo's Caution: Under Construction


July 1st, 2002
Justice Satisfied by R.D. Elliott [classic, alt]
After Solon's death by Hope, Gabrielle surrenders herself to Xena in order to protect the Amazons and hopefully help Xena to heal.
Added Part 5 of We Do What We Can by Girlbard [unfinished]
Added Part 4 of Murder by Association by Tonya S. Coley [Original Fiction/unfinished]
Added Part XXi of The Amazon Queen - Daughters of Ares by LM Townsend [unfinished]
Added part 9 of Mezzo's Impulse:Book II - Beginnings
Added part 2 of Cephalgia's & MJ's Family Connections
Added 2 new reviews on Judith's Just Like Buttah review page. Well If You Hum a Few Bars by Zuke and Verrath's Tell Me Series. http://www.academyofbards.org/judith



---
---
Visit our Halloween Special!