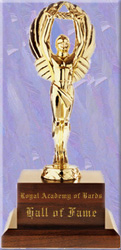 Academy Author Index
Last Updated: 4/2/2015

2012 Author Hall of Fame
Author
Story - Lord Conqueror of the Realm
2013 Author Hall of Fame
Story - Queen of the Realm and Princess of the Realm


---
Conversion

A lover affair between two nuns, Sister Gabrielle and Xena the Prioress, which takes place in a convent in 18th Germany.
After the resurrection, Gabrielle finds out that Xena lost her memory. Xena thinks she's back in her warlord days. She set to conquer the world, and manages to do so. Gabrielle tries to make Xena fall in love with her all over again.
Perdicus wasn't killed by Callisto. After one year of marriage, Xena comes to pay a visit to Gabrielle.
The Judge is jealous about Lady Emma's old flame.
On the day of their anniversary, Chief Justice Lex, ruler of the Realm, reflects on her tempestuous relationship with her lover, Lady Emma, a sassy ex-assassin, while helping her escape a murder trail for past crime.
Part 1 Part 2 Part 3 Part 4 Part 5 Part 6 Part 7
On Lady Emma's birthday, the Judge reflects back on her childhood, and presents her Lady with the ultimate gift.
Xena the Conqueror purchases Gabrielle, a young body slave - these are the chronicles of their lives.
Part 1 Part 2 Part 3 Part 4 Part 5 Part 6 Part 7 Part 8 Part 9 Part 10 Part 11 Part 12 Part 13
Part 14 Part 15 Part 16 Part 17 Part 18 Part 19 Part 20 Part 21 Part 22 Part 23 Part 24 Part 25 Part 26
Part 27 Part 28 Part 29 Part 30 Part 31
A dirty little homage to the brilliant TV Show "Pushing Daisies". On her way to purchase Lady Emma a birthday gift, the Judge enters a shop and things go terribly wrong.
A Simple Love Story