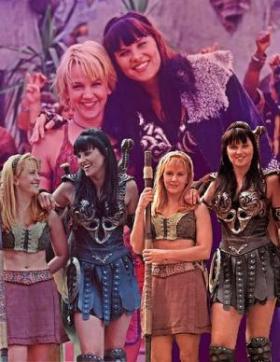 Alternative Xena Stories
A B C D E F G H I J K L M N O P Q R S T U V W X Y Z
---
last updated: June 8, 2011
G-Scrolls (The) - Annaria
The G-scrolls (XWP alt) is a first time story about a certain bard that writes down her most intimate fantasies.
Gabrielle and the Scholar - Fedelma
While staying in Athens without Xena, Gabrielle spends an extended stay at the Athenian Academy, and becomes involved with a scholar/inventor with a mysterious past. This story occurs sometime before "Destiny".
Gabrielle, Bard in Bondage - TC O'Neil


Looking for a X/G Alternative Fan Fiction story with no plot but involves a mixture of love and tenderness with spanking and bondage? Well, here it is. The end of the story answers a question we have all wondered about or, my theory anyway.
Gabrielle's Destiny - Candideyes


Xena and Gabrielle come back from Japan only to find out that Greece is under seige by an amazon princess. They are suprised to find out who the amazon is and are faced with some hard decisions as they reconcile some old feelings created by past mistakes and try to save Athens from destruction. This is the story of Destiny. Find out why she isn't just another villian and learn which hero she is related to.
Gabrielle's Dream - My OSage


In Amazonia, Gabrielle begins to experience some very vivid dreams. And Xena may have to stay awake until she can understand the meaning of the bard's erotic dreams or her own unsuspected feelings.
Gabrielle Effect (The) - Kamouraskan
I wanted to write a full French farce with door slammings, mistaken identities and still be true to the characters of the show.
Gabrielle's Faith - Phantombard


After Xena's death in Japa, Gabrielle is disenchanted with the Greater Good, having had to choose between it and her love for Xena, and feeling that she has lost both. She travels through the known world, hoping to find something that will bring her a new sense of completion. Her journey is driven, at first by unremembered dreams, and later by recognition of her destiny. She follows the path that will lead to the achievement of both, finally defeating a challenge to her promised future lives with Xena.
Gabrielle's Faith - PhantomBard *revised version*
This is the story of Gabrielle's life following the disastrous mission with Xena in Japa. A badly disillusioned Gabrielle travels the known world, searching for something to restore her purpose and her faith in life. Along the way, she becomes aware of a threat to the eternal destiny that she was to share with her soulmate, and a future too horrible to accept. Bound to her destiny with Xena is the destiny of her descendants, her ancestors, and the Amazon Nation. She must use all the lessons she learned from her teacher, become all her soulmate tried to be, and serve the Greater Good on a scale that even her beloved Xena had never imagined. The innocent farm girl from Potidaea will become the greatest hero the ancient world has ever seen. (Revised Version 4/2003, Original Version posted 5/2002)
Gabrielle's First Love - Xenalynn (unfinished)
It is a first time story between the two.
Gabrielle In The Underworld by Norsebard
Gabrielle is dead! -- When the young bard suddenly finds herself thrust into the Underworld, she doesn't know that it's merely the starting point for her greatest adventure yet. While Xena is travelling to Potaideia with Gabrielle's remains, she hears of a myth that could help her get Gabrielle back. Will Xena succeed, or will they be separated for all eternity?
Gabrielle: The Ancient Scrolls - Michael Dobler
1.
Full Circle - Michael Dobler
One year after the death of Xena in Japa, the spirit of the Warrior Princess sends the young bard on a quest to recover a powerful artifact. The journey takes Gabrielle two thousand years into the future, and pits her against an old enemy, hungry for revenge.
First in a new, post FIN series entitled Gabrielle: The Ancient Scrolls.
2.
The Bounty - Michael Dobler
Gabrielle said yes! Before they can make plans, however, they first must deal with the price on Gabrielle's head, complements of the enigmatic warlord, Gurkhan. Second Story in the "Gabrielle: The Ancient Scrolls" series (GTAS#2)
Gabrielle's Weapons - Simahoyo
Xena discovers that the Bard's weapons are words.
GabriSybil - Temora
Can Xena survive a Bard on the Rampage? Is leather really a summer fabric? And how many personalities can one small Amazon have in the space of a single morning?
Game of Love (The) - Kwipinky
Ares and Aphrodite talk about his future and his love for Xena.
Games - Word Warior
summary pending
Garden of My Soul - Eileen Marks
Short little story of Gabrielle contemplating a garden.
Gauntlet's Domino Effect (The) - Ri
Its an X an G story set after the India arc but before The Play's the Thing. It is about the effect the choices she made after the gauntlet had on others and how she reacts to the change.
Gentle Passions - Salina
Xena and Gabrielle decide to enjoy the beautiful day.
Getting Rid of Joxer - Annaria
Getting rid of Joxer (XWP alt) is a first time story in which Gabrielle tries to get a message across to both her friends about her feelings towards them. Not very explicit.
Ghosts inside (The) - IseQween
This story takes place between Seasons 2&3 of Xena: Warrior Princess , but is based on "back story" revealed in Season 4's ADVENTURES IN THE SIN TRADE.
Gift (The) - Kristien Damon
Gabrielle receives a very special solstice gift from the most unlikely and surprising of sources.
Gift (The) - Pagan Rubenowski
The warrior and her bard have settled down and are living with the amazons. The sixth anniversary of their joining ceremony is fast approaching. Xena decides to get help for a gift for Gabrielle from their old friend Aphrodite. Join our heroes and their amazon friends as the goddess of love gives them a surprise they'll never forget.
Gift for a Day (A) - Marnster (Marnie)
Gabrielle prays for a day of peace to enjoy with her warrior.
Gift Horses - Rab Donald
Some things are too good to be true, others just too good to miss...a simple tale of love.
Girl with a Chakram - JLynn


FIN-fic
Girl with a Chakram in Egypt (A) - Starry Glyph


In this post-FIN story, Gabrielle journeys to Egypt to continue the fight for good. However, she encounters more trouble than she bargained for but also receives aid from a most unexpected source. In the meantime, Xena finds that being dead isn't all it's cracked up to be.
Giving Birth - Annaria
Giving birth (XWP alt) is a story about the loving couple having a baby.
Gladiator - Aurelia
An alternate timeline Xena, which changes direction from "Destiny". Caesar has sent Xena to Rome for punishment instead of crucifying her.
Go-Between (The) - Kamouraskan
(revised and complete, Valentine Special) 2005 Valentine Special
Goddess and Warriors - Xena's Girl [unfinished]
Set after Truths in Paradise. Xena and Gabrielle are Goddess' of the Underworld and Healing. The Romans are invading Greece and trying to destroy the Amazons. Loki and Mars are teamed together bent on destroying everything in their path. And the Amazons are caught in the crossfire.
Goddess' Dream, Bard's Nightmare by TraceGem [unfinished]
Post FIN, Gabrielle has been struggling for over two summers the loss of her warrior and tracks down the help from one of the gods, only for Xena to return not as she left…. RATING: NC-17
God Backwards by IseQween
Horace gives his canine perspective on the 6th season's OLD ARES HAD A FARM, in which the former God of War must adjust to the mortal state he chose to save Xena in MOTHERHOOD.
Going Home - Patricia Winterburn


Patricia wrote the following about her story:
Like most Xena fans, the ending upset me. I just couldn't let it go. So, I wrote a short story depicting my feelings on how Gabrielle would continue her journey and find a way to bring Xena back. It's always nice to have friends in "high" places.
Going Home - Kim Pritekel
Gabrielle has married Perdicus, and they've lived on his farm in Potedaia for two years. Xena has refused to visit, her heart unable to take the happy, domestic picture. Cyrene's one wish for her birthday is to have her 'two girls' under her roof, and leaves Xena with no choice but to break down and face her torment.
Going Home by The Guardian
(Sequel to Guardian) All is well until Exl receives an urgent message from home. She has to return and Xena and Gabrielle are right by her side. But going home isn't so easy, there are so many things to lose. This is story about courage and knowing what is right.
Golden Time of Day - Portia


It is a Post FIN (Alternative) story and centers on Gabrielle's life after Xena, her continued spiritual journey, and her quest to create a place for herself in the world. This story is heavy on Gabrielle with very little Xena in it.
Gone Fishin' - Rab Donald


Instead of a synopsis, we have reviews of the story--
"A poignant tale of love" - The Amphipolis Gazette.
"Based on actual parchments...this early love story of Xena and Gabrielle is a real page-turner." - The Pyros Times.
"An OK story but not nearly enough fish" - Angling Weekly
Great Voice (The) - Cephalgia


A post Friend in Need piece in which the Warrior Princess is returned to the living by Gabrielle, Eve and a mysterious new Supreme Being. Xena and the bard must face off against a shape-shifting embodiment of ultimate evil. In the balance hangs the very survival of mankind and the future of the earth.
Grand Adventure (The) - Doc
Little Xena and Little Gabrielle take a vacation to the GRAND CANYON.
Great Blow For A Day Job - Claire Withercross & Blindzon Elyzon
Being bard to a Warrior Princess is a difficult job, especially when said Warrior Princess is your harshest critic. Gabrielle?s method of coping with the criticism makes her ill and the cure leads to an explosive conclusion!
Greener Pastures Two: A Horse's Tale End - IseQween
Argo reviews the highs and lows of her life with the humans she adopted in 'Greener Pastures: A Horse's Tale.'
Guardian Series - The Guardian
1.)

Guardian
On their way to the Amazon village, Xena and Gabrielle meet danger and a young warrior called Exl. She is more than just a warrior, and that's what Gabrielle and Xena will soon see for themselves. This a story filled with surprises and a confession of love.

2.)
Going Home


All is well until Exl receives an urgent message from home. She has to return and Xena and Gabrielle are right by her side. But going home isn't so easy, there are so many things to lose. This is story about courage and knowing what is right.

3.)
Family Reunion
Xena, Gabrielle and Exl travel to Potidaea and Amphipolis to see Gabrielle's and Xena's families. Everything doesn't go as planned and someone is left with a broken heart. Together they must find a way to overcome their their disagreements, but will they succeed?
This is a story about love and understanding.
4.)
Island of the Cursed
Xena has a surprise for Gabrielle and Exl, and on their way to a beautiful island, they meet an old friend, Autolycus. Together they must pass deadly traps and curses to return a magical emerald to where it belongs. But things go wrong and lives are in danger to be lost.
This is a story about friendship, desire and magic.
5.)
Warrior...Queen...Lackey...
Xena, Gabrielle and Exl are urgently needed in Treus, King Lias is feeling very poorly and Diana and Philemon suspects that someone is trying to assassinate him. And an important guest is arriving to see the King. Will they find out anything going undercover or is the King a goner?
This is a story about doing the right thing under any circumstances.
6.)
Deception


Xena, Gabrielle and Exl are attacked and trying to help her injured friends Exl is wrongfully accused and she has to pay a hard price for this. You can bet that a certain God of War has something to do with all of this. This is a story about trust and deception.

7.)
Small One
Our trio is asked to come and babysit Princess Alesia of Syra. But the young Princess shows signs of fear towards Exl. Exl has to come face-to-face with past events to understand herself better and Xena and Gabrielle learn something surprising about their young companion.
8.)
White Solstice
It is nearly Solstice and everyone is preparing for the holiday. In Amphipolis Xena, Gabrielle and Exl are helping Cyrene and waiting for the rest of the family and a few friends to arrive so they can spend Solstice together. This is a story about being together and a Solstice special.
9.)
Empty Home
After seeing a dream with her parents in it, Exl returns to her real hometown with Xena and Gabrielle with her
every step of the way. There she is expected to take her place as Queen since she is the heiress to her father's
throne. But things of the past haunt her and she has to face the past in order to save her people, her family and herself. This is a story about the past and the present.
10.)
Bad Dreams
Gabrielle catches a high fever after a fight with some bandits. She is sent to a dream world where she sees terrible, heart braking nightmares. Xena and Exl have a fall out because of what has happened, but they must find a cure for Gabrielle. Can they put aside they arguments and save Gabrielle? What is Gabrielle's worst nightmare? This is a story about the meaning of "in sickness and in health"
11.)
The Sauna
The Sauna is very important to the Finlandians and this is something Xena and Gabrielle will find out when they are introduced to this wonderful custom while they are visiting the northern land.
The Goddess' Wrath
Xena, Gabrielle and Exl meet two old friends, Hercules and Iolaus on their way to Thebes. But things change rapidly as Hera herself intervenes with things and soon they find themselves in an adventure none of them could have imagined. This is a story about standing by your friends in every situation.
Guess Who's Having a Baby? - Xfjnky
A short little piece of fluff about the trials and tribulations of pregnancy. Very cute!
Guilt, Love and Forgiveness - BL Miller
Set after the events in the episode BITTER SUITE, this tale makes Xena deal with the consequences of her actions when an injury failed to be healed by the waters of Illusia threatens to leave Gabrielle permanently blinded.
Gumboots For Hire - Lariel
The Bogey and Bacall of the Xenaverse hit the seedy underworld of Ancient Greece. Xena:Warrior Investigator wisecracks her way through mystery and adventure as she takes on a new client Gabrielle, and the hunt for her missing husband. Can Xena fight her way through her own dark and frankly nasty past, hundreds of former lovers and her own libido? Will her dark, inscrutable ways and killer chat up techniques be enough to woo the classy dame? Or will she have to bump hubby Perdicus off in the end? Find out, in the first of the duo's thrilling adventures...
Gumboots Walk Again - Lariel
Our duo are back again, and this time its Antiminius and his virgin fixation that comes under the Warrior Investigator's eagle eye. Unfortunately, she's having her own troubles, in the form of an unwanted assistant - Velasca has been assigned to the case. All that's missing is Xena's very own stalker...whoops, no! Strike that - here's Alti... Sequel to Gumboots For Hire
Half Moon Before and Two Summers After (A) - Portia Richardson


Xena and Gabrielle are with the Amazons for an Initiation ceremony when Gabrielle sees a woman who looks exactly like an old friend from Poteidaia. She is reminded of a time just prior to meeting Xena and how her life suddenly changed. This is a Xena and Gabrielle "first time" story and takes place between Seasons 2 and 3. NC-17.
HardCore NutCrackers
A short funny story about Immortal Xena & Gabrielle talking about the show. I know, I know it's been done but this one is different, I promise!
Happy Ever After - Lena


Post FIN
Have Mercy on Me - Spheeris
The image Xena has of herself is faltering again & again.
Hawkeye's Trip - Ri


[Mash Crossover] Hawkeye wakes up after he is injured to find that he is not in Kansas anymore. When he looks into compassionate Ice blue eyes and sees the ancient clothes he sure he has gone over the rainbow.
He's Back (or Make Love Not War) - Greek Warrior
Takes place immediately after 'Dream A Little Dream'. Xena and Gabrielle head to Amphipolis to see Cyrene and unexpectedly run into the bard's family. And Ares seems intent on causing trouble as usual.
Healing Journey (The) - Simahoyo
Xena learns that Gabrielle's world is dangerous for the uninitiated too.
Healing Time (A) - Ri
Poor Gabrielle hurt her back luckily the best healer in the world is her best friend.
Heart Burn - Alexiares
Xena's army got out of control and Kallisto's home town was burned, her family destroyed. But there is an awful lot of detail that isn't available in that description... this story tries to give some of it.
Heart Of Aphrodite (The) - Silence
'Dite helps the girls out. Alternate ending to Friends In Need
Heart Rules, Sole Matters - Iseqween
A couple months or so into her new life of adventure, Gabrielle chafes at sitting on the sidelines and determines to keep her "help" from rubbing Xena the wrong way.
Heatwave - Erin Jennifer
On a hot day, Xena and Gabrielle find a nice spring to cool off in, though the heat doesn't end there.
Hearts Courage: If Memory Serves - LZClotho
Rating: R. Separation leads to life-altering events for both Xena and Gabrielle. In a way, this is a conclusion to History Cast in Amber and Compelling Associations
Heartstarter's Xena and Gabrielle Series
Hard To Say Goodbye
This is the first story in a series that sees Gabrielle leave Xena to studying at the Athens City of Performing Bards.Iit follows our heroes for the day or two before they have to say good-e. sob. sob.
Weekend Visitor (The)
This is the second story in the series, which basically has no plot, it's just all about sex, sex, sex! Xena and Gabrielle are reunited and it's set 2 weeks after the last story.
That Scroll
This is the third story in the series, and we find out what was in that mysterious scroll Xena handed Gabrielle at the end of The Weekend Visitor.
Wasted Moments
This is the fourth story in the series, so after the surprising scroll, Gabrielle decides to reward Xena with some you-know-what... but, as always, things don't go to plan....
Fallout (The)
This is the fifth and final story in the series. Xena has left Gabrielle again, but Gabrielle is determined not to let her get away with it... an interesting and surprising final act!
Her Blade - JenX


After a battle, Xena and Gabrielle have some difficult emotions to work on. This is PWP (Plot? What Plot?) in which the women find comfort in each other's arms.
Hercules and Iolaus: Warrior Spies - Katie Burnett
How do the big guy and his best bud react when they catch the warrior princess and the battling bard in the act?
Hero Within (The) - MyOsage


Together for ten years, Xena and Gabrielle enjoy a rich, fulfilling life. Can an evil rogue amazon seeking revenge shatter their utopia?
Heroic Barding Junior Year - Absinthe Angel 777
Young Gabrielle encounters some trouble during her third year at the Athens School of Fine Arts. One of my many alternate plots. 12/28/04
Hidden - X2
A night where it is all laid out for X & G.
Holy War - Proud Warrioress [unfinished]
Xena and Gabrielle find themselves teamed up once again with General Marmax to face an enemy so fearsome, none may survive. Fiercely defending the city of Corinth alongside a combined army the likes of which has never before been seen in Greece, the warrior and bard risk all for the greater good. But this time the cause of the greater good could cost them everything.
Part 1 Part 2 Part 3 Part 4 Part 5 Part 6 Part 7 Part 8 Part 9 Part 10
Home Again - Kim Pritekel


Xena and Gabrielle are struggling with their feelings for each other as they head back to visit Xena's mom in Amphipolis. Will a surprising outsider help them to see what Cyrene sees plain as day?
Honeymoon's Over - LZClotho
Xena and Gabrielle rescue Joxer from a beating, and nurse the would-be warrior back to health.
Hope of Light - Koda Graystone
Those against them helped to separate them, can love still be found or will past betrayal's forever separate them.
Hostage (The) - BL Miller


Thanks to the petty games of the gods, Xena loses all memory of her time with Gabrielle and believes herself to still be the ruthless "Destroyer of Nations" that once terrorized Greece. Now she has the Queen of the Amazons as a hostage in her bid to rebuild her army. Only Gabrielle's love and bardic tongue can keep Xena alive after the Amazons demand justice. Side note: The fanfic indexes consider it a novella. Don't try to read it all in one sitting.
House of Lao (The) - Xena's Little Bitch


Travel to an alternate timeline where Xena and Borias stayed in Chin and ruled it with Lao Ma. Needless to say, Gabrielle shows up eventually, and nature takes it's course.
How Am I Suppose to Live Without You - Paully Adams


Joxer gets an invitation to a special wedding which causes him to deal with his feelings about Gabrielle.
How Hard Can It Be? - DJ Belt


On a visit to Amphipolis, Gabrielle forces Xena to confront the two demons she fears most: explaining to her mother exactly what the relationship between her and Gabrielle is, and working for an evening in her mom's tavern. As the evening degenerates into one hilarious fiasco after another, Xena learns a newfound respect for her mother, and Gabrielle gets in touch with her 'dark side' as she discovers the answer to her question about tavern-keeping: "How hard can it be?"
How to Write Uber - Invidere
a satirical guide to writing a typical uber-xena fanfiction :)
Hubris of Champions - Xena's Little Bitch


It's just after "Motherhood," and Xena's acting out. Gabrielle and Eve chat about morality and the 5th season in an effort to get her to communicate with them.
Human - Silence


A story about Xena being human.
Hunger in the Night - Allyson Heisey


Bacchus is dead. Or is he? Having the last laugh, he throws Xena and Gabrielle into a future timeline, where they must use their intelligence and skills to survive. Once again, as the fates would have it, the two women meet and outwit Bacchus for good. A tribute to "The Hunger" 1983, Starring David Bowie, Catherine Deneuve, and Susan Sarandon A classic fiction that takes place after Season 6 (Post Finale).
Hunt of the Unicorn (The) - Xena's Little Bitch
A kind of über first time story based on the famous Unicorn Tapestries.
Hymn (The) - Spheeris
Gabrielle does not fear the end for she has found love.
---
Questions, Comments or Broken Links can be be directed to The Academy