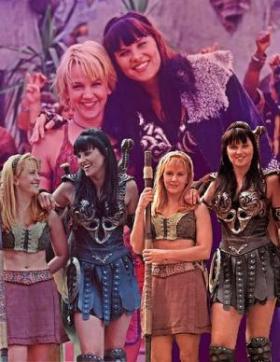 Alternative Xena Stories
A B C D E F G H I J K L M N O P Q R S T U V W X Y Z
---
last updated: August 16, 2015
Raindrops On Roses - Iseqween
In this third season Solstice story set immediately after ONE AGAINST AN ARMY, Xena and Gabrielle seek to reclaim some of the joy and innocence lost since their encounter with Senticles a year earlier.
Reach - Iseqween
Our girls explore a more traditional version of 'normal' after helping Xena's childhood friend Flora defeat a tyrant in the Season One episode THE BLACK WOLF.
Random Thoughts Series - Claire Withercross
1.
One: Bridge
Xena is traveling alone, looking for her future. Feared and judged by people who know of her she has a choice to make.
2.
Two : Living With The Big Lie
Xena has found a friend, or is it trouble. Hero or villain, her friend says the former, but Xena has her doubts.
3.
Three : Runaway
Xena and Gabrielle help a boy everyone else seems willing to give up on.
4.
Four : Mad
Xena and Gabrielle wonder if the world is flat, why don't we fall off?
5.
Five : Hard As Love
A day on the road seems pleasant, but Gabrielle has something she wants to tell Xena. Can she find the courage to say it? And how will Xena react?
6.
Six : Hollow
It's the morning after the night before and Xena and Gabrielle seem happy. However, Xena realises something very important about their relationship.
7.
Seven : Alone
Find out what Gabrielle and Xena think about when it's too hot to sleep and they have to spend the night apart.
8.
Eight : Paper Lies
In need of money, Gabrielle performs at a tavern where she receives a job offer that leaves Xena less than pleased.
9.
Nine : Brave
Xena attends a gathering to say goodbye to a friend. Afterwards she asks herself an important question.
10.
Ten : The Great Escape
Xena and Gabrielle help a group of wrongly imprisoned people escape, with a little help from a friend and a rat. At the end of a tiring day Xena considers the greatest escape of all.
11.
Conclusion : Made Again
Gabrielle writes her thoughts down after tending to a sick warrior.
Reason Why (The) - Simahoyo


Xena and Gabrielle fight a fire in a village, Xena gets sick, and Gabrielle takes care of her.
Rebirth - Patty S.


I know soooo many Post FIN stories have been, er, posted, but this one is not like the rest. It is mostly a Gabrielle tale, following the bard back to Greece, where she retires her soulmate's ashes to the family crypt. But is that really the end? Can Gabrielle just walk away without even trying to bring her beloved warrior back? She is, after all, finally doing what Xena told her. But is it the right thing to do?
Rebirth of the Xenaverse (The) - Xenamour


A hopeful look toward the future going into the 6th and final Season of Xena Warrior Princess.
Reconciliation - Phalkon


Xena has trouble dealing with Solon's death causing a rift between her and Gabrielle. It is up to the bard to force Xena to face her pain so they can rebuild their damaged relationship.
Redemption - Darkone


Xena's love for Gabrielle becomes a shield for the warrior when a deadly avenger catches up with her. A nice reaffirmation of the power of love and redemption. - 4/97
Relativity Theory - Markski


This is a short, light-hearted comedy set immediately after the end of Many Happy Returns, and before the beginning of Friend In Need. Xena and Gabrielle go to return the Helmet of Hermes to Aprhodite, when the goddess lets something slip, something that will change their relationship forever.Note: This was originally posted to MerwolfPack as "A Family Affair, Part II"
Release (The) - Claire Withercross


Gabrielle arrives in a village and finds work at the local tavern to pass the time until Xena arrives. When the warrior turns up she brings news that three warlords are making a treaty that will stop their infighting and strengthen there grip on the country. Can Xena and Gabrielle stop them? Or will Xena's past get in the way?
Remember - Paully Adams.
After Xena's death, Ares finds comfort in familiar arms.
Remember Me by Drew Meyers
Xena and Gabrielle come across an old friend that neither one can recall. Can they help someone they can not remember? Love, war, forgetfulness, it's all in a day for a warrior and a bard.
Remember, Never to Forget - Cindy Hart aka Sinful


Remember, Never to Forget - takes place in the earlier days of X & G relationship, back when their emotions and loves were still new and uncharted. While on their way to the Amazons ( Ephiny, Eponin and company) to try to explain the whole, Gabrielle didn't die she just fell in a nitch thing, (Don't get me started on this faux pas - but for my own personal explanation, look to my story Reunion which takes place immediately following Adventure in the Sin Trade.) Well on their way to the Amazons, one thing leads to another and that leads to .... well you know. Anyways,our two heroes separate and are to meet up at the Amazons, but Xena doesn't show up. Matter of fact, she down right disappears and no one not even the Gods can find her. Leaving a distraught Gabrielle to wonder, "where can you go, that even the Gods can't find you?" The answer is an emotional tale of torment and regret, as the young bard from Poteidaia tries to deal with reliving her past once more with a stranger.
Remembering The Past - Jessica M. Hudson [unfinished]
After Xena's death, Gabrielle finds herself alone and quickly sinking into severe depression. She knows she cannot continue on without her soul mate. The powers that be, take pity on the Battling Bard and try to reunite the two before there souls are lost forever.
Rest Break (The) - Linda Lockwood


Xe and Gab take a small break from work
Rest is Silence (The) - Sais2Cool


While awaiting her fate in the jail cell during Ides of March, Xena looks back on a recent incident between her and Gabrielle. Memories and regrets haunt her as she struggles with her conscience and her need to make things right before her time with Gabrielle runs out.
Resurrected - jtd
This short vignette is settling Gabrielle into her new place of Xena's protector early in the 5th season.
Return (The) - Akiela Xal [Post-FIN]
Returning from Japa, Gabrielle dreams of terrifying things in Greece; she and the spirit of Xena are confronted with old evils once again.
Return of Unity (The) - Lissa [unfinished/post-FiN/alt]
Set after Friend in Need 2, Gabrielle is falling apart without Xena so Eli and Abba(aka the God of Love) return Xena to the land of the living after having her soul released by the Japa Gods, and that is only the beginning of a tale of love, intrigue and the little gifts love can bring our two heroes.
Return To Form (A) (five parts - complete) - Jay and Silent Dee


This story covers the tail-end of "A Friend In Need" and the six months that follow, as The Battlin' Bard and the late Warrior Princess get out of Japan and find themselves in more trouble in the Land of The Pharaohs...
Reunion - JenX (unfinished)
[alternative timeline] After being seperated for twenty years, Xena seeks out Gabrielle, finding that the bard has missed her just as much.
Reunion - Norsebard
After the tragedy in Jappa, Gabrielle returns to Greece to spend some time with her Amazon Sisters. Unfortunately, a certain God of War has other plans for her. As those plans are set in motion, Aphrodite realizes she must take drastic action to put things right again...
Revenge - Norsebard
In this sequel to Reunion, Xena and Gabrielle travel to Treus to be guests at the wedding of Princess Penthea, Queen Diana's daughter - but the joyous event turns ugly when a band of merciless and bloodthirsty thugs interferes, forcing our two heroines to once again embark on a dangerous mission.
Rewrite (The) - M. Guerriere
First Time: Gabrielle is stricken with writers block and discovers a unique way to get her creative juices flowing once again.
Riding the Tide - IseQween
On a leisurely trip home, a middle-aged Xena and Gabrielle confront reminders of their distant past, in the process acknowledging questions that might always intrigue them. This story refers to episodes from Season Six, as well as some events introduced in my post-finale stories "A Fly in The Ointment" and "Suns of The Passed."
Right Now - GirlBard
A first-time story
Rising Phoenixa - Paully Adams
Summary Pending
Rising Sun - Erin Jennifer


This story takes place after the events of "Friend in Need, part 1."
Ritual - Darkone


Xena and Gabrielle get married after "The Quest"
Road's End - Darkone


Xena and Gabrielle run an Inn
Room at the Inn - T. Novan


Xena and Gabrielle are visiting Amphipolis and love's in the air ... only the Warrior Princess isn't too keen on it being her mom.
Roxy by IseQween [Classic/Alt/Complete]
Early in the fourth season, Gabrielle and Xena encounter a market that leads each to wonder if the other has taken browsing a little too far.
Rules - Di Kern


This is an alt X&G story with a twist. A loving relationship between two women is explored but nothing too graphic
Sad Moments - Ken Rogers


Gabrielle's feelings take her into depression then finally overwhelm her when Xena makes a callous remark. (Post FIN)
Sad One - Verrath


Here is my latest completed offering - my own take on the Years After. Like many others, I could not leave the Show the way it ended. It left me wondering how Gabrielle would have fared... here's the result. A tad on the somber side, I might add.
Saddle (The) - TC O'Neill
Here's another Plot, What Plot? story that picks up where "Gabrielle, Bard In Bondage" left off. There are no other characters in the story except Argo. Xena and Gabrielle don't need anyone else... but you already knew that, didn't you?
Safety - Vickypi2001 [unfinished]
A tragic event in Gabrielle's young life occurs and she learns how to cope with it after she begins her travels with Xena. The story takes place after the "Sins of the Past" episode.
Sage Advice - Ri
Xena and Gabrielle meet a great man of Athens who changes their lives in an incredible way.
Same Life, Different Day - Rab Donald


Using the same 'titles' as the classic episode "Day in the Life" It is little more than an exercise in writing pornography. Though it can be amusing, it is *definitely* not to everyone's taste. Sexually explicit. (Xe and Gab not monogamous); graphic with coarse language
Sappho's Inspiration - MyOsage


Sappho has a problem that Aphrodite thinks Xena can solve. But the solution may be unacceptable to Gabrielle. Beware of passionate women on the Isle of Lesbos!
Scared - Annaria
A first time story that takes place after the Abyss, in which the Warrior Princess faces her greatest fear.
Scroll (The) - Rab Donald


Gabrielle writes what she believes is her final scroll dedicating her thoughts to Xena.
Search for That Which Is (The) - Erika Bwo
An old story is back. In a sequel to The Language of Poteidaia, Xena and Gabrielle join forces with Hercules, Iolus and Autolycus to try to find the bard's long lost sister.
Second Chance - Ken Rogers


A nightmare vision of the future changes the future. (FIN III)

Second Chance - Harpy


A quiet moment at the start of the day in which Xena and Gabrielle reaffirm their love.
Second Chances - Lady Kate
A chance development brings Xena and a mortal Ares together, but their chance for a lasting happiness is threatened when they embark on a deadly adventure. Told from Gabrielle's POV.
Second Chances - Xena's Girl
This is takes place after Love Eternal. Eve is pregnant and Varia is ecstatic; Gabrielle finds out she's pregnant and Xena's doubting herself. Can Xena overcome her past and enjoy the second chance she and Gabrielle have been given?
Seeded - Kamouraskan
Gabrielle gets stoned with some help from Autolycus.
Seeking Xena - Sam Ruskin
Like many, I was less than thrilled with certain things in the series Finale. I felt strongly that the two episodes demanded a third to complete the arc. Yeah, I have lots more to say about those eps but I will not take up list space or time expressing that here or now. I look forward to reading many other wonderful stories by bards whose Muses, not unlike mine, are talking long into the night. This is just something I had to write. I hope you like it.
Senet - Nut56
Senet is based around Season 2 or 3, and reads like a typical episode from that time. When Gabrielle is threatened by an enemy neither she nor Xena can understand, they travel across the globe to ancient Egypt, to an old friend of Xena's, in search of help. Not only must Gabrielle face her own danger, she must unravel the link between Xena and Nekhmet, an Egyptian pharaoh who knew the Warrior long before she and Gabrielle met. There are maintext scenes here for adults only, but otherwise the story can be enjoyed by all.
Sensitive Chats II or Fanfic 101 - Kamouraskan
For Valentine's Day. Xena and Gabrielle attempt to celebrate that well known holiday 'Cupid's Day' with mixed results while Kamouraskan attempts to illustrate writing techniques.
"Serendipity" or "How Xena got Gabrielle to Shut Up" or "A Xenaverse Fairytale" - Lori A. Meyers
A little story on how Xena finally got Gabrielle to shut up.
Shade - Temora


What happens when a lonely man in an army camp fixates on a certain bard.
Shadows - Erin Jennifer
Set during the 3rd season, Xena and Gabrielle are summoned to Eire by someone from Xena's dark past. There, they are thrown into battle against Caesar and the Romans, while a terrifying evil threatens to tear them apart.
Shakespeare's Cure for Wedding Anxiety Disorder - Michael Dobler
W.A.D. (Wedding Anxiety Disorder) A condition that precludes a marital ceremony. Common symptoms include, depression, severe mood swings, persistent nightmares, and dead chickens. Can be aggrivated by overly michievous fiancees.
Shattered - Linda Crist


This story deals with the subject of rape and the aftermath. I have no idea what possessed me to write it. I do urge folks to read the disclaimers. It's not for everyone and it's very graphic.
She Keeps It Quiet - Spheeris
She may be possessed by a demon, but Gabrielle knows that this fantasy is hers alone.
She Who Talks to the Air - Carole Giorgio


Carole's epilogue to A Friend in Need. What happens when a lonely man in an army camp fixates on a certain bard.
Shine - Fragment


The warrior and the bard share a quiet starlit night, and contemplate space travel. I wrote it for a friend who is ever so slightly obsessed with Star Trek: Voyager, although no knowledge of the program is required. It's just a simple, romantic friendship kind of story.
Show (The) - BL Miller


Not too much to say about this story except that Gabrielle certainly got to see a Tartarus of a floor show. This story earned Lunacy's famed "Do not read at work" warning.
Show Me - IseQween
M'Lila bears witness to events that turn Xena toward becoming the Destroyer of Nations, as revealed in the episode DESTINY.
Signals - Rab Donald


Parted from the warrior to enter a bards contest, Gabrielle meets an older, wiser woman who's advice becomes invaluable in helping our two heroes form a more 'intimate' bond.
Silence is Never Golden - Xfjnky


After a fearful Xena spurns Gabrielle, she finds comfort in the arms of another. Never fear, though, because our Warrior Princess realizes the gravity of her mistake.
Silent Bard (The) - BL Miller


Written at the same time as The Cabin and The Show. When Ares tricks the great Muse Calliope into agreeing to a bet, it is Gabrielle and Xena who suffer as the bard is thrown into a world of silence. While she struggles the great depression that threatens to engulf her, Gabrielle is also forced to deal with the feelings that are awakening within her. Only Xena's love can save both of them from being losers in Ares' little game.
Simple Love Story (A) - WarriorJudge


Summary Pending
Simple Matter of Trust - Pam Wilson


Takes place late in the 3rd season, early 4th, after Bitter Suite It finds Xena and Gabrielle dealing with past demons as well as a few new ones. There are new characters, action, humor, drama, some angst, a few tears, new twists and a few surprises along the way. There is light subtext, no graphic sex.
Simple Pleasures - Bard Girl
Xena and Gabrielle share a quite moment by the campfire.
Single Step (A) - Kennedy Northcutt
"A journey of a thousand miles begins with a single step." ~ Lao Tzu, The Way of Lao Tzu , Chinese philosopher (604 BC - 531 BC). Xena is dead. Gabrielle may have possibly moved on. We'll see. This story takes place years after Gabrielle's adventures in Egypt as "the girl with a chakram." She built a hospice near Amphipolis and lives there with others. And then a stranger shows up and changes everything.
Sins of the Father - Paully Adams
1
2
Pain of the Present
The trio confronts Gabrielle's family, never expecting the violence and pain that awaits them. STORY WARNING: This story deals with issues of sexual, mental and physical child abuse, specifically, Gabrielle's anguish and recovery. It is melodramatic and can be classified as a hurt/comfort series. If you are sensitive to this subject please don't read.
3.
Healing for the Future
The long healing process begins as Gabrielle and Xena deal with the trauma. Will this present darkness prove to be the one thing that tears them apart?
4.
Beginning Again
In this final part of the "Sins of the Father" series, secrets from the past finally make it to the light as Hecuba tries to rebuild her relationship with Gabrielle. The truth "may set one free," but in this case, it make destroy everything that Hecuba is wishing for.
Sins of the Mother - L. Crystal Michallet
1.
Sins of the Mother - L. Crystal Michallet
Xena must protect her home against her arch nemesis and at the same time, must face a painful memory from the past.
2.
Sins of the Mother: Passions - L. Crystal Michallet
With the help of Xena and Gabrielle, Ari must learn to control her passions and violent tendencies, in a world so different from her own.
3.
Sins of the Mother: Whispers - L. Crystal Michallet
The whispers surrounding Ari drive her to search for the place that she once called home.
4.
Sins of the Mother: Possession - L. Crystal Michallet
The guilt and ghosts of her past drives Ari, Xena and Gabrielle's daughter, into a world of darkness, which only she can find an escape from.
5.
Sins of the Mother: Misunderstandings - L. Crystal Michallet
Xena's mistakes bring to light some information about Ari. Meanwhile, a misunderstanding between the bard and her daughter leads to some compromising situations and the dark child tries to find ways to keep the numbness at bay.
6.
Sins of the Mother: Homecoming - L. Crystal Michallet
The homecoming for Xena and Gabrielle's family brings unexpected surprises.
7.
Sins of the Mother: Fears - L. Crystal Michallet
Despite the love of her parents, Xena and Gabrielle, Ari's fears continue to haunt her as she struggles to overcome her past.
Sins of Omission - Lady Savay


WARNING: Please read the disclaimers for this story!!!
Sometimes it's easier to deal with things left unsaid, but the truth does come out when you least expect it. Snowed in together leaves the warrior and the bard with no where to run from it, or themselves.
Sittin' in a Tree, K-I-S-S-I-N-G - LZClotho
Rating: R. Xena and Gabrielle attend a wedding.
Situation - Rab Donald


A desperate gambler in need of funds prompts the warrior and bard to face feelings they've kept buried.
Sleeping Xena - LM Townsend
A fairy tale, starring Xena and Gabrielle who set out to rescue a princess with surprising results.
Sleepless Night - UDK_Bard!
This was my first ever attempt at Alt Fanfic. A month or two after the death of her husband, Gabrielle is having trouble sleeping. Xena tries to find a cure... Rated NC-17
Somewhere only we know by Korkyra
This fiction takes place after Motherhood. Xena is determined to get to the bottom of what is bothering Gabrielle and is stunned by the bard's confession
Solitaire - Temora


Summary Pending
Solstice Concert (A) - Kamouraskan
While preparing for her first public performance in over a year, a Solstice charitable concert organized by Salmoneous, Gabrielle discovers that Xena has been keeping a secret, and the warrior has to hustle to make things right again.Humour and angst.
Solstice Eve - Beowolf


I had the pleasure of getting a sneak peek of this story a while back and it's been a personal favorite ever since. Set in the time of the Winter Solstice, it has the warrior and her bard enjoying this magical time of the year while they stay at a village where the annual festival is in full swing. Delighting in all the activities, Gabrielle can't quite believe her stoic warrior seems to be enjoying herself too. What the storyteller does not know is that Xena has made careful plans to make sure everything is perfect for Gabrielle because for once she wants to show the bard just what she means to her. Beautiful. DO NOT MISS!. VERY HIGHLY RECOMMENDED! [See also the sequel Solstice Morning] 7/6/97
Solstice Morning - Beowolf


This story is part of a "loose" series which began with Solstice Eve. Like the first installment, this second tale is a gift for the heart - beautiful and very touching. Still set amidst the Winter Solstice, the story takes place the morning after the events in Solstice Eve and has Gabrielle reminiscing about her time with Xena and then unveiling a little surprise for her warrior. Short and VERY much worth the read. [See also the sequel Another Time, Another Solstice Eve] HIGHLY RECOMMENDED! 7/11/97
Some Friends In Deed - Annazon Fox
This is a post-Friend in Need tale of redemption. It includes Amazons, bonfires, and that ever-so-romantic setting otherwise known as "a cave."
Someone to Watch Over You (Crossover) - Rab Donald
More 'Uber' than cross-over, two modern day incarnations of the warrior and bard are aided in forgeing their relationship by the intervention of Xe and Gab who can view them from the bliss of their eternal rest and relaxation in Elysia.
Something Between Them - Akiela Xal
Xena and Gabrielle get a big surprise when Ares plays a practical joke on them
Somewhere Down the Line - Paully Adams


A post-FIN tale that tells relates the tale of Gabrielle's death. Nothing violent and overly sad in this tale.
Sonnet - Kamouraskan
Summary Pending
Soon, So Far Away - Amity


Post FIN
Sophia's series - Paully Adams
Sophia's Family - Paully Adams.
Summary Pending
Sophia's Choice - Paully Adams.
Sophia meets up once again with Xena and Gabrielle. But this time she's has an ulterative motive: hoping to help the pair unlock the secret that is buried in their hearts.
Image Isn't Everything - Paully Adams
Aphrodite orders Sophia to go home to Athena after the young woman is plagued with headaches and fits of temper. After discovering what is causing the problem, Athena has to ask Ares to help their child.
Soul Food - IseQween
Xena cautiously accepts an unexpected traveling companion as she prepares to journey away from SINS OF THE PAST.
Souls Redemption - Silence


It's about love and true redemption of a soul.
Soul Searching at Twilight - Saul Trabal
Meg is on her deathbed. Her two children, Virgil and Maria, are at her bedside. They reflect back on the life they had together. Final Meg/Joxer fanfic by the author, once again dealing with Meg and Joxer as serious, three-dimensional characters.
Soul's Winter - Darkone


Xena has a drinking problem.
Spellbound - Annemaart
It's hard to give a short description of this story without giving away parts of the plot. Lemme just stick with saying that: yes, this is another one of those post-FIN tales, but I'd like to think this one is different. This story isn't about getting Xena reheaded (though I'll admit that's what it started out to be right in the beginning). It's about stuff like redemption, true sacrifices and how sometimes little things, insignificant events that will fade and dissapear from the memories of most, can be far more meaningful than grand battles for 40.000 souls. It's about things that I felt FIN didn't deal with properly.
If you're looking for a light read, this ain't it. This story is dark and pretty complex. It's gonna have its comedy moments, but in the end it's gonna deal with some tough issues. You might like it. And you might not. Either way, I'll hope this'll make for an interesting read.
Part 1 Part 2 Part 3 Part 4 Part 5 (conclusion)
Spider - Kamouraskan
How *does* Gabrielle keep the suitors away from Xena? This short ditty is a very good explanation!
Stand By You - Carina Q. Fuller
This is the story that directly precedes the events that occur in them Studies In Light series. When Gabrielle is sexually assaulted by Apollo, god of the sun, she will stop at nothing to exact revenge, including forging a weapon that can kill him, gathering her own army and killing the innocent. Can the power of Xena and Eve's love stop her before she destroys not only more innocents, but herself as well?
Part 1 Part 2 Part 3 Part 4 Part 5 Part 6 Part 7
Stargazing Soulmates - Sam Ruskin


One of those wonderful campfire scenes. You know the ones. The quiet, chatting, stargazing ones.
Still: My Will, My Way, My Warrior - IseQween
Lao Ma reminisces about experiences that led her to rescue and seek partnership with the physically and emotionally crippled young female warlord portrayed in the episodes DEBT I and II, whom Caesar helped create in DESTINY.
Stirrings of a Dark Heart - Taleweaver


It's a piece written from a warrior's point of view as she reflects on how far her traveling companion has come, and just how much she feels for her.
Stolen Glances - Monkey


summary pending
Storms of War - JLynn


Set in the second season between "Here She Comes...Miss Amphipolis" and "Destiny", this epic tale marks Xena's struggle to rectify a horrific moment in her past. Neapolis, once ransacked years ago by the Warrior Princess herself, is now besieged by a new warlord. Consumed by her need to atone, Xena considers even the most desperate measures that might offer the town its salvation, even those that cause Gabrielle grave concern. Their disparate natures test their feelings and friendship even as they strive to find a solution.
Part 1 Part 2 Part 3 Part 4 Part 5 Part 6 Part 7 Part 8 Part 9 Part 10 Part 11 Part 12 Part 13 Part 14 (conclusion)
Strange Trail (A) - Ri [Post FIN]
In Egypt, the spirit of Xena is miserable and Gabrielle is miserable. Their old freind Aphrodite has to do something so she finds a way for Gabrielle to get her Warrior back.
Stranger Things - Ian K. Hayes [Academy Xmas Challenge 2008]
Strongest Thread (The) - Rab Donald


Following a surprise ambush and a stupid argument, Gabrielle leaves Xena but soon regrets her decision. Meanwhile, a bewildered Xena is guided by some 'invisible force' that will surely re-unite them both on a more certain path.
Studies In Light - Carina Q. Fuller
To save Gabrielle's life after an attack by assassins of the temple of Apollo, Aphrodite sends Gabrielle to an alternate universe. The plan is to send Gabrielle back to her home universe a few moments before her death so she can save herself. However Gabrielle encounters the alternate Xena who is Athena's Champion and in desperate need of redemption.
In her attempts to point Xena on the right direction Gabrielle misses her opportunity to get home and becomes trapped on the other world. In the home universe Xena falls apart without Gabrielle and becomes the monster she was before she met Gabrielle.ÜIn addition to this, Gabrielle's presence is harming the alternate universe and if she isn't sent home soon that world will be destroyed. Can Xena get Gabrielle home to her homeworld to the moment before her death to prevent the tragic events that occur in her absence and find redemption in a world without her?
Part 1 Part 2 Part 3 Part 4 Part 5 Part 6
Sun Went Down (The) - Ken Rogers


Gabrielle is unable to accept Xena's death and shuns her spirit. Xena is in anguish over what she has done to her soulmate. In desperation Gabrielle seeks a way out. (Post FIN)
Surprise - MyOsage


Gabrielle's temper gets the best of her when Xena's flirtations with a local barmaid cause a chain reaction that have both women finding out more about themselves than they could've imagined.
Surprise! - Bard of Meta
Some unexpected events happen when Xena sets up a little surprise for Gabrielle. Even the Warrior Princess gets caught off guard!
Surrender - Lori A. Meyers
Gabrielle of Poteidaia is engaged to her cousin Lyceus and awaits the arrival of the wedding party that will escort her to her wedding in Amphipolis--but destiny will not be denied.
Surviving Hope - Ri


Answering some questions about why Gabrielle sacrificed herself. Also how Xena and Gabrielle helped each other heal.
Sweet Desire - Black Dragoon


This story is a romantic, but explicit, description of Xena and Gabrielle's loving relationship and first time sexual encounter.
Sweet Thing - Iseqween
In the alternate life the Fates rewarded Xena during the early second season episode REMEMBER NOTHING, Gabrielle also gets the chance to experience life without a Warrior Princess and to change her destiny.
Swirls in Time - Janine Hilltop
A piece of the Kronos stone is letting Callisto change more than her own past and future. Xena and Gabrielle's mission is to find Callisto in time....
Switch of the Role (A) - Saul Trabal
Three warlords want to gain access to the last ambrosia on Earth. In order to do so, they need the help of a god or demigod.They bring the Sovereign-Hercules' evil twin-back to life to help them. Xena must stop the three warlords, and return the Sovereign to his own dimension.
Symphony of Life - Doc
This is a HURT/COMFORT, POST FIN story that takes place on the voyage to Egypt. Gabrielle is experiencing difficulty going through the grief process.
---
Questions, Comments or Broken Links can be be directed to The Academy