---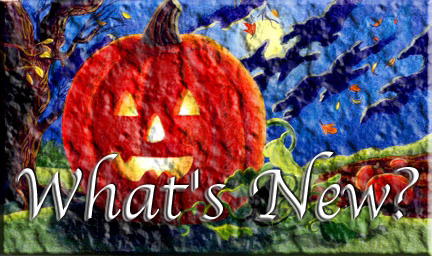 ---
Trick or Treat? You decide...
Make sure you visit the Academy for Halloween!

October 30th, 2001
If you haven't heard yet, we are going to have a different look to the Academy tomorrow. Well in some places it will actually be tonight. The Academy wishes to show our appreciation for the readers. We have been working for a couple of months on an experiment going by the code name Project 31. What does Project 31 stand for? Stop by this page Halloween morning to see!
Some of the best known and loved bards in the Xenaverse have taken us up on our invitation to participate. It really is an unprecedented group of bards and stories drawn together for a single event. We thank them, and thank you, the readers. We at the Academy do request one thing, please, write the bards and let them know how much you enjoyed their work!
In the meantime here are two writers I enjoy to help get you in the mood-
The Soul of Ships by Jas. Hook
Soul of Ships is a tale from the days of the great sailing vessels. Using the mysterious sea as a backdrop, the story is filled with jealousy, hatred, love, and a unique and lasting revenge.
Spirits Alive by Ellie Maziekien


October 29th, 2001
Added part 14(conclusion) of Lori L. Lake's Under the Gun
I have posted part 22 of Lynne Norris' uber The Road Back Home.
Reposted a corrected version of Anam Cara part 10 by Moonchild
Added part 11 of Anam Cara by Moonchild
Hallowed Crossing by Hunter Ash [unfinished]
This story is in todayÍs world, specifically around Halloween, and is based in a small town somewhere in Northern California. Annie meets Cerys, an alternate universe being, who draws her into a battle between good and evil vampires.
October 28, 2001
Paradise Found by Cruise & Stoley
Is it possible to put the ghosts of the past behind you and find the strength to believe in love again? Jordan Milano didn't believe it would happen to her anytime soon and had become quite complacent in her single life. The green-eyed blonde didn't expect her life to be changed so dramatically by the tall, blue-eyed woman she met in the tropical island town of Key West for their annual women's festival. The arrogant athletic beauty, Bly VanDewark caught a glimpse of Jordan and knew she had to meet the attractive blonde, but her pursuits were halted by her forward approach with the woman. She was accustomed to making conquests instead of relationships and Jordan's brush off forces her to take a good look at herself and her motives. This was going to be no simple conquest for an evening and Bly knew this in her heart, and it scared her. Here, amidst the passion of a tropical paradise playground it is easy to fall in love and play a game of make believe. But, what about tomorrow and the realities of the present? Will they find the way through the darkness of their own insecurities to their Paradise Found?
Added part 17 of Snap's Tempting Trouble
Added part 10 of Mavis Applewater's One of Those Things
October 27, 2001
Added part 9 of Janet Lynne's Phoenix Rising
Forever by Dee
Anna was a young writer living near the coast of Maine, who met a dark beauty on a windy cold night while walking home late. What she discovered about the woman and herself changed her forever. The story is told in first person narrative style.
October 26, 2001
Added the first four chapters of The Sorcerer which is the the next part of Lorimal's Chalice by Jane Fletcher
Added synopsis to the following stories by Cruise -
Indiscretions
Secret Service Agent Rayne Donovan reluctantly accepts an assignment she knows she will regret later on, but canÍt walk away from it. A life is at stake and the tall, raven-haired agent is forced to protect a popular celebrity, Lark Morgan who happens to be a former lover. The attractive blonde actress is happy to have her former lover back in her life, but Rayne isnÍt pleased at all by the woman who betrayed her as well as her heart months ago. The sparks fly with these two women when they are forced to come to terms with their feelings of anger, denial, betrayal, and love for each other.
Ab Initio (sequel to 'Indiscretions')
The truth of LarkÍs previous Indiscretions is revealed and Rayne frantically tries to meet up with her before she leaves for Greece, but misses the plane. Lark arrives in Greece alone, thinking that RayneÍs answer of forgiving her is no, but little does she know that Rayne is on her way there. Lark is hurt and relieved to find out that she wasnÍt unfaithful to Rayne. The pair share a loving, tearful reunion and Rayne has a surprise for Lark regarding their future together that she reveals in a very special and romantic place in Greece. Will Lark respond to that surprise positively and will these two lovers be able to fulfill their dreams, together?
Part 1 and Part 2 of Provenance (Prequel to 'Indiscretions')
An attractive Secret Service Agent encounters a blonde haired, green-eyed up and coming actress while on assignment protecting a Senator, who also happens to be the actressÍ father. ThereÍs an instant attraction between the two women, but Rayne Donovan is reluctant to go out with the persistent actress, Lark Morgan. SheÍs fighting feelings from her past and is not sure she wants to go down that road again. Lark sees what she wants, Rayne, and refuses to accept RayneÍs rebuttals of a date. She sees a spark of hope in the womenÍs piercing blue eyes and wonÍt give up so easily. Will Rayne put her feelings aside and take a chance on love again by agreeing to a date with the alluring beauty?


October 25th, 2001
The Great Voice by Cephalgia [general]
A post Friend in Need piece in which the Warrior Princess is returned to the living by Gabrielle, Eve and a mysterious new Supreme Being. Xena and the bard must face off against a shape-shifting embodiment of ultimate evil. In the balance hangs the very survival of mankind and the future of the earth.
A New Story from Greek Warrior, Can You Survive the Night? [uber/alt/finished]
Synopsis: A short ghost story written for Halloween. A group of friends are chosen to participate in the filming of the show 'Survive The Night' and the experience changes one of them forever.
Added part 13 of Maderlin Bidmead's The Binding Tie
Added Part Seven of Shana and Kye's XXX Scrolls called Hands On Experience

October 24th, 2001
Announcement
-From my pal T. Novan

Hi<g>
Listen, since everything that has happened since September 11th I've been feeling like there should be SOMETHING I can do in my limited capacity, so I've come up with this idea and I need your help.
I want to get emails sent to me which I will bind and send off to the fire fighters and the police officers and other rescue workers in NY and Washington.
I've set up a special email addy for it and I'd like to get as many emails as possible to send out. I'll keep sending them as long as I get them. These folks deserve to know how much they are loved, admired and appreciated.
If I could go there and work I would, but I can't and I feel the need to do SOMETHING...I hope you'll help me out by posting this where you can and passing it along to ANYONE who will be willing to write a word or two of thanks and appreciation.
The email addy for the letters is.... NationalThanks@aol.com
TN
Maleficent Beauty by Creme Brulee
Conqueror/Sleeping Beauty crossover - a Xenaverse fairy tale for Halloween.
Updated Eileen Marks' Ultimate Über listing

October 23rd, 2001
Added part 13 of Colleen's Seeing You Again for the First Time.
October 22nd, 2001
Halloween is just 9 days away. Since you guys have been so good and patient about things, I've decided to give another hint. Get familiar...for those few who haven't already, with the I Found My Heart In San Francisco stories by S. X. Meagher. We have them all stored on the Academy (amongst other places) at http://www.academyofbards.org/authors/meagher_sx.html
A View to a Kiss by Barbara Davies
Barbara's sequel to Say Good-bye to Boston. . This time, British secret agents Ashley Blade and Jemma Jacobs are off to Brazil... where the nuts come from. It's Rio, con Brio, as Ash and Jemma set out to foil a new plot by the Libyan terrorists who caused them so much trouble in the Canary Islands.
October 21st, 2001
Another new bard at the Academy: Doc!!
Unfinished Business
Xena and Gabrielle join forces with Hercules and Iolaus to retrieve the Hind's Blood Dagger before it falls into the hands of two unlikely allies.
The Grand Adventure
Little Xena and Little Gabrielle take a vacation to the GRAND CANYON.
Peas in a Pod
Xena and Gabrielle stop in a small village for a brief rest. Gabrielle, being Gabrielle, finds herself in a 'stinky' situation.
Lamenting Hearts
Three hearts try to find peace after the battle against Bellerophon.
Too Many Cooks
Amphipolis is full of surprises as Xena and Gabrielle travel home to celebrate Cyrene's birthday.
Added part 13 of Lori L. Lake's Under the Gun
The Biker Babe From Hell by Pinfeather A spooky Hallowe'en tale, written in verse
Poems
By Beth
Lollipop, Lollipop
Road Blocks and Detours
Forever You and I Together
Tiny Perfect One
I Belong to Me
October 20th, 2001
Waking Up With the Conqueror by Candid Eyes
After 2500 years searching for the last piece of the Chronos stone Aphrodite finds it in a pawn in Las Vegas, NV. She enlists the help of a lonely lesbian XWP fan Desire' Love to help her go back and correct the terrible mistake in Jappa. Desire¹ goes to bed one night and wakes up on judgment day in front of the Conqueror wearing only her Xena T-shirt and a smile. Desire' becomes the Conqueror's body slave and must find the stone, open up the heart of the Conqueror and reunite her with her soulmate Gabrielle all without getting herself killed by the temperamental ruler or without getting her heartbroken over a love that can never be hers forever.
There is a bit of erotica in it, both lesbian and straight and a lot of comedy if you can picture the Conqueror doing the Tush Push or learning baseball and football etc. The hero of this story is an XWP fan who eventually gets it right and finds out that she has an ancient soul that is forever connected to Xena and Gabrielle.
Added part 8 of Janet Lynne's story, Phoenix Rising
55 Word Story
Opening Act by Katharsis9
October 19th, 2001
More hints about the Halloween experiment ....For the few of you left who haven't done so, you might want to familiarize yourselves with Carole Giorgio's Laguna Nights series and Linda Crist's The Bluest Eyes in Texas.
Stories
Added chapters 5 - 9 of Lorimal's Chalice by Jane Fletcher
Added revised version of Ali Vali's To Capture a HeartAdded Fragments - Part 5 by Grit JahningAdded part 12 of Maderlin Bidmead's The Binding Tie
October 18th, 2001
Added part 6 of WindStar's Southern Cross
Here is Part Six of Shana and Kye's XXX Scrolls called Who is Conquering Whom?
Added MOUNTAIN LOVE By Psyche-b Chapter 6a
October 17th, 2001
The Edge of Nowhere by Annemaart (Conqueror, altish, unfinished)
A Conqueror story with a twist. Three years after the events of Armageddon, Xena has settled down in her role as ruler of the world. The Empire is peaceful and prospering, crime is at an all time low... In other words, the Conqueror is bored out of her mind. Which is why she quickly agrees to personally solve a "minor" problem reported to her by the regent of Macedonia. The minor problem turns out to be a handful however, and the face off sets in motion a cascade reaction of changes.
E-books
Mavis Applewater - Special Delivery
Mavis Applewater - That Thursday Afternoon
Markski - Relativity Theory
AC - In a Broken Dream
October 16th, 2001
I'm still having people ask about what the Academy has in its bag of Trick or Treats. Well...I'm still not telling <g>...but since you guys were all so good and wrote about how you followed my suggestion and went to read (or in several cases, reread) Cobb Island by Advocate, I'll give you another hint...ok two hints <g>. How about reading Cold by Midgit and D.C. by Lizzy Tendre while you whittle away the time waiting to see what we plan.
Announcement
- From Nene Adams
Love's Melody Lost by Radclyffe is a grand, sweeping tale of romantic suspense. Here's a blurb, and you can read an excerpt at the Shady Ladies site.
Victim of a terrible accident, famed composer and pianist Graham Yardley loses her sight, her heart and her soul. Wealth and fame mean nothing after the devastating loss of her beloved music; her life is reduced to silence, darkness and bitter regret. In a bleak mansion atop windswept cliffs, the blind woman withdraws from life, her once consuming passions now a source of anguish and fear. Then Anna, a lost woman seeking a place in the world, comes into her life and awakens feelings she thought were dead forever. A fragile melody of love is played between these damaged souls, a song made sweeter and stronger by the day... but will their blossoming romance be destroyed by an outsider's greed or will it succumb to the discord of Graham's tormented heart? Can she find happiness with Anna, caught up in the fiery overtures and darkly gothic strains of... Love's Melody Lost.
The URL is: http://www.shadyladiespress.com/order/orderpage2.htm And the excerpt is at: http://www.shadyladiespress.com/books/lovesmelody_exerpt.htm And just in case my brain has turned to Jell-O *g* and none of the above addresses work, here's the URL of the index page, from which you can access everything: http://www.shadyladiespress.com
Thanks! Nene
Stories
Stand by Me: In A Broken Dream by AC
A sequel to 1944: Year of the Mandolin Wind. Sofia and Bekah struggle to rebuild their lives in a new place after World War II, finding that all they will ever need is right beside them.
Added part 7 of Janet Lynne's Phoenix Rising
Lynne Norris has updated The Road Back Home with part 21
Poems
By Terri Lyn Stanfield
Nightmare part 11
Nightmare part 12
Nightmare part 13
Nightmare part 14
Nightmare part 15


October 15th, 2001
One of the bards who posts on the Academy recently had the good luck to visit the Sheena set. Here is her account of the visit along with some great pictures!
Stories
Added part 7 of Blue Dragon's Mississippi Blues
Added part 12 of Lori L. Lake's Under the Gun
October 14th, 2001
Let's give a warm welcome to Cruise, the newest addition to the Academy!!
Indiscretions
Ab Initio (sequel to 'Indiscretions')
Part 1 and Part 2 of Provenance (Prequel to 'Indiscretions')
An announcement from Sarkel
Dear Readers,
Thank you for your patience waiting for new installments of THE ODD COUPLE to be posted. After consulting with several people, I have decided to suspend the project. I'm going to rewrite it in a form so that it will appeal to a broader audience. The characters' personalities and the basic plot line will remain the same. But I will change the story so that both women are straight, who form a very strong bond from the unusual circumstances of their meeting. If you have any thoughts about this new direction, please feel free to e-mail me and share your comments.
-Sarkel

October 13th, 2001

Added part 16 of Snap's Tempting Trouble

Added part 6 of Janet L's Phoenix Rising

Added the first part of Destacain's sequel of Dyo Zoi entitled Eye of Sieves [unfinished]
Continuing on were Dyo Zoi left off, Xena and Gabrielle are still trying to pick up the pieces of their broken relationship. Right before things begin to get back to normal, they are swept away to the land of Sieves to Find the missing Queen. During the journey they come in contact with a few familiar faces. They may save another world, but can things ever get back to the way they used to be?

October 12th, 2001

Congratulations to Becky (Artemista) for being our 1,000,000 visitor!

Stories

Lorimal's Chalice by Jane Fletcher [unfinished]

This represent the first half of Part One, 'The Exile'. There are four parts in all to the story - The Exile, The Sorcerer, The Traitor, and The Chalice.

The quest for the stolen chalice is just a sham - an excuse to get rid of Tevi, and save her clan further embarrassment. She finds the outside world a dangerous and confusing place, especially once her arrival triggers a chain of events she has no control over. Monsters, sorcerers, murder and a long hidden secret all await her. If this isn't enough, Tevi will have to overcome her own inner demons and figure out exactly what she wants from life.




October 11th, 2201

As you may have noticed, the Academy of Bards is going to do a bit of a Halloween experiment being as Halloween is such a cool holiday. Now many of you guys have asked what this surprise is going to be. Well... I'm not telling <g> but let it suffice to say, it's gonna be awesome! Here are some things that Cee's Reviews says --

Oh my god, how funny is this ...?

it's creepy; it's scary; it has a great surprise ending. You'll love it. Highly recommended.

a little Halloween fun that will definitely tickle your funny bone.

In the meantime, all I can say is you might want to consider maybe refreshing with ohhhh...Cobb Island by Advocate <g>...and don't ask her, she won't tell either ;-)

Stories

Added part 5 and part 6 of Blue Dragon's Mississippi Blues

October 10th, 2001

We are getting very close to a million hits on the What's New page. While we don't want anyone to sit around and hit reload (and we can tell if you are doing that <g>), we would like to send a little something to the person who is the millionth visitor. Take a screen shot and send it to academyofbards@yahoogroups.com. Thanks to all the bards and readers!

Added part 21 of Blondebard's Redemption Song

Added The Xena and Gabrielle XXX Scrolls: Part 5 - Sometimes a Dream is Just a Dream by Shana and Kye



October 9th, 2001

Let It Rain another installment from Mavis Applewater's Wednesday Afternoon Series. Let It Rain is the sequel to Dashing Thru The Snow once again unexpected weather brings some surprises.

Something Different another installment of Mavis Applewater's Wednesday Afternoon Series. In this PWP two friends find a new way to spend an afternoon.

Added part 12 of Colleen's Seeing You Again for the First Time

Added part 2 of D.S.Bauden's Home

Added part 9 of K.M.'s Considerable Appeal

Added part 5 of Janet L.'s Phoenix Rising

October 7th, 2001

Added part 4 of Phoenix Rising by Janet Lynne

Added part 10 of Moonchild's Anam Cara

October 6th, 2001

Added part 11 of Lori L. Lake's Under the Gun

Added the eBook version of SX's Karma

October 5th, 2001

Added the next installment in the I Found My Heart in San Francisco series, Karma by S.X. Meagher. If you'd rather it in a continuous document, we have that option for you as well. Click here for a single file

October 4th, 2001

Added The Xena and Gabrielle XXX Scrolls: Part 2"Coming Clean by Shana and Kye

Carrie's AJ is reposting Fresh From the Road Kill Cafe, here are the first four parts of the edited version.

More stories by Sam Ruskin...these are from her über collection -

Mysti: Mistress of Dreams
Gillian dreads the nightly visits of the dream mistress. She has been haunted with the same dream for so long she often tries to avoid dosing at all. When a friend asks her to accompany her to a womanÍs group, Gillian looks into the eyes she has only dreamed about and finds Max. Life will never be the same for either woman, thanks be to Mysti. It is a love story that will leave you feeling as if you have known Max and Gillian forever. Who can say for certain? Perhaps you have.
Gillian and the Bigot
Secrets, Surprises and Sofas
Happy Anniversary
Valentine's Day
What Max Was Up To

Up the River
Five years ago Mickey Lawton murdered Anna Stoner in cold blood. He got away with itƒuntil now. Leaving an eyewitness to two of his most recent murders was not smart. It might, however, have been lucky " for the witness. Alexandra Abigail Stoner, AnnaÍs twin sister, has been assigned to protect this witness for the next three days. Will the witness make it to the Grand Jury Hearing? Can Mickey Lawton resist the temptation to go after yet another Stoner? Who is the sexy blonde in the fedora and why is she smiling?
Why I Say It So Often

Poems

by Terri Lyn Stansfield
Nightmare part 6
Nightmare part 7
Nightmare part 8
Nightmare part 9
Nightmare part 10

October 3rd, 2001

Focus by Idryth
A look into the lives of Kris and Sam after the ordeals of the recent past. Some questions are answered and several more are asked.

Added some more reviews to Judith's 'Just Like Buttah' page.

October 2nd, 2001

Here are two more selections from Mavis Applewater's Wednesday Afternoon Series.

Special Delivery by Mavis Applewater
A story proving that neither rain,sleet, or snow can prevent a MailWoman from delivering something special.

That Thursday Afternoon by Mavis Applewater
A passionate first time story.

Added part 16 and part 17 of Minerva's White Nights

Added part 3 of Phoenix Rising by Janet Lynne

Added part 5 of Wind Star's Southern Cross

October 1st, 2001

Relativity Theory by Markski
This is a short, light-hearted comedy set immediately after the end of Many Happy Returns, and before the beginning of Friend In Need. Xena and Gabrielle go to return the Helmet of Hermes to Aprhodite, when the goddess lets something slip, something that will change their relationship forever.Note: This was originally posted to MerwolfPack as "A Family Affair, Part II"

What Dreams May Come III: Return of the Red-Eye by Paranoia
Well, let's see... there's a trap, and a craving ... some gratuitous pop culture references, a torch song, and LOTS of whiskey. Mel/Janice Alt, and the last of the What Dreams series.

Added part 65 THE CONCLUSION!!!!! of Reece's Faith by Vertigo
---