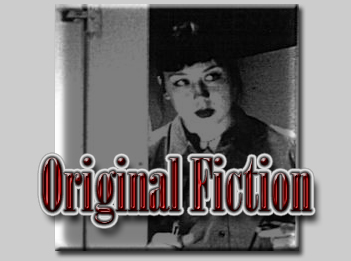 ---
This section is classified using the writers' definition of "Original Fiction". If you are a writer and feel your submission(s) would be better placed in this category, please let us know at
Academyofbards@yahoogroups.com
---
A B C D E F G H I J K L M N O P Q R S T U V W X Y Z
Last Updated:
June 23, 2011
---
Tag Team - Shirley Roberts (unfinished)
A chance encounter on a highway in a winter storm brings Toni and Cynthia together. Two young women from different lifestyles grow to accept each other and become friends, and maybe something a bit more.
Part 1 Part 2 Part 3 Part 4 Part 5
Tale of Woe (A) - Carola "Ryûchan" Eriksson
A chilling story about the jealousy and wrath of the mechanical beast to serve as a warning to all - or maybe not.
Tales of a Librarian - Corwel [unfinished]
Brynn Dobhale lives the mundane life of a lonely librarian until a very interesting patron catches her eyes, a silent stranger who comes into Brynn's branch with beautiful bruises and scabbed knuckles. The stranger is Hart Gonzalez a medium/fighter who invokes the spirit of an Aztec warrior when she fights in Bloodsport an underground boxing ring. When the two share anxious words and a kiss they begin an epic journey together that will end with the heroines standing among the carnage of their ruined city.
Tales of Grass and Woe - Robin Alexander [unfinished]
This is a new series of short stories that allow me to pick on my favorite authors and friends. The story centers around two rival lawn care companies. The customers are a colorful group that I'm sure most of you will recognize.
Taming The Wolf of Taming the Wolf - Sammet [unfinished]
Tempus Fugit - Mavis Applewater
In part one of Mavis Applewater's new series, the story begins in 1956 giving a glimpse into the life of Ellen Druette a seventeen year old cheerleader who thinks she knows herself. That summer she learns that she knows nothing at all.
Part 1 Part 2 Part 3 Part 4 Part 5 Part 6 Part 7 Part 8 Part 9 Part 10 Part 11 Part 12 Part 13 Part 14 (conclusion)
Tenfold - SDerkins
An ancient blessing upon a family still haunts the beautiful Nessa, the last of her line. A very determined reporter seeks the truth about the recluse only to find herself in a dilemma--one heck of a story or a chance at romance with the wary redhead. Perhaps a push from the Sidhe will help.
Part 1 Part 2 Part 3 Part 4 Part 5 Part 6 Part 7 Part 8 Part 9 (conclusion)
Thief's Revenge (A) - Jane Fletcher [general]


As the most famous thief in the world, Corrine has stolen all sorts of things, for all sorts of reasons. This time she's doing it to avenge the wrong done to an old friend. But as she is about to find out, there are some things even she cannot steal.
Time - Ladyhawke
There comes a time in everyone's life when you must face something that you don't want too. You can't run away and you can't hide, because time will always catch you. This is a short story that freezes one moment in my life onto the page. A moment that I would have given everything to change.
Time of Prophecy - W.R. Haley
Two women come together during the worst of times. Taura's parents have been murdered. The royal guard is attempting to murder the Heir Princess Ehlan. Together they race against time, finding magic, and love along the way.
That was Then, This is Now - J. Rosestar
In 1976, a young woman, stationed at a military base questions her sexual orientation. She asks some lesbian friends if she can accompany them to a secret, hidden lesbian bar - long before "don't ask, don't tell." This leads to an encounter that changes her life.
Third Time's the Charm - B.Soiree [unfinished]
Sequel to "The One." Sometimes finding The One is only the beginning of a dangerous journey. Especially when the Fates take two intangible superstitions and weave them into their garment, leaving Time and Death to toy with the strings.
Thirteen - Nene Adams


A halloween suspense story revolving around the tragic fire at a sanatorium and the nurse who wouldn't leave the ghost of her patient.
This Can't Be Happening - Janine Hilltop
Two minds try to live and love through tragedy and hearbreak.
Those Three Days - Erin O'Rielly [unfinished]
Winnie James' life was finally taking professional shape when she got her first big break...a client of her own. Now, all she needed was to have that someone special in her life to share it with. Her search for love lead her to three days that changed her life. After that nothing would ever be the same again.
Three Days - S. Lee


In the romantic first story of a trilogy, Kat Green is a singer/songwriter on the verge of super-stardom.She is away for weeks at a time, missing her pregnant partner, Beth desperately. Kat comes home from being away on the road for a visit and the couple have three glorious days to reclaim and reconnect their love.
Through the Years - Jay P. Gray
Taylor Compton wakes early on the morning of a special day. Watching her wife Jaime sleep, Taylor recalls the day the two women met and moments of their life together.
Thursday Nights in Soho - Anne Laughlin
A night of cruising in London's Soho district introduces Ryan to a new form of no strings sex. New to her, at least.
To Be Unhuman - Alex Mykals (AKA PsiDraconis) [Incomplete]
The Varic Imperium is a beacon of culture and peace, home to members of every civilised race south of the Burning Divide. Its Magi create wonders, while its noble warriors battle the savage Unhuman races who traffic with horrific Demons on its borders.
Then the Dynast, sole ruler of the Imperium, falls to Demonic influence and is brought down by his own people. The mysterious crystalline throne which chooses the next Dynast rejects the expected candidate, leaving the Imperial Council in control.
Years later, the half-Elf barmaid Tial is taken from her home by a band of monstrous Unhumans, and it is THERE that the real story begins.
To Hold Forever - Carrie Carr [unfinished]
The next installment in the Lex and Amanda story
Part 1 Part 2 Part 3 Part 4 Part 5 Part 6 Part 7 Part 8 Part 9 Part 10 Part 11 Part 12 Part 13 Part 14 Part 15 Part 16 Part 17
To Live Again - Debbie Dee


This story is a sequel to my A Cry for Help story. This has no violence or sex in it. It is just made up of thoughts. This was written for every woman out there who ever wondered about her life and what if things had been different. And what can happen when you finally take your life back.
To Look for America - Rab Donald
A story and a 'puzzle' rolled into one! The story is set in sixties London, the puzzle is to find other hidden locations...please read, it took me *bloody ages* to write :)
To Serve a Friend - Irish


Devlyn's former boss asks for a favor which puts her in a serious situation and all Kelly can do is stand by and watch. (Third in a series which follows Come On Home and Promises To Keep.)
Tomorrow's Promise - Radclyffe
One timeless summer on a small private island, two women discover the power of passion to heal, and the promise of hope only love can bestow.
Too Far - DS Bauden


Companion piece to Too Much
Too Much - DS Bauden


Short Vignette
Torture of Time - DK Ward [unfinished]
This new version of TTOT is nearly complete, and has already been picked up for publication in e-book form (I'll post a link to the site when it's available) while I ready it for paper publication. There's also a new drawing added of "Sydney Williams".
Tomahawk'd - DS Bauden
A coming of age story that takes place at a Wisconsin resort. Follow Jackson and Erin from the time they meet as children, through their turbulent adolescence that finds them separated from each other until an emergency in Jack's life brings them back together in adulthood. Tomahawk'd is full of suspense and twists that will make you want to read from cover to cover in one sitting. You'll find characters to love and hate. You'll find the parents that every child wants and the ones that shouldn't have had kids. Most of all, you'll find an entertaining story with two girls you will wish you could know in real life.
Triangles - Dreams2fly [alt/original/unfinished]
Lee is a self-made man – literally. Dubbed "The New Mr. Rogers" for his work on public access children's shows in the city that birthed the original especially for the new one he produces and appears on, he's at the very beginning of a promising career. He's even in the early stages of producing a feature film based on his popular TV show, a step that could open all kinds of doors for him.

However, someone out there has taken an exception to his success and begun threatening to reveal the secret that is his identity to the world. And, in this day and age in conservative America, there are definitely public opinions about some things that are very hard to overcome – especially when children are involved.
Trip Of A Lifetime - Foxfire [Incomplete]
Alex Mayer is on a solo adventure to Australasia to escape her overbearing family and find her true self, but what she didn't intend on finding was a beautiful woman named Kelly Ryan who was about to complicate her life further...
Triumph of Love (A) - D.J. Belt


Orbiting their distant home-planet, space station-keeper Sara and shuttle pilot Jeni are in love. The kicker is that, in their country, their love is forbidden three ways: race, religion, and gender. What will they do when they're discovered and face the prospect of arrest?
Triumph of Love, Part II: The Magic of the Solstice - DJ Belt
In this sequel to A Triumph of Love, Sara and Jeni's first Solstice in Southern Breeze are full of surprises. In the midst of the social chaos on their planet, they redefine the meaning of "family" for each other in a most wonderful way.
Trust Our Tomorrows - Carrie Carr [Lex and Amanda Series|Incomplete]
Set a few years after To Hold Forever, Lex, Amanda and their family are back. The last year has been hard on the family - drought, the loss of someone dear, and raising two children had kept both women on their toes. Lorrie is now ten, and she gets into as much trouble as Lex ever did. Melanie is in first grade and is much less likely to get into things, at least without her sister's help. Amanda is busy trying to juggle work and taking care of the house, while Lex struggles to keep the stock they own alive
Truth or Dare - Meghan O'Brien


Jena is reunited with her college friend and long-term object of devotion, Ryan, at a weekend reunion hosted by mutual friends. She finds it more difficult than she imagined to remain platonic, especially in light of a revealing game of Truth or Dare.

(click to buy)

Tumbleweed Fever - LJ Maas
In the Oklahoma Territory of the old west Devlin Brown is trying to redeem herself for her past as an outlaw, now working as a rider on a cattle ranch. Sarah Tolliver is a widow with two children and a successful ranch, but no way to protect it from the ruthless men who would rather see her fail. When the two come together sparks fly, as a former outlaw loses her heart to a beautiful yet headstrong young woman.
Twice Reflected - Aurelia
This is the sequel and continuing adventure of Reflected Passion. One day Dale Wincott took a little unexpected trip.... through the looking glass. A mirror provides the means for reflection BUT sometimes reflections are returned in the direction from which they came. What was twice reflected besides a passion powerful enough to encompass more than two centuries. And what are the reflections in the mirror now?
Twilight - Kim Pritekel
Summary Pending
Part 1 Part 2 Part 3 Part 4 Part 5 Part 6 Part 7 Part 8 Part 9 Part 10 Part 11 Part 12 Part 13 Part 14 Part 15 Part 16 Part 17 Part 18 (conclusion)
Twisted Secrets - Mickey Minner
Two Souls, One Truth - WhymZ


Summary Pending
Unbreakable - Blayne Cooper (Advocate)


Five women - four decades. Can the bonds of friendship and love weather the challenges?
Uncertain Twilight - sparky


In the future, a lonely shuttle pilot meets the woman of her dreams; or does she?

(click to buy)

Undeniable - KM
This is a simple story centered around a law firm in which a new associate is assigned to work with a newly made junior partner, and the growing attraction that develops between them as they work closely together, overcome past hardships, and their journey as they discover their deep feelings for each other.
Unexpected - phair [Incomplete]
Summary pending
Unseen Forces - Drew Meyers
Quinn Pascal decides to leave the city for a small town and perhaps find a quiet life. Unfortunately the house she buys comes not only with a few pieces of furniture, but it's own ghostly resident. Or maybe it is fortunate. The quiet life can sometimes be so overrated.
Until Soon - Indigal


Rated R (with some explicit same-sex love scenes): Andrea, (Andi), a second year English grad assistant at a small New England college, has spent the last few years healing physically and emotionally after a serious injury and a heartbreaking relationship. At a school function, she meets Cara Jane, (CJ), a senior basketball star on the college team, and both women are immediately drawn to each other. Over the course of several months, they discover what it means to make important decisions concerning love and relationships.
part 1 part 2 part 3 part4 part 5 part 6 part 7
Untitled - Boudica X [unfinished]
summary pending
The Valient Series - D
A Valiant Mind - D
The next story in the 'valiant' series... Just an FYI, A Valiant Mind is complete. There are no more parts to that story. The next installment is the next story in the series - A Valiant Nightmare.
What I Did on my Summer Vacation - Andi Marquette
Tristan, a grad student in archaeology, is spending her summer in Athens. She has a rep among her student colleagues for her free-wheeling attitude toward sexual liaisons. Tristan insists there's more to her than that, but she's having a hard time convincing the object of her true affections of that.
Winning Touch - Kim Pritekel [unfinished]
A grief-stricken Olympic skater wants nothing to do with the coach her manager has hired for a comeback, especially since that coach was once her rival before an accident ended her Olympic dream.
Witch of Greyfriare (The) - L.M. Townsend-Crow [alt/original/complete]
Wolf At The Door by Erin O'Reilly
Parker Davis is determined to get back in the good graces of the super secret covert group known as Department of Covert Operations (DOCO). She will do whatever is necessary-even if it means letting someone else be the team leader. When the mission she is assigned to as a sniper goes wrong, Parker finds herself on the run with the mysterious team leader Remington Wolf. Parker's life is in the Wolf's handsójust as the Wolf's is in Parker'sóas the two women find themselves fighting for their lives
World of Change (A) - JM Dragon
Zero Ward - Kim Pritekel
---
A B C D E F G H I J K L M N O P Q R S T U V W X Y Z
---
Questions, Comments or Broken Links can be be directed to The Academy