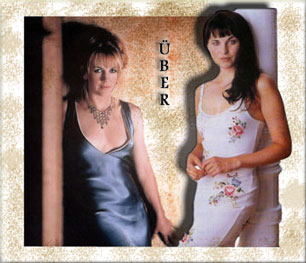 Alternative Uber Fiction
---
last updated: February 13, 2011
Nano Series by Jules Mills

1.
Equilibrium - Newton's First Law [über/kinda finished/definitely alt]
As Lunacy said way back in 1998, this is a story that will make you keep reading through the night. Dana "Doc" Papadopolis and Dr. Grace Wilson meet and face trials and tribulations yet keep finding themselves back with the other, unwilling and unable to let the other go. Please if you read this, remind Jules how much we miss her writing! Adding the first 'book' of eight completed. The rest will follow shortly
2.
Moment of Force
I can't do this as well as Lunacy so, with her permission, I'm going to use her words
Jules picks up the incredible uber tale she began with NANO #1: EQUILIBRIUM NEWTON'S FIRST LAW immediately where that one left off - with Grace having to return home after news of her father's illness. It's an opportunity for Dana to meet the folks and for the two women to continue healing the ex-con's fragile psyche, but the pressures of family can get overwhelming - particular for someone whose past never seems far behind and whose fears are always lurking just beneath the surface. If these two haven't grabbed your heart yet - they'll have it solidly in hand throughout this sequel as they struggle to fit into one another's worlds, as they struggle against insecurities and at times even their better judgment to try to make a life together against all odds. Yet the present sometimes pales in comparison to the challenges of the past - and the darkness which always seems to reside there for one of them. This is a sequel which EASILY maintains the quality of its predecessor. Great characterizations, great story, great drama, GREAT writing. It gets my HIGHEST RECOMMENDATION!!
3.
Carnot Cycle
Synopsis and review courtesy of Lunacy
Set a couple of months after NANO #2: EQUILIBRIUM MOMENT OF FORCE, this third story in the NANO SERIES finds a furious doctor Wilson refusing to accept any excuses from her now ex-partner Dana Papadopolis for her recent abandonment. Soon enough, however, her anger gives way to an acute despair when it becomes clear that the ex-con is not well - in fact, Dana is slowly becoming the victim of a killer she knows only too well but before surrendering to that darkness she needs to see the woman who gave her, if only for a little while, a glimpse into a life she's never deserved. This latest entry in the series is perhaps the most poignant as we see the extent of Dana's guilt for a past that once consumed a young girl and has never allowed her peace since. The hurt/comfort and futuristic qualities in this third story are particularly pronounced - presenting us with a premise that should make THE NANOVERSE a *very* popular web site in the weeks and months ahead. Another success in the making by one of the most welcomed additions to world of XWP fanfic this year. Jules' third entry in the series also gets my HIGHEST RECOMMENDATION!!
4.
NEWTON'S SECOND LAW - GRAVITATION
[review from Lunacyreviews.com]
Jules continues one of the best series EVER in XWP fanfic with the fourth entry in her NANO SERIES. Set a few months after NANO #3: THE CARNOT CYCLE, the story has Grace and Dana taking it easy at the young doctor's beach house while her partner recovers from her recent bout with the beta virus. It's a wonderful time for the two of them as they revel in a new intimacy made possible by Dana's emotional as well as physical healing...but it is also a happiness fated not to last for there are forces at work determined to take it from them - individuals that know just how deadly and valuable Dana Papadopolis is and will never be willing to give her the peace she craves. If you haven't yet discovered this OUTSTANDING series you are doing yourself a CRUEL disservice. Jules has created in Grace and "Doc" two of the most appealing representations of Xena and Gabrielle to date - placing them in an uber scenario that is cleverly constructed and utterly fascinating! Hold on to that ticker too because judging from the first part of NANO #4 this one is going to be a heart-stopper. RUN don't walk to the NANO SERIES and catch up with the rest of us that are gobbling up this series :) NANO #4 gets my HIGHEST RECOMMENDATION!
Narcoleptic's Guide to Romance (A) - Vivian Darkbloom


A not-happy story that briefly chronicles the endgame of the not-happy relationship of Kate, a religious narcoleptic, and Danny, a cute boozehound with a trust fund. Told largely from Danny's POV.
Near Miss - Meghan O'Brien


Two strangers meet and connect when they both narrowly avoid injury during a traffic accident.
Nearest Distant Shore (The) - Little Mac


Can Federal Agent Morgan Sumners, faced with the most clever serial killer of the century, keep her mind on the case while the beautiful niece of Janice Covington launches her own assault on Morgan's heart?
Need for Speed - K [unfinished]
After two years with no contact, Catherine is surprised to receive a call from a former classmate, who has an unexpected proposition.
Needing Her - frotu


Jessica's new in town and gets introduced to Laura by a co-worker. Hang out in Jessica's mind while they get to know each other and fall in love. To quote my beta reader "it's a good, old fashioned, getting the girls together romance."
Negative Reaction - Julie Baker (unfinished)
A freaky, fun little serial killer mystery (?) with an uncommon cast of characters. Among the diverse residents of New York City, Nancy and Bess discover each other while trying to uncover a murderer.
Part 1 Part 2 Part 3 Part 4 Part 5 Part 6 Part 7 Part 8
The New Adventures of XENA: Warrior Princess - Ernie Whiting
1.
New Day (A)
"In a time of modern technology, politicians, and terrorists, a world on the brink of nuclear Armageddon cried out for a hero. She was Gina Ryan, United States Marine Corps..." Brought together with Gabriella Duncan, United States Navy, by mysterious and compelling forces behind a shared and recurring dream of the days of ancient Greece, they find themselves embroiled in a mission of utmost urgency--the prevention of all-out nuclear war. Their only weapons are their own hearts and souls...and a supersonic stealth helicopter code-named Ares.
2.

Return of the Warrior Princess
First, they prevented World War III by blowing up an Iraqi breeder reactor that was producing plutonium for their nuclear missiles. Then they stole a top-secret combat helicopter code-named Ares and went AWOL. Next, they flew it to Greece and found the ancient Hall of Ambrosia. So what did they do after that? Well, since you asked...
3.
Just Like Old Times
Plot? What plot? Gina Ryan and Brie Duncan simply take advantage of some down-time between missions for a little shared quality time, and some very much needed emotional healing. And then there's the reintroduction of an old ally...
4.
What Friends Are For
Summary Pending
5.
Meet The In-Laws
Summary Pending
6.
Family Business
Latest in the series...
Welcome To The Neighborhood
Forced to face the possibility of early retirement, Colonel Gina Ryan, USMC, and Captain Gabriella Duncan, MD, USN, want nothing more than to fit in with the rest of their new community. The question is, will an ass-kicking warrior and a mouthy Navy doctor find acceptance?
New Day Dawns (A) - Ri


Two people meet during the chaos of natural disaster thinking that they would never meet again. What are the odds they would meet in the same city thousands of miles away? What do the fates have planned?
New Life - A.K. Naten


How many chances does a person get at a 'new life'? 'Period piece' set in the 1850's Oregon territory; Drama; Angst.
New Season - Kim Pritekel


Jenny, a Minnesota college girl's hockey star, has come home to take care of her sick mother. After meeting a mysterious woman at a party, and dealing with her mother's inevitable death, her life changes forever.
New Season: Joie's Story - Kim Pritekel


Same story: just from Joie's point of view
New Year, a New Life (A) - Sunflower


An unexpected guest may change Alison's life forever. The complications of an ex-lover, a new one and adopting a child prove to be thrilling but not too much. Tag along on the story of two almost strangers who are put together, by the power of fate, in hot Rio de Janeiro, Brasil, around New Year's Eve. After all, the hope of a New Year and a New Life is always fueled by true love.
New Year's Girl(The) - CXW
Depressed and moody, Natalie Brighton gets coaxed out of the confines of her stuffy apartment for a night on the town with her best gal pal. Quickly, Natalie discovers that love at first sight can indeed occur, and that New Years Eve can easily become the best holiday around.
Night at the Beach (A) - Crow


It's a short one. It takes place between episodes "Who's Gurkhan", and "Legacy" Xena and Gabrielle talk about the loss of their parents, and love they have for each other Well they show it more than talk about it.
Night To Remember or A Little Romance Never Hurt Anyone - MikkiDee


This is a rock & roll fantasy in which a gorgeous singer and the love of her life finally come together with a little help from a (sort of) Fairy Godmother.
Night to Remember (A): A tale of self-discovery and love - ricersanfriscotreat
sex is only on their minds, maybe one curse word, please be 18+, no infringement intended, and blah blah so on. Source: Me! This little fantasy was born from one of my favorite 8x10 glossies of the series XWP. Warning, this is my first attempt.
Nightfall - Miri [unfinished]
An accident leaves Chief Medical Officer Eleni Sirtis in a wheelchair, paralyzed from the waist down. When she returns to Earth for treatment, she is accompanied by a nurse named Selene. A tentative bond begins to form... can it heal?
Nights of Silk and Sapphire - Amber


Dragged from a homeland of strict moral order, Dae is marched - her kidnappers into a harsh world of desert dunes and wind-carved stone. The rescue she prays for, however, may not offer respite from her fate, as she finds herself in the harem of a mysterious, dark-haired woman with flashing, seductive eyes of pure sapphire ö the Scion Zafirah Al'Intisar. Plunged into a world of decadent morals and utter sexual freedom, Dae struggles to come to terms with desires she has never felt before in her life. As love and lust collide, these two women slowly forge a bond...as one learns to listen to her heart, and the other hears the call of her awakening body.
No Fool like a Young Fool - S. X. Meagher


Summary Pending
No Guarantees - Greek Warrior (Joan)
A very short story about a woman reminiscing on her life and lover.
No Ocean Deep - Cate Swannell


The sequel to Heart's Passage...
None So Blind - LJ Maas


It's been almost 15 years since Chicago writer, Torrey Gray has set eyes on the woman she fell in love with so long ago. Taylor Kent has become one of the most celebrated artists in the country, and has spent the last 15 years trying to, unsuccessfully, forget the young woman that walked out of her life, stealing Taylor's heart in the process. Best friends forever, neither woman has ever been able to find the courage to speak about the growing passion they felt for one another.
Now an unusual, but desperate request will throw the old friends together again, but this time, will either of them be able to voice their unspoken desires, or has time become their enemy?
North Star - Windstar


A war has raged across the known galaxy, destroying an empire, and killing billions. Now the battle has followed the survivors of that empire to an insignificant blue white world. The third planet in a fairly unremarkable solar system. The Earth.
Part 1 Part 2 Part 3 Part 4 Part 5 Part 6 Part 7 Part 8
Not a Stalker - Amy van Dyke
is an odd outlook at love making us all crazy.
O'Grady Series - Phair
The Consult - Phair
An all business psychiatrist learns the meaning of life one morning in the ER. This story is the first a series of loosely connected tales.
The Phone Call - Phair
Elisabeth must deliver the news of Thom's death to the one woman who cares more than herself; his ex wife. This is the second in a series of loosely connected tales.
The Appointment - Phair
Dr. O'Grady is back in the third installment of this series. Her work in the ER changed her life once already but by no means is her process of self discovery complete.

Countertransference - Phair
Dr. O'Grady continues her path to rediscovering the meaning of her career and life as she helps a troubled Devyn Tannon.

Part 1 Part 2 Part 3 Part 4 Part 5 Part 6 Part 7 Part 8 Part 9 [conclusion]
Obsessions - J. Brownell


A story about obsession and how the lives of two women and the people who love them are forever changed.
Oceanbreeze - Scout


A friendship begins in a small Southern college and ends abruptly. Years later, a marriage, a ship, and a cruise stir up memories and hopefully some answers. Finished
Odd Couple (The) - Sarkel [unfinished]
Morrisey is finally moving on with her life after a horrible experience when the unexpected and unwelcome appearance of Charlene, a woman she wishes would stay away, throws plans out of whack.
Odd Jobs - RacerX [unfinished]
A Call Girl and her client spend...time...together. Sparks fly.
Oh Avalon, My Amazon - B-Bard


Rhiannon, Celt and champion of Avalon tells the tale of how she met the Amazon Queen, Gabrielle and reunited with an old friend. Greek and Celtic history collide when Ephiny gets taken for a ride.
Okaaaay - Ri


Muriel is swept by the most beautiful unnerving tidal wave she'd ever seen. Will she survive?
Oktober Fest - Redhawk


Off for a vacation in beautiful Europe, Xena and her young lover, Rickie Gardner, are in for a sinister surprise. Sequel to Only One
Part 1 Part 2 Part 3 Part 4 Part 5
Part 6 Part 7 Part 8 Part 9 Glossary
Old Fool is an April Fool An) - T. Foolery

Summary Pending
Old Wounds, New Beginnings - Kim Pritekel


Jaime has spent the last 7 years of her life in a Colorado prison, and is getting out. Deciding to start over, she heads to Texas to work on a ranch, and find peace, forgiveness, and maybe even love. How can a harmless day at the beach go so wrong?
Omega's Folly - Alexiares


Nothing can turn your life upside down quite like being evicted and inheriting half of an ancient house in another country from an eccentric relative. This is something Benton Basilas knows on a personal basis. What she doesn't know is if she has jumped from the frying pan and into the fire. A wild trip in a rattling jalopy will keep you guessing, after all.
Part 1 Part 2 Part 3 Part 4 Part 5 Part 6 Part 7 Part 8 Part 9 Part 10 Part 11 Part 12 Part 13 Part 14 Part 15 [conclusion]
On A High Cliff - B.S. Raven


On A High Cliff is a Halloween tale, with a bit of a bizarre twist. The idea of falling in love had never occurred to writer, Jennifer Bauer. That is, until she buys a white cottage on a high cliff bluff and meets a tall, mysterious, notorious Architect named Lian, who regularly strolls the newly purchased estate, without permission, and as if, it was her own domain. The encounters dig up forgotten times, and the two uncover an old secret· A Secret that somehow, concerns their future together. It's a alluring tale of love misunderstood and its wondrous consequences
On The Fast Track To Love - Norsebard
When author Kathleen O'Malley is asked by renowned race car driver Francesca Carrara to write her biography, little does she know that the charismatic and strong-willed woman will turn her life upside down, and awaken feelings in her she thought she'd never experience again...
On the Way to Kilimanjaro - Dark'n'Light
Take the independent, self secure CJ, who has just been transferred from New York to Kansas City College, the young rebel is not known to be the nicest person on earth, and is not happy about being in Kansas then put her in to share a room with Qwin, the shy, emotional artist, who is very insecure and cannot find her path. The two of them are not best friends and they despise the other, so will a school trip to Kilimanjaro help them along to find compassion and friendship, or will it make a deeper rift between the two?
On the Wings of Chance - Kim Pritekel


Summary Pending
Once Upon an Uber: A Fractured Fairy Tale (A) - TaraKerry


In this fractured fairy tale, Snow White gets help from her Fairy Godmother as she battles nasty trolls and an evil huntress in her search for the sleeping beauty taken away by Prince Charming.
One (The) - Alex Tryst


Two friends reunite after several years apart to find that they are both searching for that special someone. Setting out on a cross country road trip, the friends soon realize that love sometimes is in the most unlikely place, but will either of them take a chance?
One (The) - bsoiree
When Kendal, a NW police detective, has an unusual meeting at a convention with Savannah, a DA from the South, the question becomes, "Is Kendal 'The One' for Savannah?"
One Day the Heavens Opened and Sent me an Angel - JS Connolly
This is the story of Riley, a security guard, who's heart aches for the love she has yet to find, and Cass, a new truck driver who may be the answer to her prayers.
One Flew Over the Chakram's Nest - Stacia Seaman


All the uber cliches I could think of, all in one place.
One Foggy Night - Colleen


One wrong turn leads to a frightful Halloween night.
One God of War - Elad Avron


Author's Note: This is my first try at alternative Fanfic writing, and is also my first try at writing a full story in English. The story is inspired by an RPG (Role Play Gaming) storyline I have from a Star Wars RPG club. Damie and Ricky, my characters (who are as a matter of fact based on Xena and Gabrielle), are two members of the "Aurora Force" squad of the club called "Rebel Squadrons". After traveling together for a couple of years, Damie and Ricky have discovered that their love was more than just a love of two best friends, and then an entire storyline starts that is based on that, and is the origin of the next story, thus I wouldn't tell you anything else about it in order not to spoil your reading. When thinking about the limitations of transferring a Star Wars High Tech Science Fiction universe into the old mythological Xenaverse, I asked myself if I wanted to make this an Uber story or not (Uber means taking the characters to the present day). Eventually, finding absolutely no way to put the storyline the way I wanted to, I have decided to make this an Uber story after all. Also, I define the story as "Alternative". And while it does not contain any extreme sexual imagery, it does contain some sexual imagery. The reason I defined this story "Alternative" is due to its alternative (literally) nature, as well as its way of showing an alternative present. Note that since this story is fictional (well, duh!), all of the "Military regulations and rules" in the story are of course made up. So between my shallow English, my US-military ignorance, the so-called alternative story and the Uber, I hope you enjoy the story! - Elad Avron
One in a Billion - Candideyes


This story begins where Waking Up With the Conqueror ended, with Desire' and Danni kissing in a redneck bar in Las Vegas while Mattie and Annie look on. Follow the adventures of these two women as ancient souls reunite and reignite their love for each other until a dark mystery threatens to tear their union apart forever. Find out if they can overcome the terrible secret that threatens seperate them for eternity.
One of Those Days - Xenalicious


A wonderful über PWP!
One Perfect Rose - Colleen


When Evan steps in for her delivery boy, little did she know that the roses she was about to deliver would change her life. Stunned by the beauty of Lisa, she finagles a way to meet her again and this time delivers her heart.
Only One - Redhawk


The beginning of the Infinity series, Xena is an Immortal in twentieth century Portland, Oregon.
Part 1 Part 2 Part 3 Part 4 Part 5 Part 6 Part 7 Part 8 Part 9
Only You - Nancy Hill and KatLyn


Summary Pending
Opening Doors - JS Connolly [unfinished]
Tanner is a beautiful and successful lawyer whose life changed years ago when her wife and child were killed in an accident. Meg is her faithful and devoted assistant, and has been in love with Tanner for years. Can she get her to open her heart again or is it too late?
Opening Up - Verrath


A VERY short piece about the importance of trust in ... certain situations ;-)
Operation: Annihilate! - Nene Adams


(Or, A Faithful and True Account of the Thrilling Adventures of the Galactic Super Squad, With Extra Helpings of Big Scary Aliens and Some Gratuitous Sex, Hold the Anchovies)
Original Sin - Malaurie Barber [unfinished]
This is the story of Maxine and Ann...or should I say sister Ann?:-) Ann is a nun living in a convent and Maxine is a forgotten Hollywood star who has fallen into drugs and alcohol. She is sent to Ann's convent by her brother and manager to try once more to kick the habit. There she meets the young nun...
Part 1 Part 2 Part 3 Part 4 Part 5 Part 6 Part 7 Part 8 Part 9 Part 10 Part 11 Part 12 Part 13 Part 14 Part 15 Part 16 Part 17 Part 18 Part 19 Part 20
Other Woman (The) - Geonn Cannon
Michelle inadvertantly sees the woman she loves out with someone else.
Our Grand Western Adventure - Xenalicious


Randy and Logan's vehement distaste of each other prompts their boss to send them to a Western-style team building effort under directons to 'shape up, or else'. Does it work? Read on.
Our Love is Written on the Wind - JS Connolly
Cass and Riley have been together for two years and as Valentine's Day approaches Riley has a gift for Cass that will change both of their lives. Sequel to One Day the Heavens Opened and Sent Me an Angel.
Our Reunion - Jenah


Samantha and Tina are old highschool friends who reunite at their class reunion. Will Samantha be able to help Tina overcome her haunted past?
Part 1 Part 2 Part 3 Part 4 Part 5 Part 6 Part 7 Part 8 Part 9 Part 10 (conclusion)
Our Souls Series - Tragedy 88
The Out - The Fallen
In a small snowbound town in North Dakota, Cassie Wayward goes to work at the local bank just like she does every other day. But she'll soon find out that today is no ordinary workday. Zoe Mercouri, a notorious professional criminal, is intent on robbing the bank with the aid of her small gang. And Cassie soon realises that the robbery is the least of her troubles. Why has Zoe contacted the FBI to tell them she's robbing the bank? What is it that Zoe is after? And what does any of this have to do with Ancient Greece?
Out of the Mouth of Babes - Littlespit
Sometimes it takes a child to lead them...
Outlaws and Allies - Ernie Whiting
For the last seven years, Valerie Ryan has lived a peaceful life in the woods of Allied Territory in northern California, enjoying the freedom and purity of Nature with her partner Jasmine Tanaka and their seven-year-old daughter Sierra. Unknown to them, there is a sinister plan afoot; the Foundation for Law and Morality, the fundamentalist religious organization that now controls the United States government, is seeking to re-open the Betatron Nuclear Power station––an unstable nuclear reactor that Valerie closed down years ago through the use of black magic. The Foundation has even gone so far as to ally themselves with a Satanist––one of their own worst enemies––in an effort to bring Betatron back on line. After failing to remove her curse through his own efforts, the Satanist quickly seizes upon a new plan--to kidnap her daughter and hold her hostage. His demand is simple: "Remove your curse from Betatron, or I'll kill your little girl."
Outcome - Kim Pritekel


Andi Littman, school brain and wallflower gets the chance to meet Haley Corregan; smart, beautiful, when Haley needs help with a class. They soon form a bond that may just tear them apart.
Part 1 Part 2 Part 3 Part 4 Part 5&6 Part 7&8 Part 9 Part 10 Part 11 Part 12 Part 13 Part 14&15 Part 16 (conclusion)
Pain's Fairytale - Carola "Ryûchan" Eriksson
From the hidden bowels of society, a forgotten soul yearns for the company of the princess on high.
Paradise Found - Cruise & Stoley


Is it possible to put the ghosts of the past behind you and find the strength to believe in love again? Jordan Milano didn't believe it would happen to her anytime soon and had become quite complacent in her single life. The green-eyed blonde didn't expect her life to be changed so dramatically by the tall, blue-eyed woman she met in the tropical island town of Key West for their annual women's festival. The arrogant athletic beauty, Bly VanDewark caught a glimpse of Jordan and knew she had to meet the attractive blonde, but her pursuits were halted by her forward approach with the woman. She was accustomed to making conquests instead of relationships and Jordan's brush off forces her to take a good look at herself and her motives. This was going to be no simple conquest for an evening and Bly knew this in her heart, and it scared her. Here, amidst the passion of a tropical paradise playground it is easy to fall in love and play a game of make believe. But, what about tomorrow and the realities of the present? Will they find the way through the darkness of their own insecurities to their Paradise Found?
Partner Trap (The)- Scully


This story brings together on a vacation in Provincetown two popular sets of characters Dar/Kerry and Harper/Kelsey.
Passion's Fool - Kim Pritekel


SWP - sex with a plot! Do not read at work
Passion's Plaything - Sally Budd


Anything is fair game in this parody of alternative fan fiction, which was written round robin fashion by the lunatic fringe of the committee collectively known as Sally Budd. Their intent, they say was: "to commit, in as humorous a fashion as possible, every faux pas to which fan fiction is prone; ALL the errors in grammar, punctuation, and spelling are deliberate. (That's our story, and we're sticking to it.)
Past and Present - Niki
Kelly is a hard-working reporter sent out to report a murder-story, but she soon finds out that the murderer isn't nearly as interesting as the cop she meets and immediately has a fight with. Sydney is a cop doing a job she isn't sure she can do anymore, but she soon finds out that that seems to be the least of her worries when dealing with the complications a reporter can bring into her life.
Part 1 Part 2 Part 3 Part 4 Part 5 Part 6 Part 7 (conclusion)
Past is Present - Zee


A bodice ripper or sweeping epic, either way its a ripping good tale. A time of college students and strippers. Two women with a past history struggle to find love together in the present, despite baggage and a psycho ex. While their friends sit on the sidelines making snide comments.
Past Tense of Love (The) - Denic [unfinished]
The story of a heart broken young woman of modern times who, unbeknownst to her, has crossed the boundaries of time. Here she will either find death, which she so desires, or a new life of love if she can only open her heart and embrace it.
Pathfinder's Journey - S. Derkins
The fourth in the Mother Earth series. Cierra and JP are expecting their first child and the first of the newcomers arrive at the community
Part 1 Part 2 Part 2 Part 2 Part 2 Part 3 Part 4 Part 5 Part 7 Part 8 Part 9 Part 10 Part 11 Part 12 Part 13 Part 14 Part 15 (conclusion)
Paying My Penance - FC Barnes
A farm girl home from college and a Minister. Neither Heaven nor Hell could keep them apart.
Pendragon Cove - Barbara Davies


April in Cornwall. Violin maestro Claudia Holbrook is teaching her first master class at the Pendragon Cove Musicians' Seminar, and it isn't going well. Can Bethany Tredinnick turn discord into harmony and in the process bowl over the prickly woman she calls 'Miss Snooty'?
Perfect Moment (The) - Anne Azel


Alexandria has gone all out in preparing the perfect setting and dinner for her girlfriend Emily on Valentine's Day. Fate seems to have other ideas and plenty of frustration for Alexandria.
Persistence - Alex Tryst


Two women trying to find their place in the world while longing for love, and one blonde's determination not to give up on the love she has for her hero.
Peter's Choice - Meghan O'Brien
A woman spends the weekend at the beach house of her brother's best friend. Lying in bed one evening, she ponders some interesting goodnight words.
Pizza & Wine - Emyster
Nothing like cold pizza and wine.
Place Called Home (A) - Damnation


Starring Felicity Mitchell and Rei Conrad, this is a tale about a girl who left her hometown to get away from the memory of her recently deceased parents. Along the way, she meets and finds a friend in a college professor and discovers that sometimes, running away gets you closer to the one thing that you're trying to get away from initially.
Place to Dance (A) - Ali Vali
How do you build dreams? For Jolly Andolini it was easy. They started on her drafting table and came alive under her talented hammer. Jolly is an architect who finds her true love at an art exhibit opening, or does she? "A Place To Dance," is the story of Jolly and the women who make her life both interesting and complete.
Part 1 Part 2 Part 3 Part 4 Part 5 Part 6 (conclusion)
Plain Lands: Meeting of Heroes (The) - Christina Anton [unfinished]
It has been 300 years after the long-lived race of the elves had been forced to leave the Plain Lands, leaving humans as the only occupants. Kayna Davermost, a cleric of the benevolent goddess Krystia, and Vera Linshaw, and ex-soldier from the army of Chae, will be brought together to learn the past of the land in which they live. With the company of a few new friends, of course.
Part 1
Part 2
Planter's Punch - Barbara Davies
Sequel to 'A Pirate's Treasure'. Alice's father hires another pirate to get his daughter back.
Play It Again, Sam - Ali Vali


After all the spoilers I've been reading all week, I thought everyone would enjoy a sappy love story.
Part 1 Part 2 Part 2a Part 3 Part 4 Part 5 Part 6 Part 7
Phantom (The) - Kim Pritekel


Erika gets pulled into going to a Halloween masquerade party, dressed as The Phantom of the Opera. Will she find her Christine there?
Post Traumatic Treat - Phair [Incomplete]
Summary pending
Practical Lies - jp


I'll rate this one with a BIG FAT R, pushing NC-17. It's a little raunchy in some places. Anyway, the gist: A smart-mouthed mob enforcer gets stuck with the job of babysitting a so-called politicians' cocky daughter and winds caught in the middle of a government conspiracy and the worst four days her personal history.
Primal Touch - Amber


Deep in the wilds of the Indian jungle, SOMETHING is stalking the men who come to hunt the endangered tigers. Silent, mysterious, and utterly lethal, it leaves no trace except the mauled bodies of the slain. Ashley Richards is a young wildlife photographer, drawn to the jungle by rumours of a rare white tiger. What she finds instead is something far more unique and unexpected...something that will change her life forever.
Part 1 Part 2 Part 3 Part 4 Part 5 Part 6
Private Dancer - Vertigo


A story of a frustrated club owner who feels something missing in her life until she meets a bartender.
Promise Me Forever - Ali Vali


This is the sequel to "To Capture a Heart." The story starts four months after Sarah and her son Samuel have come to live at the palace with Ramses. They are getting ready to move to the summer palace to prepare for the birth of their second child when tragedy strikes. It is the second story of the woman pharaoh and her Hebrew slave queen.
Promises to Keep - Irish
Devlyn always keeps her promises but for this one she'll need help.
Purple Irises - Ali Vali
Summary pending
---
Questions, Comments or Broken Links can be be directed to The Academy