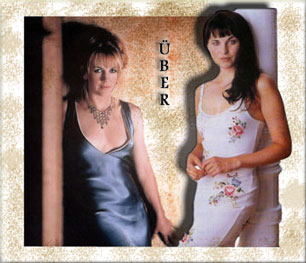 Alternative Uber Fiction
---
last updated: June 8, 2011
Karate Lessons and More - JLNicky [PWP]
Lisa has a crush for her Karate Instructor. Ms. Sashe has an eye on her most promising student. Is it just for her skill or is it more?
Kendal - Claudette Dillard


The story of two women, Kendal and Nicole, who meet under trying circumstances. The do the usual relationship dances during their courtship with a slight twist since Kendal is pregnant.
Key (The) - Emyster
Waking up can be a pleasure.
Kicker's Heart - Lois C. Hart


Kicker is given the chance to overcome her family's poverty and becomes a stable hand at a young ladies Academy. She is sent to fetch the new teacher, Madelyn who is taken with Kicker's honesty and innocence. When the young master shows interest in the teacher, Kicker's heart begins to awaken to feelings she thought she would never have.
Kiddie Corral - Sheri B


[Academy 101 Story Premise] The star and creator of a local kiddie show is about to get a new producer, one with whom she has a past.
Knew It Was You - Heartbrkn Bard


Well, it's a PWP.
Knowing Me, Knowing You - Jaden
A weekly (Hopefully) episode story that follows Janna Ross on her quest to find true love.
Episode 1
Janna has a night out with her best friend Karen, and comes away with something unexpected....
Episode 2
Janna deals with a few of her fears and insecurities when asking Aaryn out.
Episode 3
Episode 4
Janna spends time with Aaryn in her apartment after their date.
Episode 5
Episode 6
Küssen Des Banditen - L. A. Tucker


A prelude in which Chloe and Marcy drive around through eerie neighborhoods on their way to a Halloween party.
LA Metropolitan - R. Nolan


Falsely accuse of molesting a patient and betrayed by her closeted lover. Dr. Kimberly Donovan heads for California in hopes of a fresh start at LA Metropolitan.
Lady Litigators - bsoiree [unfinished]
Life evolves as two competing female litigators at the same law firm test both the depth and character of their personal and professional rivalry.
Ladyhawkeüber - Carola "Ryûchan" Eriksson
A very short über-joke, sprung from the "what if we'd write a Ladyhawke/XWP über" question.
Lakeview Saga (The) - Shannon [unfinished]
As unexplained events begin to transpire in the small American town of Lakeview, Maighread MacLachlan is sent to investigate. She and her partner, Lakeview police officer Athena Horne, wind up with one mystery after another as they slowly realize their deepening feelings for one another.
Last Hurrah (The) - JW Heart
Well after a long wait its finally here, the 4th and last installment to the Trace and Shannon series. So grab a cup of coffee and settle in to hear about Trace and her friends as well as a few new additions to the "family". This is a part of a series so it would probably be best if you started at the beginning with Summer of Need, Meanwhile Back at the Ranch and Winter of Discontent. Have fun and don't try this stuff at home.
Last Night - Lariel


Charlie and Emily are reunited after some time spent apart, and the two lovers spend the night together reliving their relationship. Will things ever be the same for them, when morning comes?
Last Stop to the Thames - J. Gormley
In the depths of the London below the city many know and love, mischief and mayhem abound when an ambitious journalist meets a few interesting characters.
Learning to Trust - Jules Matthews


Jace, the director of a college Achievement Center has a new graduate assistant, Taryn Murphy. Both women cannot avoid spending time with each other, as they are part of an extended family. Both have their secrets and reasons not to trust, but when they find themselves opening up to each other, they realize their problems are very similar. Can a friendship develop between them or will their pasts haunt them forever?
Part 1 Part 2 Part 3 Part 4 Part 5 Part 6 Part 7 Part 8 Part 9 Part 10 Part 11 Part 12 Part 13 Part 14 Part 15 Part 16 (conclusion)
Leather and Lace - Greek Warrior


After terrorists threaten a US Ambassador, Captain Chandler a member of an antiterrorist organization, is assigned to protect the Ambassador and his family. --The Captain and Kris, the Ambassador's daughter, are attracted to each other. --Can the two women, thrown together under less than ideal conditions survive the terrorists and Kris' family long enough to find love?
Leave it to Chance - Dana L'Wood
Chance is a leader of a motorcycle gang in San Diego known as the Road Wolves. They are a vigilante group that intervenes in much of the crime that is overlooked when it concerns women and children. This is actually the third story of a series I started about Chance and her lover, Tracy. The first two are pwp. This involves Chance in pursuit of a group of white slavers picking women off from bus routes in Southern CA. It is unusual for her to stray from the city limits but this time, Tracy's cousin is missing. Chance and her gang go through some rough spots but they prevail in the end.
Legacy (The) - Colleen [unfinished]
Sequel to Haunting (The)
Legacies - David Duncan
When Clark is exposed to a strange cosmic virus, can Xena, Gabrielle, Eve and the others get him a cure in time? (xover--Forever Knight, Andromeda, Mutant X and Smallville) (R)
Lessons - Kim Pritekel [unfinished]
Chase Marin is a girl with a mind all her own starting herfirst year of college at the University of Arizona. Fighting the pressures of her family her entire life, it's her time to shine and be what and who she wants to be. Dagny Robertson is a grad student teaching an undergrad Psychology course where she sees a young woman who had meant so much to her when she had been younger. Chase had been her charge during Dagny's fourteenth year, and she had never forgotten the young girl who's spirit and enthusiasm for life had touched her so deeply. Now that young girl is her charge yet again as a Freshman in her Psych 101 class.
Part 1 Part 2 Part 3 Part 4 Part 5 Part 6 Part 7 Part 8 Part 9 Part 10 Part 11 Part 12 Part 13 Part 14 Part 15 Part 16
Lecciones de Karate y mas (SPANISH VERSION Karate Lessons And more) - JLNicky
Lisa has a crush for her Karate Instructor. Ms. Sashe has an eye on her most promising student. Is it just for her skill or is it more
Letter to my Lover (A) - S. Lee


[PWP] *Do Not Read at Work*
Musings on a rainy night wishing my lover were with me. Is it written for anyone in particular or just a general lover? I'll let you make that conclusion.
"Lettre à Chaînes" Series - V. Anderson: (unfinished)
Lexicon for the Sunday Morning Sleeper (A) - Vivian Darkbloom


The sequel to Narcoleptic. Kate chooses an unusual form in which to categorize her thoughts on a variety of topics, including the events of 9/11. The only problem is that every letter of the alphabet leads back to Danny.
Library (The) - Emyster


A small story about the library...with some unusual studying going on.
Life Class - Littlespit


A school project turns into a life changing experience. Sometimes life comes and smacks you in the face...in the best of ways!
Life with The Executioner - Sabru Duniz
Two women. Very different yet so much alike. Randy Savage and Andrea Ballard, otherwise known as Catcall and Sane by their gang members, are the leaders of two of the most deadliest mafias under The Ecxutioner. They grew up under her, she made them a living...its safe to say that what Alice Cooper says, goes. Even if it means putting their lives on the line.
Life's Twists and Turns - Gypsy and EpTalk
This Uber story is about a producer and his actress wife who's final season of a successful TV series is a major concern as season five concludes. It shows a compromise of how family pulls together and it show that three women on a mission, save the day (or capture their faces for all time). The story defines where the pictures of Xena and Gabrielle come from and they match up nicely with Gabrielle's scrolls by a story-arc of a new character named Portraya.
Life in Her Eyes (The) - Debox


This character driven story follows the journey of two passionate women, through their loves and losses, and the pain and joy of just living. Rae Crenshaw and Evon Lagace both believe they have had, and lost, their chance for true love in the world, and are committed to never again exposing their vulnerable hearts to the same emotional devastation. But as fate would have it, they haven't met each other yet....
Part 1 Part 2 Part 3 Part 4 Part 5 Part 6
Part 7 Part 8 Part 9 Part 10 Part 11 Part 12
Life Worth Repeating (A) - Robin Alexander
Ever wish you could go back in time and do things all over again? Skye got that opportunity and discovered that even the smallest changes can make a world of difference. This story is rated R, for mature audiences only, due to a bad case potty mouth.
Lifetime Employment - Crow


Megan and Jodie are back but this time the setting is a small town outside of Los Angeles and considered a first time tale. Megan is a mechanic who comes across a stranded woman (Jodie). Megan helps her out but ends up getting more than she bargained for.
Part 1 Part 2 Part 3 Part 4 Part 5 Part 6 [conclusion]
Light Fantastic (The) - L.A. Tucker


This is a humorous and romantic present-day Uber, set in a small Northeastern town on the shores of Lake Erie.Sara D'Amico has reluctantly returned to Stonecreek after a decade-long absence hoping to heal and rediscover her inner strengths. Immersed in the oddest of situations with an equally peculiar set of family members, plus new and old friends, Sara helplessly falls for the charms of the somewhat unpredictable local librarian.This story touches on the varied musical themes of 'We Are Family', 'Should I Stay Or Should I Go?', 'I Touch Myself', 'Oh, What A Beautiful Mornin'.........and especially, that we are all a little 'Crazy.'
Like Porcupines - Anon2


Here's an expanded updated version of my 'bard challenge' story the actress-1, revised and complete w/ new title, disclaimer, and epilogue. Hope folks enjoy it.
Linger - Minerva


Two women down on their luck and the world in general find hope in each other.
Part 1 Part 2 Part 3 Part 4 Part 5 Part 6 Part 7 Part 8 Part 9(conclusion)
Little Ditty (A) - Ladyhawke
summary pending
Little Piece of Paradise - Midgit


Real estate agent Eden Gallagher succeeds on first try when Tori Conrad asks her to find a cottage that the tall, dark woman can rent near the historic city of Bath, England. Building a relationship with the troubled heiress won't be nearly as easy. The two women have to surmount everything from the misunderstandings to which all lovers are prone to malicious parents and an assault with deadly consequences. This contemporary uber tale offers the angst characteristic of most stories by Midgit -- as well as an insider's look at the intriguing city of Bath.
Little Ship (The) - Xenile
A little ship remembers the time that a dark mysterious woman became her captain and set sail on a race to rescue her queen.
Living in the Past: Book One - Ripples in the Water - Xenamungrrr [unfinished]
Sarah, the modern day great niece of Mel and Janice, finds the means to go back in time and save Xena from the events of "A Friend in Need." Will her efforts to change the past succeed?
Lone Stranger (The) - Zuke


[Academy 101 Story Premise] Lone is itching for some peace and a good dinner, which she gets in spades when she enters the town of Last Gulp. It isn't long before a bunch of rowdies start causing trouble and Lone comes to the aide of a young redheaded woman.
Long Nights - Windstar


The world we live in is a lie. Below it is the truth, that which we don't want to see. Some people don't have a choice, those who hunt the things which lurk in the dark corners, or those who have no memory of what the world should be like.
Part 1 Part 2 Part 3 Part 4 Part 5 Part 6
Long Road Home (The) - Kim Pritekel


Sean, a successful bookstore owner, has run from her past her entire life, and now is going to her father's funeral, dreading the demons she knows she'll face. Jenny, an abused housewife for the past ten years is trying to run from her present. Together, maybe, just maybe they can find their future.
Longing (The) - L. Crystal Michallet-Romero


An eternity of life alone leads an immortal to search for a companion in the form our her mortal soulmate.
Loose Ends - Greek Warrior (Joan) [unfinished]
Cody Lawson's early life was a series of unpleasant events. Amanda Norris was the one that bothered her the most. Can a chance encounter between the two women allow Cody to tie up at least one loose end that has haunted her for the past 20 years? (The story is finished and one part will be posted every three or four days. Four parts total.)
Lost - Erin O'Rielly


Life can throw us curves when we least expect them. Just when we think everything is as it should be, an event occurs that rocks our world changing our lives forever. It is then that life altering decisions must be made. We find ourselves drowning in an undertow that has sucked us below threatening to pull us down into its deepest recesses. Surfacing, will we cry out take me or will we struggle to stay afloat desperately trying to find safety? And, if we do find safety, will anything ever be the same again?
Carol Barngate was in her fifties wanting nothing more than to live out her life basking in the glow of family and friends. For her, life had been good both personally and professionally. She considered herself happy until an innocuous meeting started her on a journey to self discovery that she never thought possible.
Lost and Found - Xena's Girl [unfinished]
This is a story of finding the one person who completes your heart and soul and looking beyond years of pain loneliness and betrayal and opening your heart.
Lost and Found: Generation Next - Fantasy
1.
Retirement - Fantasy
A spin-off of the"Lost and Found" series. The new one is "Lost and Found: Generation Next". Some new twists in Becca and Stace's lives. Stace is going through a mid-life crisis. In short, she thinks she's getting old. The body is starting to "go south", she's not sure she wants to continue at the trauma center, etc. The fact that there has been an "addition" to the family doesn't help her outlook on life. And of course her "little voice" isn't helping her frame of mind.
Lost Heart - Patsbard


Summary Pending
Lost Souls - ladyhawke
Ash had been plagued by visions and memories of her lover Laura, ones that are driving her insane. She is offered the chance of finding out the truth and answers to all. But even she wasn't ready for what unfolded before her. This is a story of love, pain and loss. When souls become lost to each other, can they ever be rejoined?
Love, It Is A Flower - Zuke


An old woman enters a convenience store on Valentine's Day in the hopes of finding a flower to give to her love.
Love's Journey Found - Saggio (Sage) Amante
PWP. A backstory to Message in a Bottle. Marina and Lizette meet and sparks fly in this tale of instant attraction.
Love's Journey - Carrie Carr


Lex and Amanda embark on a new journey as Lexington rediscovers the love her mother's family had for her, and Amanda begins to build her relationship with her father. Both women face their journey united despite the pressures from those who would deny them their happiness.
Love on the Lam - Sarkel


In this "unbelievably unconventional love story" Bailey and Etain meet in a most unusual way. They go on the lam from the law and who knows what else!
Loves Many Blessings - Psyche_B


Danni and Brie pull together as the birth of the twins nears, while forces continue to try to rip them apart.
Love's Rendition - Tragedy 88


Grace, a young woman who waitresses at a cafe has had a long and hard life. Both her parents and brother are dead and she is on her own. Left with no one where to go she is forced to live on the streets under a bridge. Eventually she makes her way out and finds an apartment she shares with four other roommates. There is the one thing that keeps her going. Allison on the other hand was born into money and owns an art gallery. She stumbles upon Grace one day in the park sketching a picture of her. She is intrigued and offers Grace a job. Slowly things progress and a friendship is born. A lot of things happen in this story mainly revolving around Grace and her hardships of life, but Allison is there to help. Will Grace accept her help or think she's just giving charity? Will her past of being homeless interfere with their friendship?
Love Struck - Damnation


This sequel to The Day Lucy Broke Down picks up about four months after the original story. When Mach broke into a boat on a dare, spending the next five days with her ex-girlfriend was the last thing she had expected. Will they survive this journey together, or would they end up at each other's throats?
Love Therapy - Heartbrkn Bard


Summary Pending
Love Therapy - Amy van Dyke


The story of Chris and Terry and their search for stability in a world of jealousies and insecurities.
Love Thy Neighbor - A. K. Naten
How 'neighborly' can you get with people who live close to you, especially when you discover that what you think you know about them is wrong? A story about finding hope and love in unexpected people and places.
Lumberjack (The) - Vree


A woman meets a lumberjack in the woods after an accident. They fall in Love. Songfic Parody.
Lyrical Ballads - damnation
Lyrical Ballads:
Eyes On Me - damnation
Let's face it: life outside the world of fiction sucks. So, when struggling writer, Chase, tries to make something out of her lot, she wasn't expecting to go very far. Then, at a place she least expects, she finds her inspiration.
Lyrical Ballads:
Hero - damnation
How do you react when someone you barely know asks you to leave everything behind? If you take a chance in life, would it all work out one way or the other?
Maestro - Patty S.


Two women. One night. Two souls reunited.
Magic In Your Heart - Debbie Dee
1.
Keeper of My Heart
2.
Power Of Your Heart - Debbie Dee
Sam Knight knew the minute she met Cricket Jones that she was someone special. She found out how special when Cricket did her Magic of being able to move and seen things no one else could. What deep secret is Cricket going to find out now that they are close to the kidnappers. Could it cost one of them their lives.
Magic of the Heart (The) - CJ Harte


Susan Hettinger is a successful Chief Financial Officer for a venture capital company specializing in entertainment production. She sees her life as shades of gray, but likes the order and control. When M.J. Carson enters her life, Susan finds panoramic color, but she also gets chaos, passion, and a roller coaster life. As her world and her emotions spin out of control, she struggles to understand the feelings for and about the complex woman she loves.
Part 1 Part 2 Part 3 Part 4 Part 5 Part 6 Part 7 Part 8 Part9
Make a Wish - Anais


Jess, an animal control officer, and her best friend, Andi, find themselves on a rather unusual assignment. All is not what it seems when the women attend a 'mass' at a local church. On Halloween, no less. They soon discover, however, that this is not your usual garden variety church service. Jess and Andi make a hasty escape only to realize that they've lost Andi's treasured locket, an heirloom, and , must return to the scene of the....of the what? I won't reveal that:} You must discover this for yourself. Go on I dare you. Anais writes with a fluid, descriptive style that often times leaves the reader feeling like they're watching a video tape instead of reading a story. Curl up on the sofa to enjoy this short tale. To find out the fate of Andi and Jess head over to The Academy. And after you've read what becomes of them....Please Encourage The Bard.
Many Happy Returns - Annaria
A first time story about a special birthday gift the bard has in mind for the warrior, who hates surprises.
Masquerade - Colleen
This is a short, non spooky Halloween visit with some old friends.
Masks - Minerva


A Halloween story with a romantic twist.
Material Gift for a Material Girl - Sage Amante


PWP. What do you give the girl who has everything? Lor's best friend is about to find out.
Meaningful Encounter - Jules Kurre


Can a chance meeting change everything?
Meanwhile Back at the Ranch - J. W. Heart


After four years Trace returns home. The sequel to Summer of Need.
Measures Series - Candy
1.
Desperate Measures - Candy
Mystery writer, Dru Warlord, finds out that researching an old murder case can be hazardous to her health and those she cares about. Kasey Lovett, a struggling proof reader meets the writer at a publishers' party. Her agent, Gregory Michael, needs Dru's latest book on his desk as soon as possible and feels she needs some help, and thus recruits Kasey to help the stoic writer. Sparks fly.
2.
Extreme Measures - Candy
Needing a break, Dru Warlord and her friend, Kasey Lovett, accept an invitation to a writers' retreat. Iggy Pinkerton would be their hostess. No one suspects what would befall them. Another mystery unfolds for the writer and proof reader. Dru's phobia of closed in spaces would be tried to its limits. At the same time both women realize the depth of their feelings for each other.
Meeting - Hermes


This story describes the meeting of two women from totally different lifestyles who find their lives are joined and that they are fated to face lifes dangers together. One is being condemned by her family for what she is and the other is condemned by outsiders -the people she trades with- because she doesn't live her life as they think she should. As the title indicates, it is only the beginning of their new life together that is described here. I leave it to the readers to decide if there should be a continuation.
Meka's Desire - Ri


Meka was happy and successful but something was missing. Until she went on a mission were she had to step in between a Forman and Workman, looked into beautiful green eyes and felt things she didn't even know existed.
Memories of Love - Leslaureate


Jessica McElroy turns to the Internet looking for love. But is she looking for love in all the wrong places? There she meets Cynthia Jarvis, who seems too good to be true. Jessica's past, present, and future all collide, leaving her to learn to trust, love, and laugh.
Mended Hearts - Alix Stokes


Two young girls meet in a hospital and become best friends. They are separated by tragedy, but fate will bring them together again. Dr. Alexandra Morgan, a gifted cardiac surgeon, is confident, beautiful, and at the top of her profession. Bryn O'Neill is a pediatric intensive care nurse, and thrives on the challenges of caring for her patients. After 24 years, can they renew their special bond? Even more important, can Bryn help Dr. Morgan overcome the devastation of her painful past?
Metamorphosis - Amy van Dyke
is what happens when I am left alone with my typewriter too long.
Midnight Oil - Carrie Carr


While burning the Midnight Oil in an office high-rise, Monica and Geri finally take their attraction to each other to--new heights.
Misplaced People - Deviz


What's the connection between drug dealers, a missing woman, council business, Welsh architecture and Sleeping Beauty? Striker might have made a connection between two of them... But she came to London to forget and to hide... and to seek. She had other riddles to solve. But an encounter at a hospital's Accident & Emergency department turns her priorities, her life and her heart upside down.
Part 1 Part 2 Part 3 Parts 4 Part 5 Part 6 Part 7 Part 8 Part 9 Part 10 Part 11 Part 12 Part 13 Part 14 Part 15 Part 16 Part 17 Part 18 Part 19 Part 20 Part 21 Part 22 Part 23 Part 24 Part 25 Part 26 (conclusion)
Mission Beach Christmas (A) - Anne Anzel
Summary Pending
Mississippi Blues - BlueDragon


An alternative über story starring two ordinary women who meet in a small college town in South Mississippi. A chance meeting at a concert turns life upside down for the two, but they realize the ride is worth it.
Mistake Number ... - Robin Alexander


Very short PWP.
Momentary Storm (A) - Thunder Perfect


A rainstorm prompts a woman to look at a friend in a different light
Montana Journey - Amelia Sedley


It's 1910, and Jesse Tyson is working a man's job in western Montana for the newly created Forest Service. Jesse isn't happy when she's ordered to guide a woman writer from the East to Lost Soldier Butte. Reluctantly she travels to meet Annie Thomas and their horseback journey across Montana begins. They're not long on the trail before they recognize their growing attraction for each other. Together they face trigger happy cowboys, a murderous trapper and a huge forest fire.
Moonstruck - S. Berry


A sweet, funny, love story about chasing the one who wishes you'd go away, and the power of dreams. Won an honorable mention in Minerva's first challenge.
More Than Bedside Manner - Bluemoonwriter
When an accident brings Shane to the hospital, it is only through her doctor's special bedside manner that she is able to get better. But what about ethics? Is there room for that where love is concerned?
More Than There Are Stars - LouBug


Two souls find one another and a love as eternal as the stars around them. Destined to be together, Robin and Sarah will face there greatest enemies, and bask in the joy and abilities that only true soul mates can share. Join them in a fantastic outer-space adventure.
Part 1 Part 2 Part 3 Part 4 Part 5 Part 6 Part 7 Part 8
More Unlimited Sexual Favours - Cephalgia & MJ


This is the sequel to Unlimited Sexual Favors. It follows Darcy and Wilder as they further explore their new relationship and reinforces the idea that to the victor, goes the spoils.
Most Cherished Dreams - D
A Pirate on a treasure hunt...for a lovely pair of green eyes.
Mountain Love - Psyche_b [unfinished]
Two women from very different parts of the country are brought together by destiny and love. This is the story of the --trouble they go though to be together. Set in the majestic Adirondack Mountains at the turn of the 20th century. A time when survivors of the War between the States still live to rehash old battles.
Part 1 Part 2 Part 3 Part 4 Part 5 Part 6 Part 7 Part 7b Part 8
Mountains to the Sun - Amelia Sedley


Sequel to Montana Journey. A gang of poachers is causing big problems in Mountains to the Sun National Park. Annie and Jesse are assigned the job of stopping them. They quickly discover poachers aren't their only challenge as they join a pack trip of dudes in the park.
MRI (My Reply Is:) - Grasshopper [unfinished]
Vanessa is an MRI technician with an all too active mind and body. Callie is a patient with all too active heart and soul. What happens with you try to combine the four parts?
Ms O'Connor Goes to Washington - S. Lee


Follow Jordan O'Connor on the campaign trail to the U.S. Senate and to love with her ex-partner and publicist. Can she survive scandal, a new relationship, and get elected as an open lesbian candidate from Texas?
Part 1 Part 2 Part 3 Part 4 Part 5 Part 6 Part 7 Part 8 Part 9 [conclusion]
Mulligan Series - K.G. MacGregor
Mulligan - K.G. MacGregor
Summary Pending
Mulligan II: In the Rough - KG MacGregor
It's a sequel! Mulligan II follows Marty & Lou to the North Carolina mountains, where their romantic adventure continues.
Mulligan III: Teacher's Pet - KG MacGregor
In this third story in the Mulligan series, Louise confronts her regrets about hiding her true self from those around her for virtually her entire life. While she vows not to make that same mistake with Marty, a former student inspires her to undo the secrecy of her 31 years with Rhonda Markosky.
Mulligan IV: The Cart Path Not Taken - KG MacGregor
Marty and Louise enjoy a trip to Palm Springs for The Dinah. Watching history unfold on the LPGA tour, Marty can't help but envy a young golfer with a bright future, and an old friend with a ringside seat.
Murder at Bardcon - Chicago


Murder at Bardcon is filled with deception, intrigue, jealousy, murder and sex played out in the high stakes arena of the ultimate fandom as writers and fans converge at the BardÔs convention in Chicago. While Cale confronts her haunting past and Lindsey faces her own secret desires, they find love in the midst of all the mayhem.
Murder For Sale - Katia N. Ruiz


Ixtchel, a killer-for-hire with unnerving cat-like eyes, is approached by a woman to kill her lover. By accepting, Ixtchel might have gotten more than she can handle.
Murder Most Foul - Lois Cloarec Hart and C. Paradee


This story opens in the summer of 1961, a time of intolerance and danger for women who dared to fall in love with other women. The events of that fateful summer dramatically alter the lives of two such lovers, Delia and Patricia, and will change the lives of two other women, Jaye and Lindsay, forty years later. Both mystery and romance, the story tells of the undying devotion between one pair of lovers, and the nascent love between much younger women brought together - a gruesome murder that is only the end result of a long-ago tragedy.
Murder Mystery Series - Anne Azel
This series is about the life and work of the forensic anthropologist, Doctor Aliki Alberta Pateas. Come discover the bare bones of murder.
1.
Dead Fall
Planes don't fall from the sky but this one did. Dr. Aliki Pateas comes home after a long time to find herself caught up in an unsolved mystery and meets two females that will change her life
2.
Dead Funny
There is nothing funny about the serial killer that is terrorizing the Toronto area. Dr. Aliki Pateas is under pressure to identify the Fire Clown before he strikes again. Will the Fire Clown's next victims be those that Aliki loves the most?
3.
Dead Aim
Dr. Aliki Pateas and Dawn are invited to Aliki's half sister's wedding but the uninvited guest turns out to be a skeleton!
4.
Dead Duck
The finding of a strange alter where ducks had been sacrificedleads Dr. Aliki Pateas on a hunt for a killer. Trouble brews when Aliki's love ones do their own investigating.
5.
Dead Right
Nearly, five hundred people murdered in a single act. Aliki fights for her own sanity as she faces true evil knowing she can onlyprevent more deaths by being dead right.
6.
Dead Ringer
A mummy conference in Chile becomes the background for the hilarious unwrapping of a murder mystery
Murrook Farm - Lois Kay


This is a sequel to The Reef. Jody and Sam are married and are enjoying each other, their life and being close to their family and friends. But a sudden turn of events brings danger to them all. Is the love strong enough? What about the friendship? And the nerves...?
Part 1 Part 2 Part 3 Part 4 Part 5 Part 6 Part 7 Part 8 Part 9 Part 10 Part 11 Part 12 Part 13 Part 14 Part 15 Part 16 Part 17 Part 18 Part 19 Part 20 (conclusion)
Music (The) - Emyster-
Life is to be listened to and lived thoroughly.
Mutiny


This is the sequel to Eye of the Needle. After three years of sailing the seas, the former Torment of the Southern Seas is called back to Port Jackson to help catch a group of mutineers, heading down the Australian coast. The job seems easy enough but when they do find the mutineering ship, it turns out the situation is a bit more complicated than they'd imagined...
Part 1 Part 2 Part 3 Part 4 Part 5 Part 6
My Dilemma - Greek Warrior (Joan)
Do the changes McKenna made to her life entice Emma to return? Or does she think McKenna will grow to regret them? Continuation of the short story No Guarantees. Told from Emma's POV.
My West Coast Love - Heruda


Jo and Brenda headed for California to find a new life. What will they find and how will their lives change.
Mysti : Mistress of Dreams - Sam Ruskin
Gillian dreads the nightly visits of the dream mistress. She has been haunted with the same dream for so long she often tries to avoid dosing at all. When a friend asks her to accompany her to a woman's group, Gillian looks into the eyes she has only dreamed about and finds Max. Life will never be the same for either woman, thanks be to Mysti. It is a love story that will leave you feeling as if you have known Max and Gillian forever. Who can say for certain? Perhaps you have.
---
Questions, Comments or Broken Links can be be directed to The Academy