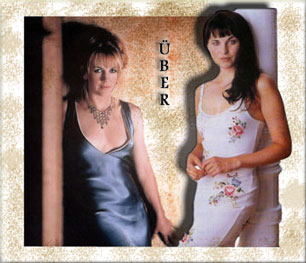 Alternative Uber Fiction
---
last updated: July 17, 2014
A Charmed Life - Elaine Kinney
Shawn Hudson has lived an impossibly perfect life - beautiful, intelligent, and athletic, with a loving wife, children, and a thriving career — until fate intervenes with disasterous consequences.
A Love Blessed by Alcandre
Xanthe and Elpis were the perfect couple...until that faithful day the Athenian Army showed up. A pre-uber tale depicting "The Battle of the Amazons" and it's outcome.
A Winter's Tale - Barbara Davies
Sequel to 'The Flight of the Gryphon' and 'A Hero of Arcadia'. Mavra's plans to fetch Gwen from Cheltain are hampered by the severest Winter for fifty years.
Actions and Consequences - JM Dragon


summary pending
Adapting: A tale of self-discovery and love - Lauren Vaniste [unfinished]
Eva Lokoak, a 15 year old native from the not so great lands of Jersey, enters a strange and unfamiliar world of a new high school after 8th grade graduation. And not just any high school either. It would be considered by some to be a "Special ED school". But it's not for the education; it is for the counseling, for Eva has had past horrors in her life that had caused her to be hard and cold as ice covered stone.
Depressed is more the word in fact. Her father had done some "THINGS" to her at a young age, and the school she attended before did not make things any better, especially since the local gang nearly killed her on several occasions, once with Eva ending up in the ER. And she had no idea what it was like to have friends, for she had none before.
But this changes when she enters the Special Ed school of McCann High. For boys actually hit on her rather then throw stones at her, and girls her age actually want to be her friend, and wonder why a girl so young and energetic can be so cold and hard. And Eva avoids any contact with the students for a brief time, until two girls break through the cement Eva formed around her heart. And one of them has certainly captured Eva's eye, stealing her heart in the process, bringing her dead heart back to life. This is a story about love, self discovery, homophobia, and adapting. And the healing power and strength a soul mate's love can bring.
Addison Black and the Eye of Bastet - MJ


Top British Agent Addison Black is back and this time M.I.5's latest recruit Dr Skyler Tidwell accompanies her on an assignment that takes them from the undiscovered tombs of Egypt to the deepest jungle of Sierra Leone. On an undercover mission to assist investigating into the murder of a team of archaeologists, Addison and Skyler discover not only the resting place of Egypt's most legendary architect, but also priceless artefacts, precious gems, deadly retribution and a plot to bring down and hold the world at ransom.
Part 1 Part 2 Part 3 Part 4 Part 5 Part 6 Part 7 Part 8 (conclusion)
After the Fire - the norm [Incomplete]
(Part II of The Edge) If you found out the one you loved was ultimately responsible for the ugly things that shaped your life, could you still love that person?
After Work Stress Reliever - Heruda


Two women find a way to relax after work.
Aftermath of Betrayal (The) - Wolfie


After being betrayed by those that were supposed to love them, can two women put aside their fears to find one another.
Afternoon Delight - EO
This is a short story written for a JM Dragon site challenge. It follows the song afternoon delight need I say more?
Afternoon Meanderings - Xenalicious


Pure smut <g>
Again - Minerva


A romantic story that takes place during Christmas and New Years. It's A Christmas Carol rewritten with an unforgettable twist.
Again - Kim Pritekel


They were best friends in college, roommates for over three years. Laurel had fallen in love. Caden didn't know what was. From different backgrounds, the scenario of the wrong side of the tracks. Caden gets pregnant, and must abandon her dreams to submit ot a life of motherhood and marriage to a man who doesn't love her. Ten years pass, and Laurel, a successful photographer in San Diego, gets a call. Caden wants to see her before Caden goes in for surgery to have a brain tumor removed. Can they rebuild the past, or should it be left alone?
Part 1 Part 2 Part 3 Part 4 Part 5 Part 6 Part 7 Part 8 Part 9 Part 10
Ageless Dance - Evecho
PWP. summary pending
Agoraphobia - Fedelma


Deirdre is a newcomer to the Xenaverse. Phoebe is an ardent fan. What can they learn from the Warrior Princess?
Airships That Pass in the Night by Linda Christ
This is a Kennedy and Carson short story, two characters first introduced in "The Bluest Eyes in Texas." It is set twenty years in the future. Kennedy Nocona is now Chief Justice of the United States Supreme Court, and Carson Garrett Nocona is a successful film producer.
The Alix and Valerie Series - Dreams
They're both alt-uber ... in fact, they're both part of the same story, just different perspectives. They're about an underground civilization of chickens, torn between chaos and ... Alright, they're not really about chickens at all. Or a civilization ... in fact, no one goes underground at all during the tale .. It's more about ... um ... love .. and lies .. and ... well, you get the idea. No you probably don't. That's okay. I don't either, and I wrote it.
Alias Smith and Jones - T. Novan and Advocate


Two con women are conned themselves and set out on a mission to give back a lifetime of ill-gotten gains. In this off-the-wall comedy where the insane collides with the divine, Delilah and Dixie figure out that going 'straight' isn't as easy as it looks.
All Hallows Peeve - Phantom Bard and Chelle


This story is a Halloweenish misadventure, involving an inept vampire in New York City. It features guest appearances - characters from Chelle's "Alternative to Uber", and Phantom Bard's "Real Vampires". Disturbed humor for adult readers; a collaboration written for Halloween 2003.
All in the Family - Sarkel


This story has it all: Intrigue, murder, love, heartache... The story of two families that are joined in marriage, facing challenges and crises. Last but not least, love blossoms for our two favorite gals. Will either last, the love and/or the marriage?
Part 1 Part 2 Part 3 Part 4 Part 5 Part 6 Part 7 Part 8 Part 9 Part 10 Part 11 Part 12 Part 13 Part 14 Part 15 Part 16 Part 17 Part 18 Part 19 Part 20 Part 21
All It Took Was You - Ali Vali


You knew there had to be a sequel to How Do You Mend A Broken Heart, and here it is. Harry and Desi are busy building a life together after Byron and his family have been shipped off to the Angola State Penitentiary. The happy couple are expecting a baby and happy ever after, only in "All It Took Was You" they get so much more.
part 1 part 2 part 3 part 4 part 5 part 6 part 7 part 8 part 9 part 10 part 11
All of Them - Anne Anzel
Summary Pending
All Our Tomorrows - JM Dragon


Summary Pending
All That Jazz - Blue Dragon


The first part of the sequel to Mississippi Blues.
part 1 part 2 part 3 part 4 part 5 part 6 part 7 part 8 part 9 part 10 part 11 part 12 part 13 part 14 part 15 part 16 part 17 part 18 part 19 part 20 part 21 part 22 part 23 part 24 part 25 part 26 part 27 part 28 part 29 part 30 (conclusion)
All That We See or Seem - Zuke


[Academy Halloween - 2002] The city is experiencing a killer heat wave and Robin has the flu. Can the day get any better? Well, when she meets her neighbor Sloan, it gets stranger, that's for sure. This might be the story of the end of the world. It might be the story of two souls reuniting. I'm pretty sure the answers are in the story, but you'll have to read it to decide.
All the Way to Heaven: Or Lesbian Parlor Games - S. Berry


A shy, closeted girl goes to a party because her object of obsession is going. Sound familiar? But wait, there's more. Throw in a secret society, a conspiracy, and a baker's dozen of Kansans and you get a happy ending or an infomerical, I forget which.
All Tied Up - Auntie Beth
A sequel of sorts to "A Very Nice Ass". Lacey and Jadyn have been dating for a while now, but how is Lacey going to feel when she sees her girl in the arms of another woman? And Mom offers her own, inimitable, take on things.
Almost a story... no, really! - Carola "Ryuchan" Eriksson
Never underestimate the power of the Yellow Rubber Bath Ducky! A parody
Almost Over - Denic


A melancholy look at the end of a relationship. Very well written short story.
Alphabet Soup - Alexiares [unfinished]
Alphabet Soup is the temporary title of the sequel to Omega's Folly. It picks things up a while after matters left off in the preceding story. More of the adventures of Benton Basilas, you could say, although that's certainly not all it is.
Alternative to Uber - Chelle!


This is a story about Stephanie Walker and her friends. She's someone we can all relate to, even if she is a bit...odd. She's a little delusional, regarded - her peers as a lunatic, a hero, and a drunk, but she's really a pretty nice person. Her story is not without drama and heartache, but whose isn't? At least she finds love in the end, and a place in a world that she helps to create.
Amanda's Melody - Amanda [unfinished]
Melody is the school diva, she has it all; she can dance, sing, and work a crowd. Amanda is the school nerd; she has glasses, old clothes, and a brain that can work out any problem. Will these two girls come together or will social class keep them apart?
Amazonia - Ali Vali


"The acts of the one for the good of the many." This is the motto first adopted by the Amazons centuries ago and still upheld by the warriors of current day Amazonia. In "Amazonia - Book One," we meet Princess Bebo of Leon as she sets off on her first diplomatic mission on behalf of her mother, Queen Audrey. On a cold day in Washington D.C. the tall warrior finds her path in the soft eyes of Annie Paddio. The only problem is, Annie is already committed to someone else. "Amazonia - Book One" brings to life a modern day warrior and the quest for her destiny. Join in the adventure as the ancient world of the Amazons is brought to life in the 21st century.
Part 1 Part 2 Part 3 Part 4 Part 5 Part 6 (conclusion)
Amazonia, Book Two - Ali Vali [complete]
summary pending
Amazons of Fletalin Valley (The) - Cornwel


summary pending
Amicus Humani Generis - S.B. Zarben
1.

Amicus Humani Generis - S.B. Zarben [unfinished]
A routine vacation tour on the USC Avenger leads to the detection of an unidentifiable ship floating in space. Contact is made and the Avenger crew decides to attempt a rescue, despite being warned off countless times. For these unknown people have been attacked by a savage race of beings. And now the Avenger will find itself a victim as well. Will they too meet a fate worse than death, or will the mysterious crew members they saved be able to work miracles and change the fate of the Avenger?

Part 1 Part 2 Part 3 Part 4 Part 5 Part 6 Part 7 Part 8 Part 9 Part 10 Part 11 Part 12 Part 13 Part 14 Part 15 Part 16 Part 17 Part 18 Part 19

2.
In Transit - SB Zarben [sci-fi/complete/alt]
A short little interlude with Janus and Barker, serving as a bridge between Amicus Humani Generis and the soon to be written sequel.
Amy's Eyes - JM Dragon
Summary Pending
Anam Cara - Moon Child


Anam Cara is a gaelic expression for "friend of the soul." It is the story of an ex-patriot Irishwoman named T.J. who after leaving her "revolutionary" days behind, starts a pub in San Diego. She runs into Camryn, the cute blonde photographer who turns T.J.'s world upside down. Life could be great, if only T.J. can keep her ex-husband and his drug dealing friends out of her bar and her life. And if only she can admit that Camryn is more than a pal, she is truly T.J.'s Anam Cara.
Part 1 Part 2 Part 3 Part 4 Part 5 Part 6 Part 7 Part 8 Part 9 Part 10
Part 11 Part 12 Part 13 Part 14 Part 15 Part 16 Part 17 Part 18 Part 19 Part 20 (conclusion)
And the Strange Morning - angharad governal (vignette)


A vignette based on anima's "triptych" series.
Anna's Christmas - KG MacGregor


In this very short holiday vignette, we revisit the characters of the Shaken series. Anna Kaklis has a whole new perspective on Christmas this year, as she takes stock of the impact five-year-old Andy has had on her life with Lily.
Another Beautiful Day in the Neighbourhood - Littlespit


This is a follow-up to "A Beautiful Day in the Neighborhood". Darlene and Teri take the commandment "Love Thy Neighbor" to the extreme!
Another Day - Mythe


An immortal Hercules (Gen. Wright) and niece Sierra Rai (Col. Hunter Rai) are officers in the Union army. Sierra's burnt out on her neverending life and all the death that surrounds her. Until, the day she meets up with Xena's reincarnated soul.
Another Day II - Mythe


Same story with a different ending.
Another Vacation Attempt - DS Bauden [über/alt/complete]
After their last vacation fiasco, Charlie tries to create a memorable trip for Terri. What they find on their journey brings forth a better understanding of these women as they continue to grow in their relationship.
Another World - D.K. Ward [incomplete]
Summary Pending
Answer - GirlBard [incomplete]
The continuing story in the Jaden & Grace series. Begins immediately after At Last.
Anytime - KT


Two women meet at a bar...finally!
Apartment (The) - Lena


An Alternative Uber story of the hurt/comfort genre. A retired nurse with failing health and love of life takes in a nursing student to help her to the great benefit of both.
Part 1 Part 2 Part 3 Part 4 Part 5 Part 6 Part 7 Part 8 Part 9 Part 10 Part 11
April Fool's, Charlie Brown - Kim Pritekel


Summary Pending
As Good as it Gets - Kamouraskan and Lariel


In an affectionate homage to ubers, in time for April Fool's, we give you the Anti-Uber
At Your Word - Phair


An American arbitrator falls into the hands of rebels on an island nation long exploited for its hidden treasures.
At First Sight - Colleen


Can a blind woman fall in love at first sight? Can a woman blinded by her past open her eyes and her heart to true love. Erin and Jamie find those answers as their paths cross on the way to their future.
At Last - Girlbard
It is the continuing story in the Jaden and Grace series.
Part 1 Part 2 Part 3 Part 4 Part 5 Part 6 Part 7 Part 8 Part 9 (conclusion)
Avenging Angel - Aurelia
What had started out as a casual trip to visit her father in Japan, turns into a deadly escapade for Clarissa Hughes. Kidnapped and fearing for her life, her luck changes with the appearance of a mysterious stranger, a samurai, who rescues her from her capture. Could this lone avenger turn out to be more of a danger to her than those men intent on killing her?
Avery Stevens Maintenance Wizard - Pat Winterburn


It's summer in the City of Toronto and Avery and Alice find themselves involved with guns and hostage taking, paddle boats and falling in love. It's a summer of new beginnings and forgetting the past.
Awakening (The) - Lena


This story deal with sexual abuse, it's aftermath, and the healing power of love.
Part 1 Part 2 Part 3 Part 4 Part 5 Part 6 Part 7 Part 8 Part 9 Part 10 (conclusion)
Awakening (The) - Moon Dancer
Two souls, two fires, one flame. The Awakening is a story about definitive love, ultimate trust, and the purest form of devotion. Read with an open mind, a hungry, curious soul, and there you will find innocence beyond measure and pleasure beyond any realm. My intent in penning this was to enlighten my reader, entertain the mind, and bring a smile to someone's glorious soul. The darker side of love deals with pure intensity, not pain, nor loss of control as so many would assume. I do hope you enjoy my words, and they leave you with a sense of inner peace and tranquility as they did for me.
Ayer is Human - Phair [Incomplete]
Summary pending

B Movie - K. Simpson


In the vein of the Twilight Zone, a sleazy wannabe producer and an actress check into a retro motel for an audition that fits a B movie.
Baby New Year Missing - Debbie Dee


Baby New Year is missing. Can Noel and Tracy find him in time or will it be the same year forever. Follow the continuation of Noel and Tracy's relationship from A Gift From The North as the New Year rapidly approaches.
Bad and Beautiful - girlbard


Two con artists who decide love is better?
Badges and Needles - Warrior Angel 24 [unfinished]
Sam is a police officer; Ann is a doctor...two women, an irresistible attraction and lots of obstacles. Will they make it work?
Bard Challenge III - Alex


A grumpy executive learns about the true spirit of Christmas from her ever-patient assistant. A retelling of "A Christmas Carol" by Dickens.
Battle for Mars (The) - Windstar


The Battle for Mars was one of the turning points in the war against the Bak'ra. There are times when the small battles are the most important of them all.
Bar Girls - Jules Kurre


Keagan Donovan is a taciturn, brooding English major. Keeping her emotions under control has always been second nature to her until one evening when the aspiring writer meets fellow English major Rudy in the local bar. The two students find that they have a great deal in common and begin spending time together, but Keagan's insecurities keep them at arm's length. Will Rudy have the patience to deal with Keagan's inconsistent behavior? Sequel is The Guardian
Beautiful Day in the Neighborhood series - Little Spit
1.

Beautiful Day in the Neighborhood - Little Spit
Darlene and Teri have been neighbors for months. Both Teri and her infant daughter, Lucy,adore their attractive neighbor. This is the story of how two neighbors become bosom buddys and much much more.

2.
3.
A Beautiful Addition to the Neighborhood - Littlespit
This is the third installment in the "Beautiful Day in the Neighborhood" Series. In the third encounter with Darleen, Teri, and now three year old Lucy, old wounds are re-opened and healing finally begins as a new addition brings family and extended family together in a most unusual way.
Beginnings - Fingersmith [über/alt/complete]
Summer – 1974. Hot, sticky and filled with promise. Days filled with nothing but what my imagination could conjure up – and that could be pretty frightening. Lou Turner loves Ashley Richards. Always has … always will. This is her story … a story spanning thirty years … from the innocence of childhood to the bitterness of adulthood. But can Lou use her beginnings to shape her future?
Belief - Troubleshooter [unfinished]
This is a slice of two people's lives, each of whom are far less than perfect and have their own fears, strengths, views, dysfunctions, opinions, etc. It is a rather dark piece that deals with a couple's struggle to overcome a devastating event in their lives by having them both look back and write about how they met, what happened and how they're dealing with it. It's ultimately about hope and how we cling to it, despite everything and, often, in spite of ourselves.
Part 1 Part 2 Part 3 Part 4 Part 5 Part 6 Part 7 Part 8 Part 9
Belle of the Mist - Ali Vali


Harry and Desi, from 'How Do You Mend a Broken Heart', attend a Halloween party dressed as a notorious land pirate and the plantation wife who captures her.
Beneath The Brambles - Lady Savay [unfinished]
A brilliant, jet set, celebrity author is banished to a small town by her publisher. There she finds a beautiful Sheriff, an unknown enemy, an eclectic, if not kooky, group of people and a plot to damage or destroy all she has found worth saving in this"really small town". She'll need to look closely, because not everything is what it seems on the surface. She learns, sometimes, even if it's painful, you need to dig deep to find the answers, beneath the brambles.
Part 1 Part 2 Part 3 Part 4 Part 5 Part 6 Part 7 Part 8 Part 9 Part 10 Part 11 Part 12 Part 13 Part 14 Part 15 Part 16 Part 17 Part 18 Part 19 Part 20 Part 21 Part 22 Part 23 Part 24 Part 25 Part 26 Part 27 Part 28 Part 29 Part 30 Part 31 Part 32 Part 33 Part 34 Part 35 Part 36 Part 37
Beneath the Surface - Barbara Davies


'A life on the ocean wave, tra la!' When Piper Redmond joins Capt. Cordie Bellamy aboard her swordfishing boat, what should be a routine fishing trip soon becomes anything but....
Best Friends - D.K. Ward


Summary Pending
(note* - the pdf version is also available for this story)
The Best Kind of Revenge by Jazemine Heard
Two hostile coworkers find that rumors and office gossip can blur the thin line between love and hate.
Between A Memory and A Dream - L. A. Tucker


Some people have been alone so long; they've forgotten that there is any other way to be.
BF4EVR - Miri [unfinished]
At a small college in Oregon, two not so ordinary young women - Harlan and Briana - from very different backgrounds meet and become quick friends. Then, things get complex...
part 1 part 2 part 3 part 4 part 5
Bille & Cat series - kd bard
1.
Commitment (The) - kd bard
Billie Charland teaches an aerobics class that is joined by a new student, Caitlain O'Grady, who has two left feet! Caitlain, known as Cat, is about to give up when Billie offers private lessons. Sparks fly as their chemistries mix, however, separate commitments nearly get in the way of their relationship. Despite the odds, their bond survives as they discover their separate commitments are not so separate after all. Kleenex rating - 1 box.
2.
Family in Blood (A) - kd bard
Billie's son Seth recovers from surgery and a long road to recovery through intense physical therapy. An deep sense of family has developed between the ladies and their respective children, forming a bond of love and commitment.... a bond that is sorely tested, by events beyond their control. Kleenex rating - 1 box.
3.
Personal Preferences - kd bard
The Charland family move into their dream house in a beautiful suburban neighborhood. Soon, they encoutner unexpected prejudice from their neighbors, and danger from a familiar foe. Through a dramatic turn of events, the Charlands ultimately survive, acceptance is realized, and lasting friendships are forged. Kleenex rating - 1.5 boxes.
4.
Fighting City Hall - kd bard
Billie proposes to Cat just as she finishes law school and prepared to make a legal commitment to Cat and Tara. In her first major case as a lawyer, she challenges the state on her own behalf as she literally fights City Hall for the right to marry the woman she loves. This eposide raises serious questions about todays laws, prejudice and the rights we sometimes take for granted. Kleenex rating - 1.5 boxes.
5.
Visions in Paradise - kd bard
Cat & Billie finally take a belated honeymoon as they take advantage of the trip to Aruba their neighbors gave Billie as a graduation present. Their cruise turns out to be more than the simple adventure they bargained for. In this highly suspenseful tale, the warrior and bard appear as well as an old enemy, testing the love Billie & Cat share is tested as evidence points to something amiss onboard the ship. Kleenex rating - 0.5 box.
6.
What's in a Name? by kd bard
Cat & Billie are forced to deal with that very question as their daughter Tara is teased at school for having a different last name than her brother. This raises heart-rending questions and revelations, resulting in Cat & Billie decided to legally acopt eacha other's children. They hit a roadblock when they realize the biological fathers would have to give up their rights. What follows is a series of events that places the family in danger, Billie on the defensive, and tests their love and resolve once again. Kleenex rating - 1.5 boxes.
Binding Tie (The) - Maderlin Bidmead


What do you get the woman who has everything? A life of her own. She has the money, the cars and the beautiful family and she doesn't want any of it. Living her life to her husbands whim and her fathers suffocating life. Can the threats of an assassin set her free?
What do you get the woman who has nothing? A life that she had. She lives to serve. Lives to fight. The childhood that she knew will imprison her in bonds tighter than she has ever known. Will the threats of an assassin be her prison?
Part 1 Part 2 Part 3 Part 4 Part 5 Part 6 Part 7 Part 8 Part 9 Part 10
Part 11 Part 12 Part 13 Part 14 Part 15 Part 16 Part 17 Part 18 (conclusion)
Black's Magic - MJ & Cephalgia


British secret agent Addison Black is assigned to rescue the kidnapped daughter of an American research scientist, but the straightforward mission is soon complicated by old enemies, the threat of global bio-terrorism and possibly a traitor from within. It's not just a simple case as Addison finds she is increasingly attracted to her objective, the intriguing Skyler Tidwell.
Part 1 Part 2 Part 3 Part 4 Part 5 Part 6 Part 7 (conclusion)
Blazing Dreams - Larisa


Brandy moves into her late aunts dilapidated house on the Harpers Ferry Mountain. ?Her curiosity is piqued when the neighbors warn her of the tall dark hermit across the road from her. ?After meeting the silent neighbor she quickly befriends her and hopes for more than just friendship.
Part 1 Part 2 Part 3 Part 4 Part 5
Blind Date - D
Summary Pending
Blind Side of Love (The) - Dreams


Summary pending...
Blindsided - Colleen
After a fun filled honeymoon, Erin and Jamie return home to start their life together. They make some important decisions about their future and are soon confronted with a few surprises, some happy and some not. But together they can face anything.
Part 1 Part 2 Part 3 Part 4 Part 5 Part 6 Part 7 Part 8 Part 9 Part 10 Part 11 Part 12 Part 13 Part 14 Part 15 (finished)
Bliss of Another Kind (A) - Ellis Acton Bell and Cornwel
Petra just loves to hang out with the new couple she met at the Whole Foods store, her wife Jules would rather them do their own thing. The unlikely quartet meets for dinner, a Floridian lesbian power couple, and our heroines of a questionable proffesion who argue all the way. A short dark story with a surprise ending.
Blizzard - Kim Baldwin


Beth Williams regrets her decision to take that shortcut on the map, when a blizzard drives her off the road and leaves her in a perilous situation. Trapped - the storm in a stranger's home, she discovers she has much in common with her host. And that's even before they begin compare tastes in reading material.
Blood Benediction - Redhawk


Ever wanna meet a vampire?! Redhawk heats up the dancefloor with her submission <g> to the 101 Aurellian Nights series
Blood Red Scream - Tragedy88


A young hacker's past comes back to haunt her. Can she quit her life of crime? Can she fight for the greater good? She meets a woman through the internet, that could change her life forever. Together they will fight the ultimate evil, or die trying.
Blood Vengeance - Shadowriter [unfinished]
After a vampire attack outside a lesbian bar, Jesse and Trey ask Nix for help in tracking the culprit. When Nix agrees, she opens the door to a past she thought she left behind.
Part 1 Part 2 Part 3 Part 4 Part 5 Part 6 Part 7 Part 8 Part 9 Part 10 Part 11 Part 12 Part 13 Part 14 Part 15
Blown Away - Kim Baldwin


A muggy spring day in Michigan unleashes a fury of tornados. Two women are in the path of one of them: volunteer firefighter Gable McCoy and teacher Erin Richards.
Blue Mountain Smokies (now known as The Old Yellow House) - Koda Graystone


Rayven a wildlife photographer and journalist returns to claim her ranch, while Jaxon Segreto, Chief of the elite firefighter team Blue Mountain Smokies does some soul searching.
Blue Oblivion - Jp


It's uber, it's alt, and it's not for the kiddies on account of the violence. The gist: A singer and a gangster's sister start an unlikely romance admist dark pasts, unpromised futures, family vendettas and the crimes of youth.
Part 1 Part 2 Part 3 Part 4 Part 5
Body English - Cephalgia


A sequel to the PWP "The British Invasion"
Booyong Mountain - Lois Kay
This story is a sequel to The Reef and Murrook Farm. Stevens Inc. has invested in an old, run-down rainforest resort and Sam Stevens has hired conservation biologist Robin Adams to manage the property. But, as Fiona McDonnell soon discovers, Robin Adams is not who she says she is. Is she? And who is the mysterious black clad stranger Fiona saw sneaking around in the forest? And what are Sam and Trishia hiding from the rest of the family
Part 1 Part 2 Part 3 Part 4 Part 5 Part 6 Part 7 Part 8 Part 9 Part 10 Part 11 Part 12 Part 13 Part 14 Part 15 Part 16 Part 17 (conclusion)
Borderline - Linda Crist
Set on the Texas-Mexico border against the backdrop of Big Bend National Park, this story picks up where "The Bluest Eyes in Texas" left off. Kennedy takes Carson home to meet her family, but her past collides with the present, placing her life and Carson's in the very balance. Meanwhile, Carson must come to terms with her feelings for Kennedy. There are mysteries to solve and decisions to be made while walking the borderline.
Borrowed Reality - Siel LeDain
"Somethings are just not meant to be. No matter how hard you fight, sometimes fate would sneak out its horrible hand and slap you over and over... that was Grace's story. Some other times, when you don't seem to find the answer to something, you choose to consciously forget it, to erase it from your memory..., but the imprint is always there. That was my story. And this is the story of how both Grace and I faced our demons together, as it should have been from the beginning. But, as I said, somethings are just not meant to be."
Bourne's Edge - Barbara Davies
A librarian fleeing for her life from a vengeful businessman. An immortal Fae exiled forever from Faerie. What could the two possibly have in common?
Boy - AC


I have this friend who has this problem. Everyone thinks she is straight. Not a person in the world looks at her and thinks "lesbian." She is just another girl in the world. In a man's world. Sometimes I wish that I had that problem. Well, in a way I do...
Boy Next Door (The) - D_Exphagus


When a tall, dark and handsome boy moves in next door to Ashley Carter, he captured her heart straight away. However, is Sidney Walters what she is looking for in a boyfriend, or more?
Brass Ring (The) - Mavis Applewater


A young med student meets the woman of her dreams or does she?
Part 1 Part 2 Part 3 Part 4 Part 5 Part 6 Part 7 Part 8 Part 9 Part 10 Part 11 Part 12 Part 13 Part 14 Part 15 Part 16 Part 17 Part 18 Part 19 Part 20 Part 21 Part 22 Part 23 Part 24 Part 25 Part 26 Part 27 Part 28 Part 29 [conclusion]
Break Out '99 - Barbara Davies


Three go mad in Wales. What are Jen, Charlie, and Darren doing stranded in the middle of a rainy Snowdonia, dressed as characters from the Wizard of Oz? They only wish they knew!
Breathe - Minerva


A Valentines story of two women finding their way back to each other. Guaranteed to open your eyes and warm your heart.
British Invasion (The) - Cephalgia


A PWP.....whew.........
Brush With The Law - Jaden


A Plot? What Plot? story about a young woman who meets a great looking cop on a lonely stretch of road.
By the Manor Owned - Phair


The sequel of To The Manor Sold finds Tess and Jordan continuing their pursuit of freedom and each other.
Part 1 Part 2 Part 3 Part 4 Part 5 Part 6
Cabby (The) - Kim Pritekel


Nic is a cabby, driving on a rainy night when she picks up the fare of her wildest dreams.
Caitlin's Rescue - Dana L'Wood
Characters in this story are of the X&G genre` and are friends of the famous pair though they are not mentioned. Killian has found a home in a mountain village of women after waking one morning three years previous to an empty bedroll beside her. Caitlin, her lover was gone. She searched but never found the beautiful warrior/fur trader. During the three years among the mountain women, Killian began to develop psychic abilities she didn't know she had until Nessa, a Celtic warrior and Druid saw, accepted and helped her develop her gift.
Killian wakes one morning having had a vision of Caitlin through a psychic passage. She runs to Nessa for help. Together they embark on a journey (with a few other friends) across the sea to a land they are unfamiliar with. There is plenty of drama and feeling with a love triangle and adventure.
California Gold - Carole Giorgio [unfinished]
third in the series of books beginning with Laguna Nights. Alexis Dorian and Samantha Riley are getting ready for many firsts in their relationship. They will soon celebrate their first Halloween, Thanksgiving, Christmas, and New Year's Eve together. Alex's 31st birthday is now an event she is looking forward to and as she comes into her special inheritance she finally has someone with whom to share her love, happiness, and prosperity. A professional regression proves to be more mind opening than either of the women could have ever imagined, and a trip to Alex's inherited property further expands the history of the Dorian fortune. While Alex and Samantha are exploring the pristine land, they find themselves reliving memories of a life lived long ago, as pioneers, during the California gold rush era.
Part 1 Part 2 Part 3 Part 4 Part 5 Part 6 Part 7
Camp Reunion (The) - Kim Baldwin


Kerry is full of nervous anticipation as she nears the place that harbors her most precious growing-up memories: the all-girls camp where she spent every summer until she graduated college. She didn't realize it back then, but it was also the place where she met the woman she believes is her soulmate. The question is, will the object of her long-held crush attend the upcoming Camp Reunion? And if she does, can the chemistry that bonded them as best friends be rekindled into something more?
Captive - The Raven
Things that go bump in the night... Or, perhaps: Things that hump in the night?
Capture My Heart - Ali Vali


A story set in Egypt about Ramses IV a female pharaoh. She falls in love with a Hebrew slave named Sarah and her son Samuel. It is the beginning of a new era in ancient Egypt and the first story about the love shared by these two women.
Captain of Her Heart - W. Brad Danbrook [unfinished]
The story sees a landing party from the Enterprise encounter a resurrected Xena, Gabrielle, Ares and Zeus. Zeus has hatched a plan, with a complicit Ares, to hijack the Enterprise to reprise the "Age of Gods." Needless to say, Kirk has a problem with this. Inititially Xena is bothered by the brash Starship Captain. In time, a spark of romance is kindled.
Case of Beer and a Kiss (A) - Tara Kerry


A writer for a travel magazine meets a female adventurer who comes to her aid in South America.
Cassey & Toni - Five Stories About Two Women In Love - Norsebard
A collection of five stories chronicling the lives of two women over a period of nearly two years. When Cassey Peters split from an abusive relationship, she had no way of knowing that she'd soon find genuine happiness and true love in a truck stop in New Mexico - nor that they would appear to her in the shape of Toni Willis, an intriguing truck driver on her way to San Diego..
Castle Walls - D. Jordan Redhawk
In a conquered kingdom, a princess escapes and joins a travelling troupe.
Cat's Meow (The) - BardBQue


This is a little tale of murder and intrigue. Well, no not really. It's just a short story about love and... stuff... told from a cat's point of view
Cat Burglar (The) - D.K. Ward


Summary Pending
Caught in the Storm - Kim Baldwin
Marcy Winchester resigned herself to a solitary existence when she moved to a remote cabin in the North Woods. But a sudden storm brings a familiar face back into her life, and ignites a fire within her she thought long dead.
Caution: Under Construction - Vertigo


Summary pending
part 1 part 2 part 3 part 4 part 5 part 6 part 7 part 8 part 9 part 10 part 11 part 12 part 13 part 14 part 15 part 16 part 17 part 18 part 19 part 20 part 21 part 22 part 23 part 24 part 25 part 26 part 27 part 28 part 29 part 30 part 31 part 32 part 33 part 34 part 35 part 36 part 37 part 38 part 39 part 40 part 41 part 42 part 43 part 44 part 45 (conclusion)
Chance Encounter - Littlespit


A story about how a chance encounter can ultiimately fulfill every fantasy...and then some!
(see the review of the story from Judith's Just Like Buttah review page)
Change of Heart - Kawai


With the arrival of her new roommate Michelle, problems erupt in Alex's quiet college life. Can a budding friendship overcome her past and help her accept love again?
Change of Romance (A) - T.E. Brehm
A short little piece derived from a personal fantasy...all shopping trips should end this way.
Channel Surfing - Tara Kerry


[Academy Halloween - 2002] AJ and Chase planned to just sit on the couch, eat popcorn and watch a marathon of scary Halloween movies. But those plans are drastically changed when AJ's new satellite system zaps the girls into some popular television shows, and they find themselves wondering how to get home.
Cheating the Pocket by Cheyne
This is the sequel to Two Cross Side.
Child of Love - Psyche_b


Two women brought together by fate establish a life, home and family together. Together they work against all that try to tear them apart.
Chilled Out - Mindwalker 78


A lonely cottage, two people, the perfect place to do just that - chill out.
Choices - Black Dragoon


A young woman struggling with her sexuality and her family's non-acceptance finds help from a magical inn and a mysterious woman.
Choices of the Heart - Alix Stokes [unfinished]
Sequel to Mended Hearts
Choices - Ladyhawke
Choices - Ladyhawke
Kathleen had been alone in life for as long as she could remember. With an overbearing family she had found an escape in her work of being a photographer and journalist. She was happy in her own way. Then Carrie came into her life, she showed her how to be loved and opened her world up into the incredible new adventure of what life should be. Kathleen came face to face with a choice, a choice which would change everything. Where one simple action would spiral out of control and turn her world of calm and love into a tempest of consequences. This is Kathleen's story to show that not everything is always so cut and dried.

Chances - Ladyhawke
A year has past for Kathleen since she lost the love of her life due to choices made. Her only source now is her work as a photographer. With memories still raw and a heart that won't seem to mend she finds herself up against a new woman who wants nothing more then to help. Will Kathleen let her in or will the walls that now protect send her running again?

Challenges - Ladyhawke
Now after nearly two years Kathleen has survived her choices and rebuilt her life through chances. In front of her finally lies the challenge. Will she now face Carrie and find answers to the questions that have plagued her and drove her to destruction. Or will what she finds send her running again?
Christmas Boxes - Anne Anzel
Summary Pending
Christmas Fantasy (A) - JM Dragon


A scruffy dog who reunites two women.
Christmas Magic - Sheri B


[Holiday Havoc Challenge] Ward, a homeless person with a beautiful singing voice, is enchanted with Lynne a childrenís choir director.
Christmas Miracle - Akiela Xal
Christmas Special Delivery - Lois Kay


Sam and Jody have invited their friends and family to celebrate Christmas with them, at Murrook Farm. But do all the guests that show up have an invitation? Some of them are a little...unexpected. Others are struggling with...things, to be able to...make it at all. But they all have one thing in common: they want to be home for the Holidays, to celebrate a special Christmas together.
Christmas Tree (The) - Anne Azel


Short story for the season
City of Lost Angels (The) - Pat Winterburn [Clone fic]
In this clone fic, Xena and Gabrielle are introduced into the 21st century. It seems nothing has changed for our heros. They're still fighting for the greater good and kicking some bad ass along the way.
Claiming - Emily First
On a World far away,just nearby,Andrea Black has returned from Washington to Inbhir Nis after an abscence of 2years.Unaware that the Moerae are about to take advantage of her actions,she heads down into the city to meet her friend Cindy. (Kind of PWP)
Code Blue - Katlyn [unfinished]
The story of a cop and a doctor.
Coffee - Jenna Dixon


A story of the first meeting and growing love between an English Professor and a writer.
Coffee Break - J. Rosestar [pwp]
Two women sneak into the warehouse area of the Super Retail center where they work to enjoy a quick break. The get much more than they planned.
Cold - Midgit


This is a story of an upper class woman in London who is drawn to a homeless young girl.
Colliding Edges - J.W.Heart [ unfinished]
When, blue meets green... When privilege meets pauper.......When the heart meets the soul... That's when Edges Collide. This is part One of what will be an ongoing series.....
Part 1 Part 2 Part 3 Part 4 Part 5 Part 6
Come, Sisters, Come - FC Barnes [unfinished]
Shadow and Scooter, two staff at a youth summer camp meet, and find themselves facing an unusual attraction. But will they be able to get past their private demons to come together?
Part 1 Part 2 Part 3 Part 4 Part 5 Part 6 Part 7 Part 8 Part 9 Part 10 Part 11 Part 12 Part 13 Part 14
Comic Book Life - Zee


Remy probably holds the record for the worlds longest crush. When she was 6 she fell in love, now as an adult her life through comics may just give her a shot at the object of her crush. That's if she can survive television production, midgets, and wondertits... um, just read the story.
Coming of Age - Touchsilent


Coming of Age is a story everyone can relate to - from the occasional feelings of worthlessness to wanting to escape to your own bizarre world. Rachel does this after flunking out of her freshman semester of college and makes some interesting discoveries as a result.
Coming Home - D. Jordan Redhawk


A PWP sequel to 'CyperEpic' and the pair are celebrating Dusky's birthday.
Companion Peace - MelVee [unfinished]
Sloane Denton, head editor at Tandem Publishing, is all work no play. Dealing with obnoxious writers, overly-enthusiastic staff members, and pig-headed executives on a daily basis keeps her busy. Not that she minds; life is good and being a bitch has its moments. But when law student Gracie Sheridan sets her inquisitive mind on something, even wisened up old battle axes like Sloane don't stand a chance...
Connecting Hearts - Cephalgia's & MJ's


The devastating illness of a loved one prompts an online meeting between British poet Denise Jennings and American nurse Randa Martin. The professional relationship that begins continents apart changes to one of trust, friendship and more as they deal with some of life's most difficult circumstances.
Part 1 Part 2 Part 3 Part 4 Part 5 Part 6
Connections - Advocate


An attorney's first venture into criminal law leads her on an investigation where she encounters an interesting psychologist who changes her life.
Consequences - KarenK


Ashley and Terry have to face the consequences of the actions they each took in the past. There is no time for regrets as the decisions they make now will affect any future they have with each other.
Conspiracy of Swords - Shadowriter


FBI agent Alexia Reis joins forces with ex-CIA assassin Teren Mylos to find out who's behind the murders of several left-wing activists and politicians. The mystery deepens as they uncover a conspiracy involving the far-right, old Nazis, new Nazis, and a hoard of looted gold.
Part 1 Part 2 Part 3 Part 4 Part 5 Part 6 Part 7 Part 8 Part 9 Part 10 Part 11 Part 12 Part 13 Part 14 Part 15 Part 16 Part 17 Part 18 Part 19 Part 20 Part 21 Part 22 Part 23 Part 24 Part 25 Part 26 Part 27 Part 28 Part 29 Part 30 Part 31 Part 32 Part 33 Part 34 Part 35 Part 36 Part 37 Part 38 Part 39 Part 40 Part 41 Part 42
Control - Kim Pritekel and Alexa Hoffman [unfinished]
Garrison Davies is a pilot in Massachusetts, working with her father in a small cargo operation, when a difficult situation lands two girls in her house. Keller Mitchum has already lived a lifetime in 17 years. Fully responsible for her 5 year old sister Parker, Keller has seen and experienced things in life that should only be read about in books. Can Garrison break through Keller's defenses, and help her regain control?
Part 1 Part 2 Part 3 Part 4 Part 5 Part 6 Part 7 Part 8 Part 9 Part 10 Part 11 Part 12 Part 13 Part 14 Part 15 Part 16 Part 17
Convergence - L.A. Tucker


A short Über story where 'Fractured Fairy Tales' mixes with 'The Twilight Zone' when strangers meet in a small town. The impossible becomes the possible when all the right ingredients come together. These characters may be revisited in future stories, their boundaries seem limitless. I felt rather ... inspired to write something about unlikely acts of heroism, and the unlimited possibilities of the human spirit -- and beyond.
Conversion - Warriorjudge


A lover affair between two nuns, Sister Gabrielle and Xena the Prioress, which takes place in a convent in 18th Germany.
Corrina - Artemista


Science fiction. Before birth, Kristen Collins underwent routine genetic alteration to fix a number of errors in her DNA. Years later, a chance occurence at a university-sponsored production of Hairand her feelings for a beautiful actress lead her to suspect that the alterations were not successful.
Courageous Hearts - T. Stratton


Dell Marshall had her life turned upside down. First the woman she loved leaves her and then her family is killed by a serial killer this all happens in the span of a couple of days. Almost killed herself Jay goes on with her life moving to a new town. When after a few years her ex-lover moves to the same town not knowing Dell lives there also and they meet by chance. Then the killer who slaughtered her family escapes from prison bent on finishing what he started.
Crazed Ramblings Of A Madwoman (The) - Verrath
A young present-day writer walks the narrow line between an impossible truth and insanity with an insubstantial Xena for a companion. Is the ghostly warrior real, or just a figment of Isabelle's imagination? Why is she there? And how does a supposedly insane ex-terrorist fit in? (Rated PG-13)
Crimson Snow - Advocate


In this sequel to "Connections," a former patient threatens Amanda and the people she loves.
Winner of a Xippy Award!
Crying in the Rain, Dancing in the Sun - Leigh McEoghan


The events of 'Thank You' from Murphy's point of view.
Culture Clash - Malaurie Barber


The sequel to the highly acclaimed A Year in Paris
Part 1 Part 2 Part 3 Part 4 Part 5 Part 6 Part 7 Part 8 Part 9 Part 10 Part 11 Part 12 Part 13 Part 14 Part 15 Part 16 Part 17 Part 18 Part 19 Part 20 Part 21 Part 22 Part 23 Part 24
CyberEpic - Redhawk


The meeting of a dark young nomad leader and a foreign courier set against the backdrop of the future Second American Civil War.
---
Questions, Comments or Broken Links can be be directed to The Academy