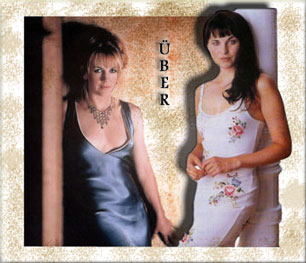 Alternative Uber Fiction
---
last updated: August 28, 2009
Take One Head And Call Me In The Morning - Lariel


Lady Xena was never one to let a little thing like death get in the way of a good relationship...
Taken - C. E. Gray

Part 1
The story of Samantha Martin, a rancher with a big heart, and her long-time best friend McKayla Farr, a bank teller who has a nose for trouble. When an accident brings them closer, their feelings turn to something more. Yet another disaester arises - will the women's relationship make it through?
Part 2
When their relationship is revealed to nearly all of Utah, it brings mixed reactions from friends and family. Confrontations with parents are unavoidable, but what will Sam do when an angry ex-boyfriend
Part 3
Kayla helps Sam solved the problem created by Aaron, and things are normal for a while. Until Hank makes his appearance - will Kayla fall for his charms? As if that wasn't enough, Sam's knee begins giving her trouble. After an attempt to exercise the joint fails, the rancher is left even more injured than she began, and with a predator on her trail.
Part 4
With the help of Luke, Sam's brother, Kayla convinces an injured Sam to go to the doctor. When x-rays reveal that the pain in her knee is caused by her wound recieved in the line of duty so many years ago, the rancher agrees to surgery. While Sam is recuperating, Kayla takes care of Amy, after the girl's secret is out - to her parents. Christmas approaches, and the counselor becomes suspicious of Sam's actions; staying out later, lying, and smelling of men's cologne. The morning after a bad fight, Sam must find a way to get Kayla to forgive her, before their love is lost forever.
Part 5
In the sweet conclusion, the rancher does whatever it takes to be forgiven, and the girls go all out for Christmas. But, the best gift is yet to come...
Tale from the Haunted Web (A) - Shadowriter


Seems one can mail order a specified ghost over the internet.
Tale from the Haunted Web II (A): Ghosts-R-Your-Friends.com - Shadowriter


There are back!!! and this time the ghost is lending a helping hand.
Tales From The Heart - Lariel


A relationship at breaking point, yet two hearts still wanting the same thing.
Tales of the Kirgeur - Blue Dragon [unfinished]
When slavers attack her village, a young, untested warrior, Torienne, must team up with Salenia, another young and untested warrior to rescue those taken. The Quest leades them farther than any of their tribe have been in recent memory. They will make their legacy on the journey, or die trying. It's all for duty. After all, they are kirgeurs.
Part 1 Part 2 Part 3 Part 4 Part 5 Part 6 Part 7
Tales of a Librarian - T Walker
1.
Tales of a Librarian - T. Walker
Brynn Dobhale's city seems like a perfectly normal second rate mertropolitan area, but when she meets her new lover Hart, the librarian learns that beneath the seams of her fair city is an occult underworld that she is about to discover she has always been very much a part of. In the first story of the Tales of a Librarian series Brynn meets Hart and the two begin the adventure.
2.
When Pianos Try to be Guitars - T. Walker
Brynn learns about Bloodsport that hard way, then her favorite singer/songwriter turns up murdered and Brynn is not sure if she herself is the killer.
Tales of the Wishing Stone-The Series - Candideyes [unfinished]
This is a series of short stories that deal with the premise that everything happens for a reason. Sometimes wishes aren't meant to come true as they can have very adverse consequences and don't turn out exactly as we had hoped. Join me on a journey as various characters will learn just why some wishes are better left unanswered.
Straight for the Holidays - Chapter One
Marilyn Miller had high hopes for her youngest daughter Jodi. Those hopes were dashed the day she found out her daughter was a lesbian. In a heated argument she tells her how she really feels. In front of relatives she tells Jodi, "I wish you were straight. I wish you had married Bobby McLane." The following morning her wish is granted only with dire consequences. This is their story.
Cock-a-doodle Day - Chapter Two
This story is about Jessie and Belinda, a very happy couple. Jessie has a secret fantasy that she shares with her lover. One night she tells Belinda, "I wish I could have a penis for one day. Is that so bad?" You decide.
Talking Her Down - Angelrad


This is a... PWP with a twist, shall we say. What's the twist? Well, this PWP actually has a plot. Go figure.
Tall, Dark and Deadly - Tara Kerry


A bounty hunter is captured by a woman who doesn't seem the type to skip bond.
Taming the Wolf - Sammet [Incomplete]
Being a globetrotter, as well as a vampire, Lauren Gabriel is used to unpleasant encounters with vampire hunters and has no qualms about killing them. So when visiting her clan, she is happy to help her friends raid the local Hunters' base. What she didn't expect there, was to find a young vampire who had been captured by the Hunters and seems to have lost her mind. Despite her friends' protest, Gabriel is determined to save her.
Taste of Tears - Ladyhawke
Deb's trusted her lover of eight years with everything. When a chance remark begins to sow the seeds of question. She has to find out the answer no matter what the consequences. This is her story on a journey of betrayal, and her quest to find out the truth.
Tasting Desire - Shadowriter


It's about 4 friends.... a vampire..... and one night in New York City.
Taught by Love - Zoe


Against the backdrop of school violence, two women find something to hold onto- each other.
Part 1 Part 2 Part 3 Part 4 Part 5 Part 6 Part 7 Part 8 Part 9 Part 10 Part 11 Part 12 Part 13 Part 14 Part 15 Part 16 Part 17 Part 18 Part 19 Part 20 Part 21 Part 22
Temple of Rage - Leslie Miller


(Set in the modern Xenaverse, Berkeley California) In order to become one of Ares' elite Arms Masters, Harmonn Sharpe must kill the leader of the local Elijian Campus Crusade for Peace, Erin Kincaid..
Tempting Trouble - Snap [unfinished]
Reeling from the incarceration of her mother and accustomed to a life on the streets, Raven Vlade is immediately ostracized from the clique of teenagers inhabiting downtown Thursville. Living with her lascivious Uncle is traumatic enough, but when coupled with her new school's evidently elitist system, the stunning vagrant finds herself in need of a dangerous diversion. Nicky Mayfair, an effervescent and popular cheerleader, is awed by the arrival of the enigmatic stranger, yet Raven's lowly status as 'trailer trash' bridges a gap between the would-be lovers. The class divide needs to be conquered, but does Nicky have the courage to succumb to temptation and defy the stifling conventions of her town? Or are the disturbing repercussions enough to deter her?
Part 1 Part 2 Part 3 Part 4 Part 5 Part 6 Part 7 Part 8 Part 9 Part 10 Part 11 Part 12 Part 13 Part 14 Part 15 Part 16 Part 17 Part 18 Part 19 Part 20 Part 21 Part 22 Part 23 Part 24
Thank You - Leigh McEoghan


A woman reflects on how actions speak louder than words
That Friend of Mine - S. Lee


Kat makes up her mind to win back the love of her Beth and reunite her family in this romantic conclusion to the Kat and Beth series.
That Which One Desires - Amelia Sedley [über/unfinished]
It's the summer of 1912, and Jesse Tyson has disappeared in Mongolia while on an expedition. Annie Thomas and Ed Kearney set out to find her in a wild, dangerous country where all order has collapsed and bandits roam unchallenged.
That's When I Fell - Insane Englishwoman
A sweet innocent girl from a wealthy family meets big bad biker girl from the wrong side of town.
Thème Femme pour le gène Butch - JLNicky
FRENCH version of Femme Theme for the Butch Gene. Est-elle trop Butch? Besoin de la féminiser? NOUS AVONS UN REMÈDE! Un quatuor professionnel de lesbiennes féminines est à votre service.
There is Something About Dairy - Leigh McEoghan


Two halves become whole at a late night store.
These Dreams - Verda Foster


When Samantha finds out that the mysterious woman she has dreamed about as long as she can remember may be real, she sets out to find her. The search leads her to the Beautiful Tess Richmond, but heartbreak is soon to follow. Aware that a private investigator has been hired to look into her affairs, Tess mistakenly assumes the little blonde asking questions about her is the investigator. She decides to teach her a lesson, never suspecting the terrible mistake she's about to make, and the fragile heart she'll decimate in the process.
These Dreams - Nativebard
Erin finds the perfect woman in her dreams. Will she ever know the real thing?
Tighest Knot (The) - Maderlin Bidmead [unfinished]
When desperation is all you have, is it enough to overcome the righteousness of another?
Directly follows the events of The Binding Tie and The Strongest Bond.
Thirteen - Emyster [unfinished]
Where does thirteen lead us?
This is a Lonely Life - Beth


A short story about a musician named Laken and a conversation one night in a bar. It grew from listening to the song "Sylvia Hotel" by Cheryl Wheeler.
This Time - Midget


Seven months after the death of her lover Laura O'Donnell still grieved the loss. But then suddenly Toni was back, and with her came a heap of dangerous trouble. Laura discovers she really knew very little about Toni Lawler, but was determined not to lose her again this time.
Thousand Kisses - Girlbard


The sequel to 'We Do What We Can'!
Part 1 Part 2 Part 3 Part 4 Part 5 Part 6 Part 7 Part 8 Part 9 Part 10 Part 11 Part 12 (conclusion)
Three Women - Anne Anzel
Summary Pending
Tides of Fate - Lena
Thracy Chandler's beautiful young wife has been murdered and Tracy is the prime suspect. Can her attorney find the truth before the murderer strikes again?
Part 1 Part 2 Part 3 Part 4 Part 5 (conclusion)
Tie Break - Bonnie
Anne Patakis and Shana Wilson are best friends and have a serious problem with timing. They love each other, but never quite get around to mentioning that. There's a lot of Angst in this story (or so I've been told) - so beware. A love story mystery drama, for lack of a better description.
Part 1 Part 2 Part 3 Part 4 Part 5 Part 6 Part 7 Part 8 Part 9 Part 10 Part 11 Part 12 Part 13 Part 14 Part 15 Part 16 Part 17 Part 18 Part 19 Part 20 Part 21 Part 22 Part 23 Part 24 Part 25 Part 26 Part 27 Part 28 Part 29 Part 30 Part 31 (conclusion)
Time: Clock of the Heart - Alex Tryst


This is the sequel to Persistence. Just when Drew and Lola are supposed to live happily ever after, their relationship is put to the ultimate test. Will they survive it, or will Lola lose her hero?
Time to Love, A Time to Hate - Sue Hickerson


The violence of bigotry strikes an innocent gay/lesbian subcommunity in a small college town in Montana. Sam Adams is the heroine who fights to save the day, and Annie O'Shea is the new lover who gives her the strength to do it.
Part 1 Part 2 Part 3 Part 4 Part 5 Part 6 Part 7 Part 8 Part 9 Part 10
Time to Trust - JL Nicky
Trace Carter, a young gay woman, is broke andstruggling to change her life for the better. Amoment between strangersand a gift given without strings has Trace questioning everythingshe'd ever learned about people.Could it be time to trust?
TN's Unnamed Story - T. Novan


A young woman gets more than she bargained when she inherits a haunted property in the bayou. She must help the souls of two tormented lovers reunite.
To Be...Or Not? - Greek Warrior


Victoria's job change moves her to a bigoted town where she meets Catherine. Is Catherine the person to unlock Vic's wary heart or is she just as unscrupulous as some of the other people Vic's had the displeasure of meeting?
To the Love of My Life - Linda Crist


Kennedy and Carson are celebrating 10 years together and enjoying the blessings of a happy family life.
To the Manor Sold - Phair


This is a completed Uber Sci Fi tale. It is a Master/Slave relationship so expect violence, sex, bad language, and leather pants. Tess, the reluctant Master of the Manor, finds her life becomes even more complicated when her brother sells her a stolen slave.
To Protect and Serve - T. Stratton


Tyler Jones is hired by BJ Stanton to protect her from a deranged stalker. Unable to fight the connection she feels, Tyler falls in love with BJ. Will Tyler be able to keep the woman she loves away from a man who is willing to kill to be close to her?
Top Down - Evecho


Two women meet for a long overdue hot encounter, but jealousy and pride hold them back from more.
Torn Deep - JM Dragon [unfinished]
Susan Callahan's life as an archeologist who specialized in ancient history ticked along without diversion. When hired to consult on the authenticity of works of art she knew where housed in the Smithsonian her life took a dramatic turn. Kidnapped and tossed over the side of a boat to drown, Susan finds herself rescued by a woman named Zea. Because she lost her glasses during the kidnapping she can't see the woman clearly but nevertheless feels drawn to her. After she returned to her safe existence, Susan fanaticizes about her rescuer and longs to see her again and tell her how she feels. After five years of letters and messages that lead nowhere she still held the mysterious woman up as her dream lover. A chance encounter at a museum has Susan beginning to let Zea go and move on.
Torture of Time (The) - DK Ward
This new version of TTOT is nearly complete, and has already been picked up for publication in e-book form (I'll post a link to the site when it's available) while I ready it for paper publication. There's also a new drawing added of "Sydney Williams".
Touching Steele - JenX & Shana [unfinished]
Sarah is exhausted and ill after escaping the murderous Center. She ends up on Steele's plantation, but Steele is convinced that the young blonde is a spy. (Please read disclaimer carefully)
Part 1 Part 2 Part 3 Part 4 Part 5
Treasure of Serpents Isle - Inyx


On an uncharted island off the coast of Trinidad, set in the mid 1600's where shipwrecks are notorious, one such ship is unlucky enough to sink on the hidden reef leaving only a few survivors to make their way to the shore. Miles to the north a young Carib is taken from the prisons on Jamaica and brought to her new home of the pirate ship the 'Crusader'. Left in the hold the young girl waits to find out her fate.
Tree Huggers, Children & Broken Decoys... - Ali Vali


What happens when a star gazing, workaholic, gourmet coffee drinker comes into an inheritance she wasn't expecting? Add to that an annoying inspector that wants nothing to do with her at first and you get the title to this story.
Trial series - Troubleshooter
1.

Trial of Conscience - Troubleshooter [unfinished]
"Fraud and deception in New Orleans challenge a lawyer and law student's hearts, minds and wills. Book One in the Trial Series."
Triangle - Zoe


A PWP type story
Trip Around the Sun - KatharosXG


Two women meet at a university faculty mixer. With a little help from their friends, they find a mutual attraction. This is a story about a year in their lives.
Trouble With Ancients (The) - Cephalgia


Alli, a day care owner decides to take a bus tour ... only she ends up with a group of seniors, but Ty the bus driver has a way of enlivening the trip.
Truth in Love - Nene Adams


An entry in the Christmas challenge set in 1898 London where a librarian laments being alone and meets an imposing man at their employer's christmas party who has a secret.
Turning Tides - A.K. Naten


Love is rarely perfect... sometimes it seems impossible. A young woman leaves her troubled past, determined to start a new life in a new city. When she becomes hopelessly entangled with a domineering, emotionally embattled individual, she doesn't know if it's a dream come true, or her worst nightmare. Chapters 1-29 posted in 5 parts, total of 55 chapters when complete.
Twelve Days - Colleen


An ordinary visit to Santa leads to an extraordinary discovery of love. This holiday tale is not just about two people becoming a couple, but four people becoming a family.
Part 1 Part 2 Part 3 Part 4 Part 5 Part 6
Two Cross Side - Cheyne
A little PWP. A bored executive, in town on business, meets up with an attractive little pool shark who is enticed into a game that just may change her life....
Two Hearts - Colleen


A short Valentine's Day story
Two Steps Forward, One Back - JM Dragon [unfinished]
Catherine and Jace are back! The twins are on their way, family problems and old questions are answered. This story follows All Our Tomorrows and will be the last of the Define Destiny series...well maybe..
Part 1 Part 2 Part 3 Part 4 Part 5 Part 6 Part 7 Part 8
Two To Tango, The Case of the Manx Pigeon - Anon2
A pulp fiction tale about a down-on-the-luck PI who solves a case with the help of her trusty secretary.
Two Weeks at Wandanna Beachs - msprism
Solley Rayner and her children visit her sister and her partner at Wandanna Beach, looking for respite from an acrimonious divorce. But Wandanna Beach is anything but quiet this summer as a film crew arrive to film the stunt sequences for a blockbuster.
Typical Fight Scene (A) - Mr. Valentine
The title's probably the best description. Beyond that, words fail me. After reading the piece, you may think that's too little too late.
Uber in a Nutshell - Beth Gaynor
One of the most clever stories I have come across. The fact that it took me but a minute (if even that) to read added to the pleasure! This is a DO NOT MISS story!
Uber Is As Uber Does - Celine


An utterly silly story about someone who really wants to be an uber-Gabrielle and really wants to find her uber-Xena.
Uber Uberalles Ubers - KSP


Summary Pending
Unanswered Prayers - The Autobiography of Solange Boas - Leslaureate (aka Amy G.) [ unfinished]
summary pending
Under A Colorado Sky - Patsbard


A western set in the late 1800s. The story of the bounty hunter Ty and Brianna.
Part 1 Part 2 Part 3 Part 4 Part 5
Under the Gun - Lori Lake


The sequel to Gun Shy ... has Des struggling with the constant danger she and Jaylynn face.
Part 1 Part 2 Part 3 Part 4 Part 5 Part 6 Part 7 Part 8 Part 9 Part 10 Part 11 Part 12 Part 13 Part 14
Under the Kenyan Sky: A Romance - Portia Richardson


Two PBS personalities are thrown together to work on a project in Kenya. Kate, a no-nonsense animal activist and conservationist meets Serena, a warm and sensitive professional chef. Can these two women find common ground on the Park Reserve? NC-17
Unfinished Business - CherylAC
A chance encounter on a crowded street leads to a night of passion. But what will this night bring for our two female protagonists? A one night stand or is there unfinished business?
Uninvited - Dikern


An arranged marriage sends Danielle, the headstrong princess of France, to Spain. Her promise to submit to her royal duty quickly changes when she meets Maria, the beautiful and brave older sister of the man the king has chosen for her. Danielle and Maria will risk the love of their family and their lives as they fight to give true love the chance it demands.
Part 1 Part 2 Part 3 Part 4 Part 5 Part 6 Part 7 Part 8 Part 9 Part 10
Unlimited Sexual Favors - Cephalgia & MJ


Good friends Wilder McNeil and Darcy Gardner make a bet and the heated competition teaches them it's not whether you win or lose, it's how you play the game.
Unspoken - Loona


A stream of consciousness piece about an awful awakening: lying next to the one, she loves, but having in mind another woman from the past, the protagonist is caught on the thin line between reality and dream world...
Unspoken Question - A.K. Naten
"...They say that sometimes, 'a girl likes to be asked'. But I don't always find that to be true. Sometimes you don't need to ask. Sometimes you just can't. Sometimes, it's just best if it remains... unspoken. ...Or, is it?"
Unsuspecting Target - Trigar
A vacation in Europe was just what the doctor ordered, or so Haley Connors thought. A novelist of some repute, Haley found herself stuck in a bad case of writer's block and was secretly grateful when her sister Elizabeth 'forced' her to take this vacation. But Haley got more than she bargained for. After becoming a witness to a murder, Haley unknowingly comes into possession of a disk with information on it that many people have died for. Kat McGregor, a secret operative assigned to the case, must now do her best to find the missing disk and to keep Haley alive after several attempts on the novelist's life are made. Together they walk through the shadows of life and death where they also discover a budding friendship amidst the chaos.
Untamed Heart - Daydreamer [unfinished]
An offering by a first time bard. Drew leaves her life behind to start over in a new city.
Until It Ends There Is No End - Phantom Bard


This is a sequel to Cycles. The 65th generation reincarnation of Xena brings about a change in mankind with the deployment of a fearsome weapon created by her predecessor, Dale, the Goddess of War. This story follows the growth and adventures of a new Warrior Princess, and the return of Ares, the God of War.
untitled story - Mickey Minner [Incomplete]
Linda is tired of a life working long days and not much else. So she sets off to discover what she's been missing and happens upon the small town of Henry's. She is intrigued by the quiet charm of the place and of a certain cafe owner.
What will happen when these two women meet? At this point, no one knows...
I'm writing this story with the help of my discussion group. It's an original story but I have no idea where it is going because after each part I'm asking the members of my group to decide what comes next.
Up the River - Sam Ruskin


Five years ago Mickey Lawton murdered Anna Stoner in cold blood. He got away with it until now. Leaving an eyewitness to two of his most recent murders was not smart. It might, however, have been lucky for the witness. Alexandra Abigail Stoner, Anna's twin sister, has been assigned to protect this witness for the next three days. Will the witness make it to the Grand Jury Hearing? Can Mickey Lawton resist the temptation to go after yet another Stoner? Who is the sexy blonde in the fedora and why is she smiling?
Valient Heart Series - D
Valiant Heart (A) - D
A futuristic (or is it timeless?) love story between a duty bound warrior and her soulmate bard. Destined to be together but will war and secrets keep them apart.
Valiant Interlude - D
The sequel to 'A Valiant Heart'...
Valiant Journey (A) - D
This is the next installment in the Valiant Heart Series
Valiant Kiss - D
This is the latest offering in the Valiant "Alphabet" Series following the wonderful A Valiant Interlude.It's no secret that this writer is a favorite of many; I defy anyone to say that this particular piece is less than spectacular. WOW! Classic opening and it keeps you on the edge of your seat right through the fairytale ending. The piece is short, but believe me, this storyteller makes every word count.
Valiant Nightmare (A) - D
In the face of Ares interference, the time has come for Randi to reflect on her past and make some decisions about her future.
Vampire Hunter Series - Jp
Hunting Clarion - JP
It's an uber and it's R-rated on account of the blood and bad words. The gist...well it's a little too complicated to just say a Vampire Hunter and a Vampire meet up and butt heads, so I suggest just reading it. ;) By the by, this is just book I, there is a book 2 which is still incomplete.

Return of the Prodigal
Our unlikely duo of Hunter and Vampire are on the lam and on the search for a certain Master with special plans for the human race. As always a little love and romance, some fearsome fighting, and lots of help from things that go bump in the night.
Vendetta - Talaran


Nicole Stone is a detective with a painful past. Often reclusive and driven to succeed, she never imagined herself falling in love, but when she meets Carly Jamison, her Partner's sister, her beliefs are shaken. Can Nic open her heart to Carly, while trying to save them all from the clutches of a ruthless drug lord bent on revenge?
Part 1 Part 2 Part 3 Part 4 Part 5 Part 6 Part 7 Part 8 Part 9
View to a Kiss (A) - Barbara Davies


Barbara's sequel to Say Good-bye to Boston. This time, British secret agents Ashley Blade and Jemma Jacobs are off to Brazil... where the nuts come from. It's Rio, con Brio, as Ash and Jemma set out to foil a new plot by the Libyan terrorists who caused them so much trouble in the Canary Islands.
Vigilant - Blitzgal [unfinished]
This is an Uber-alt story which takes place in the present day. It centers around the character of Lana Wilson, a senior in high school who by chance meets a woman whom she is convinced is moonlighting as a real-life vigilante referred to by the press as the Urban Avenger. This is merely part one of the piece, to be continued as long as there are new adventures for this pair.
Visita a Domicilio - JLNicky
Spanish version of The House Call - La tendré que ver en unos días, pero como trabaja cerca de mi casa podría pasar por el rancho, ¿le gustaría eso? --todavía me estaba abrochando la camisa cuando la miré con confusión y entusiasmo al mismo tiempo—. No le molestaría, ¿verdad? —miró directamente a mis ojos. Su profundidad verde centelleaba con un secreto.
Voices Carry - Stacia Seaman


A young woman believes she heard the voice of a friend who has gone missing
Voyage Aboard the Queen - Ronica Black
Two women, who are hot for each other, step aboard a cruise ship.
Voyages of the Mind - Amy van Dyke
is about two women who find each other just as they lose their minds.
---
Questions, Comments or Broken Links can be be directed to The Academy