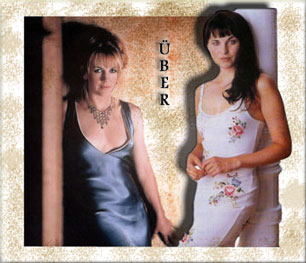 Alternative Uber Fiction
---
last updated: March 14, 2010
Dakota series by Ri

Dakota - Ri
Dakota was a very successful gambler who was having a reccuring dream every night. Would the innocent Jackie make it come true?

Dakota 2 - Ri
Dakota takes Jackie home to meet her beloved Father and defend Jackie against a threat that could steal her love forever.

Dakota 3 - Ri
Happily settling in to life together Dakota and Jackie help Dakota's oldest friend find his happiness.

Dakota 4 - Ri
Several surprises are in store for the family when a group of Mauraders hit several towns and villages nearby.
Da Nang - Larisa


During the Vietnam war, MSgt Zachary is a secret Ops organization that America won't admit to being a part of. With one gaze into the sea green eyes of a 91st Eval surgical nurse Mickey Jardian, those secrets are spilled.
Dakota's Way - Robin Hicks
Koty Silvers, a detective from Virginia Beach is just getting over her break-up with Tina. Not wanting to get involved in another relationship at all, she was so not ready for Doctor Kasey Brooks to enter her life via her sister-in-law Chris.
Damage - Sparky
Jay Rollins is a crime tech at the Johnson County Crime Lab. She faces some of her most difficult challenges, professional and personal when she gets called in to help with a muder in her hometown of Lawrence, KS.
Dance (The) - KarenK


The mystery of a relationship - a dance of love and pain - unfolds in a hospital after a writer crashes.
Dance After (The) - KarenK


After a month and a half, is it time for Lauren to let go? Will she ever let go? Sequel to The Dance
Daonnan(Forever) - T. Cullen. [unfinished]
They say good things come to those who wait, and Evan does a lot of waiting. She once held everything she wanted in her hands, only to watch them taken away before her very eyes. This is the story of Evan and her refusal to accept that her time for happiness has passed. It is about wanting and willing to wait out the return of you anam cara, or soulmate, regardless of the distance and time that separates you. Entwined with modern beliefs and legends of Ireland, join Evan on her quest for her anam cara, even if it takes her forever.
Dark by ShyBard
Seventeen year old Beth is sent to live with her father, whom she has not seen in several years. She is dismayed at the condition of her "new" home and school. Beth encounters a tall, black haired girl who, at first, she believes to be her nemsis. Soon, though, it becomes clear that Toni is her biggest defender and ally.
Dark Heritage - M.E. Greska [unfinished]
The nightmares have begun and strange things are happening. Casey Meford is a strong, self sufficient woman whose life has just spun completely out of control. Will the love of a new friend be enough to reawaken Casey's trust in herself and others as she wages a battle for her very soul? Time will tell.
Darkest Hour (The) [unfinished]
A sequel to Vendetta, we see what fate has in store for Nic and Carly.
Part 1 Part 2 Part 3 Part 4 Part 5
Darkwood - Sammet [unfinished]
On her monthly visit to her favourite S/M club, Alex witnesses a young slave being sold by auction. On a whim she buys her and soon has to discover that the small blonde is more than she seems.
Date To Remember (A) - Barbara Davies
Two women decide to picnic in a WWII coastal watch tower and uninvited guests join in.
Daughter of Egypt - Shadowriter


Daryl Bromley is an English orphan on the streets of Cairo, who is forced to steal to survive. After being caught with her hand in the wrong pocket, she is rescued by Ashayt Kemshet, an Egyptian who is more than she seems. Ashayt offers Daryl a proposition -- steal something for her, and she'll never have to go back to the streets. It's a deal that will not only change Daryl's life, but her entire perception of reality.
Day Lucy Broke Down (The) - Damnation


A light hearted romance. It seems that it's on the day that Lucy broke down that Kelly's love-life gets a jump start.
Dean & Kate series - Trish Kocialski
Forces of Evil - Trish Kocialski
Forces of Evil takes place in New York state in a small Catskills resort town. As the story unfolds, two female undercover agents from separate agencies meet, and join forces to try to decipher and stop a diabolical plot of world domination from reaching its climax. As they find themselves falling helplessly in love, adding a new dimension to their jobs, and another set of priorities, the team races to a cliffhanger conclusion.
Blue Holes to Terror- Trish Kocialski
Following in the wake of Forces of Evil, Blue Holes to Terror brings the readers another story involving Lieutenant Colonel Deanna Peterson and Special Agent Katherine O'Malley. After witnessing a near tragic "accident" on I-35, in which a retired British MI-6 agent was targeted for elimination, the pair is asked to unofficially investigate, and runs headlong into a terrorist/mercenary initiative designed to sabotage a multi-national military exercise. The action begins in Washington, DC and culminates on Grand Bahama Island in the Caribbean. Our heroines have to rely on their ingenuity, physical skills, and a little help from their growing circle of friends to succeed in stopping the terrorists from achieving their goals.
Deadly Challenge - Trish Kocialski
Dean and Katie return to Virginia after their week of rest and relaxation in the Bahamas. Katie is starting a new job with the DEA as an instructor at the training center in Quantico, while Dean returns to the Pentagon and her Intelligence work. Trying to organize things in their new routine, their lives are soon turned upside down, when vicious acts of violence target their close friends and attempt to tear apart their personal relationship. As the women try to decipher all of the pieces of the puzzle, their search is complicated by the demands of their careers and an unexpected request from Dean's estranged father. Dean is forced to accept a deadly challenge and race against time to find her lover, as the action escalates to a thundering climax at Niagara Falls.
Visitors (The) - Trish Kocialski
The next story in the Dean & Katie series...
Dear Booger - Zuke


A series of letters between friends about an adventure whilst on vacation.
Death is Just the Beginning - Dragonjuls [unfinished]
The Dragon has brought us this marvelous story that mixes humor and mystery. The consequences of a chance meeting between Millicent Packer and Violet Reed are far reaching and lasting. Join them in this uproarious who done it.
Death of a Hunter - Robin Alexander
PWPish. Brette lives for one night stands, until she meets a woman who makes her want to change her ways. The second half of the story is just my sick sense of humor running rampant.
Death of Innocence - Terias McKlay
Two young women must save themselves and their city from demons, vampires and a warlock bent on wreaking havoc & destruction upon the populace.
Part 1 Part 2 Part 3 Part 4 Part 5 Part 6 Part 7 Part 8 Part 9 Part 10 Part 11 (conclusion)
Deception - Erin O'Reilly [unfinished]
Lane Cutbert knew exactly where she wanted to go and what she had to do to get there. Her goal was to challenge the network legal gurus for their positions but first, she needed a juicy scandal or murder. What she found was a beautiful woman with a secret in need of a lawyer.
Part 1 Part 2 Part 3 Part 4 Part 5
Deconstructing the Box - Kel [unfinished]
This is the story of a young woman with a heart of gold and will of steel. After a particularly violent break up with her abusive lover, Reilly Fredericks finds the strength she needs to move on with her life and her brand new career with the help of her teacher and dear friend, Tia. Tia persuades her younger friend to stay with her while she tries to heal the physical and emotion damage that her former lover caused. Along the way, Reilly's and Tia's friendship will grow stronger as they each find out more about the other and themselves.
Deep, Black Water - Lariel


On a dark and dreary evening, Emmy Day takes a shortcut home through the park, and meets Sarah Walker. It's a decision that will change her life, forever. This story will blow you away!
Deepest Ocean Green - JLNicky
Captain Dean Tanner, retired from the NAVY, finally comes aboard her Uncles' Tanner Industries Cruise Line. The maiden voyage of the Queen Victoria begins for a 10-day holiday cruise to various exotic ports. Read how Dean and her first officer, Chris Parker find themselves afloat in a swelling romance that can only be cooled by the Deepest Ocean Green waters.
Define Destiny - J.M. Dragon


Catherine thought she was leaving trouble behind her when she deserted her Publishing Empire for a ranch in New Zealand. However, she soon succumbs to Beautiful Jace's charms and embraces. She cannot resist the young woman's invasion of her heart.
Part 1 Part 2 Part 3 Part 4 Part 5 Part 6 Part 7 Part 8 Part 9 Part 10
Part 11 Part 12 Part 13 Part 14 Part 15 Part 16 Part 17 Part 18 Part 19 Part 20
Deja Vue - Dee


Once Sarah met her, there was no denying the spark of passion and undeniable attraction that changed everything so unexpectedly. Her world was suddenly filled with love and happiness, having found someone so special. There is only one problem with Sarah's perfect life, her perfect lover, her dream come true. . But you will have to read this romance to find out the whole story.
Delirium Tremens - Vivian Darkbloom


[Academy Halloween 2002] Whitney Morris has demons in her head, a flagging career, a shady past, a relentlessly chipper manager, a pesky ex-husband, and enough vodka in her blood stream to make her a Russian national heroine something to which she aspires, she so loves to wear those furry hats). The last thing she needs is a trip to a spooky old house in the country and encounters with a mysterious housekeeper and a blonde with bodacious ta-tas. So guess what happens.
Delta Sucks - girlbard


A story about a much needed vacation that is disaster prone.
Desert Hawk - Archangel


Dylan Hawke is a young Military Police Officer with deadly fighting skills. But nothing could have prepared her for the mission she was about to face. Death is all around her, will her training be enough? Lura Grant was young writer, trying to prove herself. Brought up a gentile Southern Belle with a backbone of pure steel, she was out of her element. When these two women meet in the midst of desert turmoil will they be strong enough to survive? Will the love they discovered survive as well?
Desert Wind Rising - Tragedy88


Georgia's plane crashes in the desert and as she crosses it, on the edge of death, a nomad rescues her. Together they flee from slavers, and run to the city. Where a curse from the past could destroy their future.
Designs of the Heart - Heartbrkn Bard [unfinished]
Jack reminisces about her life with Desi, the women she can't forget.
Part 1 Part 2 Part 3 Part 4 Part 5 Part 6 Part 7 Part 8 Part 9 Part 10
Desiring Deborah - Texas Hottie


Lee is a woman going through the motions of life. Until the day she met a young woman who would literally shake up her life.
Desperate Measures- Candy


Mystery writer, Dru Warlord, finds out that researching an old murder case can be hazardous to her health and those she cares about. Kasey Lovett, a struggling proof reader meets the writer at a publishers' party. Her agent, Gregory Michael, needs Dru's latest book on his desk as soon as possible and feels she needs some help, and thus recruits Kasey to help the stoic writer. Sparks fly.
Destined by the Gods - Inyx


Set in the times of Ancient Ireland, the fiery young Rhiannon Kelan believes she is never destined to find a true love, until she meets the dark and powerful Lord of Teyrnon, Caitlin O'Brennan. Soon they find that their lives are not only intertwined with chosen Gods, but with the magic that is the very core of Ireland itself.
Destiny's Bridge - Carrie Carr


Was it the storm damaged bridge or destiny that brought Lexington and Amanda together?
Dex and Nellie's Halloween Story - Lizzy Tendre
Dex, a Secret Service agent, must guard the President's daughter.
Dixie Stampede (The) - Ponigirl


This is a sweet love story set during the Gold Rush. Both women must learn to trust and over come the boundaries that society has placed on them.
Dog Days - Blue Dragon


Über narrative set in the present. its the story about how two women met thanks to a very special and unusual matchmaker.
Dog Days - JH


This is a simple story about a girl and her dog. It's also a story about what happens when the girl and dog meet another girl and dog.
Doggie Door Follies - nyrdgyrl


Here's a story that will help Doggie Door Redux make more sense.
Dolls, Dames, and Skirts - Tragedy 88


Short story set in the 30's. Jack is a PI in the seedy underbelly of Chicago, and Lois is the blue-eyed dame in trouble. Part of the 101 Aurellian Nights series.
Domesticity - Friend


Summary pending but had one of the best submission letters to date <g>
Don't Ask, Don't Tell - S.K. Allen [unfinished]
A Military Tale of romace, two women bound by a common goal yet separated by a common rule: Don't Ask, Don't Tell. Their bond is like a flower among choking weeds.
Part 1 Part 2 Part 3 Part 4 Part 5 Part 6 Part 7 Part 8
Dorcas and the Gypsy - Barbara Davies
England in the 1860s. A young woman confined to a lunatic asylum and a gypsy banished from her clan ... what will happen when their paths cross? Only the cards can predict.
Double Play - Cruise [unfinished]
Cassandra Storms is a top softball recruit and arrives at the University of Florida, nervous about meeting a group of new teammates. After her first encounter with her softball idol, Dakota Colby, Cassandra becomes disenchanted when her high expectations of the woman don't coincide with Dakota's personality. Dakota is a top athlete and the envy of many. She's interested in Cassandra and disappointed by the way Cassandra responds to her. The mystery of a secret pushes them away, but their mutual attraction draws them together, feeding the undeniable passion within.
Part 1 Part 2 Part 3 Part 4 Part 5 Part 6 Part 7 Part 8 Part 9 Part 10 Part 11 Part 12 Part 13 Part 14 Part 15 Part 16 Part 17 Part 18 Part 19 Part 20 Part 21 Part 22 Part 23 Part 24 Part 25 Part 26
Download - Jules Mathews


Two women meet online through an email group; one American/ one British. The attraction is there but they have long term partners and plenty of obstacles to overcome. Do they stay with what they know or take a chance on true love?
Dozen Roses (A) - Crystal Mills
Summary Pending
Dreamer (The) - SDerkins
Okay, this time pizza with hot pepper gave this writer bizarre dreams. The writer dreams of a writer, dreaming about her character coming to life...or does she? PWP
Dreams - D
Summary Pending
Part 1 Part 2 Part 3 Part 4 Part 5 Part 6 Part 7 Part 8 Part 9 Part 10 Part 11 Part 12 Part 13 Part 14 Part 15 (conclusion)
Dreams and the Reality (The) - Monkey
A short PWP...
Dregs of Summer (The) - Cephalgia


The end of summer just may be the beginning of a new life for Toni and Rae.
Dreams of you - Sean Ambrosie
Dress Blues - Amelia Sedley


A young Army recruit catches the eye of her drill instructor.
Drifter - Amber Andersen [unfinished]
A woman, Alianna has been cursed by a sorceress to go through each reincarnation, remembering all of her lives clearly. She is slowly going insane, then she meets Rickie, a kind cashier.
Dwelling in the Past - Fingersmith
Abbie Jameson needs to escape her life. A writer with no muse, and a marriage with no love. She retreats to Yorkshire in a bid to find her true self. But the 'self' she finds is not what she was expecting. Only the dark, enigmatic Kate Thomas can help her discover the truth.
Although a supernatural vein flows through this story, it is ultimately about love, self-discovery and the realisation that all we have to do is let go … and believe.
Echoes From the Mist - Advocate


The sequel to Cobb Island finds Kayla and Liv ghost hunting in Scotland and finding out more about the mysterious Bridget and Faylinn's history.
Edge (The) - thenorm (unfinished)
Two women working in a restaurant fall in love whle being stalked by a psycho.
Part 1 Part 2 Part 3 Part 4 Part 5 Part 6
Editor - Mary Ann Brown [PWP]
summary pending
Eight Days in October - Kim Pritekel
Summary Pending
Eight Months - Insane Englishwoman [unfinished]
This is the sequel to "The Day After" and continues the tale of Sam's life on the streets. There will be further chapters.
Elf for the New Year (An) - BluDreamscape
Kay came home for the holidays looking for change. She couldn't have known the changes that would find her.
Emotion - Idryth


Emotion concludes the story arc that began with Insight and continued in Realization. Kris and Sam have come to terms with what they mean to each other, now can everyone else? And, will the danger that seems to haunt their every step continue to plague them? Read Emotion to find those answers and more.
Em's Song - Laststarlite


What songs do you remember that were a balm to your soul when you lost the most important thing to you?
Encounter Series - Anne Azel
five interrelated stories take you traveling around the world with some really dynamic lovers.
1.
Amazon Encounter
Come explore the mysteries and wild world of the AmazonBasin through the eyes of a young female doctor and her beautiful and dangerous guide
2.
Turkish Encounter
Travel in an ancient, exotic land and discover the roots of a mystery and an eternal love.
3.
PNG Encounter
Explore the last frontier with two feisty women bounded bylove and divided by their past
4.
Egyptian Encounter
Journey to the temples of the pharoahs and the Valleyof the Kings as two women find love is stronger than hate.
5.
Peruvian Encounter
Hike to Mache Pachu and study the ways of the ancient Inca as two women learn to trust love again and help end an ancient rift.
6.
English Encounter
Tour the south of England as six brave women must faceand fight an ancient evil.

Easter Island Mystery
A spin off short story from the Encounter Series
The End by The Fallen
A stolen ancient artefact and a riddle that begs to be solved. Zoe Mercouri came back from the dead in the hopes of finding an answer and answers are all Cassie Wayward has ever wanted. But where will the riddle lead them and what dangers will they face? And most importantly of all, will they face such dangers together? It's one thing to defy death, it's another to defy the end.
Endgame - Meghan O'Brien
Delaney, a self-confessed cad and committment-phobe, meets a woman she shouldn't play. However, it's also the one woman she can't resist.
Endless Summer - Cephalgia


In the sequel to The Dregs of Summer, Toni and Rae continue with their new business partnership and personal relationship
Ensorcelled - Lady Savay


A party goes horribly wrong and results in a exorcism of a spirit to retrieve past memories.
Entre Nous - S.X. Meagher & Anne Brisk


Eleanor is at dinner with a co-worker when she notices a table of young women, one of whom catches her eye. They begin to flirt as they each wonder about the other.
Erin McKenzie Detective series - Ronina Black
1.
In Too Deep - Ronina Black [Über/alt/unfinished]
This is the introduction to the Erin McKenzie detective series. This is not my usual romantic tale, so you've been forewarned!
Everybody Loves A Parade - Akiela Xal

Everytime - KarenK


Everytime Lane closes her eyes, she sees Angeline's face. And everytime she cries, she sees her angel's smile. A night of forbidden passion tore them apart... now, what would bring them together again?
Evin's Revenge - B. Soiree
A fiercely competive attorney, Evin seeks revenge on her partners for hiring petite Elizabeth Montagieu, her rival. The two men have fled town for the Christmas holiday, whisking away their families in the hope of avoiding Evin? wrath. But can they avoid detection? And what about this new hire with the soft Southern drawl and iron will who now has set her sites on the tall beauty? This is a sequel to A Million Dollar Lady.
The Exlice, Sorcerer, Traitor and Chalice - Jane Fletcher
The quest for the stolen chalice is just a sham - an excuse to get rid of Tevi, and save her clan further embarrassment. She finds the outside world a dangerous and confusing place, especially once her arrival triggers a chain of events she has no control over. Monsters, sorcerers, murder and a long hidden secret all await her. If this isn't enough, Tevi will have to overcome her own inner demons and figure out exactly what she wants from life.
Extreme Measures - Candy


Needing a break, Dru Warlord and her friend, Kasey Lovett, accept an invitation to a writers' retreat. Iggy Pinkerton would be their hostess. No one suspects what would befall them. Another mystery unfolds for the writer and proof reader. Dru's phobia of closed in spaces would be tried to its limits. At the same time both women realize the depth of their feelings for each other.
Eyes of the Past - Taleweaver


A sleep-robbed lawyer and a brutalized psychic come together and discover a bond neither expected. Xena and Gabrielle help them bring up a son who changes their lives. Warning...tissue alert here!
Eye of the Needle - Annemaart


A young convict, being transported to Australia by ship, nearly meets her end at the hands of a brutal sailor, but is saved just in time by the dark haired captain of an attacking vessel. A long journey starts for them both as they are tossed between friendship and hatred, while suffering through shipwrecks and seabattles.
Faces of Evil - ShoeX [unfinished]
When a government operative mission goes bad, Doctor Kristen Amphipolis decides to leave that life behind and use her skills as a doctor instead of a killer before she loses her soul. A week later a young woman named Rebecca Daia walks into her emergency room and her life changes forever. Just as their friendship is growing, Rebecca becomes the victim of a brutal rape. Will Kristen and Rebecca's special bond be enough to see them through the nightmare and find love in the end?
Part 1 Part 2 Part 3 Part 4 Part 5 Part 6
Fairy Ring (The) - Carole Giorgio


A young woman desires to prove that fairies exist. So on All Hallow's Eve she begins a journey to observe the gathering of fairies and gets far more than she bargained.
Fairy Story (A) - Mr Valentine


A dream about what is good and what is beautiful and what is valuable, as the dreamer is taken through Fairyland to enjoy its hospitality and learn about its games.
Faith's Crossing - Carrie Carr


Lexington and Amanda's faith in their future lead them across country, determined to fulfill their destiny of being together.
Faith's Heart - Vertigo


A continuation of "Private Dancer" and "Reece's Faith", the couple is set to celebrate Valentine's Day and Reece is anxious to have Faith all to herself.
Fallen Fathers - Akiela Xal
Falling - Web Bard


Beth and Reese meet and through a series of "falls" soon realize that they are falling for each other. Prequel to Falling Stars
Falling Stars - Web Bard


Beth and Reese travel to the Grand Canyon for a writing assignment for a magazine. Over the course of several days, they take their relationship to new levels and begin several adventures in the Grand Canyon, including horseback riding and a night under the stars. Sequel to Falling.
Family Aboard - Ri
Waiting to pick up her best freind at the Airport after a year of seperation she get the shock of her life, will their freindship survive the surprise her best freind brought back with her?
Family Connections - MJ & Cephalgia


In the sequel to "Connecting Hearts", Randa and Denise cope with new problems in their lives as well as unexpected problems from out of the past.
Family That Love Built (The) - Psyche_b


The continuing struggles of Danni and Brie as they try to raise their growing family.
Family Reunion Series - Mavis Applewater
1.
2.
3.
Family Gathering - Mavis Applewater [über/alt/complete]
Family Gathering is the third story in Mavis Applewater's Family Reunion Series. Shea and Maddie prepare to celebrate the holidays when an unexpected visitor disrupts their plans.
Family Values - Helen Smith
The year is 2050, a little over a month after the events of "Hunting Season." Quinn and Ariel, ably assisted by the staff of Thanatos Security, set out to learn the fate of Ariel's niece, missing and presumed dead at the hands of a serial killer, who just may be her brother, Scott. Join the hunt, through strip joints, cafes, churches and bars, as they painstakingly assemble evidence that leads unerringly to a murderer.
Fan (The) - Lena


How can your biggest fan turn into your worst nightmare? Ask Anna. She knows.
Faster Pussycat, KILL KILL KILL! - Creme Brulee


Beware of women in fast red cars ... they may be offering more than a ride.
Fate - Kaia


Lauren is a history major in the city of Seattle. After much begging and pleading on the part of her landlords, she agrees to enter her painting of a woman from a dream into a local charity auction. Imagine her surprise when she bumps into a woman who could have been the model for her painting. Is it Fate?
Part 1 Part 2 Part 3 Part 4 Part 5 Part 6 Part 7 Part 8 Part 9 Part 10 Part 11 Part 12 Part 13 Part 14 Part 15 Part 16 Part 17 Part 18 Part 19 Part 20 Part 21 Part 22 (conclusion)
Feast (The) - Emyster
This is not a story of a Thanksgivings day feast. But it is a feast. Lots of kink. Enjoy!
Feed the Bards - Ah-ladis [Song/Parody]
Oh I just couldn't resist spoofing the song "Feed the Birds" from the musical "Mary Poppins". Totally inspired by this month's (July) 'Feed the Bards' theme
Femme Theme For The Butch Gene - JLNicky
Dal and three friends meet a whole lot of women...when they open their business Dyke Femme Down:
Is she too butch? Need to femme her down? WE HAVE A CURE A professional lipstick lesbian quartet is at your Femme(ing) service. We can be at your door in minutes. Give us a ring or shoot us an email and we'll have that butch woman dolled up in less than 24 hours. CALL DFD (Dyke Femme Down) at (559) 555-1512 or 1-800-fem-inin
Fenced Fields (The) - Dee


The tale of two long time friends driven apart, only to rediscover so much more to their relationship in the small Virginia town where they grew up.
Festival Story (A) - D


Solstice story from A Valiant Heart
Fetchin' Cousin Minnie - b.soiree
On her way to retrieve her saucy Cousin Minnie in Sacramento and bring her back to her ranch, Gaine Sargos, Sheriff of Barden's Corner, meets a green-eyed stranger on the stagecoach who completely changes her life.
Part 1 Part 2 Part 3 Part 4 Part 5 Part 6 Part 7 Part 8 Part 9 Part 10 Part 11 (conclusion)
Fields of Gray - Redcat


Alt uber, but very tame. Keep a handkerchief handy for this one!!
Find of the Century - Ri


P.J. just wants a life of peaceful study. Then Kitty and Baby enters her life they not only turn it upside down but she has never been happier in her whole life.
Find What I Wasn't Looking For (To) - Nickie


An uber story about a young woman coming to turns with her sexuality in a new city after being driven from her home. She meets up with a band that plays on the different pubs and clubs in the area.
Finding Honor - Windstar


Sometimes when your past becomes your enemy you have to flee. Sometimes you find your salvation at the hands of your enemies, in the place you least expect. Sometimes that salvation can kill you. This is the story of how a hunted woman found a new future with someone her people had sworn to kill.
Finding My Way - Mavis Applewater


When Stephanie begins her new career teaching history at a small New England University her well planned future takes an unexpected detour, when she meets Allison.
Part 1 Part 2 Part 3 Part 4 Part 5
Fire and Ice - Kim Baldwin


In this sequel to "Blown Away", volunteer firefighters Gable McCoy and Erin Richards face new perils on the job and in their relationship
Fire Ignited Within (A) - Nanook


This is a first time story. It is a story of a fire fighter (Alex) and a newspaper reporter (Cassandra) who are thrown together and end up together in spite of a few jealous people.
Part 1 Part 2 Part 3 Part 4 Part 5 Part 6 Part 7 Part 8 Part 9 Part 10 Part 11 Part 12 Part 13 Part 14
First - Kim Pritekel


Lover, best friend, confidante, and simply next door neighbor. Beth has died, and now Emily must find some understanding and peace behnd their estrangement.
Part 1 Part 2 Part 3 Part 4 Part 5 Part 6 Part 7 Part 8 Part 9 Part 10
First Date - Seana James


Conceived originally as a "First Blush" anthology story, "First Date" didn't germinate quite soon enough to go to Jane Doe Press' collection of short stories. The story was meant to show that we often meet our soul mates in very ordinary circumstances-- not in some blinding flash of insight or instantaneous connection-- and that it takes time for even the most confident of us to work up the nerve to ask out someone we're attracted to-- weeks, not minutes; months, not hours. The story is complete as it stands, though I did leave myself some wiggle room if Jo and Mia decide they want the rest of their story told.
First Light - Emily Duncan.


It always rains in Manchester - or at least, that's how Nia feels. She's the manager of a bar in the centre of the grey metropolis, and suffers from its connection with the city's rotten underbelly. Gangsters dominate her every move, and she feels in thrall to the darkness around her.
Jake is imposing, mysterious, and probably deadly. When she strides into Nia's life, the bar manager ought to run a mile. Instead, the appearance of the dark woman seems to offer her a ray of light. Both must weather storms past and present as they explore their connection, and Nia finds herself looking for proof that her new love will stand firm when the clouds begin to swell.
First Look - BCBard4U


When Police Lieutenant Joyce meets Christina, the Granddaughter of a robbery victim it seems like love at first sight. But will that First Look be their last?
First Principals - PhantomBard
This story revolves around the cloned warrior Prima, introduced in the story "Clonefic 3", and her adventures in the era of the Fall of Troy. In that distant past, populated by heroes and the Amazons of Themiskyra, Prima exceeds the mission given her by the Conqueror and assures a future for the later soulmates, while finding love and arranging for the safekeeping of a great treasure, the ultimate heirloom of the Amazon Nation. Written for Halloween 2006. Trick or Treat!
First Time for Friends (The) - Nativebard
Julie has found the perfect roommate for her friend Nicole, but what happens when it turns out to be someone from her past?
Flames of a Soul - Larisa


When a multi car pile up involving a gasoline tanker happens on Eastbound Rt. 70, every firestation with in miles is called out. Jake isn't what the you would call the perfect firefighter, rules were made to be broken and she breaks them continuously. On every call she risks her life for others, waiting for the day when the flames will consume her and end her pain. Going against a direct order, she wanders off and finds the flames that will consume her. In the fiery green eyes of a trapped accident victim.
Flashback - GabGold


A woman is driven to distraction when she meets a former classmate.
Flashpoint - ArdentTly


Zeen Zinopolis, a Chicagoan firefighter, survives a brutal warehouse fire and has to come to grips with physical injuries sustained. By her side is her lover Abby Dean, a young woman who only wants to love and protect Zeen. However, for someone used to relying only on herself, the offer of safe haven is refused. The two battle with their own strengths and weaknesses and try to keep their relationship going strong. Zeen has to face some hard choices - to accept the love and help offered, or to forge on by herself, turning her back on both lovers and friends. Abby has to face some pretty hard choices, too. Will she be satisfied to accept Zeen in her present physical state? Zeen has been badly burned - both mentally and physically - can she look past both injuries and still stand by her woman?
The story is rather harrowing in its descriptions of fire, the aftermath, and some medical jargon on injuries sustained in a chemical fire. There are lots of scenes of hurt/comfort, and many times when you'll hate the main character. It is for adult audiences only. Please see the disclaimers before reading.
Flea - Lois Cloarec Hart


A whimsical Christmas story about a tiny, enthusiastic Guardian working in a children's hospital, who tries to help a doctor and a nurse along the road to romance, only to find, much to her surprise, that she's on the same path.
Flight 461 - Nickie


A very short uber story of how to occupy your time on a long flight.
Flight of the Gryphon - Barbara Davies
An Arcadian pilot brings her country's new allies a gift that could change the course of the War against the Vieden Empire.
Focus - Idryth


A look into the lives of Kris and Sam after the ordeals of the recent past. Some questions are answered and several more are asked.
Flood (The) - Patty S


[Academy 101 Story Premise] Teri Allen is about to get her chance at network news. A night of rain and danger makes her question whether leaving Sheriff Shay McCallister behind is the right choice.
Fool Again - KarenK


The companion story to Everytime. This is as much Angeline's story as Everytime was Lane's. Angeline was made a fool, not just by Lane but by others after her. But she cannot forget what Lane is to her, so can she forgive instead?
Fool for Love - Erin Jennifer [unfinished]
The quest for true love is filled with pitfalls and hidden dangers. Tired of the journey and alone on an empty beach, Kara Pavlovich was on the verge of ending it all when Faith jogged into her life. This is their story.
Foolin' Around - Idryth


Two Canadian police officers face 'just' another day in their very busy lives.

Foot Fetish - Minerva


A woman indulges in a little fantasy while shopping.
For Art's Sake by Ri
Two artist are drawn together by their work and find they have more in common then their talents.
For Which the First Was Made - eToh [unfinished]
Synopsis pending..
Part 1 Part 2 Part 3 Part 4 Part 5
Forbidden Fruit - Dolph [unfinished]
Life is always a challenge. Especially to young Torina Montgomery. Her life takes a turn for the better when she and her family move to a new house, a new town....damn, and even a new country. But these aren't the only new things that the quiet, introspective girl experiences. Love can appear under the most innocent of circumstances. Wanting someone is one thing, but actually taking them is another. Particularly when what you really long for is totally taboo....and totally forbidden.
Forest (The) - Ri
Clone fiction...
Forever - Dee


Anna was a young writer living near the coast of Maine, who met a dark beauty on a windy cold night while walking home late. What she discovered about the woman and herself changed her forever. The story is told in first person narrative style.
Forever and Always - Robin Alexander
While renovating an old home two women come upon a mysterious find, a simple wooden box. The secrets hidden within are timeless and prove that love is everlasting.
Forget the Moment and Reflect - EpTalk


An early brisk morning walk leads a young woman to meet a little old lady with quite a tale just waiting to be told. Annie has a story of ancient times and talks of legends. More important is that she has a story of love to share and an ending that will surprise you. Sarah's life will be forever changed from her morning walk and taking time to hear this story.
Forgotten Way - Tragedy88


Alex lives in Bluerock, a tiny farming town, where nothing different is accepted. So, who should come to town but Dusty? A loner...a drifter.... Two women will meet, gain friendship and love, even as those around them protest it, and try to kill it. Can love really overcome all?
1 - Sorrow 2 - Friendship 3 - Beginnings 4 - History Lesson 5 - Soulmates 6 - Laughter 7 - Memories 8 - Writing 9 - Remorse 10 - The Unknown 11 - The Night 12 - Prejudice 13 - Whispers 14 - Unfinished Business 15 - Promises 16 - Seeds of Hate 17 - Suspicion 18 - Intimate Danger 19 - Got To Go On.. 20 - Epilogue
Forgotten Whispers - Jennis [unfinished]
A beautiful blonde awakes on a plane with no memory and is carrying over 7 million dollars. AJ Delgado is the Private Detective that she hires to help her solve her mystery. Together they explore world of high rollers, the diamond trade and their growing feelings to each other.
Foundations - David J. Duncan


In this piece, Dave launches his "Community of Tolerance" when he, Angie, Eve, Francesca, and Nick welcome several special students to the university campus. However, several dark threads are developing which will trouble everyone in subsequent stories.
Fragments - Grit


Rayne, a tall British, who owns a bar in Lubeck a town in the north of Germany and Liv, a young Swede, who is a student at the University of Lubeck, meet for the first time as Liv is on her way to apply for a part time job as a waitress in Rayne's bar. And they both know pretty much from the beginning that there is something special between them - something that feels a lot like coming home...........The story covers five years in their lives and the love they share. A love that's gonna survive the difficulties they have to face.
Freedom's Heart - Amber


During a routine skirmish against bandits, Jessica Da¨Gran, the daughter of a local lord-knight, meets Kaleah, a recently released slave-turned-warrior. Sparks immediately fly. Jessica is determined to befriend the dark-haired stranger, and while Kaleah at first stubbornly refuses her kind overtures, eventually she cannot fight against her own desire for companionship. Their friendship quickly grows stronger and deepens into love, then desire. But there are problems each will have to overcome in order for their love to grow, and stirrings of war that will threaten the lives of those Jessica has sworn to protect.
Frequent Conversations - D


Join Jac and Laura as their love story unfolds among the historic backdrop of WWII
Friendly Skies - Kim Pritekel and Alexa Hoffman
Two women bond during a plane ride.
From This Day Forward - Cheyne
This is the sequel to In The Light of Day
From the Heart - Angelrum


Short vignette about a woman who overcomes her fear and conquers it with love.
From the Manor Taken - Phair
Third in the Manor series
Part 1 Part 2 Part 3 Part 4 Part 5 Part 6
Furkids and Lovers - tap, the Wizard


Love comes in many forms, and when a stray dog came into Bette's life, who knew what that it would grow into a friendship and love with a certain other dog lover.
---
Questions, Comments or Broken Links can be be directed to The Academy