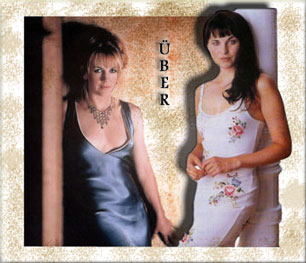 Alternative Uber Fiction
---
last updated: June 23, 2011
Gabriel Journals (The) - Inyx


How can the evil in the world survive if there's no good left in it? A tale of a young woman, vampyres, good and evil, threaded in history of the Gabriel Journals... Or as it was put to me Anne Rice meets Jane Austen... I think that about says it all.
Galveston 1900: Swept Away - Linda Crist


On September 7-8, 1900, the island of Galveston, Texas, was destroyed by a hurricane, or "tropical cyclone," as it was called in those days. This story is a fictional account of two women who lived there, and their lives during the time of the "great storm."
Game, Set and Match - Ali Vali


This is a story I started over a year ago while I was on vacation. Bad weather drove me off the beach and onto the laptop. I just recently ran across it again and all the sucker needed was an ending. Welcome to the world of women's tennis. Parker King is riding high after winning the prestigious Wimbeldon Tournament only to be shot down by a feisty airline pilot named Emily Parish. King Kong as she's known on the courts falls hard, but will it be because of the person that wants to kill her or for love?
Part 1 Part 2 Part 3 Part 4 Part 5 Part 6 Part 7 Part 8 [conclusion]
Games of Life - Ri


Jackie had everything she was beautiful, tallented, smart the only thing she lacked was someone to beleive in her till Tash stumbled into her life.
Garden of Earthly Delights - Fern Driscoll [unfinished]
Kate's had enough of the world for a while. After retiring (at age 30) from the stockbrokering game mere weeks before the dot.com debacle, she's returned to her roots in tiny Hellman's Corner, in southern Maryland. She wishes nothing more than to whip her neglected garden and home into shape, and maybe do a few deals with the local real estate developers. Fate, however, plops a city girl right in her front yard, and she has the darndest time getting her out of it.
Cameron's on her way to big things in a competitive business. She's finally got a chance to do some actual (as opposed to virtual) reporting. But two weeks into her new job, she comes to a screeching halt, ending up with a totaled truck, a broken leg, and a big interview that got derailed - on purpose? Along the way, she also finds herself in no hurry to leave "the land of pleasant living", and the company of a tall, reclusive gardener.
Nobody shoves Cam off the road without her asking a lot of questions. Cam, and her reluctant sidekick Kate, try to find out why she was sideswiped, and why the commander at Pax River is suddenly unavailable for her interview.
As the plot thickens, the gals find that the Pax River Air Fighter Squadron, charged with protecting the skies over Washington and New York in the wake of the 9/11 attacks, may be in need of protection from within their own ranks.
Part 1 Part 2 Part 3 Part 4 Part 5 Part 6 Part 7 Part 8 Part 9
Georgia On My Mind - Alex Tryst


Summary Pending
Getting It Right - KG MacGregor
Wynne Connelly is a marketing manager from Baltimore, traveling regularly to her company's headquarters in Orlando. Paula McKenzie is the night manager at the Weller Regent, the downtown business hotel where Wynne stays. They belong together -- you know it, I know it, they know it -- but secrets, obligations, and ambition make it nearly impossible to get it right.
Ghost (The) - Ri


A ghostly figure had been stealing things from an old building for years. Not a single business or floor had been neglected. Rickie and her partner were hired to look into it. When Rickie was crawling through the vents after the ghost she fell down a shaft into strong arms. She would never have thought her life would change so much so fast as she looked into the piercing eyes of The Ghost.
Ghost Town-ing - Mickey Minner [series/alt]
Ghost Towning is a series of with Pat and Sherry, the main characters from my story Fast Break, as they explore ghost towns and follow in the footsteps of Jesse and Jennifer, the main characters from the Sweetwater Saga series.
1.
The Journal by Mickey Minner [series/alt]
Ghost Towning is a series of with Pat and Sherry, the main characters from my story Fast Break, as they explore ghost towns and follow in the footsteps of Jesse and Jennifer, the main characters from the Sweetwater Saga series.
2.
3.
4.
5.
6.
Ghost Warrior - Phantombard
This Halloween tale featuring a legendary ghost and eternal love is set in the XWP alternate universe created in the story "Clonefic". Worlds collide as the spirits of a future clone and a long dead queen meet the modern Amazons and the descendants of Janice and Melinda on a special night that will bring them all together, blending past and future and sealing a rift between hearts that has lasted since the rise of Caesar Augustus. Written for Halloween 2005. Trick or Treat
Ghost Writer - LM Townsend & Crow


For Celine, the terror begins with "Girls' Night Out". She arrives home, hoping for an intimate chat with her lover via the computer, but the conversation is interrupted by an unknown entity - the "Ghost Writer" - who is it and what does it want with Celine?
Gift (The) - Littlespit


Sometimes love happens...at the times you least expect it. Friends find a new depths to their relationship.
Gift (the) - Idryth


In this sequel to"Focus", Sam and Kris are now enjoying life, whether rescuing kittens, or enjoying nature, they are just glad for the gift of each other.
Gift (The) - Kim Pritekel


Sarah is doing double time as Santa's elf in the mall this Christmas season. She see's a beautiful woman who changes her life forever, turning her lonely, lost life into her dreams.
Gift From The North (A) - Debbie Dee


Tracy is a young woman with two daughters. She has encountered many problems in a short period of time. She has just gone through a divorce, lost her job, is out of money and Christmas is only two days away. Has a miracle arrived in the form of a friend named Noel or do miracles even exist?
Girl and Her Gift (The)- Flame, Dani, Emyster, Slick, Spawn and Princess


What would you do if you received a mysterious toy in the mail? What? Nothing exciting like that ever happens to you? Me either. *sigh* But it happened to Angel Dupree and her life was never the same again....
Gloria's Inn - Robin Alexander


Hayden Tate thought it was a dream come true when she inherited her aunt Gloria's half of an Inn located on Cat Island in the Bahama's. Upon her arrival atthe island she found things not as she had expected. The one bright spot aside from the beauty of the island was her aunt's former partner. Lurking behind the natural beauty of the island was a dark secret that would change Hayden's life forever.
Goodbye, Again - Lariel


Following on from "Deja Vu All Over Again", Mattie and Harry talk about their future.
Greetings from Reykjavik - Zuke


"Greetings from Reykjavik" takes place after the whirlwind summer romance of Jaz and Olivia. Is Olivia sane? Are nuts really necessary in chocolate chip cookies? Where the hell is Reykjavik anyway? These and many more questions are answered in this sequel to "Dear Booger"
Grey Ice - Evecho


Summary Pending
Grey Steel - Evecho
Continuation of Grey Ice.
Grind - Minerva


A day in the life of an exotic dancer, Willow takes an interesting turn when she meets a woman, Randi, she can't handle.
Growing Up Together series - Ri
Growing Pains - Ri
As Veba and Rickie's relationship matures and deepens they are challenged by an assignment to protect a prize fighter from an enemy who knows him better then he knows himself.
Growing Up Together - Ri [über/alt/finished/series]
Veba and Rickie continue to grow in their relationship as they tackle their toughest case yet.
Guardian - Midgit


A young writer retreats to the countryside only to find herself pulled into an age old witch hunt.
Guardian (The) - Jules Kurre [unfinished]
In this sequel to Bar Girls, Keagan and Rudy are co-workers at Tandem Publishing, but it becomes apparent that Keagan isn't cut out to be an editor. Will she finally reveal the truth to Rudy about why she quit writing or will their relationship fall prey to time, deceit, and Keagan's own insecurities?
Guilt - Ali Vali


[Academy Halloween - 2002] Mordecai Sydney O'Shea, a young aggressive prosecutor in New Orleans, deals with evil on a daily basis. Sydney plays it by the rules - always, it's what's put her at the top of the prosecutorial heap in sin city. But what happens to that strict moral code when evil comes to visit the people she loves? Can she turn her back on the law that she lives her life by? Only the women in Sydney's life have the answer to that question of Guilt in the Twilight Zone.
Habáname (Havana [Verb Transitive] Me) - Ana Ortiz


An unconventional doctor travels to the controversial island of Cuba to help solve a mysterious epidemic of blindness (based on true events in the early 1990s) where she meets an unconventional sex worker. Against the backdrop of a crumbling Havana that hasn't lost its heart, they have to decide where to place their loyalties.
Part 1 Part 2 Part 3 Part 4 Part 5 Part 6 Part 7 Part 8 Part 9 Part 10
Hall of Killers - Ri


Amanda gets a dream job her interview with the manger went well and she was very excited to start. She changed her mind quickly when she found out where she was to work in the Hall of Killers.
Hallmark Moment? (A) - Emily Duncan


A poem about all the exquisitely glorious nuances of love.
Handful of Heaven (A) - Midget [Incomplete]
Sequel to Little Piece of Paradise . Eden and Tori's attempt to make a home for themselves.
Part 1 Part 2 Part 3 Part 4 Part 5 Part 6 Part 7 Part 8 Part 9
Hallowed Crossing - Hunter Ash [unfinished]
This story is in today's world, specifically around Halloween, and is based in a small town somewhere in Northern California. Annie meets Cerys, an alternate universe being, who draws her into a battle between good and evil vampires.
Halloween Memories - Jenah


Samantha and Tina from 'Our Reunion' recall past Halloweens.
Halloween to Remember (A) - Tara Kerry


A young news anchor is invited to a halloween party in which guests must traverse a maze.
Hammer and Nails - Lucid
This story is about a construction worker named Bernadette and a surf shop owner named Jump who meet when Jump dates Bernadette's brother.
Part 1 Part 2 Part 3 Part 4 Part 5 Part 6 Part 7 Part 8 Part 9 Part 10 Part 11 Part 12 Part 13 Part 14 Part 15 (conclusion)
Happy Anniversary - Emyster and Okie
Join Abby and Lucinda as they celebrate a special anniversary with a very special surprise. PWP.
Haunting (The) - Colleen [Halloween Inviational 2008]
Summary Pending
Continued in The Legacy
Haunting Shadows - JM Dragon
Summary Pending
Have a Disney Day - UncagedAmazon
Short and silly story of a girl looking for her crush who happens to be Disney's Cinderella. She finds her and a whole lot more in the tunnels underneath the Magic Kingdom's Castle .
Hawk Run Chronicles (The): Welcome Home - Skippy


It is a story about a woman who returns to the small town in which she was born. The woman's name is Maggie, the town is Hawk Run, Ohio, and in the course of the story love blossoms, murder is done, and Maggie finds a place where she belongs. I think it is a funny and an interesting story. and I do hope that you will want to read it.
Heart of Africa - GS Binkley


Heart of Africa is about a young woman who battles poachers, commercialism and greed to preserve Africa's beauty and encounters an unlikely comrade along the way.
Heart's Choice - Lois Kay [unfinished]
Sometimes the boldest steps we take are to the choice that our hearts make, it will change our lives for better or worse. Come join the journey of Emma, a school teacher and Kyra a VP in her company, as they find the choices their hearts have made. Both of them are carrying emotional baggage from their pasts, but can their hearts move past that to make a life together?
Part 1 Part 2 Part 3 Part 4 Part 5 Part 6 Part 7 Part 8 Part 9 Part 10 Part 11 Part 12 Part 13 Part 14 Part 15 Part 16 Part 17 Part 18 Part 19 Part 20
Heart of the Matter (The) - Cephalgia


Crystal O'Brien and her son become the subjects of nurse Lauren Cook's Master's thesis. The boy's serious heart defect is the subject, but it just might be Crystal's heart that is affected in the end.
Hearts and Flowers Border - fingersmith


A visitor from her past jolts Laura Stewart into memories … some funny … some heart wrenching … but she needs to deal with all of them before she can open the door to allow her past to shape her future.
A story starting in the present day, narrated by a woman who needs to retell her past before she can move on with her future. There is no fantastic underlying plot, just a simple retelling of events leading to the present day. Most of us will recognise the uncertainty of youth and the first flush of love.
Heatwave - Midgit


It's not often you get a blistering heatwave in England. So Dani Collins decided to make the most of it, and heads for the coast with her two friends. What she finds in those brief few days could change her life forever.
Heaven & Hell - Minerva
1.
Heaven Can Wait - Minerva
See both sides of infidelity, finding forgiveness, and self in this two story arc.
2.
Hell is Here - Minerva
2nd part and the conclusion of the series
Heaven in Her Face - Nene Adams


In this Regency romance set in 1816, highly impressionable Emma is awash with romantic feelings for the divine Marianne Pye. Her brother wagers that Emma can't remain true for a full month as she is notoriously in and out of adulation. When Marianne must accompany her mother to the aid of an ailing relative, Emma comes into contact with Marianne's more staid sister, Penelope. Reluctantly, Emma finds herself slowly drawn to Penelope and learns that she has many strengths worth admiring.
Hell on High Heels - Carrie's AJ


A woman lusting after a beauty ... will they come together?
Hellcat Western Series - Barbara Davies
Her Majesty's a Pretty Nice Girl - vivian darkbloom


Claire is crazy. Ruth is crazier. Can their love surpass the challenges posed by obtuse law officials, commitment phobia, enraged parents, flat champagne, and the ultimate April Fool's joke?
Here Comes the Sun (was Fire and Ice) - Emily Duncan

*****NOW KNOWN AS -- First Light - Emily Duncan ******
Nia is the manager of Fire and Ice, a bar in the centre of Manchester, England, and is finding the shady undercurrents that come with her job a little too much to handle. Into her life walks Jake, a dark, imposing figure who seems to promise her the protection she needs, and perhaps a great deal more. But Nia is to find out that things aren't always the way they appear...

Also, a PDF version of the whole novel will soon be available -- I'll let you know when that goes up. (For those reading only finished stories and wanting to look for the beginning of this story, it's had a couple of name changes. To make sure you can get all parts, go to http://www.cfsg.net/doinggender/firstlight.htm)

Here with Me - X2


Two proud coaches find each other in this medium length piece of fanfic.
Hero of Arcadia - Barbara Davies
Sequel to 'The Flight of the Gryphon'. The War is over at last, but at what cost? Mavra and Gwen meet again in the ruined city of Hauptburg, where the War Crimes Trial is underway.
Hidden Desires - Vertigo (unfinished)
Summary pending...
Part 1 Part 2 Part 3 Part 4 Part 5 Part 6 Part 7 Part 8 Part 9 Part 10 Part 11 Part 12 Part 13 Part 14 Part 15 Part 16 Part 17 Part 18 Part 19 Part 20 Part 21 Part 22 Part 23 Part 24 Part 25 Part 26 Part 27 Part 28 Part 29 Part 30 Part 31 Part 32 Part 33 Part 34 Part 35 Part 36 Part 37
Higher Orbit (A) - Rosalind [unfinished]
Uber Xena is Detective Geri McGreevy, a New York police detective with a painful past. Along with her partner Max Dawson, they become involved in a case of murder in the art world. Uber Gabrielle is Joanna Westwood, a renowned sculptor who moves back to New York from Canada when her best friend and art dealer, Ramon Douglas is murdered in a seemingly senseless attack. Unbeknownst to her, she becomes a chief suspect in the crime, with the two detectives assigned to go undercover to investigate.
Hiker (The) - Fritz


This is a little romantic tale, with a few complications along the way. The owner of a country inn is intrigued with her mysterious guest, and she decides to explore those feelings. Are these two willing to face the risks inherent in searching for true love?
Hindsight - Lois Kay [unfinished]
Hannah Jensen's life was calm and uneventful, something she treasured after years of struggling, until that one, unfortunate event, that changed everything....
Part 1 Part 2 Part 3 Part 4 Part 5 Part 6 Part 7
Hippie and The Punk- An Über Story (The) - Monkey


summary pending
Hitchhiker (The) - Anais


In a sequel to "Make A Wish", this time Jess and Andi decide to take a vacation on Halloween. Only their plans hit a bump in the road.
Holiday Havoc - Anon2


The extended version of 'Holiday Havoc'...
Holiday On Ice - Akiela Xal
Home for Christmas - Insane Englishwoman


I wrote the original version for the academy contest last christmas, it was my first ever submitted work, but I rushed the ending a bit and it didn't really go where I wanted it to go. So I rewrote it.
Homes Don't Really Exist - R.G. Heller


A bartender named Kel tells about running into an old neighbor who is back in town due to unfortunate circumstances.
Homestretch - Girlbard


A racehorse trainer and jockey form an unlikely partnership down the road to the Triple Crown.
Part 1 Part 2 Part 3 Part 4 Part 5 Part 6 Part 7 Part 8 Part 9 Part 10 Part 11 Part 12 Part 13 (conclusion)
Honeymoon (The) - Lena


Don't read at work. It is very NC17. Afterall, it is their honeymoon.
Hope's Path - Carrie Carr


Destiny brought them together, now Lex and Amanda follow a rocky path to their future, with hope in their hearts for a life full of happiness for themselves and their loved ones.
Hot For Teacher - Jesse KW James
Samantha Morgan comes back to school after the summer break and her world is turned upside down when she meets the new gym teacher. What she doesn't know is that meeting her turned Coach Dianne Rainer's world upside down too.
Houdini's Box - Girl Bard


This story is the continuation of the story of two strangers that have met, fallen in love, formed a friendship that can withstand just about anything, and may or may not live happily ever after. And not necessarily in that order. Sequel to "I Know This Bar."
Part 1 Part 2 Part 3 Part 4 Part 5 Part 6 Part 7 Part 8 Part 9 Part 10 Part 11 Part 12 Part 13 Part 14 Part 15 Part 16
Hound For The Holidays - Akiela Xal
House Call - JLNicky
Ms. Walker meets the doctor and only thinks she is being flirted with. But, four days later the Doc makes a house call. "I need to examine your body!" she smiled as she pressed me down onto the couch. I was more than willing. I just hoped she'd take her time and check really carefully! I didn't want her to miss anything.
How Do You Mend A Broken Heart - Ali Vali


Do you remember your first love? Harry Basantes did. She remembered with vivid clarity the way young love could break your heart leaving you empty inside. Would seeing the object of her pain and desire sixteen years later drive Harry to forgiveness, or would it be her turn to walk away without explanations? Only one way to find out.
How to Celebrate Solstice in the Appropriate Manor - Alexiares


Two women must endure the idiosyncrasies of their relatives at a holiday dinner.
Human Interest series - Cephalgia
1.
Human Interest - Cephalgia
Journalist Cass Kendall has met her soulmate. She discovers that true love can be the greatest and worst thing in her life as she ponders her own fate.
2.
Recovery - Cephalgia
This is the sequel to Human Interest. Cass Kendall has survived a traumatic time in her life, but now she needs to learn how to live again
Hunt Safely - Jules Kurre


A vacationing hunter discovers a new kind of prey.
Hunting Season - Helen Smith


North America, 2050. Ariel Pedersen, controversial prize winning author, has survived one assassination attempt, thanks to her lover, security consultant Quinn Thanatos. But in a world where guns have proliferated, public executions are commonplace and Christianity has migrated far afield from what it's founder intended, writers who speak their minds on thorny issues must be prepared to pay the price. Someone wants Ariel dead, and Quinn is determined to catch the would-be killer before the unthinkable happens.
I Can't Do This Alone - Kamouraskan


A short story that tells what happens when you really have the opportunity to listen....
I Drove All Night - KatharosXG


As their anniversary approaches, Erika and Megan have a fight just as Erika is leaving for yet another business trip. Read how they spend their time apart and how their thoughts invariably travel to one another.
I Found My Heart in San Francisco - S. X. Meagher
I've Never - DS Bauden


The sequel to Ready for Take Off
Icarus Reversal(The) - Adam [Multi fandom Crossover/Incomplete]
Twenty exceptional children from across the multiverse are kidnapped by a mysterious being and forced to take part in a gladiatorial tournament which only one of them can survive.
If Only in My Dreams - Zuke
While Major Briana Richardson waits to go home for the holidays, she remembers Christmases past.
If the Tights Fit - Mr Valentine


The superheroes of Hellenic City find themselves face to face with a new villain. Who is the mysterious Conqueror? What are her evil plans? Why do sidekicks have such godawful names? Why do fools fall in love? None of these questions will be answered in this exciting adventure!
If We Had Sex - Vilia Kinell
In a time of modern technology and instant messaging, a woman with no social life calls out for a change. She finds it online. The banter, the excitement, the danger of internet viruses... A pop-up ad will change her life!
If You're Gone - Xenickz


Beth and Cole - childhood friends and soul-mates. A realistic view of how life can tear at the very fabric of a relationship. Can they find their way back to one another?
I Know This Bar - Girl Bard


Two strangers meet, fall in love, form a friendship that can withstand just about anything, and may or may not live happily ever after. And not necessarily in that order.
I'm Only Human - Ri


On her Birthday Pru is given a magical amulet that could make all her dreams come true.
Immortality and Greek Wizardy - Patricial Winterburn

Immortality and Greek Wizardy - Patricia Winterburn
This story is a what would happen to Xena and Gabrielle, if they were stuck in the 21st century after Send in The Clones.This is also what happens when your really bored at work and your obsession, fantasy and insanity start to become a reality
Immortality and Greek Wizardy 2 - Patricia Winterburn
This story is a continuation from Immortality and Greek Wizardy Part 1. In a final fight with Alti and Ares, the wizard learns a little something about love and friendship. Sometimes it only takes 3000 years.
Immortality and Greek Wizardry 3 - Patricia Winterburn
In this third and continuing story, we find our wizard attempting to comfort Gabrielle. Explaining the reality behind her nightmares and how her life changed after.
Immortality and Greek Wizardy 4 - Pat Winterburn
It seems Gabrielle and the wizard are sharing the same nightmare. After missing for 400 hundred years, a small snowy owl returns to bring Tapesus into the one realm that brings death and destruction to Gabrielle and her Amazon nation. Will the wizard have to sacrifice Xena's life in exchange for Gabrielle's?
Immortality and Greek Wizardy 5 - Pat Winterburn
In this story about time, it seems the wizard has made herself and enemy on the wizards councel. With a little help from Xena and Gabrielle and an old history lesson, the battle for good verses evil is on.
Immortality and Greek Wizardy 6 - Pat Winterburn
Immortality and Greek Wizardy 7 - Pat Winterburn (conclusion)
Imperfectly - BardBQue


"...i've been offered love in two dimensions before and i know that it's not all that it's made out to be/let's show them how it's done let's do it all imperfectly" ~ ani difranco
The story of two young women who meet in a painting class and fall, reluctantly and imperfectly, in love.
Impotent or maybe not - Gracelan Chase
Jolie is having a hard time these days her life is in a shambles. All she wants is to understand why and for Michelle to come back. See if this shaggy blond gets her raven haired love back. I believe in happy endings, don't you?
Impulse - Mezzo
Friends since childhood, Victoria Hull and Brett Montgomery share a bond that has always existed. Though the confusion of adolescents tears them apart, their love for one another cannot be denied.Impulse is a continuing story of two friends building a life, sustaining love that will carry them through the happiest of moments and the most trying of times.
In All The Empty Places - Janneen Brownell


This is about two women who rediscover each other. Two years ago Victoria lost Alec because of a past Alec couldn't or wouldn't explain. Fate brings them back together and once Victoria learns the truth, she has to decide if they can have a future together.
In From the Cold - Cephalgia
Saxon has had bad timing in her relationship with Daley. Can that change on a snowy Christmas Eve?
In Pursuit of Dreams - JM Dragon
Summary Pending
In the Blink of An Eye - Carrie Carr


A Halloween short story. Randi Meyers returns to her home town to attend the funeral of her namesake, an uncle she barely remembers. With the help of a new acquaintance, she finds more than she bargained for - perhaps something that's been missing for her entire life.
In the Ruins of the World - Carola "Ryûchan" Eriksson
The end of the world and what happens afterwards for those left in the ruins
In Too Deep series - Ronica Black
In Your Court - Cephalgia


Summary Pending
Indiscretions - Cruise
Prequel: Provenance
An attractive Secret Service Agent encounters a blonde haired, green-eyed up and coming actress while on assignment protecting a Senator, who also happens to be the actress­ father. There­s an instant attraction between the two women, but Rayne Donovan is reluctant to go out with the persistent actress, Lark Morgan. She­s fighting feelings from her past and is not sure she wants to go down that road again. Lark sees what she wants, Rayne, and refuses to accept Rayne­s rebuttals of a date. She sees a spark of hope in the women­s piercing blue eyes and won­t give up so easily. Will Rayne put her feelings aside and take a chance on love again by agreeing to a date with the alluring beauty?

Indiscretions
Secret Service Agent Rayne Donovan reluctantly accepts an assignment she knows she will regret later on, but can­t walk away from it. A life is at stake and the tall, raven-haired agent is forced to protect a popular celebrity, Lark Morgan who happens to be a former lover. The attractive blonde actress is happy to have her former lover back in her life, but Rayne isn't pleased at all by the woman who betrayed her as well as her heart months ago. The sparks fly with these two women when they are forced to come to terms with their feelings of anger, denial, betrayal, and love for each other.
Sequel : Ab Initio
The truth of Lark's previous Indiscretions is revealed and Rayne frantically tries to meet up with her before she leaves for Greece, but misses the plane. Lark arrives in Greece alone, thinking that Raynes answer of forgiving her is no, but little does she know that Rayne is on her way there. Lark is hurt and relieved to find out that she wasn't unfaithful to Rayne. The pair share a loving, tearful reunion and Rayne has a surprise for Lark regarding their future together that she reveals in a very special and romantic place in Greece. Will Lark respond to that surprise positively and will these two lovers be able to fulfill their dreams, together?
Inevitable Destiny Series - Ken Rogers
Inferno - Ladyhawke
This is set a year after Shadows. The continuing story of Kaitlan and Lee; Their life, their love and their secrets.
I'd advise reading Shadows first.
Infinity Series.
The Infinity Series began with D. Jordan Redhawk's The Only One. From there, she...and several other writers...created a new Xena legacy. The writers who have contributed in addition to Redhawk are Charles Anderson, Joseph Connell, the late Kristian S. Fischer, Protek, and Llachlan. This series is the winner of a Swollen Bud award and contains some very solid story telling.
Innocent Heart (An) - Heike Freudenmann and G. S. Binkley


An Innocent Heart is about a woman's disillusioned quest for love. After giving her heart to another ten years earlier, Robin Hart decided to shun love forever. But an unexpected reunion with an old friend tests her resolve and gives hope to the beautiful Kim Patakas who has troubles of her own. When Robin intercedes between Kim and her boyfriend, the young woman tries one more time to find the key to her true love's heart. Both Robin and Kim have to search within, melting away the layers of insecurities and doubts that they will only be able to do with each other as they pursue their own quest for love.
Inside Out (The) - LA Tucker


Sequel to the Uber, The Light Fantastic. Will be updated weekly, in parts. Chloe, Sara, Marcy and a cast of oddball characters the author has trouble keeping track of return to wreak mayhem in the small lakeside town of Stonecreek, PA. Now it's an insufferably hot summer, the golf course is struggling, and Sara and Chloe are getting on each other's last nerves. Screwball romance always goes bump in the night, and day, in Stonecreek.
Part 1 Part 2 Part 3 Part 4 Part 5 Part 6 Part 7 Part 8 Part 9 Part 10 Part 11 Part 12
Part 13 Part 14 Part 15 Part 16 Part 17 Part 18 Part 19 Part 20 Part 21 Part 22 Part 23 (conclusion)
Insight - Idryth


A random act of violence brings two women together. They allow their friendship to grow and become something neither knew they were looking for, in a tale of murder and mayhem.
Into the Dark - Sharon Smith


Summary Pending
Into the Flame - tchase
This is a PWP story where an instant messaging session turns into something more.
Invading My Dreams - Ri


For Kate the force was her life till she answered a domestic dispute case. She went to a neighbor to interview them and was greeted by a woman who had haunted her dreams. How will she be able to balance this new discovery with the life she had created?
Iowa - Xenalicious


A blonde Texan doctor drives out to Iowa in order to avoid an impeding mental breakdown and there comes across a tall, dark-haired stranger on a horse.
Irresistible Flame - DJWP


Summary Pending
Part 1&2 Part 3 Part 4 Part 5 Part 6 Part 7 Part 8 Part 9Part 10 Part 11 Part 12 (conclusion)
Isabelle - Dee


This is a hurt/comfort story about two remarkable women, whose lives inspired the author to retell what has been learned about them for a broader audience. It does deal with a difficult issue, breast cancer, but also of a transcending love.
It's Only a Game Show - S. Eliot [unfinished]
The story is set around a game show in Britain. Basically 10 people are forced to live in a house for 5 weeks, with two being voted out every week until the public has to pick between the last two for an eventual winner of $100,000. The tale specifically centres around an up and coming blonde haired TV presenter called Rachel and a taller, darker, brooding contestant called Alex. Surprisingly enough, our two gals discover an unnerving attraction to one another all be it through the cameras and microphones. Rachel battles the odds to seduce Alex from outside the house walls while the contestant struggles against nine others to survive fierce voting and underhand tactics, hoping to win the prize.
Part 1 Part 2 Part 3 Part 4 Part 5 Part 6
It's our anniversary (A Noemí Vignette) - Katia N. Ruiz


The women celebrate their anniversary.
It's the Single Life Wouldn't Buy - S. Berry


Summary Pending
Jack, the Seduction of Carol - Erin O'Rielly


Standing here in the back of the very auditorium where I first saw her I can still hear her voice. Every fiber of my being screamed out as I listened to her speech and when I saw her I knew I had come home. I understand that you are wondering why I didn't make Carol my own and bed her. Hmm...I think you need to know more about me before I answer that question. Yes...you need to understand everything...
Jackpot - JL Nicky
Rhett, the best woman for her two newlywed friends, was too busy escorting the drunken couple around Vegas until she sends them off on their wedding night. Rhett takes a moment to try Lady Luck when she catches the eye of a very gorgeous entertainer. Her gambling pays off. Jackpot!
Jamie James - Arkonia


Can a rock idol find love and happiness after a tragic accident destroys her life? Will she ever stop running and listen to her angel?
Joke (The) - Anais


A short story
Joke's on You (The) - Tara Kerry


Summary Pending

The Journeys Series - Anne Azel
Travel the world in search of love.
China: - Anne Azel
A story of an ancient, proud land and two women on a journey to love.
Kenya - Anne Azel
Two strong-minded and adventurous women struggle to rekindle a lost love against the majestic background of wild Africa. Can these two find the spark to set their hearts on fire or will the dangerous politics and social pressures of today's Africa tear them apart once again?
South Africa: - Anne Azel
Cultures and worldviews collide against a background breathtakingly beautiful.
Judgment - Kamouraskan


As a Montrealer and a human being involved all my adult life in rights organizations, the 10th anniversary of the Politechnic Massacre was extremely painful. There were still commentators willing to call it the act of a nut without any political reflections. Then I read the latest crime statistics for Quebec. Over half the deaths in the province involved the killing of women and children by their ex's. This piece was written in very cold anger after many tears. It was supposed to ask: What will it take?
Just A Breath Away - Colleen [Incomplete]

Just Business as Unusual - Bluedragon


This is the story of a lovely lady who was busy with...er sorry wrong story this is the tale of how the past can change the life of ....maybe I should add heroic symphonic music before saying that. ok, how's this...this is the story of how a routine business trip became anything but business as usual for one woman and how that weekend changed her life.
Just Do It - K. Lee


It's about a woman just having a rough day.
Just Like Jesse James - Amanda Calkins
When Jesse James hears a rumor that her old flame is in a near by town she finds the love she has been searching for for six years has changed very dramatically, but then again so has she, the question now is, will it work?
Just Like Old Times - Carrie Carr


Delaney is wondering why she let her lover Gib leave over what now seems to be petty things. Can they get back together?
Just One Perfect Weekend - Asgard


Hayden has been secretly attracted to her beautiful, straight friend Kelly since they first met. She is heading over to watch movies with Kelly while Kelly's kids are away for the weekend. For Hayden it may turn into one perfect weekend. Well, a girl can dream can't she?
Just Your Extraordinary Christmas... - Miri


Two women celebrate the holiday season.
Justice Deferred - Alex P.


"Cam Brusard was the stuff of jailhouse legends. She was a loner from day one, avoiding any affiliation with the gangs that flourished in the prison environment. She earned her respect the hard way, by taking down one of the most dangerous women when she was first incarcerated. Physically, she was an impressive 6'1" in her sock feet, with a narrow waist and broad shoulders. Sculptured muscles that a body builder would envy, she had earned them after spending hours on the free weights in the prison gym..." So, what could possibly cause a woman of ice to melt? Cam never let anyone get close to her heart... no one that is until Cheryl Killian.
Part 1 Part 2 Part 3 Part 4 Part 5 Part 6 Part 7 Part 8 Part 9 Part 10 Part 11 Part 12 Part 13 Part 14 Part 15 Part 16 Part 17 Part 18 Part 19 Part 20 Part 21 Part 22 Part 23 Part 24 Part 25 Part 26
Just My Luck
- WarriorNutcase


Set in the neon-soaked casinos of Nevada, where lady luck reigns with a warped sense of humor. A story to prove that sometimes you have to lose a little to win big.

Just One Of Those Things - Mavis Applewater


An unexpected business trip and a chance encounter turns Olivia's world upside down.
Part 1 Part 2 Part 3 Part 4 Part 5 Part 6 Part 7
Part 8 Part 9 Part 10 Part 11 Part 12 Part 13 (conclusion)
---
Questions, Comments or Broken Links can be be directed to The Academy