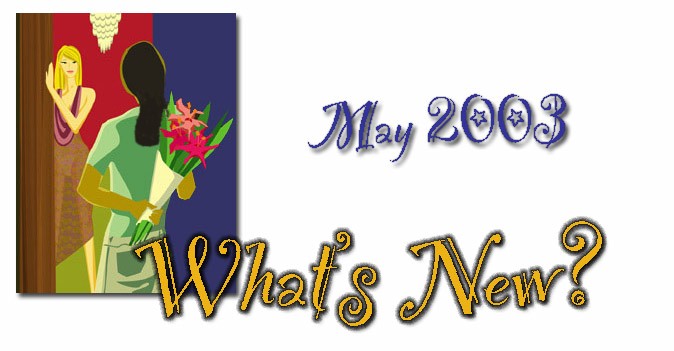 The Academy along with Bardcon is happy to offer 37 INCREDIBLE stories in
101 Story Premises or Premise, Premise Everywhere And Not A One
Complete or Whole Lotto Stories Going On

May 31st, 2003
Added a revised version of Part IV of Mickey's Bannack
May 30th, 2003
Added part 12 of Jules Matthews' Learning to Trust
Added part 10 of The Curse of Higuchi by Crystal Michallet
May 29th, 2003
Announcement
Jessica Casavant will be hosting a book launch for the release of her new book, Twist of Fate.
Published by Yellow Rose Books (ISBN 1-932300-07-4) Twist of Fate tells the story of Lauren Taylor. "Just as her husband's campaign for the US presidency is about to start, Lauren Taylor is confronted with proof of her affair with a woman a few years before. The threat of exposure forces Lauren to re-examine her life's choices and what she has been running from for years. Sometimes, all it takes is a twist of fate to change everything."
The launch party will be on Saturday, July 12th from 6:00p to 9:00p at The Looking Glass on Church Street in Toronto.
(The Looking Glass is on the west side of Church, one and half blocks north of Wellesley Street. On the Yonge subway line, exit at Wellesley station)
Great food, great drink, great book, great author...should be a great night! Jessica will be selling (C$15.00) and autographing her book and meeting folks; maybe we can even talk her into a reading <s>
Please feel free to cross-post this to any other lists that may have Toronto or south-western Ontario members.
Stories
Bannack by Mickey (original/alt/complete)
When a friend receives disturbing news, Jesse and Jennifer travel to Bannack to check it out. On the way, they make an unexpected discovery that forces them to reconsider their future. Bannack holds more surprises for the couple and they decide that returning home is the best course of action. But, will they make it back to Sweetwater alive?
Added part 11 of Jules Matthews' Learning to Trust
The Temptation of Eve by Phantom Bard (revised)
It is twelve years after "Path of Vengeance", when Eve left to teach Eli's message in Indus and Chin. For all of those years she has remained true to the Way of Love, and Livia's violence is far in her past. Yet now, at the One God's command, she must go to the Temple of Jerusalem to be the protector of a young prophet, as her mother once protected her. Implicit in this mission is the temptation to return to the Darkness, for violence seems inescapable. Now Eve is torn between Eli's Way and the One God's mission, and her soul hangs in the balance. Will she become Livia again, or worse? (Revised Version 5/26/2003, Original Version 8/1/2001)
May 28th, 2003
Announcement from Simahoyo-
Please let readers know they can purchase Before Our Journey's Through in novel form at Barnes and Noble.com or the Open Book
Stories
Stick to the Script by Alex Tryst [alt/über/complete]
Dashing and mysterious Hollywood newcomer Jamie Dean gets the opportunity of a lifetime to work with her favorite actress. Sarah Talbot, America's Sweetheart, wants to stretch her abilities in hopes of winning her first Oscar after years in the business. Together they venture through a suspense thriller, but what happens when the cameras aren't rolling? Is their chemistry only affected, or does the homebody win the heart of the latest ladies' woman? Appearances from the characters of Love in Photographs and Georgia on My Mind included.
May 27th, 2003
Welcome to the Academy, first time writer, ThingforGabrielle!
Finding My Way by ThingforGabrielle [Post-FIN/Alt/Part Classic-Part Original/Unfinished]
Gabrielle returns to the land of Greece, grieving for the loss of Xena, when she is confronted with the love and affection of another, the will of a god to try and change her, and a fellow Amazon's betrayal.
Added part 3 of Revolution by Kim Pritekel and Alexa Hoffman
Added part 8 [conclusion] of Phair's By the Manor Owned
May 26th, 2003
Memorial Day By Ernie Whiting [Über/Alt/Finished]

Added part 2 of Revolution by Kim Pritekel and Alexa Hoffman
May 25th, 2003
Added part 15 of Murder Has Two Faces by Tonya S. Coley
Added part 9 of The Dragon Chain by charmdfate
Added part 4 of A Quest Ridden on Behalf of Love by Dragonjuls and Erin O'Reilly.
May 24th, 2003
The Academy of Bards congratulates the following winners of the joint Academy/Bardcon Challenge
In the yellow (attending Bardcon) category the winners are-
1st place - The Sea Captain and the Lady by Vada Foster 2nd place - Fear Masters by Trish Kocaliski
Honorable Mention (tie, listed alphabetically) -
Legends in Time by KDarblyne and
Cheeseburger in Paradise by ZeeAmy

In the Blue (had to stay home) category - We had a three way tie for first place! Listed alphabetically are the winning stories-
The Cruise by Anais and Idryth WarZone by Goesome
and The Sister (2) by Zuke

Let me tell you the battle for the blue was fast and furious until the very end! Congratulations to all the winners and a huge thank you to the participants! There were many close races (as you can tell from the results!) Everyone did a fantastic job - there isn't a bad story in the bunch!
The Academy also wishes to thank Bardcon, it was fun playing with you guys, we'll have a joint venture with you anytime!
It's a Turtle Life By Carola "Ryûchan" Eriksson [Original/Alt/Finished]
The sequel to "Ignorance is Bliss". Further days in the lives of a certain pair of lively and adventurous turtles, and their humans.
Inevitable Destiny By Ken Rogers [Über/Alt/Finished]
A disillusioned and heartbroken Samantha convinces her best friend to drive home from California and take her back for a fresh start. The journey has barely begun when a frightening experience leads to an unexpected stop in an unlikely place. In the midst of a violent confrontation, Samantha's life is changed forever.
Added part 31 of Adeptus Major by PsiDraconis
Added Chapter 18 of the Bardcon's Round Robin.
May 23rd, 2003
Welcome to the Academy, Jessica Thompson — first time writer!
What is Meant to Be by Jessica Thompson [complete/alt/FIN-fic]
A different view of Friend in Need.
Culmination by Jenna Dixon [alt/über/complete]
Sequel to The Reason
Added Chapter 7 of Incommunicado by Mercer and Hill
New eBooks
Walking Wounded – Jessica Casavant
Miriam & Esther – Belle Sherry
Captain of Her Heart – W Brad Danbrook
May 22nd, 2003
Added revised section 10 and new section 11 of John S. Gerow's In All Things There Must Be Closure
Added revised version of Phantombard's Paternal Instincts
May 21st, 2003
Welcome to the Academy soon to be published author, Jessica Casavant!
Her book Twist of Fate will be released later this month by RAP. Support our writers and buy their books!
Walking Wounded [original/alt/complete]
When a sudden tragedy turns her life upside down, Alex Ryan resigns as a homicide detective with the Boston PD and goes into hiding to lick her wounds in private. Her self-imposed exile doesn't last long. Life keeps interfering. Her plan goes awry as soon as she moves into her new home. First there is Megan the gorgeous new neighbor Alex starts to find too distracting, then her best friend Jamie who needs help in solving a murder. That this murder involves Kate a mysterious blond with a dislike for disco, and a newly discovered interest in women, only adds to the confusion. Add in the cavalry of friends who won't stay on the sidelines for long and Alex finds that even when she tries hard to disengage from life, life has a way of barging in and demanding attention.
D'Artagnan (Part 1) By Zee [Original/Alt/Unfinished]
Welcome to Carmen's world. Carmen's been hanging out with the same friends since she was knee high to a grasshopper; Olivia, Ashley, and Jen. However, despite the fact that they are friends she always feels on the outside trying to prove herself to them; playing D'Artagnan to their three musketeers. Enter change in the form of a woman who turns their world upside down.
Added part 23 and part 24 of Time's Fell Hand by LJ Maas
May 20th, 2003
Welcome to the Academy, Belle Sherry!
Miriam and Esther by Belle Sherry [alt/original/complete]
The title characters in MIRIAM AND ESTHER find each other in the most unlikely of places, a small Texas town called Cool Lake, and together they become the heart and soul of this likable romance. Miriam escapes the big city on a quest to regain her sanity after Dr. Grace, the "conductor of evil," emotionally destroys her. She makes a new life for herself in Cool Lake only to discover that just below the surface, the town hides a wicked secret of its own. Unlike Miriam, the challenge of self-employment and the hope of success brings Esther to Cool Lake, where she toils to expand on what she believes to be a good thing, twinkle lights and all. In the chapter titled "Yes ma'am. I sho does hope thay's fish fries in Heaven," romantic possibilities build for Miriam and Esther after an entertaining evening at the Starfish Inn and a little nudge from Maddy, an adorable match-maker who simply loves love.
MIRIAM AND ESTHER is loaded with well-rounded adventure, taking the reader from the Ft. Worth Stockyards to Dallas' Lesbian Mecca, Cedar Springs, to the laid back atmosphere of Cool Lake, Texas. Moving easily from sinister deeds to country charm, this lively romance has something for everyone. Everyday life is portrayed by such colorful characters as Laverne, who's more country-fied than usual, having been born, bred, and corn fed in Cool Lake. And also by Sammye, Miriam's ex-girlfriend turned Good Samaritan, who comically challenges the lesbian cliché that fosters the claim: ex-lovers cannot be friends under any circumstances. Cool Lake is a charming place to be, an animated town where Miriam drives her Falcon down brick-lined streets to the Piggly Wiggly grocery store and the Some Like It Hot coffee shop as described in the chapter titled "Chunky Chocolate Cappuccino." And where Franklin J. Curtis III finds himself in grave danger at the Smithey Bros. Funeral Parlour, in "Beyond This Pointe, Thar Be Dragons."
Added part 10 of Denic's Something I Said
May 19th, 2003
Check out the humorous promo ad made by Kiera Dellacroix for one of our favorite stories, Icehole, on her author's page!
http://www.academyofbards.org/authors/kiera_dellacroix.html
Added part 14 and part 15 of Vertigo's Hidden Desires
Added Chapters 12-15 of the Bardcon's Round Robin.
May 18th, 2003
Announcement - From Cruise
You can find Stoley's and her story 'Paradise Found' as well as Stoley's 'Port of Call' and Cruise's 'Indiscretions' published at www.limitlessd2d.net. Please check them out!
I Did Not Die by Amber Andersen
A young woman, Abbi Sheever, writes letters to a nameless individual as she stays in a mental institution, and remembers her relationship with her lover, Claire. "My eyes are grey, like stone, like endings."
Captain of Her Heart by W. Brad Danbrook
Revised Part 1 plus parts 2 & 3.
Added Part 2 and Part 3 (Conclusion) of Conqueror and Amazon: Towards a New Life by Romansilence
May 17th, 2003
Announcement -From Carrie Carr
Great news - Something to be Thankful For is now available at your favorite book sellers. I think you'll be happily surprised by this book - I know I'm extremely proud of it.
Something to be Thankful For
ISBN: 1-932300-04-X
337 pages
Price: $17.95

It can be ordered at one of *my* favorite independent sellers, The Open Book -
http://www.openbookltd.com

You can also get the information off my website, www.carriecarr.com
Beyond the Breakwaters by Radclyffe
In the sequel to Safe Harbor, Sheriff Reese Conlon and Doctor Tory King face the challenges of personal change as they define their lives and future together. Twenty year-old Brianna Parker makes a sacrifice for love that threatens not just her happiness, but her life, when she returns home as the newest member of the sheriff's department. One summer in Provincetown, each woman learns the true meaning of love and friendship.
Added part 10 of GirlBard's Homestretch
Added part 7 of At Last by GirlBard
May 16th, 2003
Announcement #1
The battle lines have been drawn and 12 webmasters have answered the challenge, including the Academy Munchkins because we just can't resist challenges! Go peruse and see what you think. Our graphic is on the very bottom. To vote, go to the Masters of the Xenaverse challenge page (or click on their graphic or the hotlink).
Announcement #2
The day is here at last! Rebecca's Cove, the 5th novel by LJ Maas, has been released. For those of you who are not on LJ's mail list, and did not receive a free sneak peek, this latest novel is a comedic romance...sort of in homage to the old Doris Day-Rock Hudson movies. Check out LJ's web site for information on where to purchase your copy: http://www.art-with-attitude.com/artist/Alt_FanFic.html
FYI...LJ Maas will be selling & signing copies of Rebecca's Cove, as well as her other novels, at Florida Bardcon this Memorial Day weekend.

Announcement #3
Suzanne Westenhoefer will be our special guest star at DCBardFest!
We are very excited to have this wonderful comedian join us for a Saturday night performance.

REGISTRATION
Prices for tickets and vendor tables are now available on the web site. Payment may be made by check, money order, or credit card. Credit card processing is being handled via PayPal and there is a small processing fee.
http://www.dcbardfest.com
MERCHANDISE
DCBardFest shirts remain discounted and CafePress is offering $5 off an order of $40 or more until the end of May. Enter the coupon code of DADGRADS when you check out. http://www.cafeshops.com/dcbardfest2
NEW GROUP
We have created a new Yahoo Group for DCBardFest attendees. This group will be open for chat so you can find a roommate to share the expenses, ask questions about the convention, etc.
http://groups.yahoo.com/group/dcbardfestchat/join


Stories

The Legacy of Britannia by DJ Belt
In this third of a series of Mel/Jan stories (after The Tomb and The Tears of a Goddess), Mel and Jan travel to England, where they join their old friend Mack in a frantic search for Sallie, who has disappeared while excavating the subterranean chambers of an ancient castle. They soon find themselves embroiled in a titanic struggle between good and evil as they strive to solve the mystery of Sallie's disappearance and lay bare the hidden secrets of the ancient fortress---secrets which are astounding even to Janice and Mel, and which further confirm the truth of the Xena Legends to a skeptical world.

Added part 9 of The Curse of Higuchi by L. Crystal Michallet

Added part 2 and part 3 of A Quest Ridden on Behalf of Love by Dragonjuls and Erin O'Reilly.

May 15th, 2003

Getting It Right by KG MacGregor [über/alt/complete]
Wynne Connelly is a marketing manager from Baltimore, traveling regularly to her company's headquarters in Orlando. Paula McKenzie is the night manager at the Weller Regent, the downtown business hotel where Wynne stays. They belong together -- you know it, I know it, they know it -- but secrets, obligations, and ambition make it nearly impossible to get it right.

Added revised copy of PhantomBard's Fruit of the Loom
Originally written shortly after the episode "When Fates Collide", in reaction to the comportment of the characters in the closing scene following the destruction of the Loom of the Fates. It has not been changed to take into account the subsequent episodes, especially AFIN. This is a short story exploring what the destruction of the Fates' loom might really mean. (Revised Version 5/14/2003, Originally Version 5/20/2001).

New eBooks
Shattered – Linda Crist
Rising Sun – Erin Jennifer
Simple Love Story – Warriorjudge
Silence is Never Golden – xfjnky
Solstice Morning – Beowolf
Solstice Eve – Beowolf

eBooks – Fixed
Forever – Dee
Fenced Fields – Dee
The Summer Between – Dee
Isabelle – Dee

May 14th, 2003

Animal Instinct by Stacey X
A short story in where Xena and Gabrielle spend time in a tavern, see what they get up to.

New eBooks
Another Day in the Life – Barbara Davies
The Fall of the Phoenix – Nene Adams
Mulligan II – KG MacGregor
Initiation - nyrdgyrl
ChemicalX – Zee
Murder at Bardcon Chicago – GS Binkley

eBooks Fixed
Deja Vu – Dee
Road Trip – Dee



May 13th, 2003

Announcement

On behalf of the Project Xena Warrior Princess Weblogs authors, I'd like to give a big ol' THANK YOU to everyone for dropping by over the past 4 months and following along as we re-tell the story of Xena and Gabrielle through their respective online journals (weblogs, aka blogs). We're having lots of fun writing them and hope everyone's having as much fun reading them.

Both A Bard's Blog (http://gabrielle.trobairitz.net) and Warrior...Princess...Blogger (http://xena.trobairitz.net) update every 5 to 7 days per episode and right now we're covering, "A Fistful of Dinars" (Season o1: Episode 14). Again we'd like to thank everyone for reading along as this fan fic project unfolds.

PS. Special thanks to Steph, Ruth and everyone at the Academy for posting this thank you note!

angharad governal & the Project Xena: Warrior Princess Weblogs authors

May 12th, 2003

Announcement from Fortitude Press

Fortitude Press is pleased to announce that we will be participating in BardCon. The convention will be held in Orlando, FL on Saturday, May 24. All of Fortitude's titles will be available for purchase at the Con, including Icehole , the latest by Kiera Dellacroix.

If you are attending the Con and would like to pre-purchase any of Fortitude's titles, you may do so now through Friday, May 23 (or while supplies last). We'll have your books set aside for you to pick up at any time on Saturday. You won't have to wait in the regular line. Save time, save money by avoiding shipping costs, and be assured that the titles you want are there. Pre-purchase your titles today! Go to: www.fortitudepress.com

If you are attending the Con and would like to purchase any of Fortitude's titles while there, we will have a table set up and will be accepting cash, checks, money orders and credit cards. However, as we will only be taking a limited quantity of each title to the Con, we cannot guarantee your favorite book will still be there when you drop by. We urge you to make use of our pre-order website.

We look forward to seeing you in Orlando!

FP

Murder at Bardcon - Chicago [Über/alt/finished]
Murder at Bardcon is filled with deception, intrigue, jealousy, murder and sex played out in the high stakes arena of the ultimate fandom as writers and fans converge at the Bard's convention in Chicago. While Cale confronts her haunting past and Lindsey faces her own secret desires, they find love in the midst of all the mayhem.

Added part 6 of Colliding Edges by J. W. Heart

Added Chapter 6 of Incommunicado by Mercer & Hill.

Added Chapter 11 of the Bardcon's Round Robin.

Updated Eileen Marks' Ultimate Über List

New eBooks
Beyond the Breakwater – Radclyffe


May 11th, 2003

Welcome to a new bard at the Academy!
Conqueror and Amazon: Towards a New Life Part 1 [Conqueror/alt/unfinished]
A summary unfortunately would reveal too much but I'm giving you some of the ingredients:
1. Xena, the Conqueror of all Greece and Rome, vary of ruling, bored out of her mind, and guilt-ridden about her past
2. Gabrielle, bard, scribe, and slave - well you know what Xena will have to do - but that's only the beginning
3. trouble with the Amazons, ruled by Queen Melosa
4. Cyrene, trying to hate her strongminded daughter
5. Toris, father of a fair haired son, named Lyceus
6. some violence (well, two battles and other stuff)
7. sex, oh yeah!, couldn't do without it.


Initiation by nyrdgyrl [original/alt/finished]
It's trial day and everything is on the line in the ancient battle between DuMarquette and Kenner. Will Shayna's love carry her through to victory, or will she be destroyed by the demands of her quest?

New eBooks
Happy Anniversary Xena – LJ Maas
Happy Anniversary Gabrielle – LJ Maas
Potions – Sam Ruskin
Nightmares from the Past – Paully Adams
Legacies – David Duncan
A Xena Stroll – Anon2
Sad Moments – Ken Rogers
Xena: Goddess of War – Dreamweaver
Xena Warrior Princess – Laura Lynne Petersen
Wellspring of Wishes – LZClotho
Shaken – Temora
Legend of Faith – Mavis Applewater
Our Village, Our Home – Carole Giorgio
New Territory – LZClotho
Too Many Cooks – Doc
Love Me – Amvr Andersen
Interwoven – Stacia Seaman
Infidelity – Warriorjudge
Mantles Are Heavy – LZClotho
Last Episode – Unni Wohlen
The Lady Knows When To Leave - Temora


Removed per author's request
Infinite Loop – Meghan O'Brien


May 10th, 2003

Mulligan II: In the Rough by KG MacGregor [Über/alt/finished]
It's a sequel! Mulligan II follows Marty & Lou to the North Carolina mountains, where their romantic adventure continues.

The Fall of the Phoenix by Nene Adams [Über/alt/finished]
The seventh novel in the Gaslight Series.

Added part 5 of Blindsided by Colleen

May 9th, 2003

Chemical X by Zee [original/alt]
Emily is feeling down, she's beginning to hate her friends and herself. Then her roommate gives her something to make her loosen up and have a good time at the bar. Chemical X makes Emily realize some inner truths about herself.

Added part 5 of Spring Break by Lady J

May 8th, 2003

Announcement

The Academy is very pleased and proud to announce Mavis Applewater will be signing copies of her first novel, The Brass Ring at the Orlando BardCon this month. The Brass Ring will be available from Dare2Dream Publications. D2D will be releasing two more titles in the near future. PWP, Plot What Plot – A collection of short stories and the novel My Sister's Keeper

Stories

Welcome to the Academy Laura Lynn Petersen!

Xena Warrior Princess by Laura Lynn Petersen [finished/X&G]
Very short story

Similiar Features by Cruise [alt/über/unfinished]
Despite the fact Xena is still upset with Gabrielle for leaving with Najara, Gabrielle finds herself attracted to a Xena-look-alike named Blaise. Blaise harbors a disdain for the Warrior Princess and affection for the attractive green-eyed bard much to the chagrin of Xena. The secrets of Blaise and Xena's similar features are revealed and all of their lives are changed forever. Xena and Gabrielle realize their true feelings for one another and act upon them. They venture to the Amazon village with Blaise, who meets Ephiny ,and finds her true destiny. (Added parts 1-20 in a single *huge* file, parts 21-23 in separate smaller ones)

Added part 19 of Harley's Poetry in Motion

May 6th, 2003

Added part 28, part 29, and part 30 of Adeptus Major by PsiDraconis

New eBooks
Before Our Journey's Through – Simahoyo
Holiday Havoc – Anon2

May 5th, 2003

More stories from the Dubois Chronicles: The Book by David Duncan [finished/gen/R rated]
When Ali and Eckhart get ahold of an old tome, awakening a common enemy from the past, how will Dave, Xena, and the others react? (xover: Forever Knight, Mutant X, Dark Angel, and Smallville)


Interlude: Past as Present by David Duncan [finished/gen/Somewhere between PG-13 and R]
More light is shed on these issues in this "bridge piece" which is a songfic set to 'Gollum's Song' from "The Two Towers".


The Dark Wood by David Duncan [finished/gen/rated R]
In an attempt to save Rowenshire and Belchertown, the Child, Xena, and Clark take on the Witch's demon while Cybelle, Deirdre, and Lana take on the witch herself. Meanwhile, Eve has a spiritual battle of her own to fight. (**HINT: Another enemy returns at the end. Read and find out!**) (xover: Forever Knight, Smallville, Dark Angel, and Mutant X).


Just Once by David Duncan [finished/gen/Rated R]
What if Xena, Gabrielle, and Eve had died at the beginning of Motherhood? In this "Duboisized" spin off, the Olympians do just that. However, as they discover, their actions has an unanticipated consequence: the Child is very, very angry and ready to deal with them. Will he and the others be able to bring Xena, Gabrielle, and Eve and set things right? (xover: Forever Knight, Smallville, Mutant X, and Dark Angel)


May 4th, 2003

Added Chapter 9 of the Bardcon's Round Robin.

Holiday Havoc by Anon2 [finished/alt/über]
The extended version of 'Holiday Havoc'...


Added Chapter 4 of Elana's Legacy by Pat Winterburn.
A simply wedding, what could possible go wrong. Two Goddess' that bring an unusual wedding gift, that's what.


Added part 14 of Murder Has Two Faces by Tonya S. Coley

May 3rd, 2003

Before Our Journey's Through by Simahoyo [finished/alt/über]
Could you travel on foot from Illinois to Wyoming through conditions like: 4 feet of mud, fever, dusty trails, lack of water and snow in the Rocky Mountains-all because your neighbors wanted you dead?
Would you be able to endure racist or bigoted remarks about you, as well as outright attacks that put your life in jeopardy and forbade your culture?
How would you react to a legal system that not only kept you from voting, but made you the property of someone else?
1847 was a particularly bad year for Mormons, Indians and Women. This book is about all three.


Added part 8 and part 9 of GirlBard's Homestretch

New Ebooks
Airwaves – Zee
The Reason – Jenna Dixon
Gabrielle's Faith (revised) - PhantomBard Living on the Edge – Mavis Applewater
Angel's Heart – Mavis Applewater
Free Falling Fate – Wizzy
Love's Rendition – Tragedy 88


May 2nd, 2003

A Quest Ridden on Behalf of Love by JM Dragon and Erin O'Rielly [unfinished/alt/über]
A Quest Ridden On Behalf Of Love brings Lena Corkill and Kate Lawrence together in a story set in the thoroughbred horse racing circuit. The two women attracted to each other yet afraid to make the first move. Lena's past plays comes visiting and brings havoc to the budding relationship.

Added part 3 of Dimples' Love on the Line

May 1st, 2003

Revolution by Kim Pritekel and Alexa Hoffman [alt/original/unfinished]
Brooklyn Fletcher is making her way in the world of advertising, comfortable as a copy editor in a large Portland firm. Her boss, and stand-in mother is having trouble with one of her twin daughters, and the other one is the apple of her eye. Can Brooklyn become a good role model?

Airwaves by Zee [Alt/Original]
What happens when you use to be a big fish in a big pond and now your a little fish in a little pond but still have the big fish attitude? Jessica is going to find out. Coming from a cushy news anchor job at a large market TV station and sinking to the small time news host position at the local NPR affiliate might just drive Jessica insane, but to top it off the only one who will work with her is Sean Wildeman. Sean has the ability to grate on anybody's nerves.

Added a complied, re-edited version of The Reason by Jenna Dixon [complete]

Added part 10 of Jules Matthew's Learning to Trust