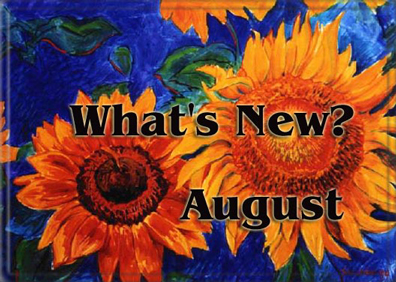 ---
You guys did a great job in July of making "Feed the Bards" month a success! Keep it up! Take a minute and feed a bard.

---

---
August 31st, 2002
Foundations by David J. Duncan
In this piece, Dave launches his "Community of Tolerance" when he, Angie, Eve, Francesca, and Nick welcome several special students to the university campus. However, several dark threads are developing which will trouble everyone in subsequent stories.
A Fan's Nightmare by Kamouraskan and Amy
What happens when a fan watches the planet of the apes and then a Xena marathon's while eating chili dogs? Read this and find out.
Added Part 8 of Mezzo's Installment One of Impulse: Book III-FULL STEAM AHEAD
Added Part 13 of We Do What We Can by Girlbard
August 30th, 2002
Wow, today we have THREE new writers submitting stories to the Academy! I'd like to welcome to our site Kel, Janneen and Starry Glyph...check out their stories below--
Deconstructing the Box by Kel [unfinished]
This is the story of a young woman with a heart of gold and will of steel. After a particularly violent break up with her abusive lover, Reilly Fredericks finds the strength she needs to move on with her life and her brand new career with the help of her teacher and dear friend, Tia. Tia persuades her younger friend to stay with her while she tries to heal the physical and emotion damage that her former lover caused. Along the way, Reilly's and Tia's friendship will grow stronger as they each find out more about the other and themselves.
In All The Empty Places by Janneen Brownell [über/alt/complete]
This is about two women who rediscover each other. Two years ago Victoria lost Alec because of a past Alec couldn't or wouldn't explain. Fate brings them back together and once Victoria learns the truth, she has to decide if they can have a future together.
A Girl with a Chakram in Egypt By Starry Glyph [complete]
In this post-FIN story, Gabrielle journeys to Egypt to continue the fight for good. However, she encounters more trouble than she bargained for but also receives aid from a most unexpected source. In the meantime, Xena finds that being dead isn't all it's cracked up to be.
Ruby's Café by L. Crystal Michallet-Romero [original/complete]
Told in the narrative style, this original tale depicts the time when the author's grandfather attempted to capture the illusive American Dream.
Comments about the story, Ruby's Café from Al Young, an award winning, world renowned novelist: "Ah, you are a storyteller," and "This is rich material!" and his final written comment was, "You've done a splendid job of telling this saddening story of your grandfather's loss, a "loss" that alerted him to his true living treasure. You have a talent for narrative and storytelling that I hope you will develop by writing more about your family and your own experiences." www.alyoung.org
Added part 28 of Mavis Applewater's The Brass Ring
Added part 6 of War of the Vampires by Katia N. Ruiz
Added part 2 of A Sibling's Rivalry by Katia N. Ruiz
August 29th, 2002
Stories
Added part 5 of Amber's Primal Touch
Added part 8 of Dimples' So Close, So Far
New eBooks
Uncertain Twilight - sparky
Indiscretions - Cruise
Ab Initio - Cruise
Letter of Marque - V. Anderson
Letter of the Law - V. Anderson
Gift (The) - Littlespit
Until It Ends There Is No End - Phantom Bard
Under A Colorado Sky - Patsbard
Uber Is As Uber Does - Celine
Uber Uberalles Ubers - KSP
Return to Nurrengaard - David J. Duncan
Same Story... Three Times - Crow and Barbara G. Smith
One (The) - Alex Tryst
If the Tights Fit - Mr Valentine
Fan (The) - Lena
Stirred - KG MacGregor
I Can't Do This Alone - Kamouraskan
Fool Again - KarenK
Injustice - Dimples
Meet The In-Laws - Ernie Whiting
Return of the Warrior Princess - Ernie Whiting
August 28th, 2002
Stirred by KG MacGregor
In this sequel to Shaken, Anna Kaklis and Lily Stuart find their new love tested by dramatic changes in their lives.
Uncertain Twilight by sparky [original/alt]
In the future, a lonely shuttle pilot meets the woman of her dreams; or does she?
Added part 8 of Phair's Countertransference. This is the next installment in the O'Grady series. Part 9 will complete the tale.
New eBooks
Gabriel Journals (The) - Inyx
Forgotten Way - Tragedy88
Heart of Africa - GS Binkley
Hell is Here - Minerva
First - Kim Pritekel
Fragments - Grit
Forces of Evil - Trish Kocialski
Forget the Moment and Reflect - EpTalk
Fields of Gray - Redcat
Dance After (The) - KarenK
Eyes of the Past - Taleweaver
Blood Red Scream - Tragedy88
Northbound Love Tolls- WhymZ
Two Souls, One Truth - WhymZ
August 27th, 2002
Whole bunch of announcements today :)
Announcement 1
Attention: Dragon Con goers:

There will be a book signing at Charis Books, a local GLBT bookstore in Atlanta on Saturday, Aug. 31st from 3-4 PM. In attendance will be:

Blayne Cooper (aka Advocate)
T. Novan
Lois Cloarec Hart
Lori Lake

According to mapquest, the store isn't very far away, so please come over and say hello. Also, Blayne Cooper and T. Novan will have copies of Madam President, The Road to Glory, Cobb Island, and The Story of Me available for purchase at the con for those interested (but you'll have to catch us in between events unless we're able to set something else up). We are only bringing very limited quantities so if you know you want a particular title, shoot me an e-mail and I'll hold it out for you (advocate8704@yahoo.com).

Blayne Cooper (aka Advocate)
Announcement 2

Good news! Strength of the Heart by Carrie Carr, the fifth in the Lex and Amanda series, has been approved to print. It should be ready to pre-order very soon! Keep an eye on the RAP website, www.rapbooks.biz , for more details.
Announcement 3
-from Lori L. Lake (congratulations from the Academy, Lori!)
Yesterday, the strangest thing happened. Lavender Magazine called my local feminist bookstore looking for me, so Amazon Feminist Co-op let me know this. I thought maybe Lavender had FINALLY read the letter Joyce sent them a while back about ads and promotions, but not so! I talked to the managing editor, and he informed me that I was voted GLBT Best Author in the annual reader's poll.
Color me stunned! I thought it was a joke, but then, since I had called THEM at their number, I knew it wasn't a friend playing a practical joke.
So then last night their photographer called me, and tomorrow we are meeting at the Science Museum, by the Lucy statues (there are 3 Peanuts/Snoopy statues there), and she is going to snap some shots for their next edition.
Now isn't that wild? I can't quite get over my good luck. If you voted for me, well, then thank you VERY VERY MUCH! If you want to check out Lavender online, go to www.LavenderMagazine.com.
Lori
New eBooks
Beyond the Edge - WhymZ
First Steps - Mikael Helbo Kjaer
Took You Long Enough - WhymZ
FLIRT! - WhymZ
Fixed eBooks
Summer Reunion - Barbara Davies
Montana Journey - Amelia Sedley
August 26th, 2002
Added Part 11 of Provenance by Cruise
Added Part 12 of Lessons by Kim Pritekel with Alexa Hoffman
Added Part 7 of Mezzo's Installment One of Impulse: Book III-FULL STEAM AHEAD
Added Part 5 of Amicus Humani Generis by SB Zarben
Another story from WhymZ - NORTHBOUND LOVE TOLLS
Summary Pending
Added a new review on Judith's "Just Like Buttah" page --
Infinite Possibilities by Cate Swannell UNFINISHED http://www.kotb.net/infposs.html
Bard Cate is at it again, mixing romance and action and this time a bit of sci-fi for a recipe that will tickle your reading taste buds.
Beware, Bard Cate loves cliff hangers! In fact I think I can hear the echo of a down under cackle of glee each time she leaves us gasping and cursing at the untimely, or is that timely:}, ending of an update. You are gonna love Cass and Lis. 7 of 9 and Capt Janeway are on hand to lend wonderful support. Be brave, step aboard the Voyager, You will be transported to a world of Infinite Possibilities.
August 25th, 2002
Xena and the Fairy Folk by S. King [Alt/Unfinished]
Xena and Gabrielle run into a mysterious woman who is escaping her home land, and her traveling companion a big butch girl called Nic. Chaos takes over as they try to get the couple safely to Amazon Territory, and when Amazons and Fairy Folk finally meet all hell breaks lose. This is a 'first time' comedy as Bride and her special friends force Xena to declare her love for her Bard and then deal with the mayhem that follows.
First Steps by Mikael Helbo Kjaer [Gen]
This 1st of 12 stories in the Darkness and The Light series follows Gabrielle after A Friend In Need as she handles an adventure in Egypt, discovering more about her soul and other secrets hidden in the shifting
sands of the great desert. It is all seen through the eyes of a bed ridden Xena as she reads Gabrielle's scrolls.
Welcome a new old bard <g>. The Academy is happy to have WhymZ join us. Here are some old stories to read over again--
FLIRT!
The warrior and bard get playful during the events of A DAY IN THE LIFE.
TOOK YOU LONG ENOUGH
A peaceful evening campfire sets the scene for warrior and bard to surrender to their feelings at last.
TWO SOULS, ONE TRUTH
Summary Pending
BEYOND THE EDGE
Summary Pending
August 24th, 2002
Added combined parts 10 and 11 of Lessons by Kim Pritekel with Alexa Hoffman
Added part 7 of Time's Fell Hand by LJ Maas.
Added part 7 of Ripples in Time by Lois Kay & cbar
New Ebooks
Noemi - Katia N. Ruiz
And I Saw Her...- Verity
Song of the Candle (The) - Kamouraskan
Summer Reunion (A) - Barbara Davies
Bad Girls - Dimples
Southern Cross - Windstar
Sins of the Past - Bored Pup
Soul Retriever - LM Townsend & Crow
Uber Gals and the Mystery of the Hen's Bane - Emily Mills
School Days - Dimples
August 23rd, 2002
And I Saw Her...by Verity [Alt/Original]
This is what the author sent us for a synopsis <g> This is a story about puppies and the courage it takes for them to stand up and say, "I don't like like Puppy Chow!" Okay not really, but I bet your wondering what it is about now. Well, I'll give you a hint, I't's about the love between and the moments in time that strengthen and reaffirm that love. Just read it! it won't hurt . . . I think. : )
A Sibling's Rivalry by Katia N. Ruiz [Alt/Original/Unfinished]
Frances DeValoi, a young successful lawyer, is a womanizer with quite a few notches on her belt. But when she meets Katie Rosenberg, things change... Katie Rosenberg, an accounting student, is instantly captivated by the mesmerizing gray eyes. At first she resists the magnetic pull towards the lawyer, but their love is instantaneous and could survive anything... maybe. Ross Devaloi, Frances' brother, is also in love with Katie. Will he ever rest until he gets Katie?
Sins of the Mother part 5 - Misunderstandings by L. Crystal Michallet
Xena's mistakes bring to light some information about Ari. Meanwhile, a misunderstanding between the bard and her daughter leads to some compromising situations and the dark child tries to find ways to keep the numbness at bay.
Added part 6 of Mezzo's Installment One of Impulse: Book III-FULL STEAM AHEAD
Added part 7(conclusion) of Noemí by Katia N. Ruiz
New e-Books
Laguna Nights - Carole Giorgio
Play It Again, Sam - Ali Vali
Deadly Challenge - Trish Kocialski
Practical Lies - JP
Em's Song - Laststarlite
Young at Heart - Muzza
Why I Say It So Often - Sam Ruskin
Language of Love - Shortbard
August 22nd, 2002
Stories
Added part 4 of Amber's Primal Touch
Added part 9 of Harley's Poetry in Motion
New e-Books

When the Cat's Away - Rab Donald
Game, Set and Match - Ali Vali
Musical Chairs - Ah-ladis
Mountains to the Sun - Amelia Sedley
Ms O'Connor Goes to Washington - S. Lee
More Than There Are Stars - LouBug
Signals - Rab Donald
Situation - Rab Donald
Visions - Rab Donald
The Wager - Rab Donald
August 21st, 2002
Announcement
Maison de Kamouraskan has moved to Dreamcatching! Visit Kamouraskan's new site for updated and revised stories, fanfiction, articles and travelogues (coming soon) http://dreamcatching.netfirms.com/kam/main.html
Stories
more stories from Wakar
As If
Vignette of a swim by Xena in a river.
Christmas Eve
Janice and Mel happily celebrate the holiday even though their plans go slightly awry.
Reflections
Takes place after the episode "The Xena Scrolls". Janice reflects on her relationship with Mel.
Images
Janice remembers the first time she saw Mel.
Dreamtime
Gabrielle and Xena are separated when the bard goes off to a series of contests and the warrior is summoned home to a sick mother.
Musical Chairs by April Hladis aka Ah-ladis [alt/original fiction] a short schmaltz
Nora and Wendy work at a silent movie studio that has just begun to usher in sound. A minor incident during filming one day sparks off a chain reaction of emotional ups and downs for both women.
Added part 38 of Vertigo's Under Construction
Added part 9(conclusion) of S. Lee's Ms. O'Connor Goes to Washington
Added part 6, part 7, and part 8 (conclusion) of Ali Vali's Game, Set, and Match
Updated Eileen Marks' Ultimate Über List
August 20th, 2002
Welcome a long time bard but first time poster to the Academy. Welcome aboard, Wakar!
Clever Too
Xena has a little heart-to-heart with her mother after the events inTHE FURIES.
Deep Water
A mysterious woman and a young god who's a chip off the old block, help Xena and Gabrielle come to terms with their feelings for one another.
The Wake of Darkness
The missing scene following the moment in RECKONING after Xena gives in to her blood lust in the cell and lashes out against Gabrielle.
ULYSSES: THE LOST EPILOGUE.
An epilogue to the episode ULYSSES.
Added part 8 of Poetry in Motion by Harley
Added parts 8 & 9 of Lessons by Kim Pritekel with Alexa Hoffman
Added part 3 (conclusion) of L. A. Tucker's Between a Memory and a Dream
August 19th, 2002
Welcome to a new bard! A round of applause to Zee!
Past is Present by Zee
A bodice ripper or sweeping epic, either way its a ripping good tale. A time of college students and strippers. Two women with a past history struggle to find love together in the present, despite baggage and a psycho ex. While their friends sit on the sidelines making snide comments.
Welcome to the Academy an oldie but a goodie! Welcome to Marnster!
A Gift of a Day by Marnster (Marnie)
Gabrielle prays for a day of peace to enjoy with her warrior.
On the Road to San Pedro by L. Crystal Michallet
While on a vacation to watch Renée O'Connor's final performance in Macbeth, the author reflects upon the events that occurred during the trip.
Added part 4of SB Zarben's Amicus Humani Generis
Added part 5 of Mezzo's Installment One of Impulse: Book III-FULL STEAM AHEAD
Added part 3 of Fier's Dimensia
August 18th, 2002
Announcement
Announcing: Love's Melody Lost, Second Addition
Limitless, Dare 2 Dream Publishing is happy to announce the addition of Radclyffe's Love's Melody Lost, Second Edition to their list of titles. Look for copies of this and other books at Dragon Con and on our website.
www.limitlessd2d.net
Thanks for sharing this with your list and tell the bards and artists to keep the submissions coming. They are awesome. Sam and Anne
Added Part 12 of We Do What We Can by Girlbard [unfinished]
Added Part 6 (Conclusion) of Lifetime Employment by Crow
Two more stories by Rab Donald...
A Conversation in the Elysian Fileds
New eBooks:
August 17th, 2002
Added part 4 of Mezzo's Installment One of Impulse: Book III-FULL STEAM AHEAD
Added part 7 of Dimples' So Cloe, So Far
Added part 37 of Vertigo's Under Construction
More stories by Rab Donald...
The Scroll
Gabrielle writes what she believes is her final scroll dedicating her thoughts to Xena.
Signals
Parted from the warrior to enter a bards contest, Gabrielle meets an older, wiser woman who's advice becomes invaluable in helping our two heroes form a more 'intimate' bond.
Situation
A desperate gambler in need of funds prompts the warrior and bard to face feelings they've kept buried.
Someone to Watch Over You (Crossover)
More 'Uber' than cross-over, two modern day incarnations of the warrior and bard are aided in forgeing their relationship by the intervention of Xe and Gab who can view them from the bliss of their eternal rest and relaxation in Elysia.
The Strongest Thread
Following a surprise ambush and a stupid argument, Gabrielle leaves Xena but soon regrets her decision. Meanwhile, a bewildered Xena is guided by some 'invisible force' that will surely re-unite them both on a more certain path.
Visions
This tale is set in the aftermath of the ep. "Return of Callisto" A still shaken Gabrielle decides to return home alone and is given help by a mysterious stranger. However the kindness of strangers hides an ulterior motive and soon Gabrielle is given a stark decision to make. ( Graphic sex scene between Xe and Gab)
When the Cat's Away
Xena picks up a 'stranger' in a bar.
The Wager
A first-time story. Amusing little story that has the Warrior Princess making a VERY sure bet. Some fun mind games in here
August 16th, 2002
Announcement
from Carole Giorgio
This is a Hi and Thank You to all of you who have shown concern about the fund raiser this weekend in Denton for Nicole.
I truly appreciate your desire to participate from afar, and I am truly blessed to have so many friends on the Internet. What I am proposing is that those of you who want to donate, wait until I have the online auction. At that time I will also have an area just for donations in case you don't see anything you would like to bid on and would still like to be a part of the fund raiser.
I guess what I am trying to say is thank you for caring. I have never had to do anything like this before and am overwhelmed with the support I am receiving. I guess I shouldn't be surprised, I belong to a very caring population. What I don't want is for anyone to end up feeling obligated to donate to each of the functions.
I am proud to be a part of this very special Internet family.
~ Carole
Stories
Welcome another veteran to the Academy. Rab Donald has been around since the mid 1990's, here are some offerings --
Astarte in your Life
Xena and Gabrielle become lost in thick woods and find shelter in an abandoned Temple of Astarte. (Phoenician Goddess of Love) Trapped by an old adversary, Xena discovers that her companion has resourcefulness and skills ....as well as love.
Bonding
Xena and Gabrielle exchange some rather revealing little stories from their younger days.
The Day of the Warrior
With the bard away, the warrior spends a challenging day at an inn missing her partner.
Forum
Xena and the bard learn there are more appropriate ways of testing their compatibility than a questionnaire
Losing Touch, Gaining Touches
The warrior and bard teach others tolerance and in the process end up learning about themselves.
Same Life, Different Day
Using the same 'titles' as the classic episode "Day in the Life" It is little more than an exercise in writing pornography. Though it can be amusing, it is *definitely* not to everyone's taste. Sexually explicit. (Xe and Gab not monogamous); graphic with coarse language
Added part 6 of Noemí by Katia N. Ruiz
August 15th, 2002
Announcement
from Carole Giorgio-
Hi to all
This is an invitation for any of you that will be in the Dallas/Denton area this weekend to come and join us at a fund-raiser for my daughter, Nicole. We are having it in Denton and are hoping that it will be a successful event. There will be music, food, drinks (cash bar), a raffle and a silent auction. A $10 donation at the door is appreciated. It is being held at the The DownTowner Bar and Grill- 104 Locust Street, on the square in the middle of Denton from 3:00-10:00 (or thereabouts)
This is not in conjunction with the online auction I will be having at a later date (probably early September). That will be more Xena oriented with autographed pictures, autographed X&G stories, personalized books from favorite bards, music videos, art work, and audio tapes of some uber and X&G stories, etc.We hope to see some of you there ~ Thanks for your support ~
~ Carole
Stories
Welcome to a new bard (and a great story!) to the Academy today. A friendly hello to Xenickz!
If You're Gone by Xenickz
Beth and Cole - childhood friends and soul-mates. A realistic view of how life can tear at the very fabric of a relationship. Can they find their way back to one another?
Added part 7 of Lessons by Kim Pritekel with Alexa Hoffman
Added part 6 of Imadreamweaver's Armageddon
August 14th, 2002
Game, Set and Match by Ali Vali [Alt Fiction /unfinished]
This is a story I started over a year ago while I was on vacation. Bad weather drove me off the beach and onto the laptop. I just recently ran across it again and all the sucker needed was an ending. Welcome to the world of women's tennis. Parker King is riding high after winning the prestigious Wimbeldon Tournament only to be shot down by a feisty airline pilot named Emily Parish. King Kong as she's known on the courts falls hard, but will it be because of the person that wants to kill her or for love?
Added parts 1 through 5
August 13th, 2002
Welcome two new bards to join the Academy today. A great big welcome to Fier and sparky!
Dimensia By fier [unfinished]
A stranger named Camrynn from a parallel dimension joins Xena, Gabrielle and Eve in attempting to prevent the same tragedy from happening in their world which happened in hers. But the stranger's presence there demands a high price, both for herself and for the world as they know it, and when the gods decide to take matters into their own hands, chaos ensues.
Singapore Illusions Or Skeeter and the Amazing Technicolor Ghost Hunt by sparky [alt/original]
Dr. Aeron Malone and her new assistant Barbra Taylor are sent to Singapore to investigate the possibility of a haunting in a business hotel.
Added part 3of SB Zarben's Amicus Humani Generis
August 12th, 2002
Language of Love by Shortbard
Can a modern day archaeologist and a warrior from ancient Greece establish a meaningful relationship when they don't even speak the same language? If the language is Love, anything is possible.
Heart of Africa by GS Binkley
Heart of Africa is about a young woman who battles poachers, commercialism and greed to preserve Africa's beauty and encounters an unlikely comrade along the way.
Added part 4, part 5 and part 6 of Poetry in Motion by Harley
Added part 3 of Mezzo's Installment One of Impulse: Book III-FULL STEAM AHEAD
New eBooks:
The Reason Why - Simahoyo
Last Battle - Simahoyo
Long Time Passing - Simahoyo
Solitaire - Temora
Pardoner's Path Series: Well Worn Path - Enoon Erehwon
Pardoner's Path Series: Bridge of Cinders - Enoon Erehwon
Sister Act - Barbara Davies
The Long Road Home - Kim Pritekel

August 11th, 2002
Sins of the Mother (4): Possession by L. Crystal Michallet
The guilt and ghostÍs of her past drives Ari, Xena and GabrielleÍs daughter, into a world of darkness, which only she can find an escape from.
Until Soon by indigal
Original alt-uber fiction, rated R (with some explicit same-sex love scenes): Andrea, (Andi), a second year English grad assistant at a small New England college, has spent the last few years healing physically and emotionally after a serious injury and a heartbreaking relationship. At a school function, she meets Cara Jane, (CJ), a senior basketball star on the college team, and both women are immediately drawn to each other. Over the course of several months, they discover what it means to make important decisions concerning love and relationships.
Young at Heart by Muzza
A young girl whose family turns their back on her when she needs them the most, finds love in an expected place.
Added part 6 of Lessons by Kim Pritekel with Alexa Hoffman
Added Part 11 of We Do What We Can by Girlbard [unfinished]
Added Part 6 of Designs of the Heart by Heartbrkn [unfinished]
August 10th, 2002
The Search for That Which Is by Erika Bwo
An old story is back. In a sequel to THE LANGUAGE OF POTEIDAIA, Xena and Gabrielle join forces with Hercules, Iolus and Autolycus to try to find the bard's long lost sister.
Added part 5 of Ripples in Time by Lois Kay & cbar
New eBooks:
Sedona Rain - Carole Giorgio

Paying My Penance - FC Barnes

Home Again - Kim Pritekel

Under Siege - David Duncan

A Place Called Home - Damnation

Define Destiny - JM Dragon

Summer's Circus - Barbara Davies

Redemption Song - Blondebard

The Summer Between - Dee

August 9th, 2002
Added part 21 of LM Townsend's The Amazon Queen
Added part 6 of LJ Maas' Time's Fell Hand
Added part 2 of Mezzo's Installment One of Impulse: Book III-FULL STEAM AHEAD
Added part 2 of L. A. Tucker's Between a Memory and a Dream
Added several stories by Dimples
Injustice
The King's Court
Bad Girls
Three of Hearts
School Days
August 8th, 2002
The Legacy by Simahoyo
Gabrielle's unscrupulous cousin enlists Xena and Gabrielle's help to claim a family treasure.
Long Time Passing by Simahoyo
This beloved classic Xena and Gabrielle story shows their lives as older women.
Last Battle by Simahoyo
Xena's last battle.
Reposted a revised version of The New Season: Joie's Story by Kim Pritekel
Added part 5 of Lessons by Kim Pritekel with Alexa Hoffman
Added part 5 of Noemí by Katia N. Ruiz
August 7th, 2002
If the Tights Fit by Mr Valentine (Alt/Uber/Comedy)
The superheroes of Hellenic City find themselves face to face with a new villain. Who is the mysterious Conqueror? What are her evil plans? Why do sidekicks have such godawful names? Why do fools fall in love? None of these questions will be answered in this exciting adventure!
Added part 2 and part 3 of Poetry in Motion by Harley
More from Simahoyo--
Everything Is Alive [general]
A continuation of Everything That Is. Xena and Gabrielle in Siberia. Alti tries to drive Gabrielle from Xena by telling her about the murdered Amazons. After fighting Alti, they meet the survivors of Xena's murderous rampage among the Amazons.
Everything That Is [general]
Gabrielle travels into the mountains to learn from a Siberian Shaman who she believes can help her recover her sense of self and worth.
Everything That Is [alt]
Same story as above just the alt version of it.
Covington's Kid [alt]
A look at the early experiences which molded Janice Covington.
The Mummer's Play [general]
This is a very old play reworked into the Xenaverse. It is being offered to fans for free performances.
Are You The Herodotus? [general]
A story about Gabrielle returning home from Eygpt to confront her father about his adventurous youth. A light-hearted look at her dysfunctional family, and how children seem to take after either one parent or the other.
The Pomera And The Price [general]
"The Price" as told by a member of the Horde army.
August 6th, 2002
Welcome another new author to the Academy. Adding to the scrolls today is Simahoyo with a ton of new stuff. I'm adding the first few today
A Full Circle
Xena and Gabrielle learn more about their individual pasts than they ever had suspected.
The Reason Why [alt]
Xena and Gabrielle fight a fire in a village, Xena gets sick, and Gabrielle takes care of her.
Gabrielle's Weapons [alt]
Xena discovers that the Bard's weapons are words.
The Healing Journey [alt]
Xena learns that Gabrielle's world is dangerous for the uninitiated too.
Gabrielle's Secret [gen]
Written just after Lucy's accident, this story reveals one of Gabrielle's long guarded secrets.
You Made Me
The origins of Callisto.
Poetry in Motion by Harley [Original Fic/unfinished]
Is change the antithesis of control? According to Deven Masterson, control has become an illusion and change is a bitch. An expert at controlling herself, situations and those around her, Deven watches as the cherished discipline she has developed over a lifetime slips away through her fingers.
Rhian McKenna, a woman in self-imposed exile, steps out one evening at the insistence of her best friend and crosses Deven's path in a chance encounter that marks the first of many crossroads she will face.
From the moment they face off, Rhian makes it obvious she doesn't accept Deven's ideas about control and proves adept at taking it away. Seemingly incompatible, both women stand at a precipice of change – between burdened past and the unknown future that could transform who they are.
Added part 8 of Scouterpup's Come Sister Come
Added part 3 of Amber's Primal Touch
Added part 2 of SB Zarben's Amicus Humani Generis
August 5th, 2002
Find of the Century by Ri
P.J. just wants a life of peaceful study. Then Kitty and Baby enters her life they not only turn it upside down but she has never been happier in her whole life.
Added part 1 of Mezzo's Installment One of Impulse: Book III-FULL STEAM AHEAD
Added part 4 of Lessons by Kim Pritekel with Alexa Hoffman
August 4th, 2002
Added Part 10 of We Do What We Can by Girlbard [unfinished]
August 3rd, 2002
Under Siege by David Duncan [gen/Über]
When the Duboises go to Smallville in order to help Clark and Lana move, the GSA causes lots of trouble for their friends and ultimately, for Dave and Angie as well. Before they get there, Xena and Gabrielle assist in a rescue operation followed by a lot of other great stuff! To make matters more complicated, it seems that there are other connections in Smallville for Dave as well. Who is the mystery girl and what does she mean to Dave? Finally, why was his previous visit to the town so painful? Read on and see!
A Place Called Home by Damnation [alt/Über]
Starring Felicity Mitchell and Rei Conrad, this is a tale about a girl who left her hometown to get away from the memory of her recently deceased parents. Along the way, she meets and finds a friend in a college professor and discovers that sometimes, running away gets you closer to the one thing that you're trying to get away from initially.
Added some more stories by Kim Pritekel.
The Gift [alt/über]
Sarah is doing double time as Santa's elf in the mall this Christmas season. She see's a beautiful woman who changes her life forever, turning her lonely, lost life into her dreams.
The Cabby [PWP/über]
Nic is a cabby, driving on a rainy night when she picks up the fare of her wildest dreams.
The Phantom [PWP/über]
Erika gets pulled into going to a Halloween masquerade party, dressed as The Phantom of the Opera. Will she find her Christine there?
Warrior...Bard...Goddess of Love [XG/short]
How can a harmless day at the beach go so wrong?
Added Old Wounds, New Beginnings [Über]
Jaime has spent the last 7 years of her life in a Colorado prison, and is getting out. Deciding to start over, she heads to Texas to work on a ranch, and find peace, forgiveness, and maybe even love. How can a harmless day at the beach go so wrong?
Added the first two parts of the revised version of Midgit's A Handful of Heaven [Über]
Added part 4 of Ripples in Time by Lois Kay & cbar
Added part 4 of Noemí by Katia N. Ruiz
August 2nd, 2002
Announcement
Congratulations to msgreeneyesofva for sending 140 notes to bards! The great and wondrous Oz aka Phil WNC will be preparing your gifts, please contact us for further instructions. Thank you everyone for your participation. It really was a win/win situation! Keep it up!!!!
Announcement II
To all the wonderful Webmasters and Webhosts --
Like I've said on numerous occasions... You guys and gals, are, in a word - awesome. I don't think you get nearly enough accolades for the work you do. This is my tiny contribution of thanks to you guys. I have personally declared August Webmaster/Webhost Appreciation Month. Calli and Lucia have used their talents again to give us banners to help with this glorious event. Please put these on your websites and pass this along so everyone can tell you how much you are loved and appreciated! I know without you guys, my work would have just stayed on my hard drive taking up space. I truly appreciate everything you've done to help us get our stories to our readers. I know I'm not alone in this and, hopefully, in August you'll hear just how true that is. For the past, for the present, and for the future work that you do... Let me be the first to say thank you from the bottom of my heart. Take good care everyone and bask in the glory of your greatness, it is way overdue.
Di Bauden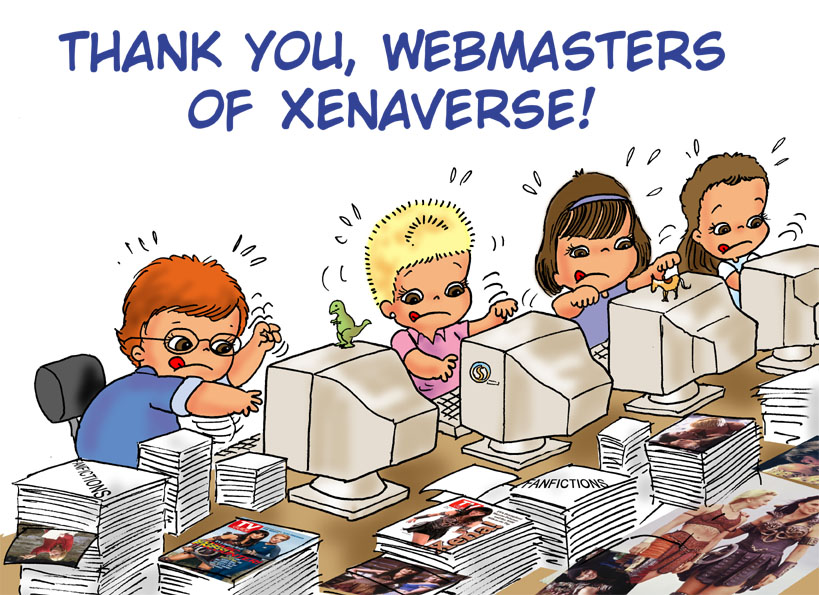 Announcement III
Here at Limitless, Dare 2 Dream Publishing we are doing the Amazon Happy Dance. KatLyn's Storm Surge has just joined our list of titles soon to be published. For those of you who haven't read this heart-stopping thriller/romance yet, you really owe it to yourself to do so. Grab a tall chilled beverage of your choice, sit back and enjoy. But be warned, you will not want to put it down once you turn that first page. We didn't.
Already read the on-line version? Good. Now just imagine what little tidbits will be in the printed, edited and polished-to-a-sheen version. This title, along with others, can be pre-ordered from our website at www.limitlessd2d.net . We expect to be able to begin shipping before Christmas 2002.
All our authors will be glad to sign bookplates for anyone requesting them.
Just send a note along with your order and your signed bookplate will arrive WITH your book.
Sam Ruskin and Anne Clarkson
Limitless, Dare 2 Dream Publishing
Stories
Welcome to a new bard to the Academy. Popular Swedish writer Carola Eriksson. We have several stories for you Conqueror fans!
Little Echoes -Alt, classic X&G
A short and sweet little story with season two's Xena and Gabrielle. Xena's in deep thought and Gabrielle senses that something's bothering the warrior. Little does she now that she's been on the warrior's mind all day...
Shopping with the Conqueror -Conqueror parody
Alt Xena the Conqueror is a mean, evil...well! -We get the idea. What does the Conqueror do when she needs a scribe? Well, she goes to the local slave market, of course! And meets a small, irritating blonde.
Relationships and the Conqueror -Conqueror parody, Alt
The sequel to Shopping with the Conqueror. We're introduced to Xena's friend Calli, the shamaness Alti and get an explanation as to why relationships is not one of Xena's many skills.
Conquering Liaisons -Conqueror, Alt (unfinished)
This series has a rather expressive Conqueror Xena, a very lovable young Gabrielle, humor and above all things; love.
Love In a Strange World -Alternative
Timeline Stranger In a Strange World revisited...and altered a bit.
Gladiator -Conqueror, Alt
It's about two different people, a meeting and fate. If you loved WFC, then this is definitely a good read. Dark, but with light at the end of the tunnel.
A Valiant Journey by D
This is the next installment in the Valiant Heart Series
Sins of the Mother (3) : Whispers by L. Crystal Michallet
The whispers surrounding Ari drive her to search for the place that she once called home.
Added several stories by Kim Pritekel. The site she had them housed on closed down so we are thrilled to have them here on the Academy. These are all completed. We'll be adding more as we get them.
The New Season [alt/über]
Jenny, a Minnesota college girl's hockey star, has come home to take care of her sick mother. After meeting a mysterious woman at a party, and dealing with her mother's inevitable death, her life changes forever.
The New Season: Joie's Story [alt/über]
Same story: just from Joie's point of view
The Long Road Home [alt/über]
Sean, a successful bookstore owner, has run from her past her entire life, and now is going to her father's funeral, dreading the demons she knows she'll face. Jenny, an abused housewife for the past ten years is trying to run from her present. Together, maybe, just maybe they can find their future.
Confessions [XWP/alt]
And who said sitting around a campfire telling stories can't get you anywhere?
A New Life [XWP/alt]
Imagine that Xena never met Hercules. She never saved Gabrielle from Draco's men. This story is a twist on the episode 'Sins of the Past'. It's a story of how Xena and Gabrielle may have saved each other without any outside influences.
Home Again [XWP/alt]
Xena and Gabrielle are struggling with their feelings for each other as they head back to visit Xena's mom in Amphipolis. Will a surprising outsider help them to see what Cyrene sees plain as day?
Added part 14, part 15, part 16, and part 17 (conclusion) of Mezzo's It's Just the Beginning. Look for Book III soon!
August 1st, 2002
Added part 36 of Vertigo's Caution: Under Construction
Added part 27 of Mavis Applewater's The Brass Ring
Added part 8 of S. Lee's Ms. O'Connor Goes to Washington
Added part 17 of Bonnie's Tie Break
---
---
Visit our Halloween Special!