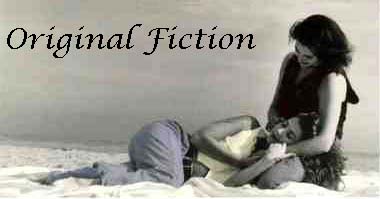 Go To More Original Fiction Websites Links
| | |
| --- | --- |
| Musical Chairs | Nora and Wendy work at a silent movie studio that has just begun to usher in sound. A minor incident during filming one day sparks off a chain reaction of emotional ups and downs for both women. |
| | |
| --- | --- |
| Duende | A private detective is hired to look into a 'vanishing' of two people. The somewhat flaky client then insists on joining her in the eerie investigation. |
Iron Rose Bleeding
Iron Rose Bleeding is a love story with a difference. Taking place in the near future, this story will make you look at your world like you never have before.

A daring librarian sets out to discover the mystery behind her elusive boss and instead finds herself caught in a new and strange world of love, power, and future shock.
Seasons has no super heroes. It is rather about the quiet humour, courage, and strength that is the heroism of being a woman in today's world. Come travel through the female soul!
| | |
| --- | --- |
| Autumn Winds | Robbie Williams was rich, famous and powerful. She thought she was in complete control until she ran into Janet and her daughter Reb. Suddenly Robbie's world was way out of control! |
| | |
| --- | --- |
| Winter Snows | Janet and Robbie's fall romance had sent sparks flying. Then Ryan arrived on the scene. Could they now face the strains and problems in their lives and stay together? |
| | |
| --- | --- |
| Spring Rains | Janet Williams thought that her marriage to Robbie was made in heaven until she discovered that Robbie had a hidden past. Can their marriage survive when it had been built on a foundation of secrets? |
| | |
| --- | --- |
| Summer Heat | Robbie and Janet had felt that they had come through a year of hell stronger and more in love. They didn't think anything else could go wrong. Then they found themselves facing their worst nightmare. |
The Murder Mystery series is a spin off of Seasons: Spring Rains. It is about the life and work of the forensic anthropologist, Doctor Alberta Pateas. Travellers, welcome to the bare bones of murder
| | |
| --- | --- |
| Dead Fall | Planes don't fall from the sky but this one did. Dr. Aliki Alberta Pateas comes home after a long time to find herself caught up in an unsolved mystery and meets two people that will change her life. |
| | |
| --- | --- |
| Dead Funny | There is nothing funny about the serial killer that is terrorizing the Toronto area. Dr. Aliki Alberta Pateas is under pressure to identify the Fire Clown before he strikes again. |
| | |
| --- | --- |
| Dead Aim | Dr. Aliki Alberta Pateas is invited to a family wedding but the uninvited guest turns out to be a skeleton! |
| | |
| --- | --- |
| Dead Duck | Dr. Aliki Alberta Pateas goes home to find her life a hotbed of murder and love as she struggles to sort out her life. |
| | |
| --- | --- |
| Dead Right | What if your actions resulted in hundreds of people dying? Dr. Aliki Alberta Pateas struggles with her soul as she tries to right a terrible wrong. Coming 11. 2002 |
| | |
| --- | --- |
| Dead Ringer | At a conference on mummification in Chili, South America, Dr. Aliki Alberta Pateas and her sister Robbie find themselves in a room of experts on murder but no one knows what happened to their missing colleague. |
| | | | |
| --- | --- | --- | --- |
| C Paradee | | & Lois Cloarec Hart | |
| | |
| --- | --- |
| Murder Most Foul | Jaye MacLaren, a Toronto-based crime scene photographer, is recalled to Tuckerís Way, a small coastal town in Maine that has been home to her beloved Aunt Delia for over forty years. Her aunt has been murdered, ostensibly by her young caregiver, Lindsay Daniels, but Jaye quickly finds out that all is not as it seems. Even as sheís grieving the death of her relative, Deliaís ghost, angered at the precipitous ending of her life just when she had big plans, cajoles Jaye into an investigation of the murder. Jaye and Lindsay are quickly plunged into a morass of politics, greedy developers, and romanceÖboth old and new. As Jaye is shocked to learn her auntís long concealed secret, she also begins to learn the secrets of her own heartÖsecrets that only Lindsay can unlock. |
| | |
| --- | --- |
| Family Connections | In the sequel to "Connecting Hearts", Randa and Denise cope with new problems in their lives as well as unexpected problems fron out of the past. |
| | |
| --- | --- |
| Unlimited Sexual Favors | When friends Darcy Gardner and Wilder McNeil make a bet involving unlimited sexual favors they learn it's not whether you win or lose, it's how you play the game. |